Abstract
Mechanisms for the removal of glutamate are vital for maintaining normal function of the retina. Five excitatory amino acid transporters have been characterized to date from neuronal tissue, all of which are expressed within the retina except excitatory amino acid transporter 4 (EAAT4). In this study we examined the expression and localization of the glutamate transporter EAAT4 in the rat retina using RT-PCR and immunocytochemistry. RT-PCR using rat EAAT4 specific primers revealed a prominent 296-bp product in the retina, cortex and cerebellum. The identity of the EAAT4 fragment was confirmed by DNA sequencing. We examined the tissue expression levels of EAAT4 in cortex, retina and cerebellum using real-time PCR. The highest expression level was found in the cerebellum. Expression in the cortex was approximately 3.1% that of the cerebellum and the retina was found to have approximately 0.8% the total cerebellar EAAT4 content. In order to examine the specific cell types within the retina that express EAAT4, we performed immunocytochemistry using a rat EAAT4 specific antiserum. Cellular processes within the nerve fibre layer of the retina were intensely labelled for EAAT4. Double labelling EAAT4 with glial fibrillary acidic protein (GFAP) revealed extensive colocalization indicating that EAAT4 is localized within astrocytes within the retina. Double labelling of EAAT4 and the glutamate transporter EAAT1 (GLAST) revealed extensive colocalization suggesting that astrocytes in the retina express at least two types of glutamate transporters. These results suggest that astrocytes within the retina are well placed to provide mechanisms for glutamate removal as well as controlling cellular excitability.
This is a preview of subscription content, log in to check access.
Access options
Buy single article
Instant access to the full article PDF.
US$ 39.95
Price includes VAT for USA
Subscribe to journal
Immediate online access to all issues from 2019. Subscription will auto renew annually.
US$ 199
This is the net price. Taxes to be calculated in checkout.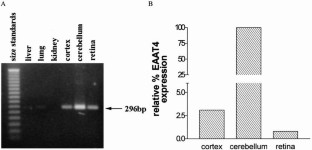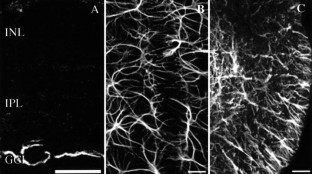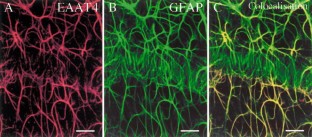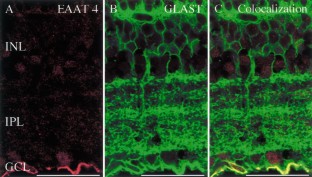 References
Brandon C, Lam DM-K (1983) l-Glutamic acid: a neurotransmitter candidate for cone photoreceptors in human and rat retina. Proc Natl Acad Sci U S A 80:5117–5121

Chaudhry FA, Lehre KP, van-Lookeren M, Campagne M, Ottersen OP, Danbolt NC, Storm-Mathisen J, (1995) Glutamate transporters in glial plasma membranes: highly differentiated localizations revealed by quantitative ultrastructural immunocytochemistry. Neuron 15:711–720

Danbolt NC, Chaudhry FA, Dehnes Y, Lehre KP, Levy LM, Ullensvang K, Storm-Mathisen J (1998) Properties and localization of glutamate transporters. Prog Brain Res 116:23–43

Dehnes Y, Chaudhry FA, Ullensvang K, Lehre KP, Storm-Mathisen J, Danbolt NC (1998) The glutamate transporter EAAT4 in rat cerebellar Purkinje cells: a glutamate-gated chloride channel concentrated near the synapse in parts of the dendritic membrane facing astroglia. J Neurosci 18:3606–3619

Dunlop J, Lou Z, McIlvain HB (1999) Properties of excitatory amino acid transport in human U373 astrocytoma cell line. Brain Res 839:235–242

Ehinger B (1977) Glial and neuronal uptake of GABA, glutamic acid, glutamine, glutathione in the rabbit retina. Exp Eye Res 25:221–234

Eliasof S, Arriza JL, Leighton BH, Amara SG, Kavanaugh MP (1998) Localization and function of five glutamate transporters cloned from the salamander retina Vision Res 38:1443–1454

Fairman WA, Vandenberg RJ, Arriza JL, Kavanaugh MP, Amara SG (1995) An excitatory amino-acid transporter with properties of a ligand-gated chloride channel. Nature 375:599–603

Fletcher EL, Kalloniatis M (1997) Localisation of amino acid neurotransmitters during postnatal development of the rat retina. J Comp Neurol 380:449–471

Furuta A, Martin LJ, Lin CL, Dykes-Hoberg M, Rothstein JD (1997) Cellular and synaptic localization of the neuronal glutamate transporters excitatory amino acid transporter 3 and 4. Neuroscience 81:1031–1042

Hu W-H, Walters WM, Xia A-M, Karmally SA, Bethea JR (2003) Neuronal glutamate transporter EAAT4 is expressed in astrocytes. Glia 44:13–25

Kanai Y, Hediger MA (1992) Primary structure and functional characterization of a high-affinity glutamate transporter. Nature 360:467–471

Lehre KP, Levy L, Ottersen OP, Storm-Mathisen J, Danbolt NC (1995) Differential expression of two glial glutamate transporters in the rat brain: quantitative and immunocytochemical observations. J Neurosci 15:1835–1853

Lin CL, Tzingounis AV, Jin L, Furuta A, Kavanaugh MP, Rothstein JD (1998) Molecular cloning and expression of the rat EAAT4 glutamate transporter subtype. Brain Res Mol Brain Res 63:174–179

Massie A, Vandesande F, Arckens L (2001) Expression of the high-affinity glutamate transporter EAAT4 in mammalian cerebral cortex. Neuroreport 12:393–397

Nagao S, Kwak S, Kanazawa I (1997) EAAT4, a glutamate transporter with properties of a chloride channel, is predominantly localized in Purkinje cell dendrites, and form parasagittal compartments in rat cerebellum. Neuroscience 78:929–933

Pines G, Danbolt NC, Bjoras M, Zhang Y, Bendaham A, Eide L, Koepsell H, Storm MJ, Seeberg E, Kanner BI (1992) Cloning and expression of a rat brain l-glutamate transporter. Nature 360:464–467

Pow DV, Barnett NL (1999) Changing patterns of spatial buffering of glutamate in developing rat retinae are mediated by the Müller cell glutamate transporter GLAST. Cell Tissue Res 297:57–66

Rauen T, Rothstein JD, Wässle H (1996) Differential expression of three glutamate transporter subtypes in the rat retina. Cell Tissue Res 286:325–336

Rauen T, Taylor WR, Kuhlbrodt K, Wiessner M (1998) High-affinity glutamate transporters in the rat retina: a major role of the glial glutamate transporter GLAST-1 in transmitter clearance. Cell Tissue Res 291:19–31

Rothstein JD, Dykes-Hoberg M, Pardo CA, Bristol LA, Jin L, Kunci RW, Kanai Y, Hediger MA, Wang Y, Schielke JP, Welty DF (1996) Knockout of glutamate transporter reveals a major role for astrogial transport in excitotoxicity and clearance of glutamate. Neuron 16:675–686

Seal RP, Amara SG (1999) Excitatory amino acid transporters: a family in flux. Ann Rev Pharmacol Toxicol 39:431–456

Stork T, Schulte S, Hoffmann K, Stoffel W (1992) Structure, expression, and functional analysis of a (Na+)-dependent glutamate/aspartate transporter from rat brain. Proc Natl Acad Sci U S A 89:10955–10959

Zahs KR, Wu T (2001) Confocal microscopic study of glial-vascular relationships in the retinas of pigmented rats. J Comp Neurol 429:253–269
Acknowledgements
The authors are very grateful for the assistance of Mr. Guido Tomisich for technical assistance.
Additional information
This work was supported by grants from the National Health and Medical Research Council (Grant #208950) and Retina Australia.
About this article
Cite this article
Ward, M.M., Jobling, A.I., Puthussery, T. et al. Localization and expression of the glutamate transporter, excitatory amino acid transporter 4, within astrocytes of the rat retina. Cell Tissue Res 315, 305–310 (2004). https://doi.org/10.1007/s00441-003-0849-3
Received:

Accepted:

Published:

Issue Date:
Keywords
Glutamate transporter

Retina

EAAT

GLAST

Astrocytes

Müller cell

Rat