Abstract
The lymphatic system is generally regarded as supplementary to the blood vascular system, in that it transports interstitial fluid, macromolecules, and immune cells back into the blood. However, in insects, the open hemolymphatic (or lymphohematic) system ensures the circulation of immune cells and interstitial fluid through the body. The Drosophila homolog of the mammalian vascular endothelial growth factor receptor (VEGFR) gene family is expressed in hemocytes, suggesting a close relationship to the endothelium that develops later in phylogeny. Lymph hearts are typical organs for the propulsion of lymph in lower vertebrates and are still transiently present in birds. The lymphatic endothelial marker VEGFR-3 is transiently expressed in embryonic blood vessels and is crucial for their development. We therefore regard the question of whether the blood vascular system or the lymphatic system is primary or secondary as open. Future molecular comparisons should be performed without any bias based on the current prevalence of the blood vascular system over the lymphatic system. Here, we give an overview of the structure, function, and development of the lymphatics, with special emphasis on the recently discovered lymphangiogenic growth factors.
This is a preview of subscription content, log in to check access.
Access options
Buy single article
Instant access to the full article PDF.
US$ 39.95
Price includes VAT for USA
Subscribe to journal
Immediate online access to all issues from 2019. Subscription will auto renew annually.
US$ 199
This is the net price. Taxes to be calculated in checkout.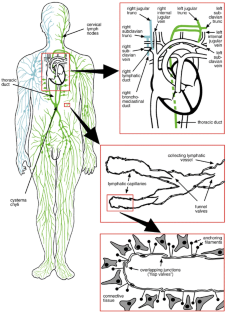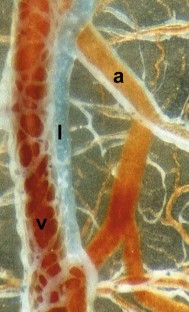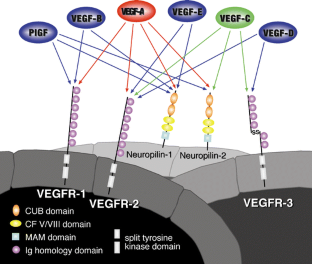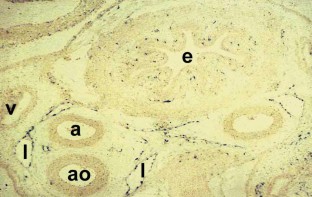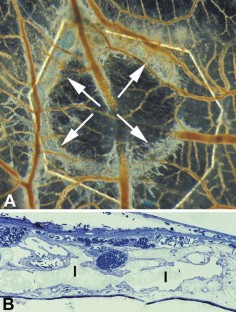 References
Abedi H, Zachary I (1997) Vascular endothelial growth factor stimulates tyrosine phosphorylation and recruitment to new focal adhesions of focal adhesion kinase and paxillin in endothelial cells. J Biol Chem 272:15442–15451

Aboul-Enein A, Eshmawy I, Arafa S, Abboud A (1984) The role of lymphovenous communication in the development of postmastectomy lymphedema. Surgery 95:562–566

Achen MG, Jeltsch M, Kukk E, Makinen T, Vitali A, Wilks AF, Alitalo K, Stacker SA (1998) Vascular endothelial growth factor D (VEGF-D) is a ligand for the tyrosine kinases VEGF receptor 2 (Flk1) and VEGF receptor 3 (Flt4). Proc Natl Acad Sci USA 95:548–553

Asahara T, Murohara T, Sullivan A, Silver M, Zee R van der, Li T, Witzenbichler B, Schatteman G, Isner JM (1997) Isolation of putative progenitor endothelial cells for angiogenesis. Science 275:964–967

Asahara T, Masuda H, Takahashi T, Kalka C, Pastore C, Silver M, Kearne M, Magner M, Isner JM (1999) Bone marrow origin of endothelial progenitor cells responsible for postnatal vasculogenesis in physiological and pathological neovascularization. Circ Res 85:221–228

Avantaggiato V, Orlandini M, Acampora D, Oliviero S, Simeone A (1998) Embryonic expression pattern of the murine figf gene, a growth factor belonging to platelet-derived growth factor/vascular endothelial growth factor family. Mech Dev 73:221–224

Baldwin ME, Catimel B, Nice EC, Roufail S, Hall NE, Stenvers KL, Karkkainen MJ, Alitalo K, Stacker SA, Achen MG (2001) The specificity of receptor binding by vascular endothelial growth factor-d is different in mouse and man. J Biol Chem 276:19166–19171

Bergstrom K, Werner B (1966) Proteins in human thoracic duct lymph. Studies on the distribution of some proteins between lymph and blood. Acta Chir Scand 131:413–422

Betsholtz C, Karlsson L, Lindahl P (2001) Developmental roles of platelet-derived growth factors. Bioessays 23:494–507

Bierman HR (1953) The characteristics of thoracic duct lymph in man. J Clin Invest 32:637–649

Birner P, Schindl M, Obermair A, Breitenecker G, Kowalski H, Oberhuber G (2001) Lymphatic microvessel density as a novel prognostic factor in early-stage invasive cervical cancer. Int J Cancer 95:29–33

Bollinger A, Isenring G, Franzeck UK, Brunner U (1983) Aplasia of superficial lymphatic capillaries in hereditary and connatal lymphedema (Milroy's disease). Lymphology 16:27–30

Borg JP, deLapeyriere O, Noguchi T, Rottapel R, Dubreuil P, Birnbaum D (1995) Biochemical characterization of two isoforms of FLT4, a VEGF receptor-related tyrosine kinase. Oncogene 10:973–984

Bruijn MF de, Speck NA, Peeters MC, Dzierzak E (2000) Definitive hematopoietic stem cells first develop within the major arterial regions of the mouse embryo. EMBO J 19:2465–2474

Byzova TV, Goldman CK, Jankau J, Chen J, Cabrera G, Achen MG, Stacker SA, Carnevale KA, Siemionow M, Deitcher SR, DiCorleto PE (2002) Adenovirus encoding vascular endothelial growth factor-D induces tissue-specific vascular patterns in vivo. Blood 99:4434–4442

Cao Y, Linden P, Farnebo J, Cao R, Eriksson A, Kumar V, Qi JH, Claesson-Welsh L, Alitalo K (1998) Vascular endothelial growth factor C induces angiogenesis in vivo. Proc Natl Acad Sci USA 95:14389–14394

Carmeliet P (2000) Mechanisms of angiogenesis and arteriogenesis. Nat Med 6:389–395

Carmeliet P (2003) Angiogenesis in health and disease. Nat Med 9:653–660

Carmeliet P, Ferreira V, Breier G, Pollefeyt S, Kieckens L, Gertsenstein M, Fahrig M, Vandenhoeck A, Harpal K, Eberhardt C, Declercq C, Pawling J, Moons L, Collen D, Risau W, Nagy A (1996) Abnormal blood vessel development and lethality in embryos lacking a single VEGF allele. Nature 380:435–439

Carmeliet P, Lampugnani MG, Moons L, Breviario F, Compernolle V, Bono F, Balconi G, Spagnuolo R, Oostuyse B, Dewerchin M, Zanetti A, Angellilo A, Mattot V, Nuyens D, Lutgens E, Clotman F, Ruiter MC de, Gittenberger-de Groot A, Poelmann R, Lupu F, Herbert JM, Collen D, Dejana E (1999) Targeted deficiency or cytosolic truncation of the VE-cadherin gene in mice impairs VEGF-mediated endothelial survival and angiogenesis. Cell 98:147–157

Carter CL, Allen C, Henson DE (1989) Relation of tumor size, lymph node status, and survival in 24,740 breast cancer cases. Cancer 63:181–187

Casley-Smith JR, Foldi-Borsok E, Foldi M (1976) The prelymphatic pathways of the brain as revealed by cervical lymphatic obstruction and the passage of particles. Br J Exp Pathol 57:179–188

Celis AV, Gaughf CN, Sangueza OP, Gourdin FW (1999) Acquired lymphangiectasis. South Med J 92:69–72

Cheng N, Brantley DM, Chen J (2002) The ephrins and Eph receptors in angiogenesis. Cytokine Growth Factor Rev 13:75–85

Chilov D, Kukk E, Taira S, Jeltsch M, Kaukonen J, Palotie A, Joukov V, Alitalo K (1997) Genomic organization of human and mouse genes for vascular endothelial growth factor C. J Biol Chem 272:25176–25183

Cho NK, Keyes L, Johnson E, Heller J, Ryner L, Karim F, Krasnow MA (2002) Developmental control of blood cell migration by the Drosophila VEGF pathway. Cell 108:865–876

Ciau-Uitz A, Walmsley M, Patient R (2000) Distinct origins of adult and embryonic blood in Xenopus. Cell 102:787–796

Clark AH (1912) On the fate of the jugular lymph sacs and the development of the lymph channels in the neck of the pig. Am J Anat 14:47–62

Clark ER, Clark EL (1920) On the origin and early development of the lymphatic system of the chick. Contrib Embryol 9:447–482

Clark ER, Clark EL (1932) Observations on the new growth of lymphatic vessels as seen in transparent chambers introduced into the rabbit's ear. Am J Anat 51:49–87

Crosby JR, Kaminski WE, Schatteman G, Martin PJ, Raines EW, Seifert RA, Bowen-Pope DF (2000) Endothelial cells of hematopoietic origin make a significant contribution to adult blood vessel formation. Circ Res 87:728–730

Cunningham SA, Arrate MP, Brock TA, Waxham MN (1997) Interactions of FLT-1 and KDR with phospholipase C gamma: identification of the phosphotyrosine binding sites. Biochem Biophys Res Commun 240:635–639

Dadras SS, Paul T, Bertoncini J, Brown LF, Muzikansky A, Jackson DG, Ellwanger U, Garbe C, Mihm MC, Detmar M (2003) Tumor lymphangiogenesis: a novel prognostic indicator for cutaneous melanoma metastasis and survival. Am J Pathol 162:1951–1960

Detmar M, Brown LF, Schon MP, Elicker BM, Velasco P, Richard L, Fukumura D, Monsky W, Claffey KP, Jain RK (1998) Increased microvascular density and enhanced leukocyte rolling and adhesion in the skin of VEGF transgenic mice. J Invest Dermatol 111:1–6

Dimmeler S, Zeiher AM (1999) Nitric oxide—an endothelial cell survival factor. Cell Death Differ 6:964–968

Dreyer G, Noroes J, Figueredo-Silva J, Piessens WF (2000) Pathogenesis of lymphatic disease in Bancroftian filariasis: a clinical perspective. Parasitol Today 16:544–548

Duchek P, Somogyi K, Jekely G, Beccari S, Rorth P (2001) Guidance of cell migration by the Drosophila PDGF/VEGF receptor. Cell 107:17–26

Dumont DJ, Jussila L, Taipale J, Lymboussaki A, Mustonen T, Pajusola K, Breitman M, Alitalo K (1998) Cardiovascular failure in mouse embryos deficient in VEGF receptor-3. Science 282:946–949

Eichmann A, Marcelle C, Breant C, Le Douarin NM (1993) Two molecules related to the VEGF receptor are expressed in early endothelial cells during avian embryonic development. Mech Dev 42:33–48

Eichmann A, Corbel C, Nataf V, Vaigot P, Breant C, Le Douarin NM (1997) Ligand-dependent development of the endothelial and hemopoietic lineages from embryonic mesodermal cells expressing vascular endothelial growth factor receptor 2. Proc Natl Acad Sci USA 94:5141–5146

Eichmann A, Corbel C, Jaffredo T, Breant C, Joukov V, Kumar V, Alitalo K, Douarin NM le (1998) Avian VEGF-C: cloning, embryonic expression pattern and stimulation of the differentiation of VEGFR2-expressing endothelial cell precursors. Development 125:743–752

Enholm B, Paavonen K, Ristimaki A, Kumar V, Gunji Y, Klefstrom J, Kivinen L, Laiho M, Olofsson B, Joukov V, Eriksson U, Alitalo K (1997) Comparison of VEGF, VEGF-B, VEGF-C and Ang-1 mRNA regulation by serum, growth factors, oncoproteins and hypoxia. Oncogene 14:2475–2483

Esiri MM, Gay D (1990) Immunological and neuropathological significance of the Virchow-Robin space. J Neurol Sci 100:3–8

Fairbrother WJ, Champe MA, Christinger HW, Keyt BA, Starovasnik MA (1998) Solution structure of the heparin-binding domain of vascular endothelial growth factor. Structure 6:637–648

Fang J, Dagenais SL, Erickson RP, Arlt MF, Glynn MW, Gorski JL, Seaver LH, Glover TW (2000) Mutations in FOXC2 (MFH-1), a forkhead family transcription factor, are responsible for the hereditary lymphedema-distichiasis syndrome. Am J Hum Genet 67:1382–1388

Farnebo F, Piehl F, Lagercrantz J (1999) Restricted expression pattern of vegf-d in the adult and fetal mouse: high expression in the embryonic lung. Biochem Biophys Res Commun 257:891–894

Ferrara N, Carver-Moore K, Chen H, Dowd M, Lu L, O'Shea KS, Powell-Braxton L, Hillan KJ, Moore MW (1996) Heterozygous embryonic lethality induced by targeted inactivation of the VEGF gene. Nature 380:439–442

Ferrara N, Gerber HP, LeCouter J (2003) The biology of VEGF and its receptors. Nat Med 9:669–676

Ferrell RE, Levinson KL, Esman JH, Kimak MA, Lawrence EC, Barmada MM, Finegold DN (1998) Hereditary lymphedema: evidence for linkage and genetic heterogeneity. Hum Mol Genet 7:2073–2078

Finegold DN, Kimak MA, Lawrence EC, Levinson KL, Cherniske EM, Pober BR, Dunlap JW, Ferrell RE (2001) Truncating mutations in FOXC2 cause multiple lymphedema syndromes. Hum Mol Genet 10:1185–1189

Fisher B, Slack NH, Bross ID (1969) Cancer of the breast: size of neoplasm and prognosis. Cancer 24:1071–1080

Fitz LJ, Morris JC, Towler P, Long A, Burgess P, Greco R, Wang J, Gassaway R, Nickbarg E, Kovacic S, Ciarletta A, Giannotti J, Finnerty H, Zollner R, Beier DR, Leak LV, Turner KJ, Wood CR (1997) Characterization of murine Flt4 ligand/VEGF-C. Oncogene 15:613–618

Fong GH, Rossant J, Gertsenstein M, Breitman ML (1995) Role of the Flt-1 receptor tyrosine kinase in regulating the assembly of vascular endothelium. Nature 376:66–70

Fong GH, Zhang L, Bryce DM, Peng J (1999) Increased hemangioblast commitment, not vascular disorganization, is the primary defect in flt-1 knock-out mice. Development 126:3015–3025

Foster RS Jr (1996) General anatomy of the lymphatic system. Surg Oncol Clin N Am 5:1–13

Fournier E, Dubreuil P, Birnbaum D, Borg JP (1995) Mutation at tyrosine residue 1337 abrogates ligand-dependent transforming capacity of the FLT4 receptor. Oncogene 11:921–931

Fournier E, Rosnet O, Marchetto S, Turck CW, Rottapel R, Pelicci PG, Birnbaum D, Borg JP (1996) Interaction with the phosphotyrosine binding domain/phosphotyrosine interacting domain of SHC is required for the transforming activity of the FLT4/VEGFR3 receptor tyrosine kinase. J Biol Chem 271:12956–12963

Fulton D, Gratton JP, McCabe TJ, Fontana J, Fujio Y, Walsh K, Franke TF, Papapetropoulos A, Sessa WC (1999) Regulation of endothelium-derived nitric oxide production by the protein kinase Akt. Nature 399:597–601

Gerber HP, Dixit V, Ferrara N (1998a) Vascular endothelial growth factor induces expression of the antiapoptotic proteins Bcl-2 and A1 in vascular endothelial cells. J Biol Chem 273:13313–13316

Gerber HP, McMurtrey A, Kowalski J, Yan M, Keyt BA, Dixit V, Ferrara N (1998b) Vascular endothelial growth factor regulates endothelial cell survival through the phosphatidylinositol 3'-kinase/Akt signal transduction pathway. Requirement for Flk-1/KDR activation. J Biol Chem 273:30336–30343

Gilewski MK, Statler CC, Kohut G, Toriello HV (1996) Congenital pulmonary lymphangiectasia and other anomalies in a child: provisionally unique syndrome? Am J Med Genet 66:438–440

Heino TI, Karpanen T, Wahlstrom G, Pulkkinen M, Eriksson U, Alitalo K, Roos C (2001) The Drosophila VEGF receptor homolog is expressed in hemocytes. Mech Dev 109:69–77

Hennekam RC, Geerdink RA, Hamel BC, Hennekam FA, Kraus P, Rammeloo JA, Tillemans AA (1989) Autosomal recessive intestinal lymphangiectasia and lymphedema, with facial anomalies and mental retardation. Am J Med Genet 34:593–600

Hiltunen MO, Laitinen M, Turunen MP, Jeltsch M, Hartikainen J, Rissanen TT, Laukkanen J, Niemi M, Kossila M, Hakkinen TP, Kivela A, Enholm B, Mansukoski H, Turunen AM, Alitalo K, Yla-Herttuala S (2000) Intravascular adenovirus-mediated VEGF-C gene transfer reduces neointima formation in balloon-denuded rabbit aorta. Circulation 102:2262–2268

Hogan RD, Unthank JL (1986) Mechanical control of initial lymphatic contractile behavior in bat's wing. Am J Physiol 251:H357–H363

Holberg CJ, Erickson RP, Bernas MJ, Witte MH, Fultz KE, Andrade M, Witte CL (2001) Segregation analyses and a genome-wide linkage search confirm genetic heterogeneity and suggest oligogenic inheritance in some Milroy congenital primary lymphedema families. Am J Med Genet 98:303–312

Hoyer H (1934) Das Lymphgefäßsystem der Wirbeltiere vom Standpunkte der vergleichenden Anatomie. Mem Acad Polon Sci Lett Med 1:1–205

Hu JS, Hastings GA, Cherry S, Gentz R, Ruben S, Coleman TA (1997) A novel regulatory function of proteolytically cleaved VEGF-2 for vascular endothelial and smooth muscle cells. FASEB J 11:498–504

Hughes DC (2001) Alternative splicing of the human VEGFGR-3/FLT4 gene as a consequence of an integrated human endogenous retrovirus. J Mol Evol 53:77–79

Huntington GS, McClure CFW (1910) The anatomy and development of the jugular lymph sac in the domestic cat (Felis domestica). Am J Anat 10:177–311

Iyer S, Leonidas DD, Swaminathan GJ, Maglione D, Battisti M, Tucci M, Persico MG, Acharya KR (2001) The crystal structure of human placenta growth factor-1 (PlGF-1), an angiogenic protein, at 2.0 Å resolution. J Biol Chem 276:12153–12161

Jackson DG, Prevo R, Clasper S, Banerji S (2001) LYVE-1, the lymphatic system and tumor lymphangiogenesis. Trends Immunol 22:317–321

Jagt ER van der (1932) The origin and development of the anterior lymph sacs in the sea turtle (Thalassochelys caretta). Q J Microbiol Sci 75:151–165

Janse AJ, Coevorden F van, Peterse H, Keus RB, Dongen JA van (1995) Lymphedema-induced lymphangiosarcoma. Eur J Surg Oncol 21:155–158

Jeltsch M, Kaipainen A, Joukov V, Meng X, Lakso M, Rauvala H, Swartz M, Fukumura D, Jain RK, Alitalo K (1997) Hyperplasia of lymphatic vessels in VEGF-C transgenic mice. Science 276:1423–1425

Jiang BH, Zheng JZ, Aoki M, Vogt PK (2000) Phosphatidylinositol 3-kinase signaling mediates angiogenesis and expression of vascular endothelial growth factor in endothelial cells. Proc Natl Acad Sci USA 97:1749–1753

Job TT (1918) Lymphatico-venous communications in the common rat and their significance. Am J Anat 24:467–491

Johnston M, Papaiconomou C (2002) Cerebrospinal fluid transport: a lymphatic perspective. News Physiol Sci 17:227–230

Jones N, Iljin K, Dumont DJ, Alitalo K (2001) Tie receptors: new modulators of angiogenic and lymphangiogenic responses. Nat Rev Mol Cell Biol 2:257–267

Joukov V, Pajusola K, Kaipainen A, Chilov D, Lahtinen I, Kukk E, Saksela O, Kalkkinen N, Alitalo K (1996) A novel vascular endothelial growth factor, VEGF-C, is a ligand for the Flt4 (VEGFR-3) and KDR (VEGFR-2) receptor tyrosine kinases. EMBO J 15:290–298

Joukov V, Sorsa T, Kumar V, Jeltsch M, Claesson-Welsh L, Cao Y, Saksela O, Kalkkinen N, Alitalo K (1997) Proteolytic processing regulates receptor specificity and activity of VEGF-C. EMBO J 16:3898–3911

Joukov V, Kumar V, Sorsa T, Arighi E, Weich H, Saksela O, Alitalo K (1998) A recombinant mutant vascular endothelial growth factor-C that has lost vascular endothelial growth factor receptor-2 binding, activation, and vascular permeability activities. J Biol Chem 273:6599–6602

Jussila L, Alitalo K (2002) Vascular growth factors and lymphangiogenesis. Physiol Rev 82:673–700

Kääriäinen H (1984) Hereditary lymphedema: a new combination of symptoms not fitting into present classifications. Clin Genet 26:254–256

Kaipainen A, Korhonen J, Mustonen T, Hinsbergh VW van, Fang GH, Dumont D, Breitman M, Alitalo K (1995) Expression of the fms-like tyrosine kinase 4 gene becomes restricted to lymphatic endothelium during development. Proc Natl Acad Sci USA 92:3566–3570

Kampmeier OF (1912) The development of the thoracic duct in the pig. Am J Anat 13:401–475

Kampmeier OF (1969) Evolution and comparative morphology of the lymphatic system. Thomas, Springfield

Karkkainen MJ, Ferrell RE, Lawrence EC, Kimak MA, Levinson KL, McTigue MA, Alitalo K, Finegold DN (2000) Missense mutations interfere with VEGFR-3 signalling in primary lymphoedema. Nat Genet 25:153–159

Karkkainen MJ, Saaristo A, Jussila L, Karila KA, Lawrence EC, Pajusola K, Bueler H, Eichmann A, Kauppinen R, Kettunen MI, Yla-Herttuala S, Finegold DN, Ferrell RE, Alitalo K (2001) A model for gene therapy of human hereditary lymphedema. Proc Natl Acad Sci USA 98:12677–12682

Karpanen T, Egeblad M, Karkkainen MJ, Kubo H, Yla-Herttuala S, Jaattela M, Alitalo K (2001) Vascular endothelial growth factor C promotes tumor lymphangiogenesis and intralymphatic tumor growth. Cancer Res 61:1786–1790

Keck PJ, Hauser SD, Krivi G, Sanzo K, Warren T, Feder J, Connolly DT (1989) Vascular permeability factor, an endothelial cell mitogen related to PDGF. Science 246:1309–1312

Kinmonth J, Taylor G (1956) Spontaneous rhythmic contractility in human lymphatics. J Physiol (Lond) 133:3P

Kinnaert P (1973) Pressure measurements in the cervical portion of the thoracic duct in man. Br J Surg 60:558–561

Klein J (1990) Immunology. Blackwell, Oxford

Korpelainen EI, Karkkainen M, Gunji Y, Vikkula M, Alitalo K (1999) Endothelial receptor tyrosine kinases activate the STAT signaling pathway: mutant Tie-2 causing venous malformations signals a distinct STAT activation response. Oncogene 18:1–8

Kotani M (1990) New concepts related to the evolution of lymphatics. In: Nishi M, Uchino S, Yabuki S (eds) Progress in Lymphology, vol XII. Elsevier, Amsterdam, pp 113–115

Kriehuber E, Breiteneder-Geleff S, Groeger M, Soleiman A, Schoppmann SF, Stingl G, Kerjaschki D, Maurer D (2001) Isolation and characterization of dermal lymphatic and blood endothelial cells reveal stable and functionally specialized cell lineages. J Exp Med 194:797–808

Kroll J, Waltenberger J (1997) The vascular endothelial growth factor receptor KDR activates multiple signal transduction pathways in porcine aortic endothelial cells. J Biol Chem 272:32521–32527

Kukk E, Lymboussaki A, Taira S, Kaipainen A, Jeltsch M, Joukov V, Alitalo K (1996) VEGF-C receptor binding and pattern of expression with VEGFR-3 suggests a role in lymphatic vascular development. Development 122:3829–3837

Laitinen M, Ristimaki A, Honkasalo M, Narko K, Paavonen K, Ritvos O (1997) Differential hormonal regulation of vascular endothelial growth factors VEGF, VEGF-B, and VEGF-C messenger ribonucleic acid levels in cultured human granulosa-luteal cells. Endocrinology 138:4748–4756

Landis EM, Pappenheimer JR (1963) Exchange of substances through the capillary wall. In: Pow P (ed) Handbook of physiology. American Physiological Society, Washington, pp 961–1073

Laurent P, DeLaney R, Fishman A (1978) The vasculature of the gills in the aquatic and aestivating lungfish (Protopterus aethiopicus). J Morphol 156:173–208

Leak LV (1970) Electron microscopic observations on lymphatic capillaries and the structural components of the connective tissue-lymph interface. Microvasc Res 2:361–391

Lee J, Gray A, Yuan J, Luoh SM, Avraham H, Wood WI (1996) Vascular endothelial growth factor-related protein: a ligand and specific activator of the tyrosine kinase receptor Flt4. Proc Natl Acad Sci USA 93:1988–1992

Leu AJ, Berk DA, Lymboussaki A, Alitalo K, Jain RK (2000) Absence of functional lymphatics within a murine sarcoma: a molecular and functional evaluation. Cancer Res 60:4324–4327

Leung DW, Cachianes G, Kuang WJ, Goeddel DV, Ferrara N (1989) Vascular endothelial growth factor is a secreted angiogenic mitogen. Science 246:1306–1309

Linder E, Blomstrand R (1958) Technic for collection of thoracic duct lymph of man. Proc Soc Exp Biol Med 97:653–657

Lymboussaki A, Olofsson B, Eriksson U, Alitalo K (1999) Vascular endothelial growth factor (VEGF) and VEGF-C show overlapping binding sites in embryonic endothelia and distinct sites in differentiated adult endothelia. Circ Res 85:992–999

Maglione D, Guerriero V, Viglietto G, Ferraro MG, Aprelikova O, Alitalo K, Del Vecchio S, Lei KJ, Chou JY, Persico MG (1993) Two alternative mRNAs coding for the angiogenic factor, placenta growth factor (PlGF), are transcribed from a single gene of chromosome 14. Oncogene 8:925–931

Makinen T, Veikkola T, Mustjoki S, Karpanen T, Catimel B, Nice EC, Wise L, Mercer A, Kowalski H, Kerjaschki D, Stacker SA, Achen MG, Alitalo K (2001) Isolated lymphatic endothelial cells transduce growth, survival and migratory signals via the VEGF-C/D receptor VEGFR-3. EMBO J 20:4762–4773

Mandriota SJ, Jussila L, Jeltsch M, Compagni A, Baetens D, Prevo R, Banerji S, Huarte J, Montesano R, Jackson DG, Orci L, Alitalo K, Christofori G, Pepper MS (2001) Vascular endothelial growth factor-C-mediated lymphangiogenesis promotes tumour metastasis. EMBO J 20:672–682

Marconcini L, Marchio S, Morbidelli L, Cartocci E, Albini A, Ziche M, Bussolino F, Oliviero S (1999) c-fos-induced growth factor/vascular endothelial growth factor D induces angiogenesis in vivo and in vitro. Proc Natl Acad Sci USA 96:9671–9676

Mayer P (1919) Über die Lymphgefäße der Fische und ihre mutmaßliche Rolle bei der Verdauung. Jena Z Naturwiss 55:125–174

Muller YA, Christinger HW, Keyt BA, Vos AM de (1997a) The crystal structure of vascular endothelial growth factor (VEGF) refined to 1.93 Å resolution: multiple copy flexibility and receptor binding. Structure 5:1325–1338

Muller YA, Li B, Christinger HW, Wells JA, Cunningham BC, Vos AM de (1997b) Vascular endothelial growth factor: crystal structure and functional mapping of the kinase domain receptor binding site. Proc Natl Acad Sci USA 94:7192–7197

Nagy JA, Vasile E, Feng D, Sundberg C, Brown LF, Detmar MJ, Lawitts JA, Benjamin L, Tan X, Manseau EJ, Dvorak AM, Dvorak HF (2002) Vascular permeability factor/vascular endothelial growth factor induces lymphangiogenesis as well as angiogenesis. J Exp Med 196:1497–1506

Neufeld G, Cohen T, Gengrinovitch S, Poltorak Z (1999) Vascular endothelial growth factor (VEGF) and its receptors. FASEB J 13:9–22

Neufeld G, Cohen T, Shraga N, Lange T, Kessler O, Herzog Y (2002) The neuropilins: multifunctional semaphorin and VEGF receptors that modulate axon guidance and angiogenesis. Trends Cardiovasc Med 12:13–19

Oefner C, D'Arcy A, Winkler FK, Eggimann B, Hosang M (1992) Crystal structure of human platelet-derived growth factor BB. EMBO J 11:3921–3926

Oh SJ, Jeltsch MM, Birkenhager R, McCarthy JE, Weich HA, Christ B, Alitalo K, Wilting J (1997) VEGF and VEGF-C: specific induction of angiogenesis and lymphangiogenesis in the differentiated avian chorioallantoic membrane. Dev Biol 188:96–109

Oliver G, Detmar M (2002) The rediscovery of the lymphatic system: old and new insights into the development and biological function of the lymphatic vasculature. Genes Dev 16:773–783

Olofsson B, Pajusola K, von Euler G, Chilov D, Alitalo K, Eriksson U (1996) Genomic organization of the mouse and human genes for vascular endothelial growth factor B (VEGF-B) and characterization of a second splice isoform. J Biol Chem 271:19310–19317

Olszewski WL, Engeset A (1980) Intrinsic contractility of prenodal lymph vessels and lymph flow in human leg. Am J Physiol 239:H775–H783

Oosthuyse B, Moons L, Storkebaum E, Beck H, Nuyens D, Brusselmans K, Van Dorpe J, Hellings P, Gorselink M, Heymans S, Theilmeier G, Dewerchin M, Laudenbach V, Vermylen P, Raat H, Acker T, Vleminckx V, Van Den Bosch L, Cashman N, Fujisawa H, Drost MR, Sciot R, Bruyninckx F, Hicklin DJ, Ince C, Gressens P, Lupu F, Plate KH, Robberecht W, Herbert JM, Collen D, Carmeliet P (2001) Deletion of the hypoxia-response element in the vascular endothelial growth factor promoter causes motor neuron degeneration. Nat Genet 28:131–138

Orlandini M, Oliviero S (2001) In fibroblasts Vegf-D expression is induced by cell-cell contact mediated by cadherin-11. J Biol Chem 276:6576–6581

Orlandini M, Marconcini L, Ferruzzi R, Oliviero S (1996) Identification of a c-fos-induced gene that is related to the platelet-derived growth factor/vascular endothelial growth factor family. Proc Natl Acad Sci USA 93:11675–11680

Pain SJ, Purushotham AD (2000) Lymphoedema following surgery for breast cancer. Br J Surg 87:1128–1141

Pajusola K, Aprelikova O, Armstrong E, Morris S, Alitalo K (1993) Two human FLT4 receptor tyrosine kinase isoforms with distinct carboxy terminal tails are produced by alternative processing of primary transcripts. Oncogene 8:2931–2937

Pajusola K, Aprelikova O, Pelicci G, Weich H, Claesson-Welsh L, Alitalo K (1994) Signalling properties of FLT4, a proteolytically processed receptor tyrosine kinase related to two VEGF receptors. Oncogene 9:3545–3555

Papoutsi M, Siemeister G, Weindel K, Tomarev SI, Kurz H, Schachtele C, Martiny-Baron G, Christ B, Marme D, Wilting J (2000) Active interaction of human A375 melanoma cells with the lymphatics in vivo. Histochem Cell Biol 114:373–385

Papoutsi M, Tomarev SI, Eichmann A, Prols F, Christ B, Wilting J (2001) Endogenous origin of the lymphatics in the avian chorioallantoic membrane. Dev Dyn 222:238–251

Parenti A, Morbidelli L, Cui XL, Douglas JG, Hood JD, Granger HJ, Ledda F, Ziche M (1998) Nitric oxide is an upstream signal of vascular endothelial growth factor-induced extracellular signal-regulated kinase1/2 activation in postcapillary endothelium. J Biol Chem 273:4220–4226

Pepper MS, Ferrara N, Orci L, Montesano R (1991) Vascular endothelial growth factor (VEGF) induces plasminogen activators and plasminogen activator inhibitor-1 in microvascular endothelial cells. Biochem Biophys Res Commun 181:902–906

Petrek JA, Heelan MC (1998) Incidence of breast carcinoma-related lymphedema. Cancer 83:2776–2781

Plate KH (1999) Mechanisms of angiogenesis in the brain. J Neuropathol Exp Neurol 58:313–320

Plouët J, Schilling J, Gospodarowicz D (1989) Isolation and characterization of a newly identified endothelial cell mitogen produced by AtT-20 cells. EMBO J 8:3801–3806

Porter CJH (1997) Drug delivery to the lymphatic system. Crit Rev Ther Drug Carrier Syst 14:333–393

Pressman JJ, Dunn RF, Burtz M (1967) Lymph node ultrastructure related to direct lymphaticovenous communication. Surg Gynecol Obstet 124:963–973

Putte SC van der (1975a) The development of the lymphatic system in man. Adv Anat Embryol Cell Biol 51:3–60

Putte SC van der (1975b) The early development of the lymphatic system in mouse embryos. Acta Morphol Neerl Scand 13:245–286

Rafii S, Lyden D (2003) Therapeutic stem and progenitor cell transplantation for organ vascularization and regeneration. Nat Med 9:702–712

Rao UR, Zometa CS, Vickery AC, Kwa BH, Nayar JK, Sutton ET (1996) Effect of Brugia malayi on the growth and proliferation of endothelial cells in vitro. J Parasitol 82:550–556

Reynolds LP, Killilea SD, Redmer DA (1992) Angiogenesis in the female reproductive system. FASEB J 6:886–892

Risau W (1998) Development and differentiation of endothelium. Kidney Int Suppl 67:S3–6

Ristimaki A, Narko K, Enholm B, Joukov V, Alitalo K (1998) Proinflammatory cytokines regulate expression of the lymphatic endothelial mitogen vascular endothelial growth factor-C. J Biol Chem 273:8413–8418

Ruohola JK, Valve EM, Karkkainen MJ, Joukov V, Alitalo K, Harkonen PL (1999) Vascular endothelial growth factors are differentially regulated by steroid hormones and antiestrogens in breast cancer cells. Mol Cell Endocrinol 149:29–40

Sabin FR (1902) On the origin of the lymphatic system from the veins and the development of the lymph hearts and thoracic duct in the pig. Am J Anat 1:367–391

Sabin FR (1909) The lymphatic system in human embryos, with a consideration of the morphology of the system as a whole. Am J Anat 9:43–91

Scalzetti EM, Heitzman ER, Groskin SA, Randall PA, Katzenstein AL (1991) Developmental lymphatic disorders of the thorax. Radiographics 11:1069–1085

Schmid-Schonbein GW (1990a) Mechanisms causing initial lymphatics to expand and compress to promote lymph flow. Arch Histol Cytol 53 (Suppl):107–114

Schmid-Schonbein GW (1990b) Microlymphatics and lymph flow. Physiol Rev 70:987–1028

Schneider M, Othman-Hassan K, Christ B, Wilting J (1999) Lymphangioblasts in the avian wing bud. Dev Dyn 216:311–319

Schoppmann SF, Birner P, Studer P, Breiteneder-Geleff S (2001) Lymphatic microvessel density and lymphovascular invasion assessed by anti-podoplanin immunostaining in human breast cancer. Anticancer Res 21:2351–2355

Seetharam L, Gotoh N, Maru Y, Neufeld G, Yamaguchi S, Shibuya M (1995) A unique signal transduction from FLT tyrosine kinase, a receptor for vascular endothelial growth factor VEGF. Oncogene 10:135–147

Senger DR, Claffey KP, Benes JE, Perruzzi CA, Sergiou AP, Detmar M (1997) Angiogenesis promoted by vascular endothelial growth factor: regulation through alpha1beta1 and alpha2beta1 integrins. Proc Natl Acad Sci USA 94:13612–13617

Shalaby F, Rossant J, Yamaguchi TP, Gertsenstein M, Wu XF, Breitman ML, Schuh AC (1995) Failure of blood-island formation and vasculogenesis in Flk-1-deficient mice. Nature 376:62–66

Shalaby F, Ho J, Stanford WL, Fischer KD, Schuh AC, Schwartz L, Bernstein A, Rossant J (1997) A requirement for Flk1 in primitive and definitive hematopoiesis and vasculogenesis. Cell 89:981–990

Shi Q, Rafii S, Wu MH, Wijelath ES, Yu C, Ishida A, Fujita Y, Kothari S, Mohle R, Sauvage LR, Moore MA, Storb RF, Hammond WP (1998) Evidence for circulating bone marrow-derived endothelial cells. Blood 92:362–367

Shima DT, Kuroki M, Deutsch U, Ng YS, Adamis AP, D'Amore PA (1996) The mouse gene for vascular endothelial growth factor. Genomic structure, definition of the transcriptional unit, and characterization of transcriptional and post-transcriptional regulatory sequences. J Biol Chem 271:3877–3883

Shweiki D, Itin A, Soffer D, Keshet E (1992) Vascular endothelial growth factor induced by hypoxia may mediate hypoxia-initiated angiogenesis. Nature 359:843–845

Siegfried G, Basak A, Cromlish JA, Benjannet S, Marcinkiewicz J, Chretien M, Seidah NG, Khatib AM (2003) The secretory proprotein convertases furin, PC5, and PC7 activate VEGF-C to induce tumorigenesis. J Clin Invest 111:1723–1732

Silvester CF (1912) On the presence of permanent communications between the lymphatic and the venous system at the level of the renal veins in adult South American monkeys. Am J Anat 12:447–471

Skobe M, Hawighorst T, Jackson DG, Prevo R, Janes L, Velasco P, Riccardi L, Alitalo K, Claffey K, Detmar M (2001) Induction of tumor lymphangiogenesis by VEGF-C promotes breast cancer metastasis. Nat Med 7:192–198

Soldi R, Mitola S, Strasly M, Defilippi P, Tarone G, Bussolino F (1999) Role of alphavbeta3 integrin in the activation of vascular endothelial growth factor receptor-2. EMBO J 18:882–892

Stacker SA, Stenvers K, Caesar C, Vitali A, Domagala T, Nice E, Roufail S, Simpson RJ, Moritz R, Karpanen T, Alitalo K, Achen MG (1999) Biosynthesis of vascular endothelial growth factor-D involves proteolytic processing which generates non-covalent homodimers. J Biol Chem 274:32127–32136

Stacker SA, Caesar C, Baldwin ME, Thornton GE, Williams RA, Prevo R, Jackson DG, Nishikawa S, Kubo H, Achen MG (2001) VEGF-D promotes the metastatic spread of tumor cells via the lymphatics. Nat Med 7:186–191

Stainier DY, Weinstein BM, Detrich HWr, Zon LI, Fishman MC (1995) Cloche, an early acting zebrafish gene, is required by both the endothelial and hematopoietic lineages. Development 121:3141–3150

Starling EH (1895–1896) On the absorption of fluids from the connective tissue spaces. J Physiol (Lond) 19:312–326

Steffensen JF, Lomholt JP (1992) The secondary vascular system. In: Hoar WS, Randall DJ, Farrell AP (ed) Fish physiology. Academic Press, San Diego New York Boston London Sydney Tokyo Toronto, pp 185–217

Stein I, Itin A, Einat P, Skaliter R, Grossman Z, Keshet E (1998) Translation of vascular endothelial growth factor mRNA by internal ribosome entry: implications for translation under hypoxia. Mol Cell Biol 18:3112–3119

Swartz MA (2001) The physiology of the lymphatic system. Adv Drug Deliv Rev 50:3–20

Taipale J, Makinen T, Arighi E, Kukk E, Karkkainen M, Alitalo K (1999) Vascular endothelial growth factor receptor-3. Curr Top Microbiol Immunol 237:85–96

Takahashi T, Shibuya M (1997) The 230 kDa mature form of KDR/Flk-1 (VEGF receptor-2) activates the PLC-gamma pathway and partially induces mitotic signals in NIH3T3 fibroblasts. Oncogene 14:2079–2089

Takahashi T, Ueno H, Shibuya M (1999) VEGF activates protein kinase C-dependent, but Ras-independent Raf-MEK-MAP kinase pathway for DNA synthesis in primary endothelial cells. Oncogene 18:2221–2230

Teng X, Li D, Johns RA (2002) Hypoxia up-regulates mouse vascular endothelial growth factor D promoter activity in rat pulmonary microvascular smooth-muscle cells. Chest 121:82S-83S

Threefoot SA, Kossover MF (1966) Lymphaticovenous communications in man. Arch Intern Med 117:213–223

Tischer E, Mitchell R, Hartman T, Silva M, Gospodarowicz D, Fiddes JC, Abraham JA (1991) The human gene for vascular endothelial growth factor. Multiple protein forms are encoded through alternative exon splicing. J Biol Chem 266:11947–11954

Tomanek RJ, Torry RJ (1994) Growth of the coronary vasculature in hypertrophy: mechanisms and model dependence. Cell Mol Biol Res 40:129–136

Unemori EN, Ferrara N, Bauer EA, Amento EP (1992) Vascular endothelial growth factor induces interstitial collagenase expression in human endothelial cells. J Cell Physiol 153:557–562

Veikkola T, Jussila L, Makinen T, Karpanen T, Jeltsch M, Petrova TV, Kubo H, Thurston G, McDonald DM, Achen MG, Stacker SA, Alitalo K (2001) Signalling via vascular endothelial growth factor receptor-3 is sufficient for lymphangiogenesis in transgenic mice. EMBO J 20:1223–1231

Vogel WOP, Claviez M (1981) Vascular specialization in fish, but no evidence for lymphatics. Z Naturforsch 36c:490–492

Waltenberger J, Claesson-Welsh L, Siegbahn A, Shibuya M, Heldin CH (1994) Different signal transduction properties of KDR and Flt1, two receptors for vascular endothelial growth factor. J Biol Chem 269:26988–26995

Wang JF, Ganju RK, Liu ZY, Avraham H, Avraham S, Groopman JE (1997) Signal transduction in human hematopoietic cells by vascular endothelial growth factor related protein, a novel ligand for the FLT4 receptor. Blood 90:3507–3515

Weidenreich F, Baum H, Trautmann A (1934) Das Lymphgefässsystem. In: Bolk L, Göppert E, Kallius E, Lubosch W (ed) Handbuch der vergleichenden Anatomie der Wirbeltiere. Urban und Schwarzenberg, Berlin Wien, pp 436–548

Weller RO, Engelhardt B, Phillips MJ (1996) Lymphocyte targeting of the central nervous system: a review of afferent and efferent CNS-immune pathways. Brain Pathol 6:275–288

Werner B (1966) The biochemical composition of the human thoracic duct lymph. Acta Chir Scand 132:63–76

Wiesmann C, Fuh G, Christinger HW, Eigenbrot C, Wells JA, Vos AM de (1997) Crystal structure at 1.7 Å resolution of VEGF in complex with domain 2 of the Flt-1 receptor. Cell 91:695–704

Wigle JT, Oliver G (1999) Prox1 function is required for the development of the murine lymphatic system. Cell 98:769–778

Wigle JT, Harvey N, Detmar M, Lagutina I, Grosveld G, Gunn MD, Jackson DG, Oliver G (2002) An essential role for Prox1 in the induction of the lymphatic endothelial cell phenotype. EMBO J 21:1505–1513

Wilting J, Christ B (1996) Embryonic angiogenesis: a review. Naturwissenschaften 83:153–164

Wilting J, Eichmann A, Christ B (1997) Expression of the avian VEGF receptor homologues Quek1 and Quek2 in blood-vascular and lymphatic endothelial and non-endothelial cells during quail embryonic development. Cell Tissue Res 288:207–223

Wilting J, Neeff H, Christ B (1999) Embryonic lymphangiogenesis. Cell Tissue Res 297:1–11

Witte MH, Bernas MJ, Martin CP, Witte CL (2001) Lymphangiogenesis and lymphangiodysplasia: from molecular to clinical lymphology. Microsc Res Tech 55:122–145

Witzenbichler B, Asahara T, Murohara T, Silver M, Spyridopoulos I, Magner M, Principe N, Kearney M, Hu JS, Isner JM (1998) Vascular endothelial growth factor-C (VEGF-C/VEGF-2) promotes angiogenesis in the setting of tissue ischemia. Am J Pathol 153:381–394

Wolfel DA (1965) Lymphaticovenous communications; a clinical reality. Am J Roentgenol Radium Ther Nucl Med 95:766–768

Xia P, Aiello LP, Ishii H, Jiang ZY, Park DJ, Robinson GS, Takagi H, Newsome WP, Jirousek MR, King GL (1996) Characterization of vascular endothelial growth factor's effect on the activation of protein kinase C, its isoforms, and endothelial cell growth. J Clin Invest 98:2018–2026

Yamada Y, Nezu J, Shimane M, Hirata Y (1997) Molecular cloning of a novel vascular endothelial growth factor, VEGF-D. Genomics 42:483–488

Yuan L, Moyon D, Pardanaud L, Breant C, Karkkainen MJ, Alitalo K, Eichmann A (2002) Abnormal lymphatic vessel development in neuropilin 2 mutant mice. Development 129:4797–4806

Zadvinskis DP, Benson MT, Kerr HH, Mancuso AA, Cacciarelli AA, Madrazo BL, Mafee MF, Dalen K (1992) Congenital malformations of the cervicothoracic lymphatic system: embryology and pathogenesis. Radiographics 12:1175–1189

Zweifach BW, Prather JW (1975) Micromanipulation of pressure in terminal lymphatics in the mesentery. Am J Physiol 228:1326–1335
About this article
Cite this article
Jeltsch, M., Tammela, T., Alitalo, K. et al. Genesis and pathogenesis of lymphatic vessels. Cell Tissue Res 314, 69–84 (2003). https://doi.org/10.1007/s00441-003-0777-2
Received:

Accepted:

Published:

Issue Date:
Keywords
Lymphatic endothelium

Drainage

Lymphedema

Lymphangiogenesis

VEGF

Vertebrates

Insects