Abstract
Pleurocidin is an antimicrobial peptide isolated from winter flounder and has been previously localized to mucous cells of the skin epidermis and the intestine. The present study was designed to determine the cell type involved in pleurocidin gene expression and protein synthesis in gills from the same species. Whole-mount in situ hybridization with a pleurocidin-specific RNA probe and whole-mount immunohistochemistry with an anti-pleurocidin antibody localized the expression of this gene and the synthesis of its corresponding protein in a population of cells primarily isolated to the non-lamellar portion of the gill filament. Histological techniques allowed the presumptive identification of these cells as eosinophilic granular cells. These observations suggest that pleurocidin is expressed in not one but two distinct populations of cells within the winter flounder, one being an important group of inflammatory cells, the eosinophilic granular cells.
This is a preview of subscription content, log in to check access.
Access options
Buy single article
Instant access to the full article PDF.
US$ 39.95
Price includes VAT for USA
Subscribe to journal
Immediate online access to all issues from 2019. Subscription will auto renew annually.
US$ 199
This is the net price. Taxes to be calculated in checkout.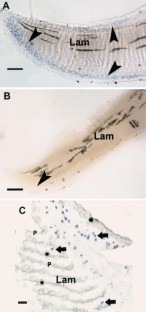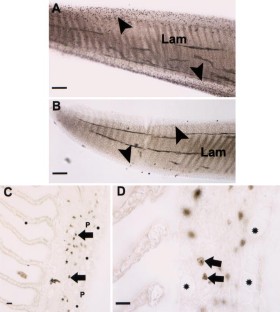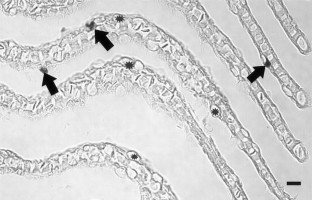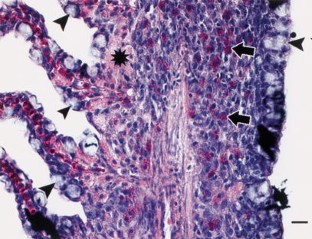 References
Cammarata M, Vazzana M, Cervello M, Arizza V, Parrinello N (2000) Spontaneous cytotoxic activity of eosinophilic granule cells separated from the normal peritoneal cavity of Dicentrarchus labrax. Fish Shellfish Immunol 10:143–154

Cho JH, Park IY, Kim HS, Lee WT, Kim MS, Kim SC (2002) Cathepsin D produces antimicrobial peptide parasin I from histone H2A in the skin mucosa of fish. FASEB J 16:429–431

Cole AM, Weis P, Diamond G (1997) Isolation and characterization of pleurocidin, an antimicrobial peptide in the skin secretions of winter flounder. J Biol Chem 272:12008–12013

Cole AM, Darouiche RO, Legarda D, Connell N, Diamond G (2000) Characterization of a fish antimicrobial peptide: gene expression, subcellular localization, and spectrum of activity. Antimicrob Agents Chemother 44:2039–2045

Douglas SE, Gallant JW, Gong Z, Hew C (2001) Cloning and developmental expression of a family of pleurocidin-like antimicrobial peptides from winter flounder, Pleuronectes americanus (Walbaum). Dev Comp Immunol 25:137–147

Ebran N, Julien S, Orange N, Saglioi P, Lemaitre B, Molle G (1999) Pore-forming properties and antibacterial activity of proteins extracted from epidermal mucus of fish. Comp Biochem Physiol [A] 122:181–189

Ebran N, Julien S, Orange N, Auperin B, Molle G (2000) Isolation and characterization of novel glycoproteins from fish epidermal mucus: correlation between their pore-forming properties and their antibacterial activities. Biochim Biophys Acta 1467:271–280

Hancock REW, Chapple DS (1999) Peptide antibiotics. Antimicrob Agents Chemother 43:1317–1323

Hancock REW, Scott MG (2000) The role of antimicrobial peptides in animal defense. Proc Natl Acad Sci USA 97:8856–8861

Holland JW, Rowley AF (1998) Studies on the eosinophilic granule cell in the gills of the rainbow trout, Oncorhynchus mykiss. Comp Biochem Physiol [C] 120:321–328

Hwang E-Y, Seo J-K, Kim C-H, Go H-J, Kim E-J, Chung J-K, Ryu H-S, Park N-G (1999) Purification and characterization of a novel antimicrobial peptide from the skin of the hagfish, Eptatretus burgeri. J Food Sci Nutr 4:28–32

Lauth X, Shike H, Burns JC, Westerman ME, Ostland VE, Carlberg JM, Van Olst JC, Nizet V, Taylor SW, Shimizu C, Bulet P (2002) Discovery and characterization of two isoforms of moronecidin, a novel antimicrobial peptide from hybrid striped bass. J Biol Chem 277:5030–5039

Lazarovici P, Primor N, Loew LM (1986) Purification and pore-forming activity of two hydrophobic polypeptides from the secretion of the Red Sea Moses sole (Pardachirus marmoratus). J Biol Chem 261:16704–16713

LeMaitre C, Orange N, Saglioi P, Saint N, Gagnon J, Molle G (1996) Characterization and ion channel activities of novel antibacterial proteins from the skin mucosa of carp (Cyprinus carpio). Eur J Biochem 240:143–149

Levy O (2000) Antimicrobial proteins and peptides of blood: templates for novel antimicrobial agents. Am Soc Hematol 96:2664–2672

Matsuyama T, Iida T (1999) Degranulation of eosinophilic granular cells with possible involvement in neutraphil migration to site of inflammation in tilapia. Dev Comp Immunol 23:451–457

Matsuyama T, Kurogi J, Iida T (2000) Inhibitory effect of cortisol on the degranulation of eosinophilic granular cells in tilapia. Fish Pathol 35:61–65

Moore KS, Wehrli S, Roder H, Rogers M, Forrest JNJ, McCrimmon D, Zasloff M (1993) Squalamine: an aminosterol antibiotic from the shark. Proc Natl Acad Sci USA 90:1354–1358

Murray HM, Hew CL, Kao KR, Fletcher GL (2002) Localization of cells from the winter flounder gill expressing a skin type antifreeze protein gene. Can J Zool 80:110–119

Murray HM, Gallant JW, Casanova JC, Johnson SC, Douglas SE (2003) Ontogeny of lipase expression in winter flounder, Pseudopleuronectes americanus. J Fish Biol 62:1–8

Nagashima Y, Sendo A, Shimakura K, Shiomi K, Kobayashi T, Kimura B, Fujii T (2001) Antibacterial factors in skin mucus of rabbitfishes. J Fish Biol 58:1761–1765

Olfert ED, Cross BM, McWilliam AA (1993) Guide to the care and use of experimental animals. Canadian Council on Animal Care, Ottawa

Park IY, Park CB, Kim MS, Kim SC (1998) Parasin I, an antimicrobial peptide derived from histone H2A in the catfish, Parasilurus asotus. FEBS Lett 437:258–262

Powell MD, Wright GM, Burka JF (1990) Eosinophilic cells in the gills of rainbow trout (Oncorhynchus mykiss): evidence of migration? J Fish Biol 37:495–497

Powell MD, Wright GM, Burka JF (1991) Degranulation of eosinophilic granule cells induced by capsaicin and substance P in the intestine of the rainbow trout (Oncorhynchus mykiss Walbaum). Cell Tissue Res 266:469–474

Powell MD, Briand HA, Wright GM, Burka JF (1992) Ultrastructural localisation of acid phosphatase in intestinal esosinophilic granule cells of rainbow trout (Oncorhynchus mykiss) following degranulation with capsaicin. Histol Histopathol 7:301–305

Reite OB (1998) Mast cells/eosinophilic granule cells of teleostean fish: a review focusing on staining properties and functional responses. Fish Shellfish Immunol 8:489–513

Robinette D, Wada S, Arroll T, Levy MG, Miller WL, Noga EJ (1998) Antimicrobial activity in the skin of the channel catfish Ictalurus punctatus: characterization of broad-spectrum histone-like antimicrobial proteins. Cell Mol Life Sci 54:467–475

Silphaduang U, Noga EJ (2001) Peptide antibiotics in mast cells of fish. Nature 414:268–269

Smith VJ, Fernandes JMO, Jones SJ, Kemp GD, Tatner MF (2000) Antibacterial proteins in rainbow trout, Oncorhynchus mykiss. Fish Shellfish Immunol 10:243–260
Acknowledgements
We are grateful for the technical assistance and facilities provided by the Microscopy Unit at the Institute for Marine Biosciences, National Research Council of Canada. We thank Dr. Laura Brown for critical reading of the manuscript. The anti-pleurocidin antibody was kindly provided by Dr. Choy Hew. This is NRC publication 42385.
Additional information
This project was partially funded by the National Research Council of Canada and AquaNet
About this article
Cite this article
Murray, H.M., Gallant, J.W. & Douglas, S.E. Cellular localization of pleurocidin gene expression and synthesis in winter flounder gill using immunohistochemistry and in situ hybridization. Cell Tissue Res 312, 197–202 (2003). https://doi.org/10.1007/s00441-003-0723-3
Received:

Accepted:

Published:

Issue Date:
Keywords
Immunohistochemistry

Pleurocidin

Gene expression

Gill

Winter flounder

Pseudopleuronectes americanus (Teleostei)