Abstract.
Cocaine- and amphetamine-regulated transcript-immunoreactive (CART-IR) neurons and nerve fibers were abundant in the submucosal and myenteric plexuses of the guinea pig duodenum, ileum, cecum, proximal and distal colon. CART immunoreactivity was also observed in cell bodies and nerve fibers in the extrahepatic biliary tract. In the myenteric plexus, similar proportions (~20–25%) of neurons were CART-IR in all regions, with the exception of the cecum, where only 13% were CART-IR. In the submucosal plexus, CART-IR was detected in 35–50% of the neurons along the bowel with the exception of the proximal colon (~10%). Multiple label immunohistochemistry in the myenteric plexus of the ileum demonstrated that CART-IR neurons were also immunoreactive for choline acetyltransferase (83%), tachykinins (77%), calbindin (50%), nitric oxide synthase (20%), and/or vasoactive intestinal peptide (23%). In triple label studies, we found that ~8% of the CART-IR neurons were also immunoreactive for both choline acetyltransferase and nitric oxide synthase. CART immunoreactivity was not colocalized with calretinin, somatostatin, or serotonin. These results, combined with previous studies of chemical coding and projection patterns in the guinea pig ileum, indicate that at least four different classes of gut neurons in the myenteric plexus express CART peptide, including excitatory and inhibitory motor neurons projecting to the circular muscle, intrinsic primary afferent neurons, and a subset of descending interneurons. Because all CART-IR neurons in the submucosal plexus were also vasoactive intestinal peptide-IR, they are likely to include secretomotor/vasodilator neurons.
This is a preview of subscription content, log in to check access.
Access options
Buy single article
Instant access to the full article PDF.
US$ 39.95
Price includes VAT for USA
Subscribe to journal
Immediate online access to all issues from 2019. Subscription will auto renew annually.
US$ 199
This is the net price. Taxes to be calculated in checkout.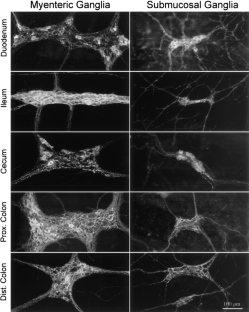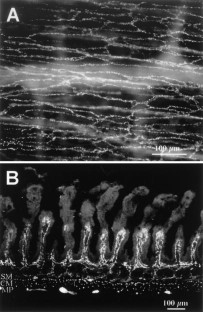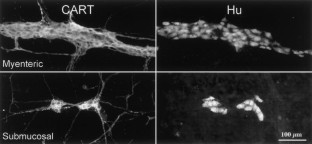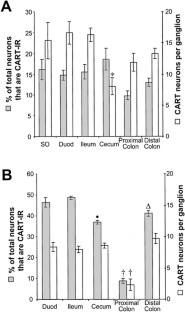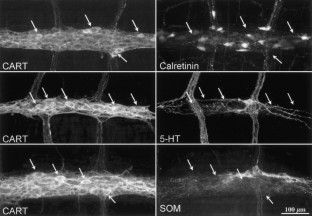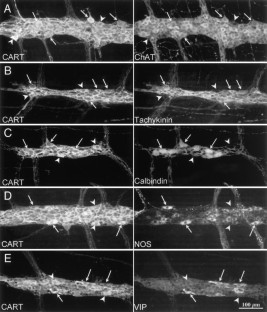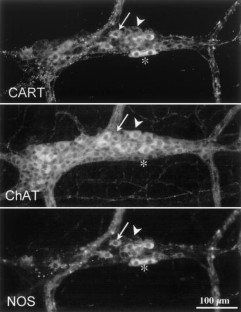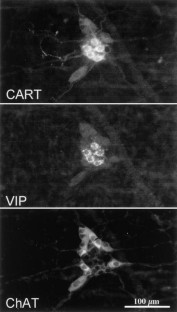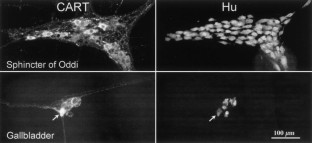 References
Brookes SJ (2001) Classes of enteric nerve cells in the guinea-pig small intestine. Anat Rec 262:58–70

Brookes SJH, Steele PA, Costa M (1991) Calretinin immunoreactivity in cholinergic motor neurones, interneurones and vasomotor neurones in the guinea pig small intestine. Cell Tissue Res 263:471–481

Brookes SJH, Steele PA, Costa M (1991) Identification and immunohistochemistry of cholinergic and non-cholinergic circular muscle motor neurons in the guinea-pig small intestine. Neuroscience 42:863–878

Brookes SJ, Song ZM, Steele PA, Costa M (1992) Identification of motor neurons to the longitudinal muscle of the guinea pig ileum. Gastroenterology 103:961–973

Buchan AM, Sikora LK, Levy JG, McIntosh CH, Dyck I, Brown JC (1985) An immunocytochemical investigation with monoclonal antibodies to somatostatin. Histochemistry 83:175–180

Costa M, Furness JB, Pompolo S, Brookes SJH, Bornstein JC, Bredt DS, Snyder SH (1992) Projections and chemical coding of neurons with immunoreactivity for nitric oxide synthase in the guinea-pig small intestine. Neurosci Lett 148:121–125

Costa M, Brookes SJ, Steele PA, Gibbins I, Burcher E, Kandiah CJ (1996) Neurochemical classification of myenteric neurons in the guinea-pig ileum. Neuroscience 75:949–967

Couceyro P, Paquet M, Koylu E, Kuhar MJ, Smith Y (1998) Cocaine- and amphetamine-regulated transcript (CART) peptide immunoreactivity in myenteric plexus neurons of the rat ileum and co-localization with choline acetyltransferase. Synapse 30:1–8

Douglass J, McKinzie AA, Couceyro P (1995) PCR differential display identifies a rat brain mRNA that is transcriptionally regulated by cocaine and amphetamine. J Neurosci 15:2471–2481

Furness J, Clerc N, Gola M, Kunze W, Fletcher E (2000) Identification of component neurons and organisation of enteric nerve circuits. In: Krammer H, Singer M (eds) Neurogastroenterology from the basics to the clinics. Kluwer Academic, Dordrecht, pp 137–150

Gershon MD, Kirchgessner AL, Wade PR (1994) Functional anatomy of the enteric nervous system. In: Johnson LR (ed) Physiology of the gastrointestinal tract. Raven, New York, pp 381–422

Kristensen P, Judge ME, Thim L, Ribel U, Christjansen KN, Wulff BS, Clausen JT, Jensen PB, Madsen OD, Vrang N, Larsen PJ, Hastrup S (1998) Hypothalamic CART is a new anorectic peptide regulated by leptin. Nature 393:72–76

Kuhar MJ, Dall Vechia SE (1999) CART peptides: novel addiction- and feeding-related neuropeptides. Trends Neurosci 22:316–320

Kunze WAA, Bornstein JC, Furness JB (1995) Identification of sensory nerve cells in a peripheral organ (the intestine) of a mammal. Neuroscience 66:1–4

Larsen PJ, Vrang N, Petersen PC, Kristensen P (2000) Chronic intracerebroventricular administration of recombinant CART(42–89) peptide inhibits and causes weight loss in lean and obese Zucker (fa/fa) rats. Obes Res 8:590–596

Lin Z, Gao N, Hu HZ, Liu S, Gao C, Kim G, Ren J, Xia Y, Peck OC, Wood JD (2002) Immunoreactivity of Hu proteins facilitates identification of myenteric neurones in guinea-pig small intestine. Neurogastroenterol Motil 14:197–204

Mawe GM, Ellis LM (2001) Chemical coding of intrinsic and extrinsic nerves in the guinea pig gallbladder: distributions of PACAP and orphanin FQ. Anat Rec 262:101–109

O'Donnell AM, Ellis LM, Riedl MS, Elde RP, Mawe GM (2001) Distribution and chemical coding of orphanin FQ/nociceptin-immunoreactive neurons in the myenteric plexus of guinea pig intestines and sphincter of Oddi. J Comp Neurol 430:1–11

Portbury AL, Pompolo S, Furness JB, Stebbing MJ, Kunze WA, Bornstein JC, Hughes S (1995) Cholinergic, somatostatin-immunoreactive interneurons in the guinea pig intestine: morphology, ultrastructure, connections and projections. J Anat 187:303–321

Song Z-M, Brookes SHJ, Costa M (1994) All calbindin-immunoreactive myenteric neurons project to the mucosa of guinea-pig small intestine. Neurosci Lett 180:219–222

Song ZM, Brookes SJ, Ramsay GA, Costa M (1997) Characterization of myenteric interneurons with somatostatin immunoreactivity in the guinea-pig small intestine. Neuroscience 80:907–923

Steele PA, Brookes SJ, Costa M (1991) Immunohistochemical identification of cholinergic neurons in the myenteric plexus of guinea-pig small intestine. Neuroscience 45:227–239

Timmermans JP, Adriaensen D, Cornelissen W, Scheuermann DW (1997) Structural organization and neuropeptide distribution in the mammalian enteric nervous system, with special attention to those components involved in mucosal reflexes. Comp Biochem Physiol A Physiol 118:331–340

Young HM, Furness JB (1995) Ultrastructural examination of the targets of serotonin-immunoreactive descending interneurons in the guinea pig small intestine. J Comp Neurol 356:101–114
Acknowledgements.
We are grateful to the CURE/UCLA/DDC Antibody/RIA Core Laboratory (DK41301) for the rabbit and mouse anti-VIP antisera. Also, we wish to thank Dr. David Linden for his assistance.
Additional information
This work was supported by NIH grants NS26995, DK62267 and DK45410
About this article
Cite this article
Ellis, L.M., Mawe, G.M. Distribution and chemical coding of cocaine- and amphetamine-regulated transcript peptide (CART)-immunoreactive neurons in the guinea pig bowel. Cell Tissue Res 312, 265–274 (2003). https://doi.org/10.1007/s00441-002-0678-9
Received:

Accepted:

Published:

Issue Date:
Keywords
Autonomic nervous system

Innervation

Gut peptides

Enteric nervous system

Myenteric plexus

Submucosal plexus

Guinea pig