Abstract
Joubert Syndrome (JS) is an inherited ciliopathy associated with mutations in genes essential in primary cilium function. Whole exome sequencing in a multiplex consanguineous family from India revealed a KIAA0556 homozygous single base pair deletion mutation (c.4420del; p.Met1474Cysfs*11). Knockdown of the gene in zebrafish resulted in a ciliopathy phenotype, rescued by co-injection of wildtype cDNA. Affected siblings present a mild and classical form of Joubert syndrome allowing for further delineation of the JS associated genotypic spectrum.
This is a preview of subscription content, log in to check access.
Access options
Buy single article
Instant access to the full article PDF.
US$ 39.95
Price includes VAT for USA
Subscribe to journal
Immediate online access to all issues from 2019. Subscription will auto renew annually.
US$ 199
This is the net price. Taxes to be calculated in checkout.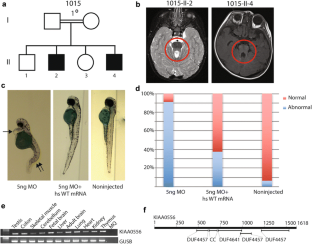 References
Akizu N, Silhavy JL, Rosti RO, Scott E, Fenstermaker AG, Schroth J, Zaki MS, Sanchez H, Gupta N, Kabra M et al (2014) Mutations in CSPP1 lead to classical Joubert syndrome. Am J Hum Genet 94(1):80–86

Beck BB, Phillips JB, Bartram MP, Wegner J, Thoenes M, Pannes A, Sampson J, Heller R, Gobel H, Koerber F et al (2014) Mutation of POC1B in a severe syndromic retinal ciliopathy. Hum Mutat 35(10):1153–1162

Lee JE, Silhavy JL, Zaki MS, Schroth J, Bielas SL, Marsh SE, Olvera J, Brancati F, Iannicelli M, Ikegami K et al (2012) CEP41 is mutated in Joubert syndrome and is required for tubulin glutamylation at the cilium. Nat Genet 44(2):193–199

MacArthur DG, Manolio TA, Dimmock DP, Rehm HL, Shendure J, Abecasis GR, Adams DR, Altman RB, Antonarakis SE, Ashley EA, Barrett JC, Biesecker LG, Conrad DF, Cooper GM, Cox NJ, Daly MJ, Gerstein MB, Goldstein DB, Hirschhorn JN, Leal SM, Pennacchio LA, Stamatoyannopoulos JA, Sunyaev SR, Valle D, Voight BF, Winckler W, Gunter C (2014) Guidelines for investigating causality of sequence variants in human disease. Nature 508(7497):469–476

Romani M, Micalizzi A, Valente EM (2013) Joubert syndrome: congenital cerebellar ataxia with the molar tooth. Lancet Neurol 12(9):894–905

Romani M, Micalizzi A, Kraoua I, Dotti MT, Cavallin M, Sztriha L, Ruta R, Mancini F, Mazza T, Castellana S et al (2014) Mutations in B9D1 and MKS1 cause mild Joubert syndrome: expanding the genetic overlap with the lethal ciliopathy Meckel syndrome. Orphanet J Rare Dis 9:72

Roosing S, Hofree M, Kim S, Scott E, Copeland B, Romani M, Silhavy JL, Rosti RO, Schroth J, Mazza T et al (2015) Functional genome-wide siRNA screen identifies KIAA0586 as mutated in Joubert syndrome. Elife 4:e06602

Sanders AA, de Vrieze E, Alazami AM, Alzahrani F, Malarkey EB, Sorusch N, Tebbe L, Kuhns S, van Dam TJ, Alhashem A et al (2015) KIAA0556 is a novel ciliary basal body component mutated in Joubert syndrome. Genome Biol 16:293

Singla V, Romaguera-Ros M, Garcia-Verdugo JM, Reiter JF (2010) Ofd1, a human disease gene, regulates the length and distal structure of centrioles. Dev Cell 18(3):410–424

Valente EM, Dallapiccola B, Bertini E (2013) Joubert syndrome and related disorders. Handb Clin Neurol 113:1879–1888
Ethics declarations
Conflict of interest
The authors declare that they have no conflict of interest. This study has been approved by the appropriate institutional committee and has been performed in accordance with the ethical standards as laid down in the 1964 Declaration of Helsinki and its later amendments or comparable ethical standards. All procedures performed in studies involving human participants were in accordance with the ethical standards of the institutional committee and with the 1964 Helsinki declaration and its later amendments or comparable ethical standards. Informed consent was obtained from all individual participants included in the study.
Additional information
S. Roosing and R. O. Rosti have contributed equally to this manuscript.
About this article
Cite this article
Roosing, S., Rosti, R.O., Rosti, B. et al. Identification of a homozygous nonsense mutation in KIAA0556 in a consanguineous family displaying Joubert syndrome. Hum Genet 135, 919–921 (2016). https://doi.org/10.1007/s00439-016-1689-z
Received:

Accepted:

Published:

Issue Date:
Keywords
Primary Cilium

Consanguineous Family

Morpholino Oligonucleotide

Joubert Syndrome

Bilateral Ptosis