Abstract
The X-linked cyclin-dependent kinase-like 5 (CDKL5) gene is an important molecular determinant of early-onset intractable seizures with infantile spasms and Rett syndrome-like phenotype. The gene encodes a kinase that may influence components of molecular pathways associated with MeCP2. In humans there are two previously reported splice variants that differ in the 5′ untranslated exons and produce the same 115 kDa protein. Furthermore, very recently, a novel transcript including a novel exon (16b) has been described. By aligning both the human and mouse CDKL5 proteins to the orthologs of other species, we identified a theoretical 107 kDa isoform with an alternative C-terminus that terminates in intron 18. In human brain and all other tissues investigated except the testis, this novel isoform is the major CDKL5 transcript. The detailed characterisation of this novel isoform of CDKL5 reveals functional and subcellular localisation attributes that overlap greatly, but not completely, with that of the previously studied human CDKL5 protein. Considering its predominant expression in the human and mouse brain, we believe that this novel isoform is likely to be of primary pathogenic importance in human diseases associated with CDKL5 deficiency, and suggest that screening of the related intronic sequence should be included in the molecular genetic analyses of patients with a suggestive clinical phenotype.
This is a preview of subscription content, log in to check access.
Access options
Buy single article
Instant access to the full article PDF.
US$ 39.95
Price includes VAT for USA
Subscribe to journal
Immediate online access to all issues from 2019. Subscription will auto renew annually.
US$ 199
This is the net price. Taxes to be calculated in checkout.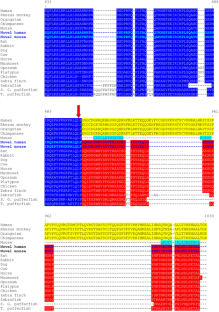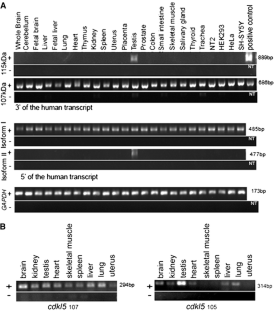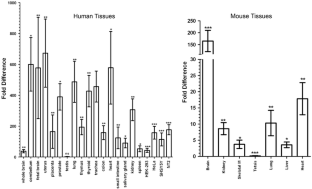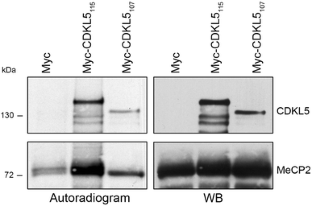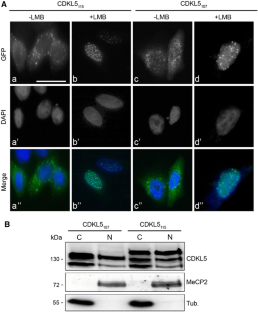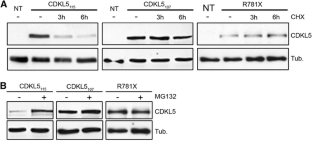 References
Amir RE, Van den Veyver IB, Wan M, Tran CQ, Francke U, Zoghbi HY (1999) Rett syndrome is caused by mutations in X-linked MECP2, encoding methyl-CpG-binding protein 2. Nat Genet 23:185–188

Archer HL, Evans J, Edwards S, Colley J, Newbury-Ecob R, O'Callaghan F, Huyton M, O'Regan M, Tolmie J, Sampson J, Clarke A, Osborne J (2006) CDKL5 mutations cause infantile spasms, early onset seizures, and severe mental retardation in female patients. J Med Genet 43:729–734

Armstrong D, Dunn JK, Antalffy B, Trivedi R (1995) Selective dendritic alterations in the cortex of Rett syndrome. J Neuropathol Exp Neurol 54:195–201

Asaka Y, Jugloff DG, Zhang L, Eubanks JH, Fitzsimonds RM (2006) Hippocampal synaptic plasticity is impaired in the Mecp2-null mouse model of Rett syndrome. Neurobiol Dis 21:217–227

Bahi-Buisson N, Kaminska A, Boddaert N, Rio M, Afenjar A, Gerard M, Giuliano F, Motte J, Heron D, Morel MA, Plouin P, Richelme C, des Portes V, Dulac O, Philippe C, Chiron C, Nabbout R, Bienvenu T (2008a) The three stages of epilepsy in patients with CDKL5 mutations. Epilepsia 49:1027–1037

Bahi-Buisson N, Nectoux J, Rosas-Vargas H, Milh M, Boddaert N, Girard B, Cances C, Ville D, Afenjar A, Rio M, Heron D, N'Guyen Morel MA, Arzimanoglou A, Philippe C, Jonveaux P, Chelly J, Bienvenu T (2008b) Key clinical features to identify girls with CDKL5 mutations. Brain 131:2647–2661

Bahi-Buisson N, Girard B, Gautier A, Nectoux J, Fichou Y, Saillour Y, Poirier K, Chelly J, Bienvenu T (2010) Epileptic encephalopathy in a girl with an interstitial deletion of Xp22 comprising promoter and exon 1 of the CDKL5 gene. Am J Med Genet B Neuropsychiatr Genet 153B:202–207

Belichenko PV, Oldfors A, Hagberg B, Dahlstrom A (1994) Rett syndrome: 3-D confocal microscopy of cortical pyramidal dendrites and afferents. Neuroreport 5:1509–1513

Belichenko NP, Belichenko PV, Mobley WC (2009) Evidence for both neuronal cell autonomous and nonautonomous effects of methyl-CpG-binding protein 2 in the cerebral cortex of female mice with Mecp2 mutation. Neurobiol Dis 34:71–77

Bertani I, Rusconi L, Bolognese F, Forlani G, Conca B, De Monte L, Badaracco G, Landsberger N, Kilstrup-Nielsen C (2006) Functional consequences of mutations in CDKL5, an X-linked gene involved in infantile spasms and mental retardation. J Biol Chem 281:32048–32056

Buschdorf JP, Stratling WH (2004) A WW domain binding region in methyl-CpG-binding protein MeCP2: impact on Rett syndrome. J Mol Med 82:135–143

Carouge D, Host L, Aunis D, Zwiller J, Anglard P (2010) CDKL5 is a brain MeCP2 target gene regulated by DNA methylation. Neurobiol Dis 38:414–424

Chahrour M, Jung SY, Shaw C, Zhou X, Wong ST, Qin J, Zoghbi HY (2008) MeCP2, a key contributor to neurological disease, activates and represses transcription. Science 320:1224–1229

Chen Q, Zhu YC, Yu J, Miao S, Zheng J, Xu L, Zhou Y, Li D, Zhang C, Tao J, Xiong ZQ (2010) CDKL5, a protein associated with rett syndrome, regulates neuronal morphogenesis via Rac1 signaling. J Neurosci 30:12777–12786

Christodoulou J, Grimm A, Maher T, Bennetts B (2003) RettBASE: The IRSA MECP2 variation database-a new mutation database in evolution. Hum Mutat 21:466–472

Cordova-Fletes C, Rademacher N, Muller I, Mundo-Ayala JN, Morales-Jeanhs EA, Garcia-Ortiz JE, Leon-Gil A, Rivera H, Dominguez MG, Kalscheuer VM (2010) CDKL5 truncation due to a t(X;2) (p22.1;p25.3) in a girl with X-linked infantile spasm syndrome. Clin Genet 77:92–96

Elia M, Falco M, Ferri R, Spalletta A, Bottitta M, Calabrese G, Carotenuto M, Musumeci SA, Lo Giudice M, Fichera M (2008) CDKL5 mutations in boys with severe encephalopathy and early-onset intractable epilepsy. Neurology 71:997–999

Evans JC, Archer HL, Colley JP, Ravn K, Nielsen JB, Kerr A, Williams E, Christodoulou J, Gecz J, Jardine PE, Wright MJ, Pilz DT, Lazarou L, Cooper DN, Sampson JR, Butler R, Whatley SD, Clarke AJ (2005) Early onset seizures and Rett-like features associated with mutations in CDKL5. Eur J Hum Genet 13:1113–1120

Fichou Y, Nectoux J, Bahi-Buisson N, Chelly J, Bienvenu T (2011) An isoform of the severe encephalopathy-related CDKL5 gene, including a novel exon with extremely high sequence conservation, is specifically expressed in brain. J Hum Genet 56:52–57

Kalscheuer VM, Tao J, Donnelly A, Hollway G, Schwinger E, Kubart S, Menzel C, Hoeltzenbein M, Tommerup N, Eyre H, Harbord M, Haan E, Sutherland GR, Ropers HH, Gecz J (2003) Disruption of the serine/threonine kinase 9 gene causes severe X-linked infantile spasms and mental retardation. Am J Hum Genet 72:1401–1411

Kameshita I, Sekiguchi M, Hamasaki D, Sugiyama Y, Hatano N, Suetake I, Tajima S, Sueyoshi N (2008) Cyclin-dependent kinase-like 5 binds and phosphorylates DNA methyltransferase 1. Biochem Biophys Res Commun 377:1162–1167

Lin C, Franco B, Rosner MR (2005) CDKL5/Stk9 kinase inactivation is associated with neuronal developmental disorders. Hum Mol Genet 14:3775–3786

Mari F, Azimonti S, Bertani I, Bolognese F, Colombo E, Caselli R, Scala E, Longo I, Grosso S, Pescucci C, Ariani F, Hayek G, Balestri P, Bergo A, Badaracco G, Zappella M, Broccoli V, Renieri A, Kilstrup-Nielsen C, Landsberger N (2005) CDKL5 belongs to the same molecular pathway of MeCP2 and it is responsible for the early-onset seizure variant of Rett syndrome. Hum Mol Genet 14:1935–1946

Mei D, Marini C, Novara F, Bernardina BD, Granata T, Fontana E, Parrini E, Ferrari AR, Murgia A, Zuffardi O, Guerrini R (2010) Xp22.3 genomic deletions involving the CDKL5 gene in girls with early onset epileptic encephalopathy. Epilepsia 51:647–654

Montini E, Andolfi G, Caruso A, Buchner G, Walpole SM, Mariani M, Consalez G, Trump D, Ballabio A, Franco B (1998) Identification and characterization of a novel serine-threonine kinase gene from the Xp22 region. Genomics 51:427–433

Moretti P, Levenson JM, Battaglia F, Atkinson R, Teague R, Antalffy B, Armstrong D, Arancio O, Sweatt JD, Zoghbi HY (2006) Learning and memory and synaptic plasticity are impaired in a mouse model of Rett syndrome. J Neurosci 26:319–327

Nectoux J, Heron D, Tallot M, Chelly J, Bienvenu T (2006) Maternal origin of a novel C-terminal truncation mutation in CDKL5 causing a severe atypical form of Rett syndrome. Clin Genet 70:29–33

Nemos C, Lambert L, Giuliano F, Doray B, Roubertie A, Goldenberg A, Delobel B, Layet V, N'Guyen MA, Saunier A, Verneau F, Jonveaux P, Philippe C (2009) Mutational spectrum of CDKL5 in early-onset encephalopathies: a study of a large collection of French patients and review of the literature. Clin Genet 76:357–371

Nishimura A, Takano T, Mizuguchi T, Saitsu H, Takeuchi Y, Matsumoto N (2008) CDKL5 disruption by t(X;18) in a girl with West syndrome. Clin Genet 74:288–290

Pintaudi M, Baglietto MG, Gaggero R, Parodi E, Pessagno A, Marchi M, Russo S, Veneselli E (2008) Clinical and electroencephalographic features in patients with CDKL5 mutations: two new Italian cases and review of the literature. Epilepsy Behav 12:326–331

Psoni S, Willems PJ, Kanavakis E, Mavrou A, Frissyra H, Traeger-Synodinos J, Sofokleous C, Makrythanassis P, Kitsiou-Tzeli S (2010) A novel p.Arg970X mutation in the last exon of the CDKL5 gene resulting in late-onset seizure disorder. Eur J Paediatr Neurol 14:188–191

Ricciardi S, Kilstrup-Nielsen C, Bienvenu T, Jacquette A, Landsberger N, Broccoli V (2009) CDKL5 influences RNA splicing activity by its association to the nuclear speckle molecular machinery. Hum Mol Genet 18:4590–4602

Rosas-Vargas H, Bahi-Buisson N, Philippe C, Nectoux J, Girard B, N'Guyen Morel MA, Gitiaux C, Lazaro L, Odent S, Jonveaux P, Chelly J, Bienvenu T (2008) Impairment of CDKL5 nuclear localisation as a cause for severe infantile encephalopathy. J Med Genet 45:172–178

Rusconi L, Salvatoni L, Giudici L, Bertani I, Kilstrup-Nielsen C, Broccoli V, Landsberger N (2008) CDKL5 expression is modulated during neuronal development and its subcellular distribution is tightly regulated by the C-terminal tail. J Biol Chem 283:30101–30111

Russo S, Marchi M, Cogliati F, Bonati MT, Pintaudi M, Veneselli E, Saletti V, Balestrini M, Ben-Zeev B, Larizza L (2009) Novel mutations in the CDKL5 gene, predicted effects and associated phenotypes. Neurogenetics 10:241–250

Saletti V, Canafoglia L, Cambiaso P, Russo S, Marchi M, Riva D (2009) A CDKL5 mutated child with precocious puberty. Am J Med Genet A 149A:1046–1051

Sartori S, Di Rosa G, Polli R, Bettella E, Tricomi G, Tortorella G, Murgia A (2009) A novel CDKL5 mutation in a 47, XXY boy with the early-onset seizure variant of Rett syndrome. Am J Med Genet A 149A:232–236

Scala E, Ariani F, Mari F, Caselli R, Pescucci C, Longo I, Meloni I, Giachino D, Bruttini M, Hayek G, Zappella M, Renieri A (2005) CDKL5/STK9 is mutated in Rett syndrome variant with infantile spasms. J Med Genet 42:103–107

Skene PJ, Illingworth RS, Webb S, Kerr AR, James KD, Turner DJ, Andrews R, Bird AP (2010) Neuronal MeCP2 is expressed at near histone-octamer levels and globally alters the chromatin state. Mol Cell 37:457–468

Tao J, Van Esch H, Hagedorn-Greiwe M, Hoffmann K, Moser B, Raynaud M, Sperner J, Fryns JP, Schwinger E, Gecz J, Ropers HH, Kalscheuer VM (2004) Mutations in the X-linked cyclin-dependent kinase-like 5 (CDKL5/STK9) gene are associated with severe neurodevelopmental retardation. Am J Hum Genet 75:1149–1154

Weaving LS, Christodoulou J, Williamson SL, Friend KL, McKenzie OL, Archer H, Evans J, Clarke A, Pelka GJ, Tam PP, Watson C, Lahooti H, Ellaway CJ, Bennetts B, Leonard H, Gecz J (2004) Mutations of CDKL5 cause a severe neurodevelopmental disorder with infantile spasms and mental retardation. Am J Hum Genet 75:1079–1093

White R, Ho G, Schmidt S, Scheffer IE, Fischer A, Yendle SC, Bienvenu T, Nectoux J, Ellaway CJ, Darmanian A, Tong X, Cloosterman D, Bennetts B, Kalra V, Fullston T, Gecz J, Cox TC, Christodoulou J (2010) Cyclin-dependent kinase-like 5 (CDKL5) mutation screening in Rett syndrome and related disorders. Twin Res Hum Genet 13:168–178

Young JI, Hong EP, Castle JC, Crespo-Barreto J, Bowman AB, Rose MF, Kang D, Richman R, Johnson JM, Berget S, Zoghbi HY (2005) Regulation of RNA splicing by the methylation-dependent transcriptional repressor methyl-CpG binding protein 2. Proc Natl Acad Sci (USA) 102:17551–17558
Acknowledgments
We would like to express our gratitude to the Rett Syndrome Australian Research Fund, the Italian association proRETT ricerca, the Rotary Club of Narellan, the Harrington Park Foundation, and the Country Women's Association of NSW for additional financial support. This research was funded by National Health and Medical Research Council of Australia project grants 346603 (PT, JC) and 570752 (PT, JC), the E-Rare EuroRETT Network (NL), Fondazione Cariplo 2010-0724 (NL), the Italian Ministry of Research (CKN), and FP7-PEOPLE-ITN-2008 (CKN).
Conflict of interest
The authors have no conflict of interest to declare.
Electronic supplementary material
Below is the link to the electronic supplementary material.
About this article
Cite this article
Williamson, S.L., Giudici, L., Kilstrup-Nielsen, C. et al. A novel transcript of cyclin-dependent kinase-like 5 (CDKL5) has an alternative C-terminus and is the predominant transcript in brain. Hum Genet 131, 187–200 (2012). https://doi.org/10.1007/s00439-011-1058-x
Received:

Accepted:

Published:

Issue Date:
Keywords
Splice Variant

Pathogenic Mutation

Zebra Finch

Epileptic Encephalopathy

Full Open Reading Frame