Abstract
Psoriasis (PS; MIM#177900) is a chronic inflammatory immune-mediated skin disorder. Although the disease is believed to be caused by a combination of genetic, immunologic and environmental factors, its complete etiology has not been fully understood. Here, we focused on the BSG (MIM#109480), a member of the immunoglobulin superfamily expressed ubiquitously in circulating immune cell populations. We observed that the expression level of BSG in PBMCs was elevated in psoriasis patients. To understand the underlying mechanism for this change, we genotyped the rs8259 T>A SNP located in the 3′UTR of the BSG gene from 668 psoriasis patients and 1,143 healthy controls. The rs8259 T allele was associated with significantly decreased psoriasis susceptibility (OR = 0.758, 95% CI 0.638–0.901, p = 0.002). Interestingly, the rs8259 polymorphism was located in a seed region for miR-492 binding. The miR-492 was able to bind to the BSG 3′UTR sequence bearing the rs8259 T allele as assayed by luciferase reporter gene assay. The substitution of T with A abolished miR-492 binding. BSG protein expression in PBMCs from patients carrying the rs8259 AA genotype was significantly higher than in those from patients carrying the rs8259 TT genotype. Our study suggests that miR-492 may physiologically suppress BSG expression and the BSG rs8259 polymorphism is associated with decreased psoriasis susceptibility through affecting miR-492 binding.
This is a preview of subscription content, log in to check access.
Access options
Buy single article
Instant access to the full article PDF.
US$ 39.95
Price includes VAT for USA
Subscribe to journal
Immediate online access to all issues from 2019. Subscription will auto renew annually.
US$ 199
This is the net price. Taxes to be calculated in checkout.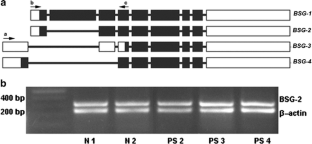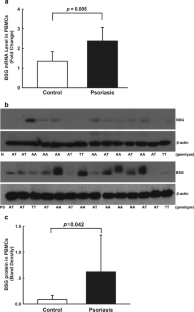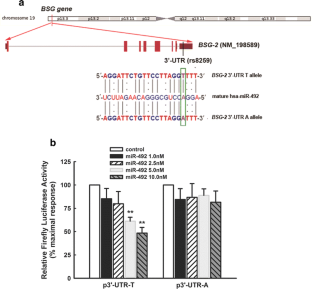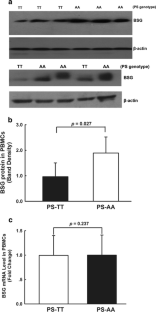 Abbreviations
BSG:

Basigin

SNP:

Single nucleotide polymorphism

UTR:

Untranslated region

HEK293T:

Human embryonic kidney-T
References
Belton RJ Jr, Chen L, Mesquita FS, Nowak RA (2008) Basigin-2 is a cell surface receptor for soluble basigin ligand. J Biol Chem 283:17805–17814

Biswas C (1982) Tumor cell stimulation of collagenase production by fibroblasts. Biochem Biophys Res Commun 109:1026–1034

Brennecke J, Stark A, Russell RB, Cohen SM (2005) Principles of microRNA-target recognition. PLoS Biol 3:e85

Capon F, Munro M, Barker J, Trembath R (2002) Searching for the major histocompatibility complex psoriasis susceptibility gene. J Invest Dermatol 118:745–751

Capon F, Trembath RC, Barker JN (2004) An update on the genetics of psoriasis. Dermatol Clin 22:339–347, vii

Cargill M, Schrodi SJ, Chang M, Garcia VE, Brandon R, Callis KP, Matsunami N, Ardlie KG, Civello D, Catanese JJ, Leong DU, Panko JM, McAllister LB, Hansen CB, Papenfuss J, Prescott SM, White TJ, Leppert MF, Krueger GG, Begovich AB (2007) A large-scale genetic association study confirms IL12B and leads to the identification of IL23R as psoriasis-risk genes. Am J Hum Genet 80:273–290

Chang J, Chen X, Su J, Kuang YH, Lu H, Peng S (2008) Study on psoriatic peripheral blood T-lymphocytes: effects of CD147-targeting small interfering RNA on the expression of CD147 and on cell proliferation and activation. Chin J Dermatol 41:7

Chen C, Ridzon DA, Broomer AJ, Zhou Z, Lee DH, Nguyen JT, Barbisin M, Xu NL, Mahuvakar VR, Andersen MR, Lao KQ, Livak KJ, Guegler KJ (2005) Real-time quantification of microRNAs by stem-loop RT-PCR. Nucleic Acids Res 33:e179

Chen X, Lin W, Lin J, Su J, Wu YX, Li J, Chang J (2006) Expression of CD147, cyclophilin A and cyclophilin B in patients with psoriasis. Chin J Dermatol 39:6

Chin LJ, Ratner E, Leng S, Zhai R, Nallur S, Babar I, Muller RU, Straka E, Su L, Burki EA, Crowell RE, Patel R, Kulkarni T, Homer R, Zelterman D, Kidd KK, Zhu Y, Christiani DC, Belinsky SA, Slack FJ, Weidhaas JB (2008) A SNP in a let-7 microRNA complementary site in the KRAS 3′ untranslated region increases non-small cell lung cancer risk. Cancer Res 68:8535–8540

Clop A, Marcq F, Takeda H, Pirottin D, Tordoir X, Bibe B, Bouix J, Caiment F, Elsen JM, Eychenne F, Larzul C, Laville E, Meish F, Milenkovic D, Tobin J, Charlier C, Georges M (2006) A mutation creating a potential illegitimate microRNA target site in the myostatin gene affects muscularity in sheep. Nat Genet 38:813–818

Elton TS, Sansom SE, Martin MM (2010) Cardiovascular disease, single nucleotide polymorphisms; and the renin angiotensin system: is there a MicroRNA connection? Int J Hypertens 2010:1–14

Filipowicz W, Bhattacharyya SN, Sonenberg N (2008) Mechanisms of post-transcriptional regulation by microRNAs: are the answers in sight? Nat Rev Genet 9:102–114

Griffiths CE, Barker JN (2007) Pathogenesis and clinical features of psoriasis. Lancet 370:263–271

Gwinn WM, Damsker JM, Falahati R, Okwumabua I, Kelly-Welch A, Keegan AD, Vanpouille C, Lee JJ, Dent LA, Leitenberg D, Bukrinsky MI, Constant SL (2006) Novel approach to inhibit asthma-mediated lung inflammation using anti-CD147 intervention. J Immunol 177:4870–4879

Hariharan M, Scaria V, Brahmachari SK (2009) dbSMR: a novel resource of genome-wide SNPs affecting microRNA mediated regulation. BMC Bioinform 10:108

Hiard S, Charlier C, Coppieters W, Georges M, Baurain D (2011) Patrocles: a database of polymorphic miRNA-mediated gene regulation in vertebrates. Nucleic Acids Res 38:D640–D651

Iacono KT, Brown AL, Greene MI, Saouaf SJ (2007) CD147 immunoglobulin superfamily receptor function and role in pathology. Exp Mol Pathol 83:283–295

Koch C, Staffler G, Huttinger R, Hilgert I, Prager E, Cerny J, Steinlein P, Majdic O, Horejsi V, Stockinger H (1999) T cell activation-associated epitopes of CD147 in regulation of the T cell response, and their definition by antibody affinity and antigen density. Int Immunol 11:777–786

Lee YA, Ruschendorf F, Windemuth C, Schmitt-Egenolf M, Stadelmann A, Nurnberg G, Stander M, Wienker TF, Reis A, Traupe H (2000) Genomewide scan in german families reveals evidence for a novel psoriasis-susceptibility locus on chromosome 19p13. Am J Hum Genet 67:1020–1024

Lowes MA, Bowcock AM, Krueger JG (2007) Pathogenesis and therapy of psoriasis. Nature 445:866–873

Luczynski W, Kowalczuk O, Stasiak-Barmuta A, Ilendo E, Krawczuk-Rybak M, Chyczewski L (2009) Acute lymphoblastic leukemia-derived dendritic cells express tumor associated antigens: PNPT1, PMPCB, RHAMM, BSG and ERCC1. Neoplasma 56:428–434

Mishra PJ, Humeniuk R, Longo-Sorbello GS, Banerjee D, Bertino JR (2007) A miR-24 microRNA binding-site polymorphism in dihydrofolate reductase gene leads to methotrexate resistance. Proc Natl Acad Sci USA 104:13513–13518

Miyauchi T, Masuzawa Y, Muramatsu T (1991) The basigin group of the immunoglobulin superfamily: complete conservation of a segment in and around transmembrane domains of human and mouse basigin and chicken HT7 antigen. J Biochem 110:770–774

Muinos-Gimeno M, Guidi M, Kagerbauer B, Martin-Santos R, Navines R, Alonso P, Menchon JM, Gratacos M, Estivill X, Espinosa-Parrilla Y (2009) Allele variants in functional MicroRNA target sites of the neurotrophin-3 receptor gene (NTRK3) as susceptibility factors for anxiety disorders. Hum Mutat 30:1062–1071

Nabeshima K, Suzumiya J, Nagano M, Ohshima K, Toole BP, Tamura K, Iwasaki H, Kikuchi M (2004) Emmprin, a cell surface inducer of matrix metalloproteinases (MMPs), is expressed in T-cell lymphomas. J Pathol 202:341–351

Nair RP, Duffin KC, Helms C, Ding J, Stuart PE, Goldgar D, Gudjonsson JE, Li Y, Tejasvi T, Feng BJ, Ruether A, Schreiber S, Weichenthal M, Gladman D, Rahman P, Schrodi SJ, Prahalad S, Guthery SL, Fischer J, Liao W, Kwok PY, Menter A, Lathrop GM, Wise CA, Begovich AB, Voorhees JJ, Elder JT, Krueger GG, Bowcock AM, Abecasis GR (2009) Genome-wide scan reveals association of psoriasis with IL-23 and NF-kappaB pathways. Nat Genet 41:199–204

Pistol G, Matache C, Calugaru A, Stavaru C, Tanaseanu S, Ionescu R, Dumitrache S, Stefanescu M (2007) Roles of CD147 on T lymphocytes activation and MMP-9 secretion in systemic lupus erythematosus. J Cell Mol Med 11:339–348

Rademakers R, Eriksen JL, Baker M, Robinson T, Ahmed Z, Lincoln SJ, Finch N, Rutherford NJ, Crook RJ, Josephs KA, Boeve BF, Knopman DS, Petersen RC, Parisi JE, Caselli RJ, Wszolek ZK, Uitti RJ, Feldman H, Hutton ML, Mackenzie IR, Graff-Radford NR, Dickson DW (2008) Common variation in the miR-659 binding-site of GRN is a major risk factor for TDP43-positive frontotemporal dementia. Hum Mol Genet 17:3631–3642

Renno T, Wilson A, Dunkel C, Coste I, Maisnier-Patin K, Benoit de Coignac A, Aubry JP, Lees RK, Bonnefoy JY, MacDonald HR, Gauchat JF (2002) A role for CD147 in thymic development. J Immunol 168:4946–4950

Ruiz S, Castro-Castro A, Bustelo XR (2008) CD147 inhibits the nuclear factor of activated T-cells by impairing Vav1 and Rac1 downstream signaling. J Biol Chem 283:5554–5566

Sethupathy P, Borel C, Gagnebin M, Grant GR, Deutsch S, Elton TS, Hatzigeorgiou AG, Antonarakis SE (2007) Human microRNA-155 on chromosome 21 differentially interacts with its polymorphic target in the AGTR1 3′ untranslated region: a mechanism for functional single-nucleotide polymorphisms related to phenotypes. Am J Hum Genet 81:405–413

Tan Z, Randall G, Fan J, Camoretti-Mercado B, Brockman-Schneider R, Pan L, Solway J, Gern JE, Lemanske RF, Nicolae D, Ober C (2007) Allele-specific targeting of microRNAs to HLA-G and risk of asthma. Am J Hum Genet 81:829–834

Tang Y, Kesavan P, Nakada MT, Yan L (2004) Tumor-stroma interaction: positive feedback regulation of extracellular matrix metalloproteinase inducer (EMMPRIN) expression and matrix metalloproteinase-dependent generation of soluble EMMPRIN. Mol Cancer Res 2:73–80

Woodhead VE, Stonehouse TJ, Binks MH, Speidel K, Fox DA, Gaya A, Hardie D, Henniker AJ, Horejsi V, Sagawa K, Skubitz KM, Taskov H, Todd RF 3rd, van Agthoven A, Katz DR, Chain BM (2000) Novel molecular mechanisms of dendritic cell-induced T cell activation. Int Immunol 12:1051–1061

Yang Y, Lu N, Zhou J, Chen ZN, Zhu P (2008) Cyclophilin A up-regulates MMP-9 expression and adhesion of monocytes/macrophages via CD147 signalling pathway in rheumatoid arthritis. Rheumatology (Oxford) 47:1299–1310

Yurchenko V, Zybarth G, O'Connor M, Dai WW, Franchin G, Hao T, Guo H, Hung HC, Toole B, Gallay P, Sherry B, Bukrinsky M (2002) Active site residues of cyclophilin A are crucial for its signaling activity via CD147. J Biol Chem 277:22959–22965

Zhu P, Ding J, Zhou J, Dong WJ, Fan CM, Chen ZN (2005) Expression of CD147 on monocytes/macrophages in rheumatoid arthritis: its potential role in monocyte accumulation and matrix metalloproteinase production. Arthritis Res Ther 7:R1023–R1033
Acknowledgments
We thank Prof. Yuanjian Li (School of Pharmaceutical Science, Central South University) with technical issues and suggestions as well as Hongfu Xie, Mingliang Chen, Wei Shi, Wu Zhu, Bo Deng, Huan Chen, Jianglin Zhang, Dan Jian, Jie Li (the Department of Dermatology in XiangYa Hospital, Central South University) for their help with collecting subjects. We thank Prof. Xuejun Zhang, Prof. Sen Yang (Anhui Medical University) Prof. Lunquan Sun (Center for Molecular Research, CSU) and Prof. Jiada Li (National Laboratory of Medical Genetics of China) for assistance. We thank National Laboratory of Medical Genetics of China for technical support. Contract grant sponsors: National Natural Science Foundation of China (Grant number: 81071290; 30872267; 30800990; 81072461); Program for Changjiang Scholars and Innovative Research Team in University; Program for New Century Excellent Talents in University (Grant number: NCET-07-0859); Aid program for Science and Technology Innovative Research Team in Higher Educational Institutions of Hunan Province.
Conflict of interest
The authors have declared that no conflict of interest exists.
Additional information
L.-S. Wu, F.-F. Li and L.-D. Sun contributed equally to this work.
Electronic supplementary material
Below is the link to the electronic supplementary material.
About this article
Cite this article
Wu, L., Li, F., Sun, L. et al. A miRNA-492 binding-site polymorphism in BSG (basigin) confers risk to psoriasis in Central South Chinese population. Hum Genet 130, 749–757 (2011). https://doi.org/10.1007/s00439-011-1026-5
Received:

Accepted:

Published:

Issue Date:
Keywords
Psoriasis

Psoriasis Patient

Single Nucleotide Polymorphism Rs8259

miRNA Binding Site

Psoriasis Susceptibility