This is a preview of subscription content, log in to check access.
Access options
Buy single article
Instant access to the full article PDF.
US$ 39.95
Price includes VAT for USA
Subscribe to journal
Immediate online access to all issues from 2019. Subscription will auto renew annually.
US$ 199
This is the net price. Taxes to be calculated in checkout.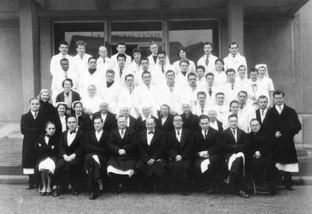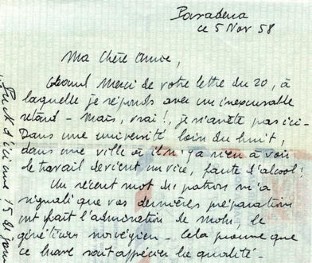 Notes
1.

By a slip of the pen that I dare not interpret, my name was wrongly entered as "Marie Gauthier". The error was corrected in subsequent publications.

2.

One of his children had just died from Bouillaud's Disease because of a lack of cortisone in France and he had founded the Society of Study and Care for Children with Acute Rheumatic Fever and Congenital Cardiopathy.

3.

Jean Aicardi went on to pursue a brilliant national and international career establishing child neurology, and one syndrome is named after him. Jacques Couvreur, meanwhile, divided his life between hospitals and private clients and was the national reference point for the treatment of congenital toxoplasmosis.

4.

Although the National Institute of Hygiene was created in 1941, reforms were not made until 1958.

5.

6.

I was very busy at the time, with part time work at Hôpital Bicêtre in the CC (congenital cardiopathy) nursery departments, ARF consultations, and the start of my private practice.

7.

It was an irony of cytogenetic history that after the Denver classification of 1960, it was subsequently noted that this chromosome was smaller and therefore corresponded to the 22nd pair, but everything remained in that order in order not to confuse the wealth of literature already available on the subject.

8.

Or at least, one who claims to be a miracle worker.

9.
References
Böök JA, Fraccaro M, Lindsten J (1959) Cytogenetical observations in mongolism. Acta Paediatr 48:453–468

Davenport CB (1932) Mendelism in man. Proceedings of the Sixth International Congress of Genetics. vol 1. Ithaca, New York, pp 135–140

Dutrillaux B, Lejeune J (1971) Sur une nouvelle technique d'analyse du caryotype humain. C R Acad Sci Paris 272:2638–2640

Ford CE, Jones KW, Polani PE, de Almeida JC, Briggs JH (1959) A sex chromosome anomaly in a case of gonadal dysgenesis (Turner's syndrome). Lancet 1:711–713

Fraccaro M (2004) Interview of the author with Marco Fraccaro

Gautier M (2009) Cinquantenaire de la trisomie 21; Retour sur une découverte. Med Sci (Paris) 25:311–316

Gilgenkrantz S, Rivera EM (2003) The history of cytogenetics: portraits of some pioneers. Ann Genet 46:433–442

Harper PS (2006a) First Years of Human Chromosomes: the Beginnings of Human Cytogenetics. Scion, Oxford

Harper PS (2006b) The discovery of the human chromosome number in Lund, 1955–1956. Hum Genet 119:226–232

Jacobs PA (1982) The William Allan Memorial Award address: human population cytogenetics: the first twenty-five years. Am J Hum Genet 34:961–965

Jacobs PA (2004) Interview of the author with Patricia Jacobs

Jacobs PA, Strong JA (1959) A case of human intersexuality having a possible XXY sex-determining mechanism. Nature 183:302–303

Jacobs PA, Baikie AG, Court Brown WM, Strong JA (1959) The somatic chromosomes in mongolism. Lancet 1:710

Lejeune J, Lafourcade J (1968) Deficiency of long arm of chromosome 18 (18q). Union Med Can 97(7):936–940

Lejeune J, Gautier M, Turpin R (1959) Les chromosomes humains en culture de tissus. C R Acad Sci 248:602–603

Lejeune J, Lafourcade J, Berger R, Vialatte J, Boeswillwald M, Seringe P, Turpin R (1963) Trois cas de délétion partielle du bras court d'un chromosome 5. C R Acad Sci (D) 257:3098–3102

Maddox B (2002) Rosalind Franklin: the Dark Lady of DNA. Harper Collins, London

Polani PE (2003) Interview of the author with Paul Polani

Polani PE, Briggs JH, Ford CE, Clarke CM, Berg JM (1960) A mongol girl with 46 chromosomes. Lancet 1:721–724

Tjio J-H, Levan A (1956) The chromosome number of man. Hereditas 42:1–6

Waardenburg PL (1932) Das Menschliche Auge und Seine Erbenlangen. Den Haag: Nijhoff; 47–48. (A translation of the relevant passage by the author appeared in Vogel F, Motulsky A (1986) Human Genetics: Problems and Approaches, 2nd edn. Springer, New York)
Additional information
This article by Marthe Gautier was translated from the French by Cardiff University Centre for Lifelong Learning and Peter S. Harper. The commentary is by Peter Harper. Originally published in Médecine Sciences [Gautier M (2009) Cinquantenaire de la trisomie 21. Retour sur une découverte. Med Sci (Paris) 25(3): 311–315], this article now reappears in English by kind permission of the publisher, Éditions EDK.
About this article
Cite this article
Gautier, M., Harper, P.S. Fiftieth anniversary of trisomy 21: returning to a discovery. Hum Genet 126, 317–324 (2009). https://doi.org/10.1007/s00439-009-0690-1
Keywords
Nobel Prize

Turner Syndrome

Acute Rheumatic Fever

Congenital Toxoplasmosis

Fiftieth Anniversary