Abstract
Cardiac conduction defects that are associated with dilated cardiomyopathy (DCM) are generally considered to be sporadic clinical entities, although familial forms of disorders with these clinical features have been identified in a number of families in different countries. An autosomal dominant cardiac disorder characterised by conduction abnormalities and DCM, termed progressive familial heart block type II (PFHBII) (OMIM 140400), has been described in a South African Caucasian family of Northern European descent. Known candidate loci for isolated conduction disorders, isolated DCM and conduction disorders complicated by DCM were excluded from disease causation in this family by linkage analysis, with the exception of the DCM-associated (CMD1D) locus on chromosome 1q32, where a maximum multipoint lod score of 3.7 in the interval between D1S3753 and D1S414, was generated. This region encompassed the troponin T gene (TNNT2), however, genetic fine mapping and haplotype analysis excluded TNNT2 as cause of PFHBII and placed the disease-causative gene within a 3.9 cM (2.85 Mb) interval, flanked by D1S70 and D1S505. Analysis of KCNH1, KIAA0205, LAMB3 and PPP2R5A, which map within the critical interval, indicated that the PFHBII-causative mutation does not lie within the coding regions or splice junctions of these plausible candidate genes. The data indicate the existence of a novel locus involved in the pathogenesis of cardiac conduction abnormalities and DCM.
This is a preview of subscription content, log in to check access.
Access options
Buy single article
Instant access to the full article PDF.
US$ 39.95
Price includes VAT for USA
Subscribe to journal
Immediate online access to all issues from 2019. Subscription will auto renew annually.
US$ 199
This is the net price. Taxes to be calculated in checkout.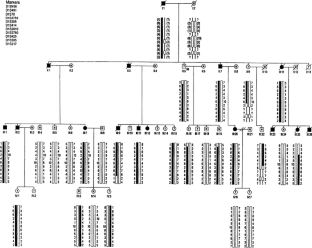 References
Antzelevitch C (2003) Molecular genetics of arrhythmias and cardiovascular conditions associated with arrhythmias. J Cardiovasc Electrophysiol 14:1259–1272

Benson DW (2004) Genetics of atrioventricular conduction disease in humans. Anat Rec Part A: Discov Mol Cell Evol Biol 280:934–939

Blair E, Redwood C, Ashrafian H, Oliveira M, Broxholme J, Kerr B, Salmon A, Ostman-Smith I, Watkins H (2001) Mutations in the gamma (γ) subunit of AMP-activated protein kinase cause familial hypertrophic cardiomyopathy: evidence for the central role of energy compromise in disease pathogenesis. Hum Mol Genet 10:1215–1220

Brink AJ, Torrington M (1977) Progressive familial heart block-two types. S Afr Med J 52:53–59

Chien KR (2003) Genotype, phenotype: upstairs, downstairs in the family of cardiomyopathies. J Clin Invest 111:175–178

Corfield VA, Moolman JC, Martell R, Brink PA (1993) Polymerase chain reaction-based detection of MN blood-group specific sequences in the human genome. Transfusion 33:119–124

Daehmlow S, Erdmann J, Knueppel T, Gille C, Froemmel C, Hummel M, Hetzer R, Regitz-Zagrosek V (2002) Novel mutations in sarcomeric protein genes in dilated cardiomyopathy. Biochem Biophys Res Commun 298:116–201

Fatkin D, MacRae C, Sasaki T, Wolff MR, Porcu M, Frenneaux M, Atherton J, Vidaillet HJ Jr, Spudich S, De Girolami U, Seidman JG, Seidman C, Muntoni F, Muehle G, Johnson W, McDonough B (1999) Missense mutations in the rod domain of the lamin A/C gene as causes of dilated cardiomyopathy and conduction-system disease. New Engl J Med 341:1715–1724

Fernandez P, Corfield VA, Brink PA (2004) Progressive familial heart block type II (PFHBII): a clinical profile from 1977 to 2003. Cardiovasc J South Afr 15:129–132

Gavazzi A, Repetto A, Scelsi L, Inserra C, Laudisa ML, Campana C, Specchia C, Dal Bello B, Diegoli M, Tavazzi L, Arbustini E (2001) Evidence-based diagnosis of familial non-X-linked dilated cardiomyopathy. Prevalence, inheritance and characteristics. Eur Heart J 22:73–81

Gerecke DR, Wagman DW, Champliaud MF, Burgeson RE (1994) The complete primary structure for a novel laminin chain, laminin B1 k chain. J Biol Chem 269:11073–11080

Graber HL, Unverferth DV, Baker PB, Ryan JM, Baba N, Wooley CF (1986) Evolution of a hereditary cardiac conduction and muscle disorder: a study involving a family with six generations affected. Circulation 74:21–35

Hodge SE, Greenberg DA (1992) Sensitivity of lod scores to changes in diagnostic status. Am J Hum Genet 50:1053–1066

Kamisago M, Sharma SD, DePalma SR, Solomon S, Sharma P, McDonough B, Smoot L, Mullen MP, Woolf PK, Wigle ED, Seidman JG, Seidman CE (2000) Mutations in sarcomere protein genes as a cause of dilated cardiomyopathy. N Eng J Med 343:1688–1696

Lathrop GM, Lalouel JM (1984) Easy calculations of lod scores and genetic risk on small computers. Am J Hum Genet 36:460–465

Li D, Czernuszewicz GZ, Gonzalez O, Tapscott T, Karibe A, Durand JB, Brugada R, Hill R, Gregoritch JM, Anderson JL, Quinones M, Bachinski LL, Roberts R (2001) Novel cardiac troponin T mutation as a cause of familial dilated cardiomyopathy. Circulation 104:2188–2193

McCright B, Virshup DM (1995) Identification of new protein phosphatase 2A regulatory subunits. J Biol Chem 270:26123–26128

Mestroni L, Miani D, Di Lenarda A, Silvestri F, Bussani R, Filippi G, Camerini F (1990) Clinical and pathologic study of familial dilated cardiomyopathy. Am J Cardiol 65:1449–1453

Mogensen J, Murphy RT, Shaw T, Bahl A, Redwood C, Watkins H, Burke M, Elliott PM, McKenna WJ (2004) Severe disease expression of cardiac troponin C and T mutations in patients with idiopathic dilated cardiomyopathy. J Am Coll Cardiol 44:2033–2040

Nagase T, Seki N, Ishikawa K, Ohira M, Kawarabayasi Y, Ohara O, Tanaka A., Kotani H., Miyajima N, Nomura N (1996) Prediction of the coding sequences of unidentified human genes VI. The coding sequences of 80 new genes (KIAA0201-KIAA0280) deduced by analysis of cDNA clones from cell line KG-1 and brain. DNA Res 3:321–329

Occhiodoro T, Bernheim L, Liu JH, Bijlenga P, Sinnreich M, Bader CR, Fischer-Lougheed J (1998) Cloning of a human ether-a-go-go potassium channel expressed in myoblasts at the onset of fusion. FEBS Lett 434:177–182

Oropeza ES, Cadena CN (2003) New phenotype of familial dilated cardiomyopathy and conduction disorders. Am Heart J 145:317–323

Tiso N, Stephan DA, Nava A, Bagattin A, Devaney JM, Stanchi F, Larderet G, Brahmbhatt B, Brown K, Bauce B, Muriago M, Basso C, Thiene G, Danieli GA, Rampazzo A (2001) Identification of mutations in the cardiac ryanodine receptor gene in families affected with arrhythmogenic right ventricular cardiomyopathy type 2 (ARVD2). Hum Mol Genet 10:189–194

Towbin JA, Bowles NE (2002) The failing heart. Nature 415:227–233

Vervoort VS, Smith RJ, O'Brien J, Schroer R, Abbott A, Stevenson RE, Schwartz CE (2002) Genomic rearrangements of EYA1 account for a large fraction of families with BOR syndrome. Eur J Hum Genet 10:757–766
Acknowledgements
We are extremely grateful for the participation of the family members in the present study, as well as A. Goosen, for collecting the patient samples and the physicians who performed the clinical evaluations. The National Research Foundation, Medical Research Council of South Africa and Harry Crossley Foundation provided financial support for the study.
About this article
Cite this article
Fernandez, P., Moolman-Smook, J., Brink, P. et al. A gene locus for progressive familial heart block type II (PFHBII) maps to chromosome 1q32.2-q32.3. Hum Genet 118, 133–137 (2005). https://doi.org/10.1007/s00439-005-0029-5
Received:

Accepted:

Published:

Issue Date:
Keywords
Conduction defect

Cardiomyopathy