Abstract
The base excision repair gene MYH protects against damage to DNA from reactive oxygen species, which are commonly found in cigarette smoke. Inherited mutations in MYH predispose to colorectal adenomas and carcinomas that show a characteristic pattern of somatic G:C→T:A mutations in the APC gene. A similar pattern of somatic mutations in the TP53 gene is reported in smoking-related lung cancers. We therefore tested whether germline changes in MYH may also contribute to the development of lung cancer by screening for variants in 276 patients with lung carcinoma and 106 normal controls. No patients harboured truncating mutations in MYH and only a single patient was a carrier for the G382D missense mutation. We identified three common coding region (V22M, Q324H and S501F) and intronic (157+30A>G, 462+35G>A and 1435−40G>C) variants, but none were over-represented in the patient samples, indicating that MYH variants are unlikely to predispose significantly to the risk of lung cancer.
This is a preview of subscription content, log in to check access.
Access options
Buy single article
Instant access to the full article PDF.
US$ 39.95
Price includes VAT for USA
Subscribe to journal
Immediate online access to all issues from 2019. Subscription will auto renew annually.
US$ 199
This is the net price. Taxes to be calculated in checkout.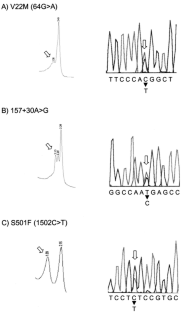 References
Al-Tassan N, Chmiel NH, Maynard J, Fleming N, Livingston AL, Williams GT, Hodges AK, Davies DR, David SS, Sampson JR, Cheadle JP (2002) Inherited variants of MYH associated with somatic G:C→T:A mutations in colorectal tumors. Nat Genet 30:227–232

Fleiss JL, Tytun A, Uray HK (1980) A simple approximation for calculating sample sizes for comparing independent proportions. Biometrics 36:343–346

Hussain SP, Harris CC (1999) p53 mutation spectrum and load: the generation of hypotheses linking the exposure of endogenous or exogenous carcinogens to human cancer. Mutat Res 428:23–32

Jones S, Emmerson P, Maynard J, Best JM, Jordan S, Williams GT, Sampson JR, Cheadle JP (2002) Biallelic germline mutations in MYH predispose to multiple colorectal adenoma and somatic G:C→T:A mutations. Hum Mol Genet 11:2961–2967

Le Marchand L, Donlon T, Lum-Jones A, Seifried A, Wilkens LR (2002) Association of the hOGG1 Ser326Cys polymorphism with lung cancer risk. Cancer Epidemiol Biomarkers Prev 11:409–412

Michaels ML, Miller JH (1992) The GO system protects organisms from the mutagenic effect of the spontaneous lesion 8-hydroxyguanine (7,8-dihydro-8-oxoguanine). J Bacteriol 174:6321–6325

Sampson JR, Dolwani S, Jones S, Eccles D, Ellis A, Evans DG, Frayling I, Jordan S, Maher ER, Mak T, Maynard J, Pigatto F, Shaw J, Cheadle JP (2003) Autosomal recessive colorectal adenomatous polyposis due to inherited mutations of MYH. Lancet 362:37–41

Shinmura K, Yamaguchi S, Saitoh T, Kohno T, Yokota J (2001) Somatic mutations and single nucleotide polymorphisms of base excision repair genes involved in the repair of 8-hydroxyguanine in damaged DNA. Cancer Lett 166:65–69

Shopland DR, Eyre HJ, Pechacek TF (1991) Smoking-attributable cancer mortality in 1991: is lung cancer now the leading cause of death among smokers in the United States? J Natl Cancer Inst 83:1142–1148

Takeshima Y, Seyama T, Bennett WP, Akiyama M, Tokuoka S, Inai K, Mabuchi K, Land CE, Harris CC (1993) p53 mutations in lung cancers from non-smoking atomic-bomb survivors. Lancet 342:1520–1521
Acknowledgements
This work was supported by grants from the King Saud University via the Saudi Cultural Bureau, the Knowledge Exploitation Fund (ELWA), a CETIC (Centres of Expertise in Technology and Industrial Collaboration) award from the W.D.A., the Wales Gene Park and Cancer Research UK. We would also like to thank HEAL Cancer Charity and Aventis Pharma for funding the collection of samples. Finally we are grateful to the GELCAPS Consortium investigators and study entrants.
About this article
Cite this article
Al-Tassan, N., Eisen, T., Maynard, J. et al. Inherited variants in MYH are unlikely to contribute to the risk of lung carcinoma. Hum Genet 114, 207–210 (2004). https://doi.org/10.1007/s00439-003-1033-2
Received:

Accepted:

Published:

Issue Date:
Keywords
Lung Cancer

Base Excision Repair

TP53 Gene

Base Excision Repair Gene

Multiple Colorectal Adenoma