Abstract
The underestimates of NF1 gene mutations in neurofibromatosis 1 (NF1) have been attributed to the large size of the NF1 gene, the considerable frequency of gross deletions and the common occurrence of splicing defects that are only detectable by cDNA analysis. We here report on a patient with severe NF1 showing at RT-PCR analysis the expected fragment from exon 4b to 8 together with a shortened one with the in-frame skipping of exon 7. Sequencing of the corresponding genomic fragment revealed a G→A transition and a C→A transversion at nucleotide positions 57 and 58 of the 174-bp long exon 7, neither of which was present in the proband's parents or 50 healthy controls. No other variation was found in the entire NF1 coding sequence. The use of previously established sequence matrices for the scoring of putative ESE motifs showed that the adjacent silent and missense mutations are located within highly conserved overlapping stretches of seven nucleotides with a close similarity to the ESE-specific consensus sequences recognised by the SC35 and SF2/ASF SR proteins. The combined occurrence of both consecutive alterations decreases the motif score for both SF2/ASF and SC35 below their threshold levels. As the aberrant transcript is consistently expressed, a protein lacking 58 amino acids is predicted. Thus the contiguous internal exon 7 mutations are suggested to cause exon 7 skipping as a result of the mis-splicing caused by abrogation of functional ESEs.
This is a preview of subscription content, log in to check access.
Access options
Buy single article
Instant access to the full article PDF.
US$ 39.95
Price includes VAT for USA
Subscribe to journal
Immediate online access to all issues from 2019. Subscription will auto renew annually.
US$ 199
This is the net price. Taxes to be calculated in checkout.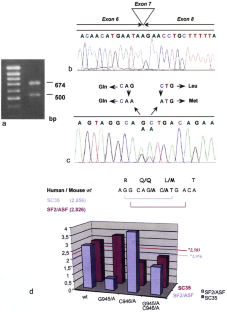 References
Ars E, Serra E, Garcia J, Kruyer H, Gaona A, Lazaro C, Estivill X (2000) Mutations affecting mRNA splicing are the most common molecular defects in patients with neurofibromatosis type 1. Hum Mol Genet 9:237–247

Cartegni L, Chew SL, Krainer AR (2002) Listening to silence and understanding nonsense: exonic mutations that affect splicing. Nat Rev 3:285–298

Fahsold R, Hoffmeyer S, Mischung C, Gille C, Ehlers C, Kücükceylan N, Abdel-Nour M, Gewies A, Peters H, Kaufmann D, Buske A, Tinschert S, Nürmberg P (2000) Minor lesion mutational spectrum of the entire NF1 gene does not explain its high mutability but points to a functional domain upstream of the GAP-related domain. Am J Hum Genet 66:790–818

Fairbrother WG, Yeh RF, Sharp PA, Burge CB (2002) Predictive identification of exonic splicing enhancers in human genes. Science 297:1007–1013

Hoffmeyer S, Nürmberg P, Ritter H, Fahsold R, Leistner W, Kaufmann D, Krone W (1998) Nearby stop codons in exons of the neurofibromatosis type 1 gene are disparate splice effectors. Am J Hum Genet 62:269–277

Liu H-X, Zhang M, Krainer AR (1998) Identification of functional exonic splicing enhancer motifs recognized by individual SR proteins. Genes Dev 12:1998–2012

Liu H-X, Cartegni L, Zhang MQ, Krainer AR (2001) A mechanism for exon skipping caused by nonsense or missense mutations in BRCA1 and other genes. Nat Genet 27:55–58

Messiaen L, Callens T, De Paepe A, Craen M, Mortier G (1997) Characterisation of two different nonsense mutations, C6792A and C6792G, causing skipping of exon 37 in the NF1 gene. Hum Genet 101:75–80

Messiaen L, Callens T, Mortier G, Beyesn D, Vandenbroucke I, Van Roy N, Speleman F, De Paepe A (2000) Exhaustive mutation analysis of the NF1 gene allows identification of 95% of mutations and reveals a high frequency of unusual splicing defects. Hum Mut 15:541–555

Riva P, Corrado L, Natacci F, Castorina P, Wu BL, Schneider GH, Clementi M, Tenconi R, Korf BR, Larizza L (2000) NF1 microdeletion syndrome: refined FISH characterization of sporadic and familial deletions with locus-specific probes. Am J Hum Genet. 66:100–109

Thomson SAM, Wallace MR (2002) RT-PCR splicing analysis of the NF1 open reading frame. Hum Genet 110:495–502

Upadhyaya M and Cooper DM (1998) The mutational spectrum in neurofibromatosis 1 and its underlying mechanisms. In: Upadhyaya M, Cooper M (eds) Neurofibromatosis type 1: from genotype to phenotype. BIOS Scientific, Oxford, pp 65–88

Vandenbroucke I, Vandesompele J, De Paepe A, Messiaen L (2002) Quantification of NF1 transcripts reveals novel highly expressed splice variants. FEBS Lett 522:71–76

Wimmer K, Eckart M, Rehder H, Fonatsch C (2000) Illegitimate splicing of the NF1 gene in healthy individuals mimics mutation-induced splicing alterations in NF1 patients. Hum Genet 106:311–313
Acknowledgements
We thank the family that participated in this study. This work was supported by a grant from Italian Ministry of Health on neurofibromatosis 1 and by a 2002 AIRC (Associazione Italiana per la Ricerca sul Cancro) grant (to L.L.) and a 2002 FIRST grant (to P.R).
Additional information
P. Colapietro and C. Gervasini contributed equally to this work
Electronic-database information
Electronic-database information
URLs for data presented herein are as follows:
About this article
Cite this article
Colapietro, P., Gervasini, C., Natacci, F. et al. NF1 exon 7 skipping and sequence alterations in exonic splice enhancers (ESEs) in a neurofibromatosis 1 patient. Hum Genet 113, 551–554 (2003). https://doi.org/10.1007/s00439-003-1009-2
Received:

Accepted:

Published:

Issue Date:
Keywords
Exonic Splice Enhancer

Aberrant Transcript

Exonic Splice Enhancer Motif

Putative Exonic Splice Enhancer

Occipitofrontal Head Circumference