Abstract
In Chinese cabbage, hybrid seed production is performed using male sterility lines, an important approach to heterosis utilization. In this study, a stably inherited male sterile mutant msm was obtained from the 'FT'-doubled haploid line of Chinese cabbage using isolated microspore culture combined with 60Co γ-ray mutagenesis. The genetic backgrounds of 'FT' and msm were highly consistent; however, compared with wild-type 'FT', msm exhibited completely degenerated stamens and no pollen phenotype. Other characters showed no significant differences. Cytological observations revealed that stamen abortion in msm begins during the tetrad period and that tapetum cells were abnormally expanded and highly vacuolated, leading to microspore abortion. Genetic analysis indicated that the msm mutant phenotype is controlled by a single recessive nuclear gene. Comparative transcriptome analysis of 'FT' and msm flower buds using RNA-Seq technology revealed 1653 differentially expressed genes, among which, a large number associated with male sterility were detected, including 64 pollen development- and pollen tube growth-related genes, 94 pollen wall development-related genes, 11 phytohormone-related genes, and 16 transcription factor-related genes. An overwhelming majority of these genes were down-regulated in msm compared with 'FT'. Furthermore, KEGG pathway analysis indicated that a variety of carbohydrate metabolic and lipid metabolic pathways were significantly enriched, which may be related to pollen abortion. The expression patterns of 24 male sterility-related genes were analyzed using qRT-PCR. In addition, 24,476 single-nucleotide polymorphisms and 413,073 insertion–deletion events were specifically detected in msm. These results will facilitate elucidation of the regulatory mechanisms underlying male sterility in Chinese cabbage.
This is a preview of subscription content, log in to check access.
Access options
Buy single article
Instant unlimited access to the full article PDF.
US$ 39.95
Price includes VAT for USA
Subscribe to journal
Immediate online access to all issues from 2019. Subscription will auto renew annually.
US$ 199
This is the net price. Taxes to be calculated in checkout.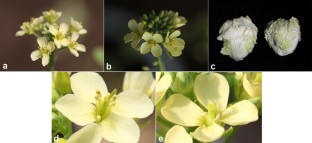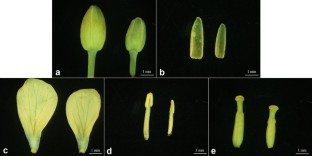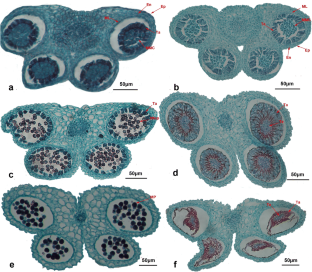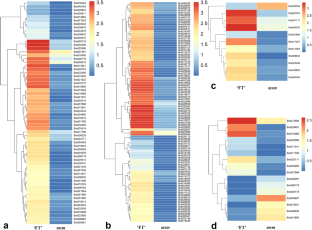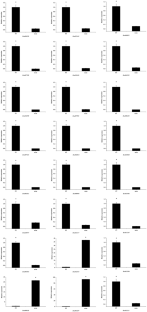 References
Abdi H (2007) Bonferroni and Šidák corrections for multiple comparisons. In: Salkind N (ed) Encyclopedia of measurement and statistics. SAGE, Thousand Oaks, pp 103–107

Adamczyk BJ, Fernandez DE (2009) MIKC* MADS domain heterodimers are required for pollen maturation and tube growth in Arabidopsis. Plant Physiol 149:1713–1723

An H, Yang ZH, YiB Wen J, Shen JX, Tu JX, Ma CZ, Fu TD (2014) Comparative transcript profiling of the fertile and sterile flower buds of pol CMS in B. napus. BMC Genomics 15:258

Anders S, Huber W (2010) Differential expression analysis for sequence count data. Genome Biol 11:R106

Ashburner M, Ball CA, Blake JA, Botstein D, Butler H, Cherry JM, Davis AP, Dolinski K, Dwight SS, Eppig JT, Harris MA, Hill DP, Issel-Tarver L, Kasarskis A, Lewis S, Matese JC, Richardson JE, Ringwald M, Rubin GM, Sherlock G (2000) Gene ontology: tool for the unification of biology. Gene Ontol Consortium Nat Genet 25:25–29

Bou DF, van Oostende C, Geitmann A (2011) Spatial and temporal expression of actin depolymerizing factors ADF7 and ADF10 during male gametophyte development in Arabidopsis thaliana. Plant Cell Physiol 52:1177–1192

Cao MJ, Cheng J, Wang J, Zhang CB, Pan GT, Rong TZ (2010) Relationship between phytohormones and genic male sterility induced by space flight in maize. J Nucl Agric Sci 24:447–452

Chen LT, Liu YG (2014) Male sterility and fertility restoration in crops. Annu Rev Plant Biol 65:579–606

Chen JJ, Pang WX, Chen B, Zhang CY, Piao ZY (2016) Transcriptome analysis of Brassica rapa near-isogenic lines carrying clubroot-resistant and –susceptible alleles in response to Plasmodiophora brassicae during early infection. Front Plant Sci 6:1183

Chong YT, Gidda SK, Sanford C, Parkinson J, Mullen RT, Goring DR (2010) Characterization of the Arabidopsis thaliana exocyst complex gene families by phylogenetic, expression profiling, and subcellular localization studies. New Phytol 185:401–419

Czemmel S, Heppel CS, Bogs J (2012) R2R3MYB transcription factors: key regulators of the flavonoid biosynthetic pathway in grapevine. Protoplasma 249:109–118

Dong MY, Zhang LG, Deng YL (2008) The cytomorphology of the fertility restoration in thermo-sensitive male sterile Chinese cabbage TsCMS7311. Acta Agri Boreali-Occidentalis Sin 17:104–108

Dong XS, Feng H, Xu M, Lee J, Kim YK, Lim YP, Piao ZY, Park YD, Ma H, Hur Y (2013) Comprehensive analysis of genic male sterility-related genes in Brassica rapa using a newly developed Br 300 K oligomeric chip. PLoS ONE 8:e72178

Dou JS, Wang LL, Yan JP, Fu MY, Zhang X, Xu F (2017) Molecular cloning and expression analysis of a AGAMOUS-like 66 gene (GbAGL66) in Ginkgo biloba. Biotechnology 16:100–107

Dukowic-Schulze S, Harris A, Li JH, Sundararajan A, Mudge J, Retzel EF, Pawlowski WP, Chen CB (2014) Comparative transcriptomics of early meiosis in Arabidopsis and maize. J Genet Genomics 41:139–152

Feng ZM, Zhang FL, Zhang DS, Yu XC (2005) Study on changes of hormones in anther at different development stage in cytoplasmic male sterility line and its maintainer of Chinese cabbage. Acta Agri Boreali-Sin 20:40–43

Feng B, Lu D, Ma X, Peng Y, Sun Y, Ning G, Ma H (2012) Regulation of the Arabidopsis anther transcriptome by DYT1 for pollen development. Plant J 72:612–624

Gu JN, Zhu J, Yu Y, Teng XD, Lou Y, Xu XF, Liu JL, Yang ZN (2014) DYT1 directly regulates the expression of TDF1 for tapetum development and pollen wall formation in Arabidopsis. Plant J 80:1005–1013

Guan YF, Meng XZ, Khanna R, LaMontagne E, Liu YD, Zhang SQ (2014) Phosphorylation of a WRKY transcription factor by MAPKs is required for pollen development and function in Arabidopsis. PLoS Genet 10:e1004384

Guo JX, Liu YG (2012) Molecular control of male reproductive development and pollen fertility in rice. J Integr Plant Biol 54:967–978

Guo JX, Sun RF, Song JX, Zhang SJ (2001) Microsporogenesis of several male-sterile lines in Brassica rapa L. ssp. Pekinensis. Acta Hortic Sin 28:409–414

Guo RX, Sun DF, Tan ZB, Rong DF, Li CD (2006) Two recessive genes controlling thermophotoperiod-sensitive male sterility in wheat. Theor Appl Genet 112:1271–1276

Guo YH, Zhang LS, Lin TR, Jiang KX, Qu MN (2010) Comparative study on anther cytology of different sterile lines in rice. Jiangsu Agric Sci 1:91–94

Hu Y, Wu Q, Liu S, Wei L, Chen X (2005) Study of rice pollen grains by multispectral imaging microscopy. Microsc Res Tech 68:335–346

Huang L, Ye YQ, Zhang YC, Zhang AH, Liu TT, Cao JS (2009) BcMF9, a novel polygalacturonase gene, is required for both Brassica campestris intine and exine formation. Ann Bot 104:1339–1351

Huang SN, Liu ZY, Li DY, Yao RP, Meng Q, Feng H (2014) Screening of Chinese cabbage mutants produced by 60Co γ-ray mutagenesis of isolated microspore cultures. Plant Breeding 133:480–488

Huang SN, Liu ZY, Yao RP, Li DY, Feng H (2015) Comparative transcriptome analysis of the petal degeneration mutant pdm in Chinese cabbage (Brassica campestris ssp. pekinensis) using RNA-seq. Mol Genet Genomics 290:1833–1847

Huang SN, Liu ZY, Li CY, Yao RP, Li DY, Hou L, Li X, Liu WJ, Feng H (2017) Transcriptome analysis of a female-sterile mutant (fsm) in Chinese cabbage (Brassica campestris ssp. pekinensis). Front Plant Sci 8:546

Ji JL, Yang LM, Fang ZY, Zhuang M, Zhang YY, Lv HH, Liu YM, Li ZS (2017) Recessive male sterility in cabbage (Brassica oleracea var. capitata) caused by loss of function of BoCYP704B1due to the insertion of a LTR-retrotransposon. Theor Appl Genet 130:1441–1451

Jiang CM, Li CP, Chang JC, Chang HM (2002) Characterization of pectinesterase inhibitor in jelly fig (Ficus awkeotsang Makino) achenes. J Agric Food Chem 50:4890–4894

Jiang Y, Zeng B, Zhao HN, Zhang M, Xie SJ, Lai JS (2012) Genome-wide transcription factor gene prediction and their expressional tissue-specificities in maize. J Integr Plant Biol 54:616–630

Jiang JX, Lv ML, Liang Y, Ma ZM, Cao JS (2014) Identification of novel and conserved miRNAs involved in pollen development in Brassica campestris ssp. chinensis by high-throughput sequencing and degradome analysis. BMC Genomics 15:146

Kanehisa M, Araki M, Goto S, Hattori M, Hirakawa M, Itoh M, Katayama T, Kawashima S, Okuda S, Tokimatsu T, Yamanishi Y (2008) KEGG for linking genomes to life and the environment. Nucleic Acids Res 36:D480–D484

Lai KS (2016) Analysis of EXO70C2 expression revealed its specific association with late stages of pollen development. Plant Cell Tiss Org 124:209–215

Lamport DTA, Varnai P (2013) Periplasmic arabinogalactan glycoproteins acts as a calcium capacitor that regulates plant growth and development. New Phytol 197:58–64

Laser KD, Lersten NR (1972) Anatomy and cytology of microsporogenesis in cytoplasmic male sterile Angiosperms. Bot Rev 38:425–454

Lee DH, Lee IC, Kim KJ, Kim DS, Na HJ, Lee IJ, Kang SM, Jeon HW, Le PY, Ko JH (2014) Expression of gibberellin 2-oxidase 4 from Arabidopsis under the control of a senescence-associated promoter results in a dominant semi-dwarf plant with normal flowering. J Plant Biol 57:106–116

Li LL, Zhang SL (2006) Regulative effects of plant growth substances on male fertility. Chinese Agri Sci Bull 22:211–215

Li H, Handsaker B, Wysoker A, Fennell T, Ruan J, Homer N, Marth G, Abecasis G, Durbin R (2009a) The sequence alignment-map format and SAMtools. Bioinformatics 25:2078–2079

Li W, Ma LJ, He BR (2009b) Change of some physiological characters in the fertility sensitive period of two types of temperature sensitive male sterile wheat lines. J Triticeae Crops 29:89–92

Li RQ, Yu C, Li YR, Lam TW, Yiu SM, Kristiansen K, Wang J (2009c) SOAP2: an improved ultrafast tool for short read alignment. Bioinformatics 25:1966–1967

Li SP, van Os GMA, Ren SC, Yu DL, Ketelaar T, Emons AMC, Liu CM (2010) Expression and functional analyses of EXO70 genes in Arabidopsis implicate roles in regulating cell type-specific exocytosis. Plant Physiol 154:1819–1830

Liu QY, Liu FH, He KY, Zhu XW, Li LX (2006) Preliminary study on the relationship between cytoplasmic male sterility and the contents of flower bud endogenous hormone in tobacco. Acta Agri Boreali-Sin 21:79–82

Liu TK, Li Y, Zhang CW, Duan WK, Huang FY, Hou XL (2014) Basic helix-loop-helix transcription factor BcbHLHpol functions as a positive regulator of pollen development in non-heading Chinese cabbage. Funct Integr Genomics 14:731–739

Liu YM, Zhang L, Zhou JY, Cao MJ (2015) Research progress of the bHLH transcription factors involved in genic male sterility in plants. Hereditas (Beijing) 37:1194–1203

Liu C, Liu ZY, Li CY, Zhang Y, Feng H (2016) Comparative transcriptome analysis of fertile and sterile buds from a genetically male sterile line of Chinese cabbage. Vitro Cell Dev-Pl 52:130–139

Lou P, Kang JG, Zhang GY, Bonnema G, Fang ZY, Wang XW (2007) Transcript profiling of a dominant male sterile mutant (Ms-cd1) in cabbage during flower bud development. Plant Sci 172:111–119

Luo DP, Xu H, Liu ZL, Guo JX, Li HY, Chen LT, Fang C, Zhang QY, Bai M, Yao N, Wu H, Wu H, Ji CH, Zheng HQ, Chen YL, Ye S, Li XY, Zhao XC, Li RQ, Liu YG (2013) A detrimental mitochondrial-nuclear interaction causes cytoplasmic male sterility in rice. Nat Genet 45:573–577

Meuter-Gerhards A, Riegert S, Wiermann R (1999) Studies on sporopollenin biosynthesis in Cucurbita maxima (DUCH.)-II. The involvement of aliphatic metabolism. J Plant Physiol 154:431–436

Moon S, Kim SR, Zhao GC, Yi J, Yoo Y, Jin P, Lee SW, Jung KH, Zhang DB, An G (2013) Rice GLYCOSYLTRANSFERASE1 encodes a glycosyltransferase essential for pollen wall formation. Plant Physiol 161:663–675

Mortazavi A, Williams BA, McCue K, Schaeffer L, Wold B (2008) Mapping and quantifying mammalian transcriptomes by RNA-Seq. Nat Methods 5:621–628

Ni F, Qi J, Hao QQ, Lyu B, Luo MC, Wang Y, Chen FJ, Wang SY, Zhang CZ, Epstein Zhao XY, Wang HG, Zhang XS, Chen CX, Sun LZ, Fu DL (2017) Wheat Ms2 encodes for an orphan protein that confers male sterility in grass species. Nat Commun 8:15121

Parish RW, Li SF (2010) Death of a tapetum: a programme of developmental altruism. Plant Sci 178:73–89

Phan HA, Iacuone S, Li SF, Parish RW (2011) The MYB80 transcription factor is required for pollen development and the regulation of tapetal programmed cell death in Arabidopsis thaliana. Plant Cell 23:2209–2224

Qu CM, Fu FY, Liu M, Zhao HY, Liu C, Li JN, Tang ZL, Xu XF, Qiu X, Wang R, Lu K (2015) Comparative transcriptome analysis of recessive male sterility (RGMS) in sterile and fertile Brassica napus lines. PLoS ONE 10:e0144118

Rao GS, Tyagi AK, Rao KV (2017) Development of an inducible male-sterility system in rice through pollen-specific expression of l-ornithinase (argE) gene of E. coli. Plant Sci 256:139–147

Reimegård J, Kundu S, Pendle A, Irish V, Shaw P, Nakayama N, Sundström JF, Emanuelsson O (2017) Genome-wide identification of physically clustered genes suggests chromatin-level co-regulation in male reproductive development in Arabidopsis thaliana. Nucleic Acids Res 45:3253–3265

Ruzicka DR, Kandasamy MK, McKinney EC, Burgos-Rivera B, Meagher RB (2007) The ancient subclasses of Arabidopsis Actin Depolymerizing Factor genes exhibit novel and differential expression. Plant J 52:460–472

Scott RJ, Spielman M, Dickinson HG (2004) Stamen structure and function. Plant Cell 16:S46–S60

Shi GJ, Hou XL, Hu W (2004) Changes of endogenous hormones and polyamines in cytoplasmic male sterile non-heading Chinese cabbage during anther development. Acta Bot Boreali-Occidentalia Sin 24:2109–2112

Shi J, Liang WQ, Zhang DB (2007) Pollen wall development in plant. Plant Physiol Commun 43:588–592

Song XY, Hu YG, Ma LJ, Li HB, He BR (2009) Changes of material content in panicles and leaves of YS type thermo-sensitive male sterile wheat line A3314 during transfer from sterility to fertility. J Northwest A&F Univ (Nat Sci Ed) 37:81–91

Song XY, Qian HH, Zhang LL (2014) Cytogenetic analysis of cytoplasmic male sterility in wheat line KTP116A and molecular mapping of two thermo-sensitive restoration genes. Euphytica 196:129–136

Sousa E, Kost B, Malhό R (2008) Arabidopsis phosphatidylinositol-4-monophosphate 5-kinase 4 regulates pollen tube growth and polarity by modulating membrane recycling. Plant Cell 20:3050–3064

Tang RS, Zheng JC, Jin ZQ, Zhang D, Huang H, Chen LG (2008) Possible correlation between high temperature-induced floret sterility and endogenous levels of IAA, GAs and ABA in rice (Oryza sativa L.). Plant Growth Regul 54:37–43

Thorstensen T, Grini PE, Mercy IS, Alm V, Erdal S, Aasland R, Aalen RB (2008) The Arabidopsis SET-domain protein ASHR3 is involved in stamen development and interacts with the bHLH transcription factor Aborted Microspores (AMS). Plant Mol Biol 66:47–59

Twell D (2010) Male gametophyte development. In: Pua EC, Davey MR (eds) Plant developmental biology-biotechnological perspectives, vol 1. Springer, Berlin, pp 225–244

Verelst W, Saedler H, Munster T (2007a) MIKC* MADS-protein complexes bind motifs enriched in the proximal region of late pollen-specific Arabidopsis promoters. Plant Physiol 143:447–460

Verelst W, Twell D, de Folter S, Immink R, Saedler H, Münster T (2007b) MADS-complexes regulate transcriptome dynamics during pollen maturation. Genome Biol 8:R249

Wang Y, Zhang WZ, Song LF, Zou JJ, Su Z, Wu WH (2008) Transcriptome analyses show changes in gene expression to accompany pollen germination and tube growth in Arabidopsis. Plant Physiol 148:1201–1211

Wei MM, Wei HL, Wu M, Song MZ, Zhang JF, Yu JW, Fan SL, Yu SX (2013) Comparative expression profiling of miRNA during anther development in genetic male sterile and wild type cotton. BMC Plant Biol 13:1–14

Wu YL, Min L, Wu ZC, Yang L, Zhu LF, Yang XY, Yuan DJ, Guo XP, Zhang XL (2015) Defective pollen wall contributes to male sterility in the male sterile line 1355A of cotton. Sci Rep 5:9608

Xia C, Zhang LC, Zou C, Gu YQ, Duan JL, Zhao GY, Wu JJ, Liu Y, Fang XH, Gao LF, Jiao YN, Sun JQ, Pan YH, Liu X, Jia JZ, Kong XY (2017) A TRIM insertion in the promoter of Ms2 causes male sterility in wheat. Nat Commun 8:15407

Xie HY, Jiang PD, Wang XL, Zhang ZW, Zhu W, Wang XD (2006) Changes of phytohormone contents in anther abortion of cytoplasmic male sterile cotton. Acta Agron Sin 32:1094–1096

Xu J, Ding Z, Vizcay-Barrena G, Shi J, Liang W, Yuan Z, Werck-Reichhart D, Schreiber L, Wilson ZA, Zhang D (2014a) Aborted Microspores acts as a master regulator of pollen wall formation in Arabidopsis. Plant Cell 26:1544–1556

Xu XY, Zhang J, Sun XL, Li ML, Lei M, Zhang LG (2014b) The relationship between male sterile occurrence and dynamics of endogenous hormone contents during flower bud development in CMS7311 of heading Chinese cabbage. Acta Agri Boreali-Sin 29:177–182

Xun ZL, Li XP, Zhang DD, Lu H, Liu D (2014) Functional analysis of transcription factor WRKY18 in pollen development of Arabidopsis thaliana (L.) Heynh. J Chin Electron Microsc Soc 33:156–162

Yang LF, Diao XM (2013) Progress in identification of plant male sterility related nuclear genes. J Plant Genet Resour 14:1108–1117

Yang K, Chen Y, Shi M, Converse R, Chen X, Zhao BM, Zhang Y, Lv J (2017) A novel dominant rice male sterility mutant, OsDMS-1, simultaneously controlled by independent loci on chromosomes 1, 2, and 3. Mol Breeding 37:25

Yu YC, Qiao M, Liu ZH, Xiang FN (2010) Diversification function of WRKY transcription factor. Chin Bull Life Sci 22:345–351

Zhang FL, Feng ZM, Zhang DS, Yu XC (2007) Studies on physiological and biochemical mechanisms for cytoplasmic male sterility in Chinese cabbage. Acta Agri Boreali-Sin 22:101–105

Zhang DS, Liang WQ, Yuan Z, Li N, Shi J, Wang J, Liu YM, Yu WJ, Zhang DB (2008) Tapetum degeneration retardation is critical for aliphatic metabolism and gene regulation during rice pollen development. Mol Plant 1:599–610

Zheng YY, Xie YR, Jiang YX, Qu XL, Huang SJ (2013) Arabidopsis actin depolymerizing factor 7 severs actin filaments and regulates actin cable turnover to promote normal pollen tube growth. Plant Cell 25:3405–3423

Zhou X, Liu ZY, Ji RQ, Feng H (2017) Comparative transcript profiling of fertile and sterile flower buds from multiple-allele-inherited male sterility in Chinese cabbage (Brassica campestris L. ssp. pekinensis). Mol Genet Genomics 292:967–990

Zhu HF, Hou RX, Li XF, Zhu YY, Hou XL (2011a) Cytological observation of anther development between the male sterile line and its maintainer line in non-heading Chinese cabbage. Plant Sci J 29:183–187

Zhu J, Lou Y, Xu XF, Yang ZN (2011b) A genetic pathway for tapetum development and function in Arabidopsis. J Integr Plant Biol 53:892–900

Zhu EG, You CJ, Wang SS, Cui J, Niu BX, Wang YX, Qi J, Ma H, Chang F (2015) The DYT1-interacting proteins bHLH010, bHLH089 and bHLH091 are redundantly required for Arabidopsis anther development and transcriptome. Plant J 83:976–990

Zinkl GM, Zwiebel BI, Grier DG, Preuss D (1999) Pollen-stigma adhesion in Arabidopsis: a species-specific interaction mediated by lipophilic molecules in the pollen exine. Development 126:5431–5440
Acknowledgements
This work was supported by grants from the National Natural Science Foundation of China (31801854) and the Doctoral Start-up Foundation of Liaoning Province (20170520096).
Ethics declarations
Conflict of interest
The authors declare that they have no conflict of interest.
Database linking
The transcriptome sequencing data have been deposited in the NCBI Gene Expression Omnibus (GEO) Database under Accession Number GSE125485.
Ethical approval
This article does not contain any studies with human participants or animals performed by any of the authors.
Additional information
Publisher's Note
Springer Nature remains neutral with regard to jurisdictional claims in published maps and institutional affiliations.
Communicated by Stefan Hohmann.
Electronic supplementary material
Below is the link to the electronic supplementary material.
About this article
Cite this article
Huang, S., Peng, S., Liu, Z. et al. Investigation of the genes associated with a male sterility mutant (msm) in Chinese cabbage (Brassica campestris ssp. pekinensis) using RNA-Seq. Mol Genet Genomics 295, 233–249 (2020) doi:10.1007/s00438-019-01618-z
Received:

Accepted:

Published:

Issue Date:
Keywords
Chinese cabbage

Male sterility mutant

DEGs

RNA-Seq