Abstract
Myroides odoratimimus (M. odoratimimus) has been gradually implicated as an important nosocomial pathogen that poses a serious health threat to immunocompromised patients owing to its multi-drug resistance. However, the resistance mechanism is currently unclear. To clarify the antibiotic resistance and infectivity mechanisms of M. odoratimimus, whole genome sequencing was performed on the multi-drug-resistant M. odoratimimus strain PR63039. The genome sequence was completed with single molecule real-time (SMRT) technologies. Then, annotation was performed using RAST and IMG-ER. A number of databases and software programs were used to analyze the genomic characteristics, including GC-Profile, ISfinder, CG viewer, ARDB, CARD, ResFinder, the VFDB database, PHAST and Progressive Mauve. The M. odoratimimus PR63039 genome consisted of a chromosome and a plasmid. The genome contained a large number of resistance genes and virulence factors. The distribution of the resistance genes was distinctive, and a resistance region named MY63039-RR was found. The subsystem features generated by RAST indicated that the annotated genome had 108 genes that were potentially involved in virulence, disease and defense, all of which had strong associations with resistance and pathogenicity. The prophage analysis showed two incomplete prophages in the genome. The genomic analysis of M. odoratimimus PR63039 partially clarified its antibiotic resistance mechanisms and virulence factors. Obtaining a clear understanding of its genomic characteristics will be conducive to the management of multidrug-resistant M. odoratimimus.
This is a preview of subscription content, log in to check access.
Access options
Buy single article
Instant access to the full article PDF.
US$ 39.95
Price includes VAT for USA
Subscribe to journal
Immediate online access to all issues from 2019. Subscription will auto renew annually.
US$ 199
This is the net price. Taxes to be calculated in checkout.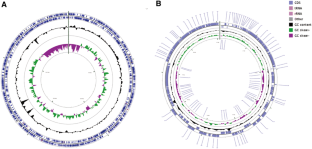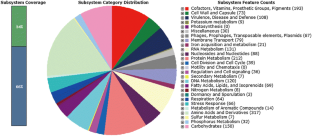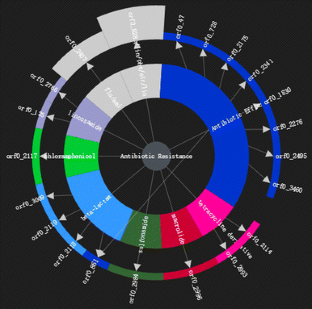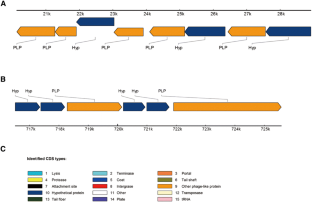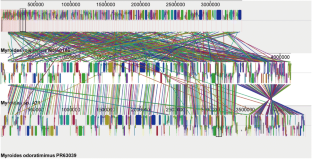 References
Al-Bayssari C, Gupta SK, Dabboussi F, Hamze M, Rolain JM (2015) MUS-2, a novel variant of the chromosome-encoded β-lactamase MUS-1, from Myroides odoratimimus. New Microbes New Infect 7:67–71

Aldred KJ, Kerns RJ, Osheroff N (2014) Mechanism of quinolone action and resistance. Biochemistry 53:1565–1574

Aziz RK, Bartels D, Best AA, DeJongh M, Disz T, Edwards RA, Formsma K, Gerdes S, Glass EM, Kubal M, Meyer F, Olsen GJ, Olson R, Osterman AL, Overbeek RA, McNeil LK, Paarmann D, Paczian T, Parrello B, Pusch GD, Reich C, Stevens R, Vassieva O, Vonstein V, Wilke A, Zagnitko O (2008) The RAST Server: rapid annotations using subsystems technology. BMC Genom 9:75

Bachman KH, Sewell DL, Strausbaugh LJ (1996) Recurrent cellulitis and bacteremia caused by Flavobacterium odoratum. Clin Infect Dis 22:1112–1113

Bachmeyer C, Entressengle H, Khosrotehrani K, Goldman G, Delisle F, Arlet G, Grateau G (2007) Cellulitis due to Myroides odoratimimus in a patient with alcoholic cirrhosis. Clin Exp Dermatol 33:97–110

Beeton ML, Chalker VJ, Kotecha S, Spiller OB (2009) Comparison of full gyrA, gyrB, parC and parE gene sequences between all Ureaplasma parvum and Ureaplasma urealyticum serovars to separate true fluoroquinolone antibiotic resistance mutations from non-resistance polymorphism. J Antimicrob Chemother 64:529–538

Benedetti P, Rassu M, Pavan G, Sefton A, Pellizzer G (2011) Septic shock, pneumonia, and soft tissue infection due to Myroides odoratimimus: report of a case and review of Myroides infections. Infection 39:161–165

Burghartz M, Bunk B, Sproer C, Voget S, Daniel R, Overmann J, Jahn M (2015) Complete genome sequence of the urethral catheter isolate Myroides sp. A21. Genome Announc 3:e00068-00015

Casjens S (2003) Prophages and bacterial genomics: what have we learned so far? Mol Microbiol 49:277–300

Chen L, Xiong Z, Sun L, Yang J, Jin Q (2012a) VFDB 2012 update: toward the genetic diversity and molecular evolution of bacterial virulence factors. Nucleic Acids Res 40:D641–D645

Chen YP, Lee SH, Chou CH, Tsai HJ (2012b) Detection of florfenicol resistance genes in Riemerella anatipestifer isolated from ducks and geese. Vet Microbiol 154:325–331

Chen L, Zheng D, Liu B, Yang J, Jin Q (2016) VFDB 2016: hierarchical and refined dataset for big data analysis-10 years on. Nucleic Acids Res 44:D694–D697

Cheng G, Hu Y, Yin Y, Yang X, Xiang C, Wang B, Chen Y, Yang F, Lei F, Wu N, Lu N, Li J, Chen Q, Li L, Zhu B (2012) Functional screening of antibiotic resistance genes from human gut microbiota reveals a novel gene fusion. FEMS Microbiol Lett 336:11–16

Darling AE, Mau B, Perna NT (2010) progressiveMauve: multiple genome alignment with gene gain, loss and rearrangement. PLoS One 5:e11147

Endicott-Yazdani TR, Dhiman N, Benavides R, Spak CW (2015) Myroides odoratimimus bacteremia in a diabetic patient. Proc (Bayl Univ Med Cent) 28:342–343

Fueyo JM, Mendoza MC, Martin MC (2005) Enterotoxins and toxic shock syndrome toxin in Staphylococcus aureus recovered from human nasal carriers and manually handled foods: epidemiological and genetic findings. Microbes Infect 7:187–194

Gao F, Zhang CT (2006) GC-Profile: a web-based tool for visualizing and analyzing the variation of GC content in genomic sequences. Nucleic Acids Res 34:W686–W691

González LG, Vila AJ (2012) Carbapenem resistance in Elizabethkingia meningoseptica is mediated by metallo-β-lactamase blab. Antimicrob Agents Chemother 56:1686–1692

Grant JR, Stothard P (2008) The CGView Server: a comparative genomics tool for circular genomes. Nucleic Acids Res 36:W181–W184

Holmes B, Snell JJ, Lapage SP (1977) Revised description, from clinical isolates, of Flavobacterium odoratum Stutzer and Kwaschnina 1929, and designation of the neotype strain. Int J Syst Bacteriol 27:330–336

Hooper DC, Jacoby GA (2015) Mechanisms of drug resistance: quinolone resistance. Ann N Y Acad Sci 1354:12–31

Hu SH, Yuan SX, Qu H, Jiang T, Zhou YJ, Wang MX, Ming DS (2016) Antibiotic resistance mechanisms of Myroides sp. J Zhejiang Univ-Sci B 17:188–199

Hummel AS, Hertel C, Holzapfel WH, Franz CM (2007) Antibiotic resistances of starter and probiotic strains of lactic acid bacteria. Appl Environ Microbiol 73:730–739

Jorgensen JH, Ferraro MJ (2009) Antimicrobial susceptibility testing: a review of general principles and contemporary practices. Clin Infect Dis 49:1749–1755

Kehrenberg C, Aarestrup FM, Schwarz S (2006) IS21-558 insertion sequences are involved in the mobility of the multiresistance gene cfr. Antimicrob Agents Chemother 51:483–487

Kim DS, Paek J, Shin JH, Kim DW, Jung MY, Kim RN, Sin Y, Kook JK, Nam SH, Kim A, Kang A, Park HS, Choi SH, Chang YH (2012) Genome sequence of Myroides injenensis M09-0166(T), isolated from clinical specimens. J Bacteriol 194:2748–2749

Ktari S, Mnif B, Koubaa M, Mahjoubi F, Ben Jemaa M, Mhiri MN, Hammami A (2012) Nosocomial outbreak of Myroides odoratimimus urinary tract infection in a Tunisian hospital. J Hosp Infect 80:77–81

Ladhani S (2003) Understanding the mechanism of action of the exfoliative toxins of Staphylococcus aureus. FEMS Immunol Med Microbiol 39:181–189

Lagesen K, Hallin P, Rodland EA, Staerfeldt HH, Rognes T, Ussery DW (2007) RNAmmer: consistent and rapid annotation of ribosomal RNA genes. Nucleic Acids Res 35:3100–3108

Lean SS, Yeo CC, Suhaili Z, Thong KL (2015) Whole-genome analysis of an extensively drug-resistant clinical isolate of Acinetobacter baumannii AC12: insights into the mechanisms of resistance of an ST195 clone from Malaysia. Int J Antimicrob Agents 45:178–182

Li B, Wendlandt S, Yao J, Liu Y, Zhang Q, Shi Z, Wei J, Shao D, Schwarz S, Wang S, Ma Z (2013) Detection and new genetic environment of the pleuromutilin-lincosamide-streptogramin A resistance gene lsa(E) in methicillin-resistant Staphylococcus aureus of swine origin. J Antimicrob Chemother 68:1251–1255

Liu B, Pop M (2009) ARDB–antibiotic resistance genes database. Nucleic Acids Res 37:D443–D447

Liu F, Zhu YY, Yi Y, Lu N, Zhu BL, Hu Y (2014) Comparative genomic analysis of Acinetobacter baumannii clinical isolates reveals extensive genomic variation and diverse antibiotic resistance determinants. BMC Genom 15:1163–1176

Mammeri H, Bellais S, Nordmann P (2002) Chromosome-Encoded -Lactamases TUS-1 and MUS-1 from Myroides odoratus and Myroides odoratimimus (Formerly Flavobacterium odoratum), new members of the lineage of molecular subclass B1 Metalloenzymes. Antimicrob Agents Chemother 46:3561–3567

Maraki S, Sarchianaki E, Barbagadakis S (2012) Myroides odoratimimus soft tissue infection in an immunocompetent child following a pig bite: case report and literature review. Braz J Infect Dis 16:390–392

Markowitz VM, Mavromatis K, Ivanova NN, Chen IM, Chu K, Kyrpides NC (2009) IMG ER: a system for microbial genome annotation expert review and curation. Bioinformatics 25:2271–2278

Markowitz VM, Chen IMA, Palaniappan K, Chu K, Szeto E, Pillay M, Ratner A, Huang J, Woyke T, Huntemann M, Anderson I, Billis K, Varghese N, Mavromatis K, Pati A, Ivanova NN, Kyrpides NC (2013) IMG 4 version of the integrated microbial genomes comparative analysis system. Nucleic Acids Res 42:D560–D567

McArthur AG, Waglechner N, Nizam F, Yan A, Azad MA, Baylay AJ, Bhullar K, Canova MJ, De Pascale G, Ejim L, Kalan L, King AM, Koteva K, Morar M, Mulvey MR, O'Brien JS, Pawlowski AC, Piddock LJ, Spanogiannopoulos P, Sutherland AD, Tang I, Taylor PL, Thaker M, Wang W, Yan M, Yu T, Wright GD (2013) The comprehensive antibiotic resistance database. Antimicrob Agents Chemother 57:3348–3357

Ml Todd, Sean RE (1997) tRNAscan-SE: a program for improved detection of transfer RNA genes in genomic sequence. Nucleic Acids Res 25:955–964

Overbeek R, Olson R, Pusch GD, Olsen GJ, Davis JJ, Disz T, Edwards RA, Gerdes S, Parrello B, Shukla M, Vonstein V, Wattam AR, Xia F, Stevens R (2014) The SEED and the rapid annotation of microbial genomes using subsystems technology (RAST). Nucleic Acids Res 42:D206–D214

Peng F, Mi ZQ, Huang H, Yuan X, Niu WK, Wang YH, Huang YH, Fang HH, Bai CQ, Tong YG (2014) Characterization, sequencing and comparative genomic analysis of vB_AbaM-IME-AB2, a novel lytic bacteriophage that infects multidrug-resistant Acinetobacter baumannii clinical isolates. BMC Microbiol 14:181–194

Perreten V, Boerlin P (2003) A new sulfonamide resistance gene (sul3) in Escherichia coli is widespread in the pig population of Switzerland. Antimicrob Agents Chemother 47:1169–1172

Poirel L, Heritier C, Nordmann P (2005) Genetic and biochemical characterization of the chromosome-encoded class B beta-lactamases from Shewanella livingstonensis (SLB-1) and Shewanella frigidimarina (SFB-1). J Antimicrob Chemother 55:680–685

Pos KM (2009) Drug transport mechanism of the AcrB efflux pump. Biochim Biophys Acta 1794:782–793

Ravindran C, Varatharajan GR, Raju R, Vasudevan L, Anantha SR (2015) Infection and pathogenecity of Myroides odoratimimus (NIOCR-12) isolated from the gut of grey mullet (Mugil cephalus (Linnaeus, 1758)). Microb Pathog 88:22–28

Ruiz J (2003) Mechanisms of resistance to quinolones: target alterations, decreased accumulation and DNA gyrase protection. J Antimicrob Chemother 51:1109–1117

Salma R, Dabboussi F, Kassaa I, Khudary R, Hamze M (2013) gyrA and parC mutations in quinolone-resistant clinical isolates of Pseudomonas aeruginosa from Nini Hospital in north Lebanon. J Infect Chemother 19:77–81

Siguier P, Perochon J, Lestrade L, Mahillon J, Chandler M (2006) ISfinder: the reference centre for bacterial insertion sequences. Nucleic Acids Res 34:D32–D36

Skold O (2001) Resistance to trimethoprim and sulfonamides. Vet Res 32:261–273

Spanik S, Trupl J, Krcmery V (1998) Nosocomial catheter-associated Flavobacterium odoraturn bacteraemia in cancer patients. J Med Microbiol 47:183

Suganthi R, Shanmuga Priya T, Saranya A, Kaleeswaran T (2013) Relationship between plasmid occurrence and antibiotic resistance in Myroides odoratimimus SKS05-GRD isolated from raw chicken meat. World J Microbiol Biotechnol 29:983–990

Tikhonova EB, Yamada Y, Zgurskaya HI (2011) Sequential mechanism of assembly of multidrug efflux pump AcrAB-TolC. Chem Biol 18:454–463

Vessillier S, Docquier JD, Rival S, Frere JM, Galleni M, Amicosante G, Rossolini GM, Franceschini N (2002) Overproduction and biochemical characterization of the chryseobacterium meningosepticum BlaB Metallo-β-Lactamase. Antimicrob Agents Chemother 46:1921–1927

Yang W, Moore IF, Koteva KP, Bareich DC, Hughes DW, Wright GD (2004) TetX is a flavin-dependent monooxygenase conferring resistance to tetracycline antibiotics. J Biol Chem 279:52346–52352

Yonezawa M, Takahat M, Matsubara N, Watanabe Y, Narita H (1995) DNA gyrase gyrA mutations in quinolone-resistant clinical isolates of Pseudomonas aeruginosa. Antimicrob Agents Chemother 39:1970–1972

Zankari E, Hasman H, Cosentino S, Vestergaard M, Rasmussen S, Lund O, Aarestrup FM, Larsen MV (2012) Identification of acquired antimicrobial resistance genes. J Antimicrob Chemother 67:2640–2644

Zhou Y, Liang Y, Lynch KH, Dennis JJ, Wishart DS (2011) PHAST: a fast phage search tool. Nucleic Acids Res 39:W347–W352
Acknowledgements
This work was supported by the Huaqiao University Graduate Student Scientific Research Innovation Ability Cultivation Plan Projects, the Xiamen Southern Oceanographic Center (14GYY008NF08), the Fong Shu Fook Tong and Fong Yun Wah Foundations (14X30127), the Technology Planning Projects of Quanzhou Social Development Fields (2014Z24), the Major Support Research Project of National Key Colleges Construction of Quanzhou Medical College (2013A13), and the Natural Science Fund Project of Fujian Province (2015J01514), the Natural Science Foundation of Fujian (2015J01383).
Ethics declarations
Conflict of interest
The authors declare that they have no conflict of interest.
Ethical approval
This article does not contain any studies with human participants or animals performed by any of the authors.
Additional information
Communicated by S. Hohmann.
About this article
Cite this article
Hu, S., Jiang, T., Zhou, Y. et al. Genomic analysis of the multi-drug-resistant clinical isolate Myroides odoratimimus PR63039. Mol Genet Genomics 292, 133–144 (2017). https://doi.org/10.1007/s00438-016-1261-5
Received:

Accepted:

Published:

Issue Date:
Keywords
Myroides odoratimimus

Complete genome sequencing

Resistance gene

Antibiotic resistance mechanisms