Abstract
The CONSTANS (CO) and CONSTANS-like (COL) genes play key roles in the photoperiodic flowering pathways, and studying their functions can elucidate the molecular mechanisms underlying flowering control in photoperiod-regulated plants. We identified eleven COL genes (ClCOL1–ClCOL11) in Chrysanthemum lavandulifolium and divided them into three groups that are conserved among the flowering plants based on phylogenetic analysis. Most of the ClCOL genes are primarily expressed in the leaf and shoot apices, except for ClCOL6–ClCOL9, which belong to Group II. The expression levels of ClCOL4–ClCOL5 and ClCOL7–ClCOL8 are up-regulated under inductive short-day (SD) conditions, whereas ClCOL6 is down-regulated under inductive SD conditions. The ClCOL genes exhibit four different diurnal rhythm expressions (Type I–Type IV). The Type I genes (ClCOL4–ClCOL5) are highly transcribed under light. The Type II genes (ClCOL1–ClCOL2, ClCOL10) display increased expression in darkness and are rapidly suppressed under light. Transcripts of ClCOL6–ClCOL9 and ClCOL11, belonging to Type III, are abundant in the late light period or at the beginning of the dark period. ClCOL3 belongs to Type IV, with high expression in the early light period and dark period. The peak expression levels of ClCOL4–ClCOL6 are decreased and postponed in the non-inductive night break (NB) and under long-day (LD) conditions, indicating that those genes may play an essential role in the flowering regulation of C. lavandulifolium. The overexpression of ClCOL5 promotes the flowering of Arabidopsis grown under LD conditions, suggesting that ClCOL5 may function as a flowering enhancer in C. lavandulifolium. This study will be useful not only for the study of the C. lavandulifolium photoperiod-dependent flowering process but also for the genetic manipulation of flowering time-related genes to change the flowering time in the chrysanthemum.
This is a preview of subscription content, log in to check access.
Access options
Buy single article
Instant access to the full article PDF.
US$ 39.95
Price includes VAT for USA
Subscribe to journal
Immediate online access to all issues from 2019. Subscription will auto renew annually.
US$ 199
This is the net price. Taxes to be calculated in checkout.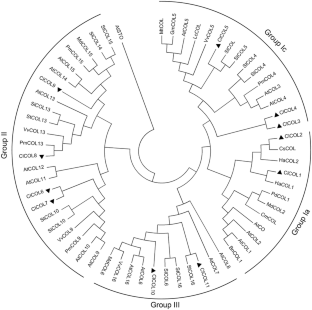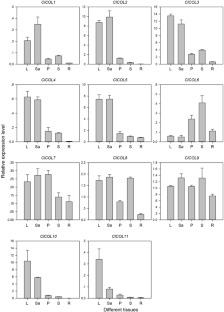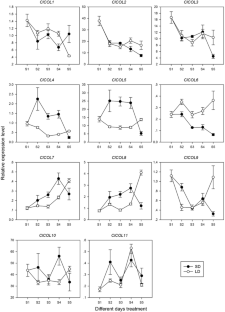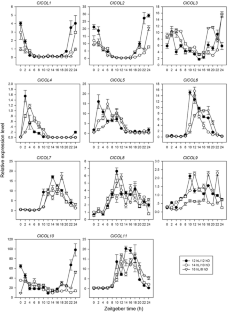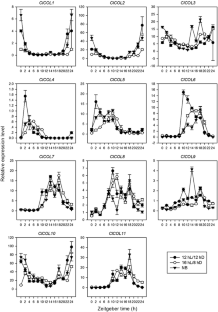 Abbreviations
AP1 :

APETALA1

CCA1:

CIRCADIAN CLOCK ASSOCIATED 1

CCT:

CO, CO-like and TOC1

CDFs:

CYCLING DOF FACTORs

CO :

CONSTANS

COL :

CONSTANS-like

COP1:

CONSTITUTIVE PHOTOMORPHOGENESIS 1

CRY:

CRYPTOCHROME

CTAB:

Cetyltrimethylammonium bromide

DBB:

Double B-box

FKF1:

FLAVIN-BINDING, KELCH REPEAT F-BOX 1

FT :

FLOWERING LOCUS T

GI:

GIGANTEA

Hd1 :

Heading date 1

Hd3a :

Heading date 3a

HOS1:

HIGH EXPRESSION OF OSMOTICALLY RESPONSIVE GENES 1

LD:

Long-day

LFY :

LEAFY

LHY:

LATE ELONGATED HYPOCOTYL

MTP:

Metal tolerance protein

NB:

Night break

PHYB:

PHYTOCHROME B

qRT-PCR:

Quantitative real-time RT-PCR

RACE:

Rapid amplification of cDNA ends

SAND:

SAND family protein

SD:

Short-day

SOC1 :

SUPPRESSOR OF OVEREXPRESSION OF CONSTANS 1

SPA1:

SUPPRESSOR OF PHYA 1

STH:

Salt Tolerance Homologs

STO:

Salt Tolerance-like protein

SUR2 :

SUPERROOT 2

Tm:

Melting temperatures

TUB2 :

Β-tubulin

WT:

Wild-type

ZT:

Zeitgeber time
References
Albani MC, Coupland G (2010) Chapter eleven-comparative analysis of flowering in annual and perennial plants. Curr Top Dev Biol 91:323–348

Almada R, Cabrera N, Casaretto JA, Ruiz-Lara S, Villanueva EG (2009) VvCO and VvCOL1, two CONSTANS homologous genes, are regulated during flower induction and dormancy in grapevine buds. Plant Cell Rep 28:1193–1203

Bohlenius H, Huang T, Charbonnel-Campaa L, Brunner AM, Jansson S, Strauss SH, Nilsson O (2006) CO/FT regulatory module controls timing of flowering and seasonal growth cessation in trees. Science 312:1040–1043

Brambilla V, Fornara F (2013) Molecular control of flowering in response to day length in rice. J Integr Plant Biol 55:410–418

Campoli C, Drosse B, Searle I, Coupland G, von Korff M (2012) Functional characterisation of HvCO1, the barley (Hordeum vulgare) flowering time ortholog of CONSTANS. Plant J 69:868–880

Chang SJ, Puryear J, Cairney J (1993) A simple and efficient method for isolating RNA from pine trees. Plant Mol Biol Rep 11:113–116

Chen J, Chen JY, Wang JN, Kuang JF, Shan W, Lu WJ (2012) Molecular characterization and expression profiles of MaCOL1, a CONSTANS-like gene in banana fruit. Gene 496:110–117

Cheng XF, Wang ZY (2005) Overexpression of COL9, a CONSTANS-LIKE gene, delays flowering by reducing expression of CO and FT in Arabidopsis thaliana. Plant J 43:758–768

Chia TYP, Muller A, Jung C, Mutasa-Gottgens ES (2008) Sugar beet contains a large CONSTANS-LIKE gene family including a CO homologue that is independent of the early-bolting (B) gene locus. J Exp Bot 59:2735–2748

Clough SJ, Bent AF (1998) Floral dip: a simplified method for Agrobacterium-mediated transformation of Arabidopsis thaliana. Plant J 16:735–743

Datta S, Hettiarachch GHCM, Deng XW, Holm M (2006) Arabidopsis CONSTANS-LIKE3 is a positive regulator of red light signaling and root growth. Plant Cell 18:70–84

Ding Y, Fu JX, Dai SL (2012) Characteristics of seed germination and regularities of growth and development of Chrysanthemum lavandulifolium in natural conditions. J Northeast For Univ 40:23–25

Drabesova J, Chab D, Kolar J, Haskovcova K, Storchova H (2014) A dark-light transition triggers expression of the floral promoter CrFTL1 and downregulates CONSTANS-like genes in a short-day plant Chenopodium rubrum. J Exp Bot. doi:10.1093/jxb/eru1073

Fornara F, Panigrahi K, Gissot L, Sauerbrunn N, Ruhl M, Jarillo JA, Coupland G (2009) Arabidopsis DOF transcription factors act redundantly to reduce CONSTANS expression and are essential for a photoperiodic flowering response. Dev Cell 17:75–86

Fu JX, Wang Y, Huang H, Zhang C, Dai SL (2013) Reference gene selection for RT-qPCR analysis of Chrysanthemum lavandulifolium during its flowering stages. Mol Breed 31:205–215

Fu JX, Wang LL, Wang Y, Yang LW, Yang YT, Dai SL (2014) Photoperiodic control of FT-like gene ClFT initiates flowering in Chrysanthemum lavandulifolium. Plant Physiol Bioch 74:230–238

Garner WW, Allard HA (1920) Effect of the relative length of day and night and other factors of the environment on growth and reproduction in plants. J Agric Res 18:553–606

González-Schain ND, Díaz-Mendoza M, Żurczak M, Suárez-López P (2012) Potato CONSTANS is involved in photoperiodic tuberization in a graft-transmissible manner. Plant J 70:678–690

Greenup A, Peacock WJ, Dennis ES, Trevaskis B (2009) The molecular biology of seasonal flowering-responses in Arabidopsis and the cereals. Ann Bot 103:1165–1172

Griffiths S, Dunford RP, Coupland G, Laurie DA (2003) The evolution of CONSTANS-Like gene families in barley, rice, and Arabidopsis. Plant Physiol 131:1855–1867

Hassidim M, Harir Y, Yakir E, Kron I, Green RM (2009) Over-expression of CONSTANS-LIKE 5 can induce flowering in short-day grown Arabidopsis. Planta 230:481–491

Hayama R, Yokoi S, Tamaki S, Yano M, Shimamoto K (2003) Adaptation of photoperiodic control pathways produces short-day flowering in rice. Nature 422:719–722

Hemming MN, Peacock WJ, Dennis ES, Trevaskis B (2008) Low-temperature and daylength cues are integrated to regulate FLOWERING LOCUS T in barley. Plant Physiol 147:355–366

Higuchi Y, Sumitomo K, Oda A, Shimizu H, Hisamatsu T (2012) Day light quality affects the night-break response in the short-day plant chrysanthemum, suggesting differential phytochrome-mediated regulation of flowering. J Plant Physiol 169:1789–1796

Holefors A, Opseth L, Ree Rosnes AK, Ripel L, Snipen L, Fossdal CG, Olsen JE (2009) Identification of PaCOL1 and PaCOL2, two CONSTANS-like genes showing decreased transcript levels preceding short day induced growth cessation in Norway spruce. Plant Physiol Biochem 47:105–115

Izawa T, Takahashi Y, Yano M (2003) Comparative biology comes into bloom: genomic and genetic comparison of flowering pathways in rice and Arabidopsis. Curr Opin Plant Biol 6:113–120

Jang S, Marchal V, Panigrahi KCS, Wenkel S, Soppe W, Deng X-W, Valverde F, Coupland G (2008) Arabidopsis COP1 shapes the temporal pattern of CO accumulation conferring a photoperiodic flowering response. EMBO J 27:1277–1288

Khanna R, Kronmiller B, Maszle DR, Coupland G, Holm M, Mizuno T, Wu S-H (2009) The Arabidopsis B-box zinc finger family. Plant Cell 21:3416–3420

Kikuchi R, Kawahigashi H, Oshima M, Ando T, Handa H (2012) The differential expression of HvCO9, a member of the CONSTANS-like gene family, contributes to the control of flowering under short-day conditions in barley. J Exp Bot 63:773–784

Kobayashi Y, Weigel D (2007) Move on up, it's time for change-mobile signals controlling photoperiodic-dependent flowering. Genes Dev 21:2371–2384

Laubinger S, Marchal V, Gentilhomme J, Wenkel S, Adrian J, Jang S, Kulajta C, Braun H, Coupland G, Hoecker U (2006) Arabidopsis SPA proteins regulate photoperiodic flowering and interact with the floral inducer CONSTANS to regulate its stability. Development 133:3213–3222

Lazaro A, Valverde F, Pineiro M, Jarillo JA (2012) The Arabidopsis E3 ubiquitin ligase HOS1 negatively regulates CONSTANS abundance in the photoperiodic control of flowering. Plant Cell 24:982–999

Ledger S, Strayer C, Ashton F, Kay SA, Putterill J (2001) Analysis of the function of two circadian-regulated CONSTANS-LIKE genes. Plant J 26:15–22

Liu LJ, Zhang YC, Li QH, Sang Y, Mao J, Lian HL, Wang L, Yang HQ (2008) COP1-mediated ubiquitination of CONSTANS is implicated in cryptochrome regulation of flowering in Arabidopsis. Plant Cell 20:292–306

Martin J, Storgaard M, Andersen CH, Nielsen KK (2004) Photoperiodic regulation of flowering in perennial ryegrass involving a CONSTANS-like homolog. Plant Mol Biol 56:159–169

Nemoto Y, Kisaka M, Fuse T, Yano M, Ogihara Y (2003) Characterization and functional analysis of three wheat genes with homology to the CONSTANS flowering time gene in transgenic rice. Plant J 36:82–93

Putterill J, Robson F, Lee K, Simon R, Coupland G (1995) The CONSTANS gene of Arabidopsis promotes flowering and encodes a protein showering similarities to zinc finger transcription factors. Cell 80:847–857

Robert LS, Robson F, Sharpe A, Lydiate D, Coupland G (1998) Conserved structure and function of the Arabidopsis flowering time gene CONSTANS in Brassica napus. Plant Mol Biol 37:763–772

Robson F, Costa MMR, Hepworth SR, Vizir I, Pineiro M, Reeves PH, Putterill J, Coupland G (2001) Functional importance of conserved domains in the Flowering-time gene CONSTANS demonstrated by analysis of mutant alleles and transgenic plants. Plant J 28:619–631

Sawa M, Nusinow DA, Kay SA, Imaizumi T (2007) FKF1 and GIGANTEA complex formation is required for day-length measurement in Arabidopsis. Science 318:261–265

Song YH, Smith RW, To BJ, Millar AJ, Imaizumi T (2012) FKF1 conveys timing information for CONSTANS stabilization in photoperiodic flowering. Science 336:1045–1049

Song YH, Ito S, Imaizumi T (2013) Flowering time regulation: photoperiod-and temperature-sensing in leaves. Trends Plant Sci 18:575–583

Suarez-Lopez P, Wheatley K, Robson F, Onouchi H, Valverde F, Coupland G (2001) CONSTANS mediates between the circadian clock and the control of flowering in Arabidopsis. Nature 410:1116–1120

Takase T, Kakikubo Y, Nakasone A, Nishiyama Y, Yasuhara M, Tokioka-Ono Y, Kiyosue T (2011) Characterization and transgenic study of CONSTANS-LIKE8 (COL8) gene in Arabidopsis thaliana: expression of 35S: COL8 delays flowering under long-day conditions. Plant Biotechnol 28:439–446

Thompson JD, Higgins DG, Gibson TJ (1994) CLUSTAL W: improving the sensitivity of progressive multiple sequence alignment through sequence weighting, position-specific gap penalties and weight matrix choice. Nucleic Acids Res 22:4673–4680

Valverde F, Mouradov A, Soppe W, Ravenscroft D, Samach A, Coupland G (2004) Photoreceptor regulation of CONSTANS protein in photoperiodic flowering. Science 303:1003–1006

Wang J, Han KT, Dai SL (2009) Construction of expression vector and transformation of chrysanthemum with maize Lc gene. Genomics Appl Biol 28:229–236

Wang HG, Zhang ZL, Li HY, Zhao XY, Liu XM, Ortiz M, Lin CT, Liu B (2013) CONSTANS-LIKE 7 regulates branching and shade avoidance response in Arabidopsis. J Exp Bot 64:1017–1024

Wang Y, Huang H, Ma YP, Fu JX, Wang LL, Dai SL (2014) Construction and de novo characterization of a transcriptome of Chrysanthemum lavandulifolium: analysis of gene expression patterns in floral bud emergence. Plant Cell Tiss Org Cult 114:297–309

Yang Y, Ma C, Xu Y, Wei Q, Imtiaz M, Lan H, Gao S, Cheng L, Wang M, Fei Z (2014) A zinc finger protein regulates flowering time and abiotic stress tolerance in Chrysanthemum by modulating gibberellin biosynthesis. Plant Celltpc 114:124867

Yano M, Katayose Y, Ashikari M, Yamanouchi U, Monna L, Fuse T, Baba T, Yamamoto K, Umehara Y, Nagamura Y, Sasaki T (2000) Hd1, a major photoperiod sensitivity quantitative trait locus in rice, is closely related to the Arabidopsis flowering time gene CONSTANS. Plant Cell 12:2473–2483

Zhang LJ, Dai SL (2009) Research advance on germplasm resources of Chrysanthemum × morifolium. Chin Bull Bot 44:525–526

Zhang JX, Wu KL, Tian LN, Zeng SJ, Duan J (2011) Cloning and characterization of a novel CONSTANS-like gene from Phalaenopsis hybrida. Acta Physiol Plant 33:409–417

Zhang Z, Ji R, Li H, Zhao T, Liu J, Lin C, Liu B (2014) CONSTANS-LIKE 7 (COL7) is involved in Phytochrome B (phyB) mediated light-quality regulation of auxin homeostasis. Mol Plant. doi:10.1093/mp/ssu1058

Zuo ZC, Liu HT, Liu B, Liu XM, Lin CT (2011) Blue light-dependent interaction of CRY2 with SPA1 regulates COP1 activity and floral initiation in Arabidopsis. Curr Biol 21:841–847
Acknowledgments
This work was supported by the Beijing Natural Science Foundation (Grant Number 6132020) and the Fundamental Research Funds for the Central Universities (Grant Number BLYJ20133).
Additional information
Communicated by S. Hohmann.
Electronic supplementary material
Below is the link to the electronic supplementary material.
About this article
Cite this article
Fu, J., Yang, L. & Dai, S. Identification and characterization of the CONSTANS-like gene family in the short-day plant Chrysanthemum lavandulifolium . Mol Genet Genomics 290, 1039–1054 (2015). https://doi.org/10.1007/s00438-014-0977-3
Received:

Accepted:

Published:

Issue Date:
Keywords
CONSTANS-like

Diurnal expression

Chrysanthemum lavandulifolium

Flowering time

Photoperiod