Abstract
With the exception of a few genes, most of the mitochondrial (mt) genome of Pneumocystis carinii has not previously been sequenced. Shotgun sequences generated as a result of the Pneumocystis Genome Project (PGP) were assembled with the gap4 assembly program into a 23-kb contig. Annotation of the mt genome identified 4 open reading frames and 20 tRNAs in addition to 17 other genes: ATP synthase, subunits 6, 8, and 9; cytochrome c oxidase, subunits 1, 2, and 3; NADH dehydrogenase, subunits 1, 2, 3, 4, 4L, 5, and 6; apocytochrome b; RNase P RNA gene; and the mitochondrial large and small ribosomal RNA subunits. A 24-bp unit that repeated from one to five times was identified interior to the ends of the mt genome. Migration of the genome on CHEF gels was consistent with that of linear DNA and digestion with BAL31 showed a concomitant reduction in size of the genome, a characteristic of linear DNA. Together with the identification of terminal repeats similar to those found in other linear fungal mt genomes and the inability to join the ends by PCR, these data provide strong evidence that the mt genome of P. carinii is linear.
This is a preview of subscription content, log in to check access.
Access options
Buy single article
Instant access to the full article PDF.
US$ 39.95
Price includes VAT for USA
Subscribe to journal
Immediate online access to all issues from 2019. Subscription will auto renew annually.
US$ 199
This is the net price. Taxes to be calculated in checkout.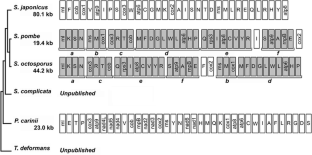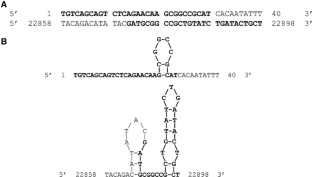 References
Altschul SF, Gish W, Miller W, Myers EW, Lipman DJ (1990) Basic local alignment search tool. J Mol Biol 215:403–410

Andre C, Levy A, Walbot V (1992) Small repeated sequences and the structure of plant mitochondrial genomes. Trends Genet 8:128–132

Arora DK, Bridge PD, Bhatnagar D (2004) Handbook of fungal biotechnology. Marcel Dekker, New York

Bendich AJ (1993) Reaching for the ring: the study of mitochondrial genome structure. Curr Genet 24:279–290

Bendich AJ (1996) Structural analysis of mitochondrial DNA molecules from fungi and plants using moving pictures and pulsed-field gel electrophoresis. J Mol Biol 255:564–588

Bio-Rad (1992) CHEF-DR II pulsed field electrophoresis systems instruction manual and applications guide. Bio-Rad Laboratories Inc., Hercules

Bonfield JK, Smith K, Staden R (1995) A new DNA sequence assembly program. Nucleic Acids Res 23:4992–4999

Burger G, Gray MW, Lang BF (2003) Mitochondrial genomes: anything goes. Trends Genet 19:709–716

Cushion MT, Arnold J (1997) Proposal for a Pneumocystis genome project. J Eukaryot Microbiol 44:7S

Cushion MT, Smulian AG, Slaven BE, Sesterhenn T, Arnold J, Staben C, Porollo A, Adamczak R, Meller J (2007) Transcriptome of Pneumocystis carinii during fulminate infection: carbohydrate metabolism and the concept of a compatible parasite. PLoSOne 2:e423

Feagin JE (1994) The extrachromosomal DNAs of apicomplexan parasites. Annu Rev Microbiol 48:81–104

Feagin JE (2000) Mitochondrial genome diversity in parasites. Int J Parasitol 30:371–390

Feagin JE, Gardner MJ, Williamson DH, Wilson RJ (1991) The putative mitochondrial genome of Plasmodium falciparum. J Protozool 38:243–245

Formighieri EF, Tiburcio RA, Armas ED, Medrano FJ, Shimo H, Carels N, Goes-Neto A, Cotomacci C, Carazzolle MF, Sardinha-Pinto N, Thomazella DP, Rincones J, Digiampietri L, Carraro DM, Azeredo-Espin AM, Reis SF, Deckmann AC, Gramacho K, Goncalves MS, Moura Neto JP, Barbosa LV, Meinhardt LW, Cascardo JC, Pereira GA (2008) The mitochondrial genome of the phytopathogenic basidiomycete Moniliophthora perniciosa is 109 kb in size and contains a stable integrated plasmid. Mycol Res 112:1136–1152

Fukuhara H, Sor F, Drissi R, Dinouel N, Miyakawa S, Rousset S, Viola M (1993) Linear mitochondrial DNAs of yeasts: frequency of occurence and general features. Mol Cell Biol 13:2309–2314

Gray MW, Burger G, Lang BF (1999) Mitochondrial evolution. Science 283:1476–1481

Kayal E, Lavrov DV (2008) The mitochondrial genome of Hydra oligactis (Cnidaria, Hydrozoa) sheds new light on animal mtDNA evolution and cnidarian phylogeny. Gene 410:177–186

Kosa P, Valach M, Tomaska L, Wolfe KH, Nosek J (2006) Complete DNA sequences of the mitochondrial genomes of the pathogenic yeasts Candida orthopsilosis and Candida metapsilosis: insight into the evolution of linear DNA genomes from mitochondrial telomere mutants. Nucleic Acids Res 34:2472–2481

Lang BF, Burger G, O'Kelly CJ, Cedergren R, Golding GB, Lemieux C, Sankoff D, Turmel M, Gray MW (1997) An ancestral mitochondrial DNA resembling a eubacterial genome in miniature. Nature 387:493–497

Liu Y, Leigh JW, Brinkmann H, Cushion MT, Rodriguez-Ezpeleta N, Philippe H, Lang BF (2009) Phylogenomic analyses support the monophyly of Taphrinomycotina, including Schizosaccharomyces fission yeasts. Mol Biol Evol 26:27–34

Lowrance D, Makombe S, Harries A, Yu J, Aberle-Grasse J, Eiger O, Shiraishi R, Marston B, Ellerbrock T, Libamba E (2007) Lower early mortality rates among patients receiving antiretroviral treatment at clinics offering cotrimoxazole prophylaxis in Malawi. J Acquir Immune Defic Syndr 46:56–61

Lunt DH, Whipple LE, Hyman BC (1998) Mitochondrial DNA variable number tandem repeats (VNTRs): utility and problems in molecular ecology. Mol Ecol 7:1441–1455

Marcade I, Cordaux R, Doublet V, Debenest C, Bouchon D, Raimond R (2007) Structure and evolution of the atypical mitochondrial genome of Armadillidium vulgare (Isopoda, Crustacea). J Mol Evol 65:651–659

Martin W, Muller M (1998) The hydrogen hypothesis for the first eukaryote. Nature 392:37–41

Morris A (2008) Is there anything new in Pneumocystis jirovecii pneumonia? Changes in P. jirovecii pneumonia over the course of the AIDS epidemic. Clin Infect Dis 46:634–636

Nosek J, Tomaska L (2003) Mitochondrial genome diversity: evolution of the molecular architecture and replication strategy. Curr Genet 44:73–84

Nosek J, Tomaska L, Fukuhara H, Suyama Y, Kovac L (1998) Linear mitochondrial genomes: 30 years down the line. Trends Genet 14:184–188

Nosek J, Novotna M, Hlavatovicova Z, Ussery DW, Fajkus J, Tomaska L (2004) Complete DNA sequence of the linear mitochondrial genome of the pathogenic yeast Candida parapsilosis. Mol Genet Genomics 272:173–180

Notsu Y, Masood S, Nishikawa T, Kubo N, Akiduki G, Nakazono M, Hirai A, Kadowaki K (2002) The complete sequence of the rice (Oryza sativa L.) mitochondrial genome: frequent DNA sequence acquisition and loss during the evolution of flowering plants. Mol Genet Genomics 268:434–445

Paquin B, Lang BF (1996) The mitochondrial DNA of Allomyces macrogynus: the complete genomic sequence from an ancestral fungus. J Mol Biol 255:688–701

Paquin B, Laforest MJ, Lang BF (2000) Double-hairpin elements in the mitochondrial DNA of allomyces: evidence for mobility. Mol Biol Evol 17:1760–1768

Rabie H, de Boer A, van den Bos S, Cotton MF, Kling S, Goussard P (2007) Children with human immunodeficiency virus infection admitted to a paediatric intensive care unit in South Africa. J Trop Pediatr 53(4):270–273

Rycovska A, Valach M, Tomaska L, Bolotin-Fukuhara M, Nosek J (2004) Linear versus circular mitochondrial genomes: intraspecies variability of mitochondrial genome architecture in Candida parapsilosis. Microbiology 150:1571–1580

Sesterhenn TM, Cushion MT, Slaven BE, Smulian AG (2006) Sequence of the mitochondrial genome of Pneumocystis carinii: implications for biological function and identification of potential drug targets. J Eukaryot Microbiol 53(Suppl 1):S154–S155

Slaven BE, Meller J, Porollo A, Sesterhenn T, Smulian AG, Cushion MT (2006) Draft assembly and annotation of the Pneumocystis carinii genome. J Eukaryot Microbiol 53(Suppl 1):S89–S91

Smith DR, Lee RW (2008) Mitochondrial genome of the colorless green alga Polytomella capuana: a linear molecule with an unprecedented GC content. Mol Biol Evol 25:487–496

Stringer JR, Cushion MT (1998) The genome of Pneumocystis carinii. FEMS Immunol Med Microbiol 22:15–26

Turmel M, Lemieux C, Burger G, Lang BF, Otis C, Plante I, Gray MW (1999) The complete mitochondrial DNA sequences of Nephroselmis olivacea and Pedinomonas minor. Two radically different evolutionary patterns within green algae. Plant Cell 11:1717–1730

Valach M, Tomaska L, Nosek J (2008) Preparation of yeast mitochondrial DNA for direct sequence analysis. Curr Genet 54:105–109

Walzer PD, Evans HE, Copas AJ, Edwards SG, Grant AD, Miller RF (2008) Early predictors of mortality from Pneumocystis jirovecii pneumonia in HIV-infected patients: 1985–2006. Clin Infect Dis 46:625–633
Funding
This work was supported by the Medical Research Service, Department of Veterans Affairs, USA [to M.T.C. & A.G.S.]; the National Institutes of Health [R01 AI050450, R01 AI44651 to M.T.C.]; and the National Institute of Allergy and Infectious Diseases [NIH R13AI078718 to M.T.C.].
Additional information
Communicated by S. Hohmann.
About this article
Cite this article
Sesterhenn, T.M., Slaven, B.E., Keely, S.P. et al. Sequence and structure of the linear mitochondrial genome of Pneumocystis carinii . Mol Genet Genomics 283, 63 (2010). https://doi.org/10.1007/s00438-009-0498-7
Received:

Accepted:

Published:
Keywords
Linear

Mitochondria

Pneumocystis

Genome

AIDS