Abstract
The plant cystatins or phytocystatins comprise a family of specific inhibitors of cysteine proteinases. Such inhibitors are thought to be involved in the regulation of several endogenous processes and in defence against pests and pathogens. Extensive searches in the complete rice and Arabidopsis genomes and in barley EST collections have allowed us to predict the presence of twelve different cystatin genes in rice, seven in Arabidopsis, and at least seven in barley. Structural comparisons based on alignments of all the protein sequences using the CLUSTALW program and searches for conserved motifs using the MEME program have revealed broad conservation of the main motifs characteristic of the plant cystatins. Phylogenetic analyses based on their deduced amino acid sequences have allowed us to identify groups of orthologous cystatins, and to establish homologies and define examples of gene duplications mainly among the rice and barley cystatin genes. Moreover, the absence of a counterpart between the two monocots, as well as strong variations in the motifs that interact with the cysteine proteinases, may be related to a species-specific evolutionary process. This cystatin classification should facilitate the assignment of proteinase specificities and functions to other cystatins as new information is obtained.
This is a preview of subscription content, log in to check access.
Access options
Buy single article
Instant access to the full article PDF.
US$ 39.95
Price includes VAT for USA
Subscribe to journal
Immediate online access to all issues from 2019. Subscription will auto renew annually.
US$ 199
This is the net price. Taxes to be calculated in checkout.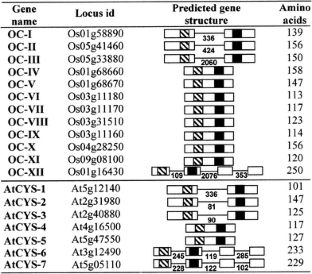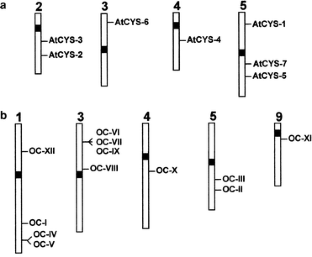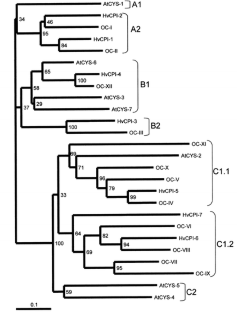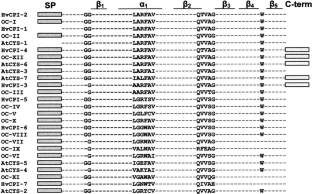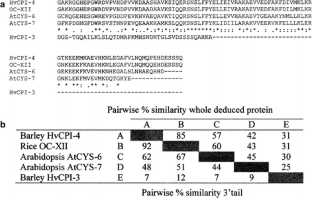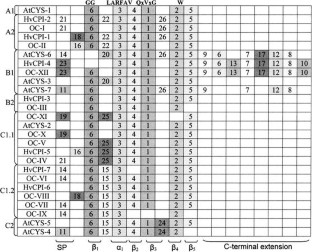 References
Abe K, Emori Y, Kondo H, Suzuki K, Arai S (1987) Molecular cloning of a cysteine proteinase inhibitor of rice (oryzacystatin). J Biol Chem 262:16793–16797

Abe K, Kondo H, Watanabe H, Emori Y, Arai S (1991) Oryzacystatins as the first well-defined cystatins of plant origin and their target proteinases in rice seeds. Biomed Biochim Acta 50:637–641

Arai S, Watanabe H, Kondo H, Emori Y, Abe K (1991) Papain-inhibitory activity of oryzacystatin, a rice seed cysteine proteinases inhibitor, depends on the central Gln-Val-Val-Ala-Gly region conserved among cystatin superfamily members. J Biochem 109:294–298

Arai S, Matsumoto I, Emori Y, Abe K (2002) Plant seed cystatins and their target enzymes of endogenous and exogenous origin. J Agr Food Chem 50:6612–6617

Atkinson HJ, Urwin PE, McPherson MJ (2003) Engineering plants for nematode resistance. Ann Rev Phytopathol 41:615–639

Bailey TL, Elkan C (1994) Fitting a mixture model by expectation maximization to discover motifs in biopolymers. Proc Int Conf Intell Syst Mol Biol 2:28–36

Belenghi B, Acconcia F, Trovato M, Perazzolli M, Bocedi A, Polticelli F, Ascenzi P, Delledonne M (2003) AtCYS1, a cystatin from Arabidopsis thaliana, suppresses hypersensitive cell death. Eur J Biochem 270:2593–2604

Bendtsen JD, Nielsen H, von Heijne G, Brunak S (2004) Improved prediction of signal peptides: SignalP 3.0. J Mol Biol 340:783–795

Brown WM, Dziegielewska KM (1997) Friends and relations of the cystatin superfamily-new members and their evolution. Protein Sci 6:5–12

Carbonero P, Salcedo G, Sanchez-Monge R, Garcia-Maroto F, Gomez L, Medina J, Mena M, Diaz I (1993) A multigene family from cereals which encodes inhibitors of trypsin and heterologous α -amylases. In: Aviles FX (ed) Innovations of proteases and their inhibitors. Walter de Gruyter, Berlin-New York, pp 333–348

Corre-Menguy F, Cejudo FJ, Mazubert C, Vidal J, Lelandais-Briere C, Torres G, Rode A, Hartmann C (2002) Characterization of the expression of a wheat cystatin gene during caryopsis development. Plant Mol Biol 50:687–698

Delledonne M, Allegro G, Belenghi B, Balestrazzi A, Picco F, Levine A, Zelasco S, Calligari P, Confalonieri M (2001) Transformation of white poplar (Populus alba L.) with a novel Arabidopsis thaliana cysteine proteinase inhibitor and analysis of insect pest resistance. Mol Breed 7:35–42

Gaddour K, Vicente-Carbajosa J, Lara P, Isabel-Lamoneda I, Díaz I, Carbonero P (2001) A constitutive cystatin-encoding gene from barley (Icy) responds differentially to abiotic stimuli. Plant Mol Biol 45:599–608

Garcia-Olmedo F, Salcedo G, Sanchez-Monge R, Gomez L, Royo J, Carbonero P (1987) Plant proteinaceous inhibitors of proteinases and α -amylases. In: Miflin B (ed) Oxford Surveys of Plant Molecular and Cell Biology, vol 4. Oxford University Press, Oxford, pp 275–334

Goff SA et al (2002) A draft sequence of the rice genome (Oryza sativa L. ssp. japonica). Science 296:92–100

Gutierrez-Campos R, Torres-Acosta J, Saucedo-Arias LJ, Gomez-Lim MA (1999) The use of cysteine proteinase inhibitors to engineer resistance against potyviruses in transgenic tobacco plants. Nat Biotechnol 17:1223–1226

Haq SK, Atif SM, Khan RH (2004) Protein proteinase inhibitor genes in combat against insects, pests, and pathogens: natural and engineered phytoprotection. Arch Biochem Biophys 431:145–159

Heibges A, Glaczinski H, Ballvora A, Salamini F, Gebhardt C (2003) Structural diversity and organization of three gene families for Kunitz-type enzyme inhibitors from potato tubers (Solanum tuberosum L.). Mol Gen Genomics 269:526–534

Higgins D, Thompson J, Gibson T, Thompson JD, Higgins DG, Gibson TJ (1994) CLUSTAL W: improving the sensitivity of progressive multiple sequence alignment through sequence weighting, position-specific gap penalties and weight matrix choice. Nucleic Acids Res 22:4673–4680

Ishikawa A, Ohta S, Matsuoka K, Hattori T, Nakamura K (1994) A family of potato genes that encoded Kunitz-type proteinase inhibitors: structural comparisons and differential expression. Plant Cell Physiol 35:303–312

Koiwa H, D'Urzo MP, Assfalg-Machleidt I, Zhu-Salzman K, Shade RE, An H, Murdock LL, Machleidt W, Bressan RA, Hasegawa PM (2001) Phage display selection of hairpin loop soyacystatin variants that mediate high affinity inhibition of a cysteine proteinase. Plant J 27:383–391

Kondo H, Abe K, Nishimura I, Watanabe H, Emori Y, Arai S (1990) Two distinct cystatin species in rice seeds with different specificities against cysteine proteinases. J Biol Chem 265:15832–15837

Kuroda M, Ishimoto M, Suzuki K, Kondo H, Abe K, Kimura K, Arai S (1996) Oryzacystatins exhibit growth-inhibitory and lethal effects on different species of bean insect pests, Callosobruchus chinensis (Coleoptera) and Riptortus calavatus (Hemiptera). Biosci Biotech Biochem 60:209–212

Kuroda M, Kiyosaki T, Matsumoto I, Misaka T, Arai S, Abe K (2001) Molecular cloning, characterization and expression of wheat cystatins. Biosci Biotechnol Biochem 65:22–28

Lim CO, Lee SI, Chung WS, Park SH, Hwang I, Cho MJ (1996) Characterization of a cDNA encoding cysteine proteinase inhibitor from Chinese cabbage (Brassica campestris L. ssp. pekinensis) flower buds. Plant Mol Biol 30:373–379

Margis R, Reis EM, Villeret V (1998) Structural and phylogenetic relationship among plant and animal cystatins. Arch Biochem Biophys 359:24–30

Martínez M, López-Solanilla E, Rodriguez-Palenzuela P, Carbonero P, Díaz I (2003a) Inhibition of plant phytopathogenic fungi by the barley cystatin Hv-CPI (gene Icy) is not associated with its cysteine-proteinase inhibitory properties. Mol Plant-Microbe Interact 16:876–883

Martínez M, Rubio-Somoza I, Carbonero P, Díaz I (2003b) A cathepsin B-like cysteine protease gene from Hordeum vulgare (gene CatB) induced by GA in aleurone cells is under circadian control in leaves. J Exp Bot 54:951–959

Martínez M, Rubio-Somoza I, Fuentes R, Lara P, Carbonero P, Diaz I (2005) The barley cystatin gene (Icy) is regulated by DOF transcription factors in aleurone cells upon germination. J Exp Bot 56:547–556

Mello MO, Tanaka AS, Silva-Filho MC (2003) Molecular evolution of Bowman-Birk type proteinases inhibitors in flowering plants. Mol Phylogenet Evol 27:103–112

Melo FR, Mello MO, Franco OL, Rigden DJ, Mello LV, Genú AM, Silva-Filho MC, Gleddie S, Grossi-de-Sá MF (2003) Use of phage display to select novel cystatins specific for Acanthoscelides obtectus cysteine proteinases. Biochim Biophys Acta 1651:146–152

Misaka T, Kuroda M, Iwabuchi K, Abe K, Arai S (1996) Soyacystatin, a novel cysteine proteinase inhibitor in soybean, is distinct in protein structure and gene organization from other cystatins of animal and plant origin. Eur J Biochem 240:609–614

Nagata K, Kudo N, Abe K, Arai S, Tanokura M (2000) Three-dimensional solution of oryzacystatin-I, a cysteine proteinase inhibitor of rice, Oryza sativa L. japonica. Biochemistry 39:14753–14760

Page RDM (1996) TREEVIEW: an application to display phylogenetic trees on personal computers. Comput Appl Biosci 12:357–358

Pernas M, Sanchez-Monge R, Gomez L, Salcedo G (1998) A chestnut seed cystatin differentially effective against cysteine proteinases from closely related pests. Plant Mol Biol 38:1235–1242

Pernas M, López-Solanilla E, Sanchez-Monge R, Salcedo G, Rodriguez-Palenzuela P (1999) Antifungal activity of a plant cystatin. Mol Plant-Microbe Interact 12:624–627

Pernas M, Sanchez-Ramos I, Sanchez-Monge R, Lombardero M, Arteaga C, Castañera P, Salcedo G (2000) Der p1 and Der f1, the highly related and major allergens from house mites, are differentially affected by a plant cystatin. Clin Exp Allergy 30:972–978

Shyu DJ, Chou WM, Yiu TJ, Lin CP, Tzen JT (2004) Cloning, functional expression, and characterization of cystatin in sesame seed. J Agric Food Chem 52:1350–1356

Siqueira-Junior CL, Fernandes KVS, Machado OLT, Cunha M, Gomes VM, Moura D, Jacinto T (2002) 87-kDa tomato cystatin exhibits properties of a defence protein and forms crystals in prosystemin over-expressing transgenic plants. Plant Physiol Biochem 40:247–254

Soares-Costa A, Beltramini LM, Thiemann OH, Enrique-Silva F (2002) A sugarcane cystatin: recombinant expression, purification and antifungal activity. Biochem Biophys Res Commun 296:1194–1199

Solomon M, Belenghi B, Delledonne M, Levine A (1999) The involvement of cysteine proteases and protease inhibitor genes in programmed cell death in plants. Plant Cell 11:431–444

The Arabidopsis Genome Initiative (2000) Analysis of the genome sequence of the flowering plant Arabidopsis thaliana. Nature 408:796–815

Urwin PE, Atkinson HJ, McPherson MJ (1995) Involvement of the NH2 -terminal region of oryzacystatin-I in cysteine proteinases inhibition. Protein Eng 8:1303–1307

Vain P, Worland B, Clarke MC, Richard G, Beavis M, Liu H, Kholi A, Leech M, Snape J, Christou P, Atkinson HJ (1998) Expression of an engineered cysteine proteinase inhibitor (Oryzacystatin-IΔ D86) for nematode resistance in transgenic plants. Theor Appl Genet 96:266–271

Waldrom C, Wegrich LM, Merlo PAO, Walsh TA (1993) Characterization of a genomic sequence coding for potato multicystatin, an eight-domain cysteine proteinase inhibitor. Plant Mol Biol 23:801–812

Walker AJ, Urwin PE, Atkinson HJ, Brain P, Glen DM, Shewry PR (1999) Transgenic Arabidopsis leaf tissue expressing a modified oryzacystatin shows resistance to the field slug Deroceras reticulatum (Muller). Transgenic Res 8:95–103

Wu J, Haard NF (2000) Purification and characterization of a cystatin from the leaves of methyl jasmonate treated tomato plants. Comp Biochem Physiol C Toxicol Pharmacol 127:209–220

Ylinenjarvi K, Widersten M, Bjork I (1999) Hydrophobic sequences can substitute for the wild-type N-terminal sequence of cystatin A (stefin A) in tight binding to cysteine proteinases: selection of high-affinity N-terminal region variants by phage display. Eur J Biochem 261:682–688

Yu J et al (2002) A draft sequence of the rice genome (Oryza sativa L. ssp. indica). Science 296:79–92
Acknowledgements
We thank Mar Gonzalez for technical assistance. Financial support from the Comunidad Autónoma de Madrid, Spain (07M/0050/2002) and the Ministerio de Ciencia y Tecnología, Spain (AGL03-0335) are gratefully acknowledged. M. Martínez holds a Ramón y Cajal Contract awarded by the Ministerio de Ciencia y Tecnología (Spain). Z. Abraham was the recipient of a post-doctoral fellowship from the Comunidad Autónoma de Madrid (Spain). This work has been carried out in compliance with the current laws governing genetic experimentation in Spain
Electronic Supplementary Material
About this article
Cite this article
Martínez, M., Abraham, Z., Carbonero, P. et al. Comparative phylogenetic analysis of cystatin gene families from arabidopsis, rice and barley. Mol Genet Genomics 273, 423–432 (2005). https://doi.org/10.1007/s00438-005-1147-4
Received:

Accepted:

Published:

Issue Date:
Keywords
Arabidopsis

Barley

Phylogenetic analysis

Plant cystatin

Rice