Abstract
Currently, five invasive Aedes mosquito species are of concern in Europe according to the European Centre for Disease Prevention and Control: Aedes aegypti, Ae. albopictus, Ae. atropalpus, Ae. japonicus, and Ae. koreicus. Among these, only Ae. albopictus was reported to occur in Romania, in Bucharest. The aim of this study was to update the knowledge on the distribution of this invasive mosquito species in Romania, by investigating new potential locations. Monitoring of Ae. albopictus was carried out between May 2017 and October 2018. Three types of traps (CDC-Gravid Traps, CDC miniature Light Traps, ovitraps) were placed in 53 localities in 13 counties at sites suitable for container-breeding mosquitoes. Collected adult mosquitoes were counted and identified according to morphological criteria. Larvae were found present in domestic containers and rain catch basins. Aedes albopictus adults and eggs were collected in 10 localities in eight counties across Romania. Our study confirms nine new localities and seven counties where Ae. albopictus became established in Romania, highlighting the need for surveillance to further assess the species' distribution and abundance, as well as the pathogen transmission risk related to that vector species.
This is a preview of subscription content, log in to check access.
Access options
Buy single article
Instant access to the full article PDF.
US$ 39.95
Price includes VAT for USA
Subscribe to journal
Immediate online access to all issues from 2019. Subscription will auto renew annually.
US$ 199
This is the net price. Taxes to be calculated in checkout.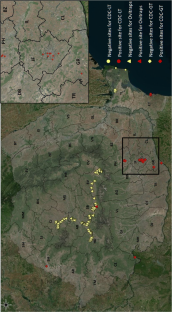 References
Adhami J, Reiter P (1998) Introduction and establishment of Aedes (Stegomyia) albopictus skuse (Diptera: Culicidae) in Albania. J Am Mosq Control Assoc 14(3):340–343

Akiner MM, Demirci B, Babuadze G, Robert V, Schaffner F (2016) Spread of the invasive mosquitoes Aedes aegypti and Aedes albopictus in the Black Sea region increases risk of chikungunya, dengue, and Zika outbreaks in Europe. PLoS Negl Trop Dis 10(4):e0004664

Andreadis TG, Wolfe RJ (2010) Evidence for reduction of native mosquitoes with increased expansion of invasive Ochlerotatus japonicus japonicus (Diptera: Culicidae) in the north-eastern United States. J Med Entomol 47:43–52

Becker N, Petrić D, Boase C, Lane J, Zgomba M, Dahl C et al (2003) Mosquitoes and their control, vol 2. Springer, New York, pp 91–134

Benedict MQ, Levine RS, Hawley WA, Lounibos LP (2007) Spread of the tiger: global risk of invasion by the mosquito Aedes albopictus. Vector Borne Zoonotic Dis 7(1):76–85

Bonilauri P, Bellini R, Calzolari M, Angelini R, Venturi L, Fallacara F, Cordioli P, Angelini P, Venturelli C, Merialdi G, Dottori M (2008) Chikungunya virus in Aedes albopictus, Italy. Emerg Infect Dis 14(5):852–854

Bonizzoni M, Gasperi G, Chen X, James AA (2013) The invasive mosquito species Aedes albopictus: current knowledge and future perspectives. Trends Parasitol 29(9):460–468

Caputo B, Ienco A, Cianci D, Pombi M, Petrarca V et al (2012) The "auto-dissemination" approach: a novel concept to fight Aedes albopictus in urban areas. PLoS Negl Trop Dis 6(8):e1793

Collantes F, Delacour S, Alarcón-Elbal PM, Ruiz-Arrondo I, Delgado JA et al (2015) Review of ten-years presence of Aedes albopictus in Spain 2004–2014: known distribution and public health concerns. Parasit Vectors 8(1):655

Delatte H, Desvars A, Bouétard A, Bord S, Gimonneau G, Vourc'h G et al (2010) Blood-feeding behavior of Aedes albopictus, a vector of Chikungunya on La Réunion. Vector Borne Zoonotic Dis 10(3):249–258

Delisle E, Rousseau C, Broche B, Leparc-Goffart I, L'ambert G, Cochet A et al (2015) Chikungunya outbreak in Montpellier, France, September to October 2014. Eurosurveillance 20(17):21108

Dinu S, Pănculescu-Gătej IR, Florescu SA, Popescu CP, Sîrbu A, Oprişan G et al (2015) Molecular epidemiology of dengue fever cases imported into Romania between 2008 and 2013. Travel Med Infect Dis 13(1):69–73

European Centre for Disease Prevention and Control (2018) Local transmission of dengue fever in France and Spain, 2018, 22 October 2018. Technical report Stockholm: ECDC

European Centre for Disease Prevention and Control, European Food Safety Authority (2018) Field sampling methods and for mosquitoes, sand flies, biting midges and ticks- VectorNet project 2014-2018. ECDC and EFSA, Stockholm and Parma

Florescu SA, Cotar AI, Popescu CP, Ceianu CS, Zaharia M, Vancea G et al (2017) First two imported cases of Zika virus infections in Romania. Vector Borne Zoonotic Dis 17(5):354–357

Gossner CM, Ducheyne E, Schaffner F (2018) Increased risk for autochthonous vector-borne infections transmitted by Aedes albopictus in continental Europe. Eurosurveillance 23(24):1800268

Grandadam M, Caro V, Plumet S, Thiberge JM, Souares Y, Failloux AB et al (2011) Chikungunya virus, south eastern France. Emerg Infect Dis 17(5):910

Hanson SM, Craig GB Jr (1994) Cold acclimation, diapause, and geographic origin affect cold hardiness in eggs of Aedes albopictus (Diptera: Culicidae). J Med Entomol 31(2):192–201

Kavran M, Ignjatović-Ćupina A, Zgomba M, Žuni A, Bogdanovic S, Srdic V et al (2019) Invasive mosquito surveillance and the first record of Aedes japonicus in Serbia. The IXth EMCA conference. 10-14 March, La Rochelle, France 2019

Kurucz K, Kiss V, Zana B, Schmieder V, Kepner A, Jakab F, Kemenesi G (2016) Emergence of Aedes koreicus (Diptera: Culicidae) in an urban area, Hungary, 2016. Parasitol Res 115(12):4687–4689

Medlock JM, Hansford KM, Schaffner F, Versteirt V, Hendrickx G, Zeller H et al (2012) A review of the invasive mosquitoes in Europe: ecology, public health risks, and control options. Vector Borne Zoonotic Dis 12(6):435–447

Paupy C, Delatte H, Bagny L, Corbel V, Fontenille D (2009) Aedes albopictus, an arbovirus vector: from the darkness to the light. Microbes Infect 11(14–15):1177–1185

Petrić M, Lalić B, Ducheyne E, Djurdjević V, Petrić D (2017) Modelling the regional impact of climate change on the suitability of the establishment of the Asian tiger mosquito (Aedes albopictus) in Serbia. Clim Chang 142(3–4):361–374

Prioteasa LF, Dinu S, Fălcuţă E, Ceianu CS (2015) Established population of the invasive mosquito species Aedes albopictus in Romania, 2012–14. J Am Mosq Control Assoc 31(2):177–181

Prudhomme J, Fontaine A, Lacour G, Gantier JC, Diancourt L, Velo E, Bino S, Reiter P, Mercier A (2019) The native European Aedes geniculatus mosquito species can transmit chikungunya virus. Emerg Microbes Infect 8(1):962–972. https://doi.org/10.1080/22221751.2019.1634489

Sabatini A, Raineri V, Trovato G, Coluzzi M (1990) Aedes albopictus in Italy and possible diffusion of the species into the Mediterranean area. Parassitologia 32(3):301–304

Schaffner F, Angel G, Geoffrey B, Hervey J, Rhaiem A, Brunhes J (2001) The mosquitoes of Europe. An identification and training programme. IRD Editions & EID Méditerranné (CD-ROM), Montpellier

Schaffner F, Bellini R, Petrić D, Scholte EJ, Zeller H, Marrama Rakotoarivony L (2013) Development of guidelines for the surveillance of invasive mosquitoes in Europe. Parasit Vectors 6:209

Schaffner F, Kaufmann C, Pflüger V, Mathis A (2014) Rapid protein profiling facilitates surveillance of invasive mosquito species. Parasit Vectors 7(1):142

Scholte EJ, Schaffner F (2007) Waiting for the tiger: establishment and spread of the Aedes albopictus mosquito in Europe. In Emerging pests and vector-borne diseases in Europe (Takken W & Knols BGJ, Eds.) book series Ecology and control of vector-borne diseases, vol. 1, Wageningen Academic Publisher, Wageningen, 499 pp. (241-260)

Seidel B, Nowotny N, Bakonyi T, Allerberger F, Schaffner F (2016) Spread of Aedes japonicus japonicus (Theobald, 1901) in Austria, 2011–2015, and first records of the subspecies for Hungary, 2012, and the principality of Liechtenstein, 2015. Parasit Vectors 9(1):356

Succo T, Leparc-Goffart I, Ferré JB, Roiz D, Broche B, Maquart M et al (2016) Autochthonous dengue outbreak in Nîmes, south of France, July to September 2015. Eurosurveillance 21(21):30240
Acknowledgements
The data for this research was collected through project PCCDI 57/2018 financed by UEFISCDI. Ovitraps were placed thanks to VectorNet and its funding agencies the European Centre for Disease Prevention and Control (ECDC) and the European Food Safety Authority (EFSA) (contract number OC/EFSA/AHAW/2013/02). Our work in Bucharest was part of Core Program PN 16390101 of the Romanian Ministry of Research and Innovation and the International Atomic Energy Agency through technical cooperation project RER5022. We are indebted to Dušan Petrić for his invaluable advices during our studies and for his long-lasting friendship.
Ethics declarations
Conflict of interest
The authors declare that that there is no conflict of interest.
Additional information
Publisher's note
Springer Nature remains neutral with regard to jurisdictional claims in published maps and institutional affiliations.
Section Editor: Helge Kampen
Electronic supplementary material
MS Excel table including all trapping data (date, trapping sites, coordinates, captured specimens, trap types used) (XLSX 20 kb).
About this article
Cite this article
Fălcuţă, E., Prioteasa, L.F., Horváth, C. et al. The invasive Asian tiger mosquito Aedes albopictus in Romania: towards a country-wide colonization?. Parasitol Res (2020). https://doi.org/10.1007/s00436-020-06620-8
Received:

Accepted:

Published:
Keywords
Aedes albopictus

Tiger mosquito

Invasive species

Mosquitoes

New records