Abstract
Giardia duodenalis is considered a highly diverse organism that infects a variety of mammalian hosts. Giardiasis is a significant public health problem in Iran. The purpose of this study was to investigate the occurrence of Giardia duodenalis (G. lamblia, G. intestinalis) infections in humans residing in the Guilan province of Iran. Stool samples were collected during 12 months from 8356 individuals that had been referred to certain hospitals in the capital city of Rasht in the Guilan province, of which 4126 were males and 4230 were females. The samples were separated into three groups according to patient age: group A 1–9 years old (n = 483); group B 10–19 years old (n = 491); and group C greater than 20 years old (n = 7382). The wet mount technique was performed directly on 8356 fecal samples for microscopy. Samples were examined using a saline and iodine direct smear technique in order to confirm the presence of G. duodenalis. The results indicated that 2.5% (206/8356) of the samples were identified as positive for G. duodenalis. A total of 30% of the infected patients (n = 62) had no symptoms. In symptomatic cases, the most common symptoms (46%, n = 95) were abdominal cramps and bloating. Twenty-four percent of patients (n = 50) had cramps, bloating, nausea, and diarrhea. Sixty positive samples were sent for G. duodenalis genotyping based on the amplification of the gdh gene. Forty-one PCR products were successfully selected and sequenced, where 38 (92.6%) samples were identified as genotype A/subgenotype II and in three samples (7.4%) genotype B/subgenotype IV. Genotype A-II had a dominant prevalence as compared to the genotype B-IV samples that were identified in the study. Based on the samples provided by the regional teaching hospitals and subsequent sample analysis, the authors concluded that assemblage A-II is most likely the most common Giardia subgroup infection in the Guilan region. Assemblages have been reported in both humans and animals; however, further studies need to investigate the role of domestic animals and water reservoirs as potential sources of Giardia infection in the Guilan region.
This is a preview of subscription content, log in to check access.
Access options
Buy single article
Instant access to the full article PDF.
US$ 39.95
Price includes VAT for USA
Subscribe to journal
Immediate online access to all issues from 2019. Subscription will auto renew annually.
US$ 199
This is the net price. Taxes to be calculated in checkout.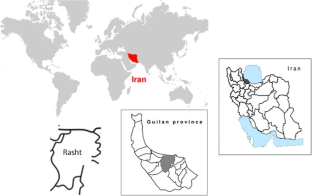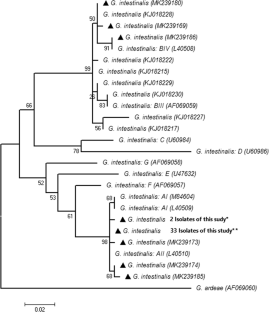 References
Adam EA, Yoder JS, Gould LH, Hlavsa MC, Gargano JW (2016) Giardiasis outbreaks in the United States, 1971-2011. Epidemiol Infect 144:2790–2801

Amar CF, Dear PH, Pedraza-Díaz S, Looker N, Linnane E, McLauchlin J (2002) Sensitive PCR-restriction fragment length polymorphism assay for the detection and genotyping of Giardia duodenalis in human feces. J Clin Microbiol 40:446–452

Arani AS, Alaghehbandan R, Akhlaghi L, Shahi M, Lari AR (2008) Prevalence of intestinal parasites in a population in south of Tehran, Iran. Rev Inst Med Trop Sao Paulo 50:145–149

Babaei Z, Oormazdi H, Akhlaghi L, Rezaie S, Razmjou E, Soltani-Arabshahi SK, Meamar AR, Hadighi R (2008) Molecular characterization of the Iranian isolates of Giardia lamblia: application of the glutamate dehydrogenase gene. Iran J Public Health 37:75–82

Bahrami F, Zamini GH, Haghighi A, Khademerfan MB (2017) Detection and molecular identification of human Giardia isolates in the west of Iran. Biomed Res 28:5687–5692

Baldursson S, Karanis P (2011) Water-borne transmission of protozoan parasites: review of worldwide outbreaks—an update 2004–2010. Water Res 45:6603–6614

Bertran I, Albertini L, Schwartzbrod J (2005) Comparison of two target genes for detection and genotyping of Giardia lamblia in human feces by PCR and PCR-restriction fragment length polymorphism. J Clin Microbiol 43:5940–5944

Breathnach AS, McHugh TD, Butcher PD (2010) Prevalence and clinical correlations of genetic subtypes of Giardia lamblia in an urban setting. Epidemiol Infect 138:1459–1146

Brunn A, Fisman DN, Sargeant JM, Greer AM (2018) The influence of climate and livestock reservoirs on human cases of giardiasis. Ecosyst Health. https://doi.org/10.1007/s10393-018-1385

Caccio SM, De Giacomo M, Pozio E (2002) Sequence analysis of the beta-giardin gene and development of a polymerase chain reaction-restriction fragment length polymorphism assay to genotype Giardia duodenalis cysts from human faecal samples. Int J Parasitol 32:1023–1103

Cacciò SM, Lalle M, Svärd SG (2017) Host specificity in the Giardia duodenalis species complex. Infect Genet Evol 1348:30418–30415

Cooper MA, Sterling CR, Gilman RH, Cama V, Ortega Y, Adam RD (2010) Molecular analysis of household transmission of Giardia lamblia in a region of high endemicity in Peru. J Infect Dis:2021713–2021721

Daly ER, Roy SJ, Blaney DD, Manning JS, Hill VR, Xiao L, Stull JW (2010) Outbreak of giardiasis associated with a community drinking-water source. Epidemiol Infect 138:491–500

Efstratiou A, Ongerth J, Karanis P (2017) Evolution of monitoring for Giardia and Cryptosporidium in water. Water Res 123:96–112

Erdogrul O, Sener H (2005) The contamination of various fruit and vegetable with Enterobius vermicularis, Ascaris eggs, Entamoeba histolytica cysts and Giardia cysts. Food Control 16:559–562

Ey PL, Mansouri M, Kulda J, Nohýnková E, Monis PT, Andrews RH, Mayrhofer G (1997) Genetic analysis of Giardia from hoofed farm animals reveals artiodactyl-specific and potentially zoonotic genotypes. J Eukaryot Microbiol 44:626–635

Fallah AA, Pirali-Kheirabadi K, Shirvani F, Saei-Dehkordi SS (2012) Prevalence of parasitic contamination in vegetables used for raw consumption in Shahrekord, Iran: influence of season and washing procedure. Food Control 25:617–620

Fantinatti M, Bello AR, Fernandes O, Da-Cruz AM (2016) Identification of Giardia lamblia assemblage E in humans points to a new anthropozoonotic cycle. J Infect Dis 214:1256–1259

Feng Y, Xiao L (2011) Zoonotic potential and molecular epidemiology of Giardia species and giardiasis. Clin Microbiol Rev 24:110–140

Geurden T, Levecke B, Caccio SM, Visser A, De Groote G, Casaert S, Vercruysse J, Claerebout E (2009) Multilocus genotyping of Cryptosporidium and Giardia in non-outbreak related cases of diarrhoea in human patients in Belgium. Parasitol 136:1161–1168

Guy RA, Payment P, Krull UJ, Horgen PA (2003) Real-time PCR for quantification of Giardia and Cryptosporidium in environmental water samples and sewage. Appl Environ Microbiol 69:5178–5185

Guy RA, Xiao C, Horgen PA (2004) Real-time PCR assay for detection and genotype differentiation of Giardia lamblia in stool specimens. J Clin Microbiol 42:3317–3320

Handoussa AE, Helmy MM, Hussein EM, El-Nimr HI (2005) Degree of symptoms versus copro-antigen levels in Giardia lamblia infection. J Egypt Soc Parasitol 35:69–81

Haque R, Roy S, Kabir M, Stroup SE, Mondal D, Houpt ER (2005) Giardia assemblage A infection and diarrhea in Bangladesh. J Infect Dis 192:2171–2173

Hemmati N, Razmjou E, Hashemi-Hafshejani S, Motevalian A, Akhlaghi L, Meamar AR (2017) Prevalence and risk factors of human intestinal parasites in Roudehen, Tehran Province, Iran. Iran J Parasitol 12:364–373

Karanis P, Ey PL (1998) Characterization of axenic isolates of Giardia intestinalis established from humans and animals in Germany. Parasitol Res 84:442–449

Karanis P, Schoenen D, Seitz H (1998) Distribution and removal of Giardia and Cryptosporidium in water supplies in Germany. Water Sci Technol 37:9–18

Karanis P, Kourenti C, Smith H (2007) Waterborne transmission of protozoan parasites: a worldwide review of outbreaks and lessons learnt. J Water Health 5:1–38

Kasaei R, Carmena D, Jelowdar A, Beiromvand M (2018) Molecular genotyping of Giardia duodenalis in children from Behbahan, southwestern Iran. Parasitol Res 117:1425–1431

Lal A, Hales S, French N, Baker MG (2012) Seasonality in human zoonotic enteric diseases: a systematic review. PLoS One 7:e31883

Lalle M, Pozio E, Capelli G, Bruschi F, Crotti D, Cacciò SM (2005) Genetic heterogeneity at the β-giardin locus among human and animal isolates of Giardia duodenalis and identification of potentially zoonotic subgenotypes. Int J Parasitol 35:207–213

Lasek-Nesselquist E, Welch DM, Sogin ML (2010) The identification of a new Giardia duodenalis assemblage in marine vertebrates and a preliminary analysis of G. duodenalis population biology in marine systems. Int J Parasitol 40:1063–1074

Lebbad M, Ankarklev J, TellezA LB, Andersson JO, Svärd S (2008) Dominance of Giardia assemblage B in Leon, Nicaragua. Acta Trop 106:44–53

Londoño A, Mejía S, Gómez-Marín J (2009) Prevalencia y factores de Riesgo Asociados a Parasitismo Intestinal en Preescolares de Zona Urbana en Calarcá, Colombia. Rev Salud Pública 11:72–81

Lu SQ, Baruch AC, Adam RD (1998) Molecular comparison of Giardia lamblia isolates. Int J Parasitol 28:1341–1345

Mahmoudi M, Ashrafi K, Abedinzadeh H, Tahvildar-Bideruni F, Haghighi A, Bandehpour M, Taghipour Lailabadi N, Kazemi B (2011) Development of sensitive detection of Cryptosporidium and Giardia from surface water in Iran. Iran J Parasitol 6:43–51

Mahmoudi MR, Kazemi B, Mohammadiha A, Mirzaei A, Karanis P (2013) Detection of Cryptosporidium and Giardia (oo)cysts by IFA, PCR and LAMP in surface water from Rasht, Iran. Trans R Soc Trop Med Hyg 107:511–517

Mahmoudi MR, Nazemalhosseini-Mojarad E, Kazemi B, Haghighi A, Mirzaei A, Mohammadiha A, Jahantab S, Xiao L, Karanis P (2014) Cryptosporidium genotypes and subtypes distribution in river water in Iran. J Water Health 13:600–606

Mahmoudi MR, Nazemalhosseini-Mojarad E, Karanis P (2015) Genotyping of Giardia lamblia and Entamoeba spp. from river waters in Iran. Parasitol Res 114:4565–4570

Mehraj V, Hatcher J, Akhtar S, Rafique G, Beg MA (2008) Prevalence and factors associated with intestinal parasitic infection among children in an urban slum of Karachi. PLoS One 3:e3680

Mohammed Mahdy AK, Surin J, Wan KL, Mohd-Adnan A, Al-Mekhlafi MS, Lim YA (2009) Giardia intestinalis genotypes: risk factors and correlation with clinical symptoms. Acta Trop 112:7–70

Monis PT, Mayrhofer G, Andrews RH, Homan WL, Limper L, Ey PL (1996) Molecular genetic analysis of Giardia intestinalis isolates at the glutamate dehydrogenase locus. Parasitol 112:1–12

Monis PT, Andrews RH, Mayrhofer G, Mackrill J, Kulda J, Isaac-Renton JL, Ey PL (1998) Novel lineages of Giardia intestinalis identified by genetic analysis of organisms isolated from dogs in Australia. Parasitol 116:7–19

Nematian J, Nematian E, Gholamrezanezhad A, Asgari AA (2004) Prevalence of intestinal parasitic infections and their relation with socio-economic factors and hygienic habits in Tehran primary school students. Acta Trop 92:179–186

Nguyen ST, Fukuda Y, Nguyen DT, Dao HT, Le DQ, Bui KL, Tada C, Nakai Y (2018) Prevalence, genotyping and risk factors of Giardia duodenalis from dogs in Vietnam. J Vet Med Sci 80:92–97

Nkrumah B, Nguah SB (2011) Giardia lamblia: a major parasitic cause of childhood diarrhoea in patients attending a district hospital in Ghana. Parasit Vectors 4:16

Pereira M, Atwill E, Barbosa A (2007) Prevalence and associated risk factors for Giardia lamblia infection among children hospitalized for diarrhea in Goiânia, Goiás state, Brazil. Rev Inst Med Trop S Paulo 49:139–145

Plutzer J, Ongerth J, Karanis P (2010) Giardia taxonomy, phylogeny and epidemiology: facts and open questions. Int J Hyg Environ Health 213:321–333

Rafiei A, Roointan ES, Samarbafzadeh AR, Shayesteh AA, Shamsizadeh A, Pourmahdi Borujeni M (2013) Investigation of possible correlation between Giardia duodenalis genotypes and clinical symptoms in southwest of Iran. Iran J Parasitol 8:389–395

Rahimian F, Sadraei J, Pirestani M, Ghaffarifar F (2018) A modified PCR-RFLP method to determine genetic diversity of Giardia lamblia human isolates based on triosephosphate isomerase (TPI) gene. Acta Trop 186:58–62

Raso G, Luginbühl A, Adjoua CA, Tian-Bi NT, Silué KD, Matthys B, Vounatsou P, Wang Y, Dumas ME, Holmes E, Singer BH, Tanner M, N'goran EK, Utzinger J (2004) Multiple parasite infections and their relationship to self-reported morbidity in a community of rural Côte d'Ivoire. Int J Epidemiol 33:1092–1102

Rayani M, Zasmy Unyah N, Hatam G (2014) Molecular identification of Giardia duodenalis isolates from Fars Province, Iran. Iran J Parasitol 9:70–78

Read CM, Monis PT, Thompson RCA (2004) Discrimination of all genotypes of Giardia duodenalis at the glutamate dehydrogenase locus using PCR-RFLP. Infect Genet Evol 4:125–130

Robertson LJ (2013) Giardia as a foodborne pathogen. Springer Briefs in Food, Health and Nutrition. Springer. New York, Heidelberg, Dordrecht, London. ISBN: 978-1461477556

Ryan U, Caccio SM (2013) Zoonotic potential of Giardia. Int J Parasitol 43:943–956

Ryan U, Hijjawi N, Feng Y, Xiao L (2018) Giardia: an under-reported foodborne parasite. Int J Parasitol 7519:30246–30247

Sahagun J, Clavel A, Goni P, Seral C, Llorente MT, Castillo FJ, Capilla S, Arias A, Gomez-Lus R (2008) Correlation between the presence of symptoms and the Giardia duodenalis genotype. Eur J Clin Microbiol Infect Dis 27:81–83

Savioli L, Smith H, Thompson A (2006) Giardia and Cryptosporidium join the 'Neglected Diseases Initiative'. Trends Parasitol 22:203–208

Souza SL, Gennari SM, Richtzenhain LJ, Pena HF, Funada MR, Cortez A, Gregori F, Soares RM (2007) Molecular identification of Giardia duodenalis isolates from humans, dogs, cats and cattle from the state of Sao Paulo, Brazil, by sequence analysis of fragments of glutamate dehydrogenase (gdh) coding gene. Vet Parasitol 149:258–264

Spinelli R, Brandonisio O, Serio G, Trerotoli P, Ghezzani F, Carito V, Dajçi N, Doçi A, Picaku F, Dentico P (2006) Intestinal parasites in healthy subjects in Albania. Eur J Epidemiol 21:161–166

Taherkhani H, Shariati S, Abdolahi N, Roshandel GH (2009) Clinical manifestations of giardiasis in Iran. J Clin Diagn Res 3:1416–1418

Traub RJ, Inpankaew T, Reid SA, Sutthikornchai C, Sukthana Y, Robertson ID, Thompson RCA (2009) Transmission cycles of Giardia duodenalis in dogs and humans in temple communities in Bangkok—a critical evaluation of its prevalence using three diagnostic tests in the field in the absence of a gold standard. Acta Trop 111:125–132

Tsui CK, Miller R, Uyaguari-Diaz M, Tang P, Chauve C, Hsiao W, Isaac-Renton J, Prystajecky N (2018) Beaver fever: whole genome characterization of waterborne outbreak and sporadic isolates to study the zoonotic transmission of giardiasis. mSphere 3(2) pii:e00090–18

UNICEF Progress on Sanitation and Drinking Water and Sanitation: 2015 Update. UNICEF. https://www.unicef.pt/progressos-saneamento-aguapotavel/ files/progress-on-sanitation-drinking -water2015.pdf) (accessed November 17th, 2018) (2016)

Winkworth CL, Learmonth JJ, Matthaei CD, Townsend CR (2008) Molecular characterization of Giardia isolates from calves and humans in a region in which dairy farming has recently intensified. Appl Environ Microbiol 74:5100–5105

Wongstitwilairoong B, Srijan A, Serichantalergs O, Fukuda CD, McDaniel P, Bodhidatta L, Mason CJ (2007) Intestinal parasitic infection among pre-school children in Sangkhlaburi, Thailand. Am J Trop Med Hyg 76:345–350

Yang R, Lee J, Ng J, Ryan U (2010) High prevalence Giardia duodenalis assemblage B and potentially zoonotic subtypes in sporadic human cases in Western Australia. Int J Parasitol 40:293–297

Yason JA, Rivera WL (2007) Genotyping of Giardia duodenalis isolates among residents of slum area in Manila, Philippines. Parasitol Res 101:681–687

Yoder JS, Beach MJ (2007) Giardiasis surveillance—United States, 2003-2005. MMWR Surveill Summ 56:11–18

Zalipaeva TL (2002) Clinical symptoms of Giardia infection in children. Med Parazitol (Mosk):29-32
Acknowledgments
Authors acknowledge Dr. Nozhat Zebardast for technical assistance and Dr. Mysam Sharifdini for supporting to draft the phylogenetic tree diagram.
Funding
This study was funded by the Guilan University of Medical Sciences.
Ethics declarations
Ethical approval was obtained through the Guilan University of Medical Sciences with ethics number of IR.GUMS.REC.1395.284 for the use of the patients' fecal samples and questionnaire information.
Additional information
Publisher's note
Springer Nature remains neutral with regard to jurisdictional claims in published maps and institutional affiliations.
Handling Editor: Julia Walochnik
About this article
Cite this article
Mahmoudi, M.R., Mahdavi, F., Ashrafi, K. et al. Report of Giardia assemblages and giardiasis in residents of Guilan province—Iran. Parasitol Res (2020). https://doi.org/10.1007/s00436-019-06595-1
Received:

Accepted:

Published:
Keywords
Giardia lamblia

Detection

Assemblages

Guilan

Iran