Abstract
Trematode Alaria spp. have a complex life cycle that includes canids, mustelids, and felids as definitive hosts. However, several mammal species, besides acting as definitive hosts, may also act as paratenic hosts. Alaria spp. life cycles are well studied. Still, there is a lack of knowledge on one host significance as both—the paratenic and definitive host, especially in the case of Eurasian lynx (Lynx lynx). Previous studies have described Eurasian lynx as a definitive host for A. alata although the prevalence has always been low. The aim of the present study was to analyze the occurrence of A. alata in Eurasian lynx in Latvia. The viscera (n = 231) and muscle samples (n = 234) from Eurasian lynx were collected during the hunting seasons from 2004/2005 to 2017/2018. The prevalence of the adult A. alata in Eurasian lynx was 1.7%. However, mesocercariae infection in Eurasian lynx was detected for the first time. These findings suggest that the Eurasian lynx may serve both as paratenic and definitive host for A. alata.
This is a preview of subscription content, log in to check access.
Access options
Buy single article
Instant access to the full article PDF.
US$ 39.95
Price includes VAT for USA
Subscribe to journal
Immediate online access to all issues from 2019. Subscription will auto renew annually.
US$ 199
This is the net price. Taxes to be calculated in checkout.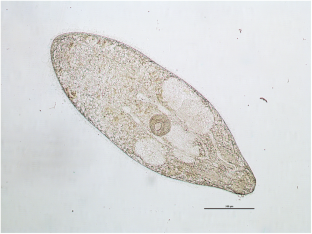 References
Bagrade G, Vismanis K, Kirjušina M, Ozoliņš J (2003) Preliminary results on the helminthofauna of the Eurasian lynx (Lynx lynx) in Latvia. Acta Zool Litu 13:3–7

Bush AO, Lafferty KD, Lotz JM, Shostak AW (1997) Parasitology meets ecology on its own terms: Margolis et al. revisited. J Parasitol 83:575–583

Castro O, Venzal JM, Félix ML (2009) Two new records of helminth parasites of domestic cat from Uruguay: Alaria alata (Goeze, 1782) (Digenea, Diplostomidae) and Lagochilascaris major Leiper, 1910 (Nematoda, Ascarididae). Vet Parasitol 160:344–347

Deksne G, Laakkonen J, Näreaho A, Jokelainen P, Holmala K, Kojola I, Sukura A (2013) Endoparasites of the Eurasian lynx (Lynx lynx) in Finland. J Parasitol 99:229–234

Duscher G, Prosl H, Joachim A (2005) Scraping or shaking – a comparison of methods for the quantitative determination of Echinococcus multilocularis in fox intestines. Parasitol Res 95:40–42

European Union Commission Implementing Regulation (2015) Law 1375/2015 of 10 August 2015 laying down specific rules of official controls for Trichinella in meat 1375/2015/CE. Off J Eur Union, 11.08.2015, L212/7

Hiestand SJ, Nielsen CL, Jiménez FA (2014) Epizootic and zoonotic helminths of the bobcat (Lynx rufus) in Illinois and a comparison of its helminth component communities across the American Midwest. Parasite 21:4

Martinković F, Sindičić M, Lučinger S, Šimac I, Bujanić M, Živičnjak T, Stojčevićjan D, Šprem N, Popović R, Konjević D (2017) Endoparasites of wildcats in Croatia. Vet Arhiv 87:713–729

Möhl K, Große K, Hamedy A, Wüste T, Kabelitz P, Lücker E (2009) Biology of Alaria spp. and human exposition risk to Alaria mesocercariae—a review. Parasitol Res 105:1–15

Murphy TM, O'Conell J, Berzano M, Dold C, Keegan JD, McCann A, Murphy D, Holden NM (2012) The prevalence and distribution of Alaria alata, a potential zoonotic parasite, in foxes in Ireland. Parasitol Res 111:283–290

Ozoliņa Z, Bagrade G, Deksne G (2018) The host age related occurrence of Alaria alata in wild canids in Latvia. Parasitol Res 117:3743

Pearson JC (1956) Studies of the life cycles and morphology of the larval stages of Alaria arisaemoides and Alaria canis (Trematoda: Diplostomatidae). Can J Zool 34:295–387

Rentería-Solis Z, Hamedy A, Michler FU, Michler BA, Lücker E, Stier N, Wibbelt G, Riehn K (2013) Alaria alata mesocercariae in raccoons (Procyon lotor) in Germany. Parasitol Res 112:3595–3600

Riehn K, Hamedy A, Große K, Zeitler L, Lücker E (2010) A novel detection method for Alaria alata mesocercariae in meat. Parasitol Res 107:213–220

Rodríguez-Ponce E, González JF, Conde de Felipe M, Hernández JN, Raduan Jaber J (2016) Epidemiological survey of zoonotic helminths in feral cats in Gran Canaria island (Macaronesian archipelago-Spain). Acta Parasitol 61:443–450

Roepstorff A, Nansen P (1998) Epidemiology, diagnosis and control of helminth parasites of swine: FAO animal health manual NO 3. Rome

Schmidt-Posthaus H, Breitenmoser-Würsten C, Posthaus H, Bacciarini L, Breitenmoser U (2002) Causes of mortality in reintroduced Eurasian Lynx in Switzerland. J Wildl Dis 38:84–92

Shoop WL (1991) Vertical transmission of helminths, hypobiosis and the concept of amphiparatenesis. Parasitol Today 7:51–54

Shoop WL (1994) Vertical transmission in the trematoda. Proc Helminthol Soc Wash 61:153–161

Shoop WL, Corkum KC (1983) Migration of Alaria marcianae (Trematoda) in domestic cats. J Parasitol 69:912–917

Shoop WL, Corkum KC (1987) Maternal transmission by Alaria marcianae (Trematoda) and the concept of amphiparatenesis. J Parasitol 73:110–115

Szczęsna J, Popiołek M, Schmidt K, Kowalczyk R (2008) Coprological study on helminth fauna in Eurasian Lynx (Lynx lynx) from the Białowieża Primeval Forest in Eastern Poland. J Parasitol 94:981–984

Tăbăran F, Sandor AD, Marinov M, Cătoi C, Mihalca AD (2013) Alaria alata infection in European mink. Emerg Infect Dis 19:1547

Takeuchi-Storm N, Mejer H, Al-Sabi MN, Olsen CS, Thamsborg SM, Enemark HL (2015) Gastrointestinal parasites of cats in Denmark assessed by necropsy and concentration McMaster technique. Vet Parasitol 214:327–332

Umhang G, Woronoff-Rhen N, Combes B, Boué F (2011) Segmental sedimentation and counting technique (SSCT): an adaptable method for qualitative diagnosis of Echinococus multilocularis in fox intestines. Exp Parasitol 128:57–60

Valdmann H, Moks E, Talvik H (2004) Helminth Fauna of Eurasian Lynx (Lynx lynx) in Estonia. J Wildl Dis 40:356–360

Yastrebov VB, Gorokhov VV, Shestakov AM (2005) To the detection of the trematode mesocercariae Alaria alata in the blood of domestic dogs and cats (russ.). Medicina Moskva 4:48–51

Žunna A, Ozoliņš J, Stepanova A, Ornicāns A, Bagrade G (2011) Food habits of the lynx (Lynx lynx) in Latvia based on hunting data. In: Stubbe M (ed) Beiträge zur Jagd und Wildforschung, Band 36. Gesellschaft für Wildtier- und Jagdforschung e.V., Halle/ Saale, pp 309–317
Acknowledgments
We would like to thank first the staff of the Institute for Food Safety, Animal Health and Environment "BIOR" and especially Maira Mateusa for her valuable help in the laboratory; the Latvian State Forest Research Institute "SILAVA" and especially Gundega Done for her research on age determination of lynx; and lastly, the volunteer hunters, for their cooperation and positive attitude towards studying sylvatic carnivores.
Ethics declarations
Conflict of interest
The authors declare that they have no conflict of interest.
Additional information
Publisher's note
Springer Nature remains neutral with regard to jurisdictional claims in published maps and institutional affiliations.
Section Editor: Hiroshi Sato
About this article
Cite this article
Ozoliņa, Z., Bagrade, G. & Deksne, G. First confirmed case of Alaria alata mesocercaria in Eurasian lynx (Lynx lynx) hunted in Latvia. Parasitol Res 119, 759–762 (2020). https://doi.org/10.1007/s00436-019-06556-8
Received:

Accepted:

Published:

Issue Date:
Keywords
Mesocercariae

Latvia

Definitive host

Paratenic host

Felids