Abstract
Transmission electron microscopy (TEM) was used to study the ultrastructure of the uterus and egg morphology in the enigmatic bothriocephalidean tapeworm Tetracampos ciliotheca. The uterine wall, underlain by well-developed muscle bundles, consists of a syncytial epithelium which is characterized by the abundance of free ribosomes, mitochondria and cisternae of granular endoplasmic reticulum (GER). On the apical surface of the uterine epithelium, there is an abundant network of cytoplasmic microlamellae projecting into the uterine lumen. The lumen is filled with freely lying eggs which are located close to the uterine wall but do not contact with the microlamellae of the uterine epithelium. The developed eggs possess an oncosphere surrounded by four envelopes: (1) a thin egg shell; (2) an outer envelope; (3) a syncytial, ciliated inner envelope; and (4) the oncospheral membrane. The mature hexacanth is armed with three pairs of oncospheral hooks, as well as somatic and hook muscles and five types of cells (1) binucleated subtegumental cell, (2) somatic cells, (3) penetration gland cells, (4) nerve cells and (5) germinative cells. Considering the relative scarcity of descriptive and comparative studies on the ultrastructure of the uterus and egg morphology in the order Bothriocephalidea, we concluded that Tet. ciliotheca displays a unique type of egg development. Based on these results, we discuss plausible ideas relating to the function of these structures for consideration in future studies.
This is a preview of subscription content, log in to check access.
Access options
Buy single article
Instant access to the full article PDF.
US$ 39.95
Price includes VAT for USA
Subscribe to journal
Immediate online access to all issues from 2019. Subscription will auto renew annually.
US$ 199
This is the net price. Taxes to be calculated in checkout.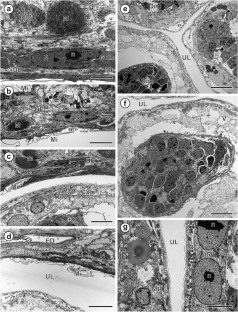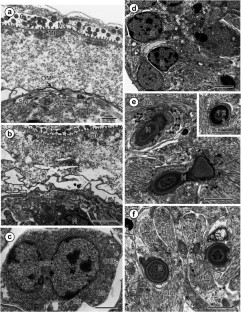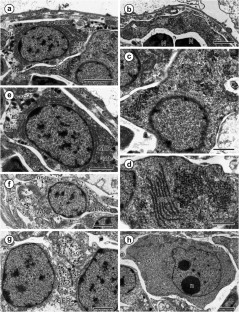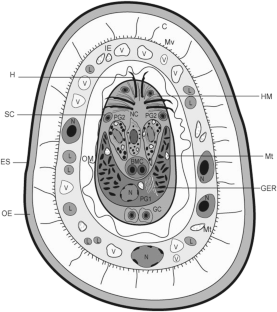 References
Berrada-Rkhami O, Gabrion C (1990) The fine structure of the embryonic envelopes before and after hatching in bothriocephalids: physiological and ecological significance. Parasitol Res 76:251–262

Beveridge I (2001) The use of life-cycle characters in studies of the evolution of cestodes. In: Littlewood DTJ, Bray RA (eds) Interrelationships of the Platyhelminthes, The Systematics Association Special Volume Series 60. Taylor & Francis, London and New York, pp 250–256

Brabec J, Waeschenbach A, Scholz T, Littlewood DTJ, Kuchta R (2015) Molecular phylogeny of the Bothriocephalidea (Cestoda): molecular data challenge morphological classification. Int J Parasitol 45:761–771

Bruňanská M, Mackiewicz JS, Młocicki D, Świderski Z, Nebesářová J (2012) Early intrauterine embryonic development in Khawia sinensis Hsü, 1935 (Cestoda, Caryophyllidea, Lytocestidae), an invasive tapeworm of carp (Cyprinus carpio): an ultrastructural study. Parasitol Res 110:1009–1017

Coil WH (1979) Studies on the embryogenesis of the tapeworm Cittotaenia variabilis (Stiles, 1895) using transmission and scanning electron microscopy. Z Parasitenkd 59:151–159

Conn DB (1985) Fine structure of the embryonic envelopes of Oocoristic anolis. Z Parasitenkd 71:639–648

Conn DB (1988) Development of the embryonic envelopes of Mesocestoides lineatus (Cestoda: Cyclophyllidea). Invertebr Reprod Dev 14:119–130

Conn DB (1999) Ultrastructure of the embryonic envelopes and associated maternal structures of Distoichometra bufonis (Platyhelminthes, Cestoidea, Nematotaeniidae). Acta Parasitol 44:4–10

Conn DB, Forman LA (1993) Morphology and fine structure of the gravid uterus of the three hymenolepidid tapeworm species (Platyhelminthes: Cestoda). Invertebr Reprod Dev 23:95–103

Conn DB, Świderski Z (2008) A standardised terminology of the embryonic envelopes and associated developmental stages of tapeworms (Platyhelminthes: Cestoda). Folia Parasitol 55:42–52

Fairweather I, Threadgold LT (1981) Hymenolepis nana: the fine structure of the embryonic envelopes. Parasitology 82:429–443

Grammeltvedt A-F (1973) Differentiation of the tegument and associated structures in Diphyllobothrium dendriticum Nitsch (1824) (Cestoda: Pseudophyllidea). An electron microscopical study. Int J Parasitol 3:321–327

Jabbar A, Crowford S, Młocicki D, Świderski Z, Conn DB, Jones MJ, Beveridge I, Lightowlers MW (2010) Ultrastructural reconstruction of Taenia ovis oncospheres from serial sections. Int J Parasitol 40:1419–1431

Korneva JV (1994) Cell compound and ultrastructure organisation of the coracidium Triaenophorus nodulosus (Cestoda: Pseudophyllidea). Parazitologiya 28:276–282 (In Russian)

Korneva JV (2004) Fine structure and development of Triaenophorus nodulosus (Cestoda) during metamorphosis: a review. Acta Zool 85:59–68

Korneva JV (2005) Placental type interactions and evolutionary trends of development of uterus in cestodes. J Evol Biochem Physiol 41:552–560

Kuchta R, Scholz T (2017) Bothriocephalidea. In: Caira JN, Jensen K (eds). Planetary Biodiversity Inventory (2008–2017): Tapeworms from vertebrate bowels of the Earth. University of Kansas, Natural History Museum, Special Publication No. 25, Lawrence, pp 29–45

Kuchta R, Shinn AP, Hanzelová V, Scholz T (2006) A comparative study of the egg morphology of four species of Eubothrium (Cestoda: Pseudophyllidea) with comments on their subsequent development. Invertebr Biol 125:1–8

Kuchta R, Scholz T, Bray RA (2008) Revision of the order Bothriocephalidea Kuchta, Scholz, Brabec & Bray, 2008 (Eucestoda) with amended generic diagnoses and keys to families and genera. Syst Parasitol 71:81–136

Kuchta R, Burinova A, Jirků M, de Chambrier A, Oros M, Brbec J, Scholz T (2012) Bothriocephalidean tapeworms (Cestoda) of freshwater fish in Africa, including erection of Kirstenella n. gen. and description of Tetracampos martinae n. sp. Zootaxa 3309:1–35

Kuchta R, Scholz T, Brabec J, Narduzzi-Wicht B (2015) Chapter 17. Diphyllobothrium, Diplogonoporus, and Spirometra. In: Xiao L, Ryan U, Feng Y (eds) Biology of foodborne parasites. CRC Press, Boca Raton, pp 299–326

Kuperman BI (1988) Functional morphology of lower cestodes: ontogenetic and evolutionary aspects. Nauka, Leningrad (In Russian)

Lethbridge RC (1980) The biology of the oncosphere of cyclophyllidean cestodes. Helminthol Abstr Ser A, Anim Hum Helminthol 49:59–72

Levron C, Scholz T, Vancová M, Kuchta R, Conn DB (2016) Ultrastructure of embryonated eggs of the cestode Gyrocotyle urna (Gyricotylidea) using cryo-methods. Zoomorphology 135:279–289

Lumsden RD, Oaks JA, Mueller JF (1974) Brush border development in the tegument of the tapeworm, Spirometra mansonoides. J Parasitol 60:209–226

Młocicki D, Świderski Z, Miquel J, Eira C, Connn DB (2006) Cellular organization of the oncosphere of Mosgovoyia ctenoides (Cestoda: Anoplocephalidae). J Parasitol 92:953–961

Młocicki D, Świderski Z, Bruňanská M, Conn DB (2010a) Functional ultrastructure of the hexacanth larvae in the bothriocephalidean cestode Eubothrium salvelini (Schrank 1790) and its phylogenetic implications. Parasitol Int 59:539–548

Młocicki D, Świderski Z, Mackiewicz JS, Ibraheem MH (2010b) Ultrastructure of intrauterine eggs: Evidence of early ovoviviparity in the caryophyllidean cestode Wenyonia virilis Woodland, 1923. Acta Parasitol 55:349–358

Nieland ML (1968) Electron microscope observations on the egg of Taenia taeniaeformis. J Parasitol 54:957–969

Reynolds ES (1963) The use of lead citrate at high pH as an electron-opaque stain in electron microscopy. J Cell Biol 17:208–212

Rybicka K (1966) Embryogenesis in cestodes. Adv Parasitol 4:107–186

Rybicka K (1972) Ultrastructure of embryonic envelopes and their differentiation in Hymenolepis diminuta (Cestoda). J Parasitol 58:849–863

Rybicka K (1973) Ultrastructure of the embryonic syncytial epithelium in a cestode Hymenolepis diminuta. Parasitology 66:9–18

Scholz T, Kuchta R (2018) Chapter 4.6. Cestoda. In: Scholz T, Vanhove MPM, Smit N, Jayasundera Z, Gelnar M (eds.). A guide to the parasites of African freshwater fishes. Abc Taxa 18:269–286

Scholz T, Takemoto RM, Kuchta R (2017) First freshwater bothriocephalidean (Cestoda) from tropical South America, closely related to African taxa. J Parasitol 103:747–755

Smyth JD (1969) The physiology of cestodes. W.H. Freeman Comp, San Francisco

Staehelin AL (1974) Structure and function of intercellular junctions. Int Rev Cytol 39:191–283

Świderski Z (1994a) Origin, differentiation and ultrastructure of egg envelopes surrounding the coracidia of Bothriocephalus clavibothrium (Cestoda, Pseudophyllidea). Acta Parasitol 39:73–81

Świderski Z (1994b) Homology and analogy in egg envelopes surrounding miracidia of Schistosoma mansoni and coracidia of Bothriocephalus clavibothrium. Acta Parasitol 39:123–130

Świderski Z, Mackiewicz JS (2004) Ultrastructural studies on the cellular organization of the coracidia of the cestode Bothriocephalus clavibothrium Ariola, 1899 (Pseudophyllidea, Bothriocephalidae). Acta Parasitol 49:116–139

Świderski Z, Mokhtar F (1974) Etude de la vitellogénese de Bothriocephalus clavibothrium Ariola, 1899 (Cestoda: Pseudophyllidea). Z Parasinkund 43:135–149

Świderski Z, Tkach V (1997) Differentiation and ultrastructure of oncospheral and uterine envelopes in the nematotaeniid cestode, Nematotaenia dispar (Goeze, 1782). Int J Parasitol 27:1065–1074

Świderski Z, Tkach V (2002) Ultrastructure of embryonic development of Inermicapsifer madagascariensis (Cestoda, Anoplocephalidae) with emphasis on the cellular organisation of the infective eggs. Acta Parasitol 45:105–120

Świderski Z, Xylander WER (2000) Vitellocytes and vitellogenesis in cestodes in relation to embryonic development egg production and life cycles. Int J Parasitol 30:805–817

Świderski Z, Salamatin RV, Grytner-Zięcina B, Kornyushin VV, Conn DB (2004) Electron microscope study on oncospheral envelop morphogenesis in the dilepidid cestode, Dilepis undula (Schrank, 1788). Acta Parasitol 49:300–308

Świderski Z, Bruňanská M, Młocicki D, Conn DB (2005) Ultrastructure of the oncospheral envelopes in the pseudophyllidean cestode Eubothrium salvelini (Schrank, 1790). Acta Parasitol 50:312–318

Świderski Z, Gibson DI, Santos MJ, Poddubnaya LG (2010) Ultrastructure of the intrauterine eggs of Didymobothrium rudolphii (Monticelli, 1890) (Cestoda, Spathebothriidea, Acrobothriidae) and its phylogenetic implications. Acta Parasitol 55:254–269

Świderski Z, Miquel J, Torres J, Delgado E (2013) Early intrauterine embryonic development of the bothriocephalidean cestode Clestobothrium crassiceps (Rudolphi, 1819), a parasite of the teleost Merluccius merluccius (L., 1758) (Gadiformes: Merlucciidae). C R Biol 336:321–330

Świderski Z, Miquel J, Azzouz-Maache S, Pétavy A-F (2018a) Echinococcus ultilocularis (Cestoda, Cyclophyllidea, Taeniidae): origin, differentiation and functional ultrastructure of the oncospheral tegument and hook region membrane. Parasitol Res 117:783–791

Świderski Z, Miquel J, Azzouz-Maache S, Pétavy A-F (2018b) Echinococcus multilocularis (Cestoda, Cyclophyllidea, Taeniidae): functional ultrastructure of the penetration glands and nerve cells within the oncosphere. Parasitol Res 117:2653–2663

Timofeev VA, Kuperman BI (1967) Ultrastructure of the ciliated envelope of the coracidia of Triaenophorus nodulosus (Pall.). Parazitologiya 1:124–130 (In Russian)

Wikgren M (1986) The nervous system of early larval stages of the cestode Diphyllobothrium dendriticum. Acta Zool 67:155–163
Acknowledgements
We acknowledge the Laboratory of EM, Biology Centre of ASCR, institution supported by the MEYS CR (LM2015062 Czech-BioImaging) for allowing the use of their facilities and Hannes Erasmus, Wynand Malherbe, Ruan Gerber and Marelize Labuschagne (NWU_Water Research group) for their assistants during fieldwork in South Africa.
Funding
This study was supported by the Czech Science Foundation program EXPRO (project no. 19-28399). Research funding for RK's visit to South Africa (SA) and field work in SA was received from the National Research Foundation (NRF) of SA (NRF project GERM160623173784, grant 105875, NJ Smit, PI).
Ethics declarations
Disclaimer
Any opinion, finding and conclusion or recommendation expressed in this publication is that of the authors and the NRF does not accept any liability in this regard.
Conflict of interest
The authors declare that they have no conflict of interest.
Ethical approval
The necessary permit (HO 09/03/2017-125 NW, North West Province, Department of Rural, Environmental and Agricultural Development) and ethical clearance (North-West University AnimCare Ethics committee approval number NWU-00282-17-A5) for collecting, euthanizing and dissecting fish were obtained prior to sampling.
Additional information
Publisher's note
Springer Nature remains neutral with regard to jurisdictional claims in published maps and institutional affiliations.
Section Editor: David Bruce Conn
About this article
Cite this article
Yoneva, A., Kuchta, R. & Smit, N. Ultrastructure of the uterus, embryonic envelopes and the coracidium of the enigmatic tapeworm Tetracampos ciliotheca (Cestoda: Bothriocephalidea) from African sharptooth catfish (Clarias gariepinus). Parasitol Res (2020). https://doi.org/10.1007/s00436-019-06496-3
Received:

Accepted:

Published:
Keywords
Bothriocephalidea

TEM

Egg

Evolution

Oncosphere