Abstract
Artemisinin, extracted from a medicinal herb Artemisia annua, is widely used to treat malaria and has shown potent anticancer activity. Artemisinin has been found to be effective against experimental visceral and cutaneous leishmaniasis. Despite extensive research to understand the complex mechanism of resistance to artemisinin, several questions remain unanswered. The artesunate (ART)-resistant line of Leishmania donovani was selected and cellular mechanisms associated with resistance to artemisinin were investigated. ART-resistant (AS-R) parasites showed reduced susceptibility towards ART both at promastigote and amastigote stage compared with ART sensitive (WT) parasites. WT and AS-R parasites were both more susceptible to ART at the early log phase of growth compared with late log phase. AS-R parasites were more infective to the host macrophages (p < 0.05). Evaluation of parasites' tolerance towards host microbicidal mechanisms revealed that AS-R parasites were more tolerant to complement-mediated lysis and nitrosative stress. ROS levels were modulated in presence of ART in AS-R parasites infected macrophages. Interestingly, infection of macrophages by AS-R parasites led to modulated levels of host interleukins, IL-2 and IL-10, in addition to nitric oxide. Additionally, AS-R parasites showed upregulated expression of genes of unfolded protein response pathway including methyltransferase domain-containing protein (HSP40) and flagellar attachment zone protein (prefoldin), that are reported to be associated with ART resistance in Plasmodium falciparum malaria. This study presents in vitro model of artemisinin-resistant Leishmania parasite and cellular mechanisms associated with ART resistance in Leishmania.
This is a preview of subscription content, log in to check access.
Access options
Buy single article
Instant access to the full article PDF.
US$ 39.95
Price includes VAT for USA
Subscribe to journal
Immediate online access to all issues from 2019. Subscription will auto renew annually.
US$ 199
This is the net price. Taxes to be calculated in checkout.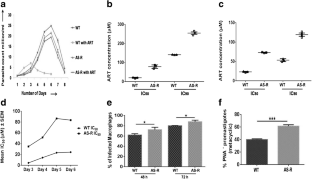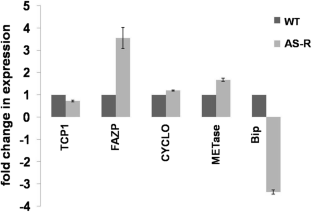 References
Avishek K, Kaushal H, Gannavaram S, Dey R, Selvapandiyan A, Ramesh V, Negi NS, Dubey US, Nakhasi HL, Salotra P (2016) Gene deleted live attenuated Leishmania vaccine candidates against visceral leishmaniasis elicit pro-inflammatory cytokines response in human PBMCs. Sci Rep 6:33059

Banumathy G, Singh V, Pavithra SR, Tatu U (2003) Heat shock protein 90 function is essential for Plasmodium falciparum growth in human erythrocytes. J Biol Chem 278(20):18336–18345

Bhandari V, Sundar S, Dujardin JC, Salotra P (2014) Elucidation of cellular mechanisms involved in experimental paromomycin resistance in Leishmania donovani. Antimicrob Agents Chemother 58(5):2580–2585

Carter KC, Hutchison S, Boitelle A, Murray HW, Sundar S, Mullen AB (2005) Sodium stibogluconate resistance in Leishmania donovani correlates with greater tolerance to macrophage antileishmanial responses and trivalent antimony therapy. Parasitology 131(06):747

Danso-Appiah A, Garner P, Olliaro PL, Utzinger J (2009) Treatment of urinary schistosomiasis: methodological issues and research needs identified through a Cochrane systematic review. Parasitology 136:1837–1849

Deep DK, Singh R, Bhandari V, Verma A, Sharma V, Wajid S, Sundar S, Ramesh V, Dujardin JC, Salotra P (2017) Increased miltefosine tolerance in clinical isolates of Leishmania donovani is associated with reduced drug accumulation, increased infectivity and resistance to oxidative stress. PLoS Negl Trop Dis 11(6):e0005641

Dobbin CA, Smith NC, Johnson AM (2002) Heat shock protein 70 is a potential virulence factor in murine Toxoplasma infection via immunomodulation of host NF- κB and nitric oxide. J Immunol 169:958–965

Ghaffarifar F, Heydari FE, Dalimi A, Hassan ZM, Delavari M, Mikaeiloo H (2015) Evaluation of apoptotic and antileishmanial activities of artemisinin on promastigotes and BALB/C mice infected with Leishmania major. Iran J Parasitol 10(2):258–267

Graefe SE, Wiesgigl M, Gaworski I, Macdonald A, Clos J (2002) Inhibition of HSP90 in Trypanosoma cruzi induces a stress response but no stage differentiation. Eukaryot Cell 1(6):936–943

Hagens CV, Walter-Sack I, Goeckenjan M, Osburg J, Storch-Hagenlocher B, Sertel S, Elsasser M, Remppis BA, Edler L, Munzinger J, Efferth T, Schneeweiss A, Strowitzki T (2017) Prospective open uncontrolled phase I study to define a well tolerated dose of oral artesunate as add-on therapy in patients with metastatic breast cancer (ARTIC M33/2). Breast Cancer Res Treat DOI 164:359–369. https://doi.org/10.1007/s10549-017-4261-1

Jansen FH, Adoubi I, KC JC, Cnodder TD, Jansen N, Tschulakow A, Efferth T (2011) First study of oral artenimol-R in advanced cervical cancer: clinical benefit, tolerability and tumor markers. Anticancer Res 31:4417–4422

Keiser J, Shu-Hua X, Jian X, Zhen-San C, Odermatt P, Tesana S (2006) Effect of artesunate and artemether against Clonorchis sinensis and Opisthorchis viverrini in rodent models. Int J Antimicrob Agents 28:370–373

Klonis N, Xie SC, McCaw JM, Crespo-Ortiz MP, Zaloumis SG, Simpson JA, Tilley L (2013) Altered temporal response of malaria parasites determines differential sensitivity to artemisinin. Proc Natl Acad Sci 110(13):5157–5162

Krishna S, Ganapathi S, Ster IC, Saeed MEM, Cowand M, Finlayson C, Kovacsevics H, Jansene H, Kremsner PG, Efferth T, Kumar D (2015) A randomised, double blind, placebo-controlled pilot study of oral artesunate therapy for colorectal cancer. E Bio Medicine 2:82–90

Kulshrestha A, Singh R, Kumar D, Negi NS, Salotra P (2011) Antimony-resistant clinical isolates of Leishmania donovani are susceptible to paromomycin and sitamaquine. Antimicrob Agents Chemother 55(6):2916–2921

Kulshrestha A, Bhandari V, Mukhopadhyay R, Ramesh V, Sundar S, Maes L, Dujardin JC, Roy S, Salotra P (2013) Validation of a simple resazurin-based promastigote assay for the routine monitoring of miltefosine susceptibility in clinical isolates of Leishmania donovani. Parasitol Res 112(2):825–828

Kumar D, Singh R, Bhandari V, Kulshrestha A, Negi NS, Salotra P (2012) Biomarkers of antimony resistance: need for expression analysis of multiple genes to distinguish resistance phenotype in clinical isolates of Leishmania donovani. Parasitol Res 111:223–230

Miller MA, McGowan SE, Gantt KR, Champion M, Novick SL, Andersen KA, Bacchi CJ, Yarlett N, Britigan BE, Wilson ME (2000) Inducible resistance to oxidant stress in the protozoan Leishmania chagasi. J Biol Chem 275(43):33883–33889

Mok S, Imwong M, Mackinnon MJ, Sim J, Ramadoss R, Yi P, Mayxay M, Chotivanich K, Liong KY, Russell B, Socheat D, Newton PN, Day NP, White NJ, Preiser PR, Nosten F, Dondorp AM, Bozdech Z (2011) Artemisinin resistance in Plasmodium falciparum is associated with an altered temporal pattern of transcription. BMC Genomics 12:391

Mok S, Ashley EA, Ferreira PE, Zhu L, Lin Z, Yeo T, Chotivanich K, Imwong M, Pukrittayakamee S, Dhorda M, Nguon C, Lim P, Amaratunga C, Suon S, Hien TT, Htut Y, Faiz MA, Onyamboko MA, Mayxay M, Newton PN, Tripura R, Woodrow CJ, Miotto O, Kwiatkowski DP, Nosten F, Day NPJ, Preiser PR, White NJ, Dondorp AM, Fairhurst RM, Bozdech Z (2015) Population transcriptomics of human malaria parasites reveals the mechanism of artemisinin resistance. Science 347(6220):431–435

Ouakad M, Vanaerschot M, Rijal S, Sundar S, Speybroeck N, Kestens L, Boel L, De Doncker S, Maes I, Decuypere S, Dujardin JC (2011) Increased metacyclogenesis of antimony-resistant Leishmania donovani clinical lines. Parasitology 138:1392–1399

Paloque L, Ramadani AP, Mercereau-Puijalon O, Augereau JM, Benoit-Vical F (2016) Plasmodium falciparum: multifaceted resistance to artemisinins. Malar J 15:149

Reiling L, Jacobs T, Kroemer M, Gaworski I, Graefe S, Clos J (2006) Spontaneous recovery of pathogenicity by Leishmania major hsp100−/− alters the immune response in mice. Infect Immun 74(11):6027–6036

Requena JM, Montalvo AM, Fraga J (2015) Molecular chaperones of Leishmania: central players in many stress-related and -unrelated physiological processes. Biomed Res Int 2015:301326

Rezai HR, Sher S, Gettner S (1969) Leishmania tropica, L. donovani, and L. enriettii: immune rabbit serum inhibitory in vitro. Exp Parasitol 26:257–263

Rocamora F, Zhu L, Liong KY, Dondorp A, Miotto O, Mok S, Bozdech Z (2018) Oxidative stress and protein damage responses mediate artemisinin resistance in malaria parasites. PLoS Pathog 14(3):e1006930

Sen R, Bandyopadhyay S, Dutta A, Mandal G, Ganguly S, Saha P, Chatterjee M (2007) Artemisinin triggers induction of cell-cycle arrest and apoptosis in Leishmania donovani promastigotes. J Med Microbiol 56:1213–1218

Seraphim T, Ramos C, Borges J (2014) The interaction networks of Hsp70 and Hsp90 in the Plasmodium and Leishmania parasites. In: Houry W (ed) The molecular chaperones interaction networks in protein folding and degradation. Interactomics and systems biology (book chapter), vol 1. Springer, New York. https://doi.org/10.1007/978-1-4939-1130-1_17

Sreenivas G, Singh R, Selvapandiyan A, Negi NS, Nakhasi HL, Salotra P (2004) Arbitrary-primed PCR for genomic fingerprinting and identification of differentially regulated genes in Indian isolates of Leishmania donovani. Exp Parasitology 116:110–118

Sunter JD, Benz C, Andre J, Whipple S, McKean PG, Gull K, Ginger ML, Lukeš J (2015) Modulation of flagellum attachment zone protein FLAM3 and regulation of the cell shape in Trypanosoma brucei life cycle transitions. J Cell Sci 128(16):3117–3130

Tilley L, Straimer J, Gnädig NF, Ralph SA, Fidock DA (2016) Artemisinin action and resistance in Plasmodium falciparum. Trends Parasitol 32(9):682–696

Want MY, Islamuddin M, Chouhan G, Ozbak HA, Hemeg HA, Dasgupta AK, Chattopadhyay AP, Afrin F (2015) Therapeutic efficacy of artemisinin-loaded nanoparticles in experimental visceral leishmaniasis. Colloids Surf B Biointerfaces 130:215–221

Want MY, Islammudin M, Chouhan G, Ozbak HA, Hemeg HA, Chattopadhyay AP, Afrin F (2017) Nanoliposomal artemisinin for the treatment of murine visceral leishmaniasis. Int J Nanomedicine 12:2189–2204

Wiesgigl M, Clos J (2001) Heat shock protein 90 homeostasis controls stage differentiation in Leishmania donovani. Mol Biol Cell 12:3307–3316

World Health Organization, 2016 World Malaria Report. http://www.who.int/malaria/media/world-malaria-report-2016/en/ (accessed 25 August 2018)

van Agtmael MA, Eggelte TA, van Boxtel SJ (1999) Artemisinin drugs in the treatment of malaria: from medicinal herb to registered medication. Trends Pharmacol Sci 20:199–205

Vanaerschot M, De Doncker S, Rijal S, Maes L, Dujardin JC, Decuypere S (2011) Antimonial resistance in Leishmania donovani is associated with increased in vivo parasite burden. PLoS One 6(8):e23120. https://doi.org/10.1371/journal.pone.0023120

Verma A, Bhandari V, Deep DK, Sundar S, Dujardin JC, Singh R, Salotra P (2017) Transcriptome profiling identifies genes/pathways associated with experimental resistance to paromomycin in Leishmania donovani. Int J Parasitol Drugs Drug Resist 7(3):370–377

Yang DM, Liew FY (1993) Effects of qinghaosu (artemisinin) and its derivatives on experimental cutaneous leishmaniasis. Parasitology. 106:7–11
Funding
This work was supported by the Indian Council of Medical Research (ICMR, India) grant no. 53/16/2012-CMB/BMS to RS. AV and SG are grateful to ICMR for financial support.
Ethics declarations
Conflict of interest
The authors declare that they have no competing interests.
Additional information
Publisher's note
Springer Nature remains neutral with regard to jurisdictional claims in published maps and institutional affiliations.
Section Editor: Nawal Hijjawi
Electronic supplementary material
About this article
Cite this article
Verma, A., Ghosh, S., Salotra, P. et al. Artemisinin-resistant Leishmania parasite modulates host cell defense mechanism and exhibits altered expression of unfolded protein response genes. Parasitol Res 118, 2705–2713 (2019). https://doi.org/10.1007/s00436-019-06404-9
Received:

Accepted:

Published:

Issue Date:
Keywords
Leishmania donovani

Artemisinin resistance

Parasite fitness

Immune modulation

HSP 40

Prefoldin