Abstract
In this study, we evaluated in two trials a protocol designed to protect hair sheep using Barbervax®, a vaccine containing Haemonchus contortus gut membrane glycoprotein antigens. Results indicated that naturally infected vaccinated sheep had significant egg count reductions (90.2 ± 4.03%) compared with controls, although blood parameters remained relatively unchanged probably because the level of challenge was low. Vaccination prevented the periparturient rise in egg shedding of ewes, as well as egg shedding in lambs (37.1%). In the second trial, sheep which were experimentally exposed to higher artificial challenge also showed an efficient response to the vaccine as confirmed by high antibody levels and reduced egg counts and worm burdens (87 ± 5.4% and 79%) respectively. Thus, we believe that the vaccine should be integrated with other management practices for meat hair sheep as it has the advantages of adequate efficacy, reducing anthelmintic utilization and avoiding milk and environmental contamination with chemical residues.
This is a preview of subscription content, log in to check access.
Access options
Buy single article
Instant access to the full article PDF.
US$ 39.95
Price includes VAT for USA
Subscribe to journal
Immediate online access to all issues from 2019. Subscription will auto renew annually.
US$ 199
This is the net price. Taxes to be calculated in checkout.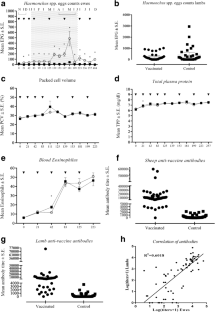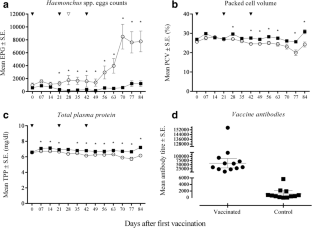 References
Albers GAA, Gray GD, Le Jambre LF et al (1990) The effect of Haemonchus contortus infection on haematological parameters in young merino sheep and its significance for productivity. Anim Sci 50:99–109

Amarante AFT, Susin I, Rocha RA, Silva MB, Mendes CQ, Pires AV (2009) Resistance of Santa Ines and crossbred ewes to naturally acquired gastrointestinal nematode infections. Vet Parasitol 165:273–280

Barnes EH, Dobson RJ, Barger IA (1995) Worm control and anthelmintic resistance: adventures with a model. Parasitol Today 11:56–63

Bassetto CC, Amarante AFT (2015) Vaccination of sheep and cattle against haemonchosis. J Helminthol 89:517–525

Bassetto CC, Silva BF, Newlands GFJ et al (2011) Protection of calves against Haemonchus placei and Haemonchus contortus after immunization with gut membrane proteins from H. contortus. Parasite Immunol 33:377–381

Bassetto CC, Picharillo MÉ, Newlands GFJ, Smith WD, Fernandes S, Siqueira ER, Amarante AFT (2014) Attempts to vaccinate ewes and their lambs against natural infection with Haemonchus contortus in a tropical environment. Int J Parasitol 44:1049–1054

Bastos GA, Fonseca LD, Paiva Ferreira AV et al (2017) Helminthiasis characterization and anthelmintic efficacy for ewes and lambs raised in tropical semiarid region. Trop Anim Health Prod 49:937–943

Besier B, Kahn L, Dobson R, Smith D (2015) Barbervax®− a new strategy for haemonchus management. In: Proceedings of the Australian veterinary association (AVA) annual conferences, Pan Pacific (NZVA and AVA) veterinary conference, combined proceedings.168–174

Cachat E, Newlands GFJ, Ekoja SE et al (2010) Attempts to immunize sheep against Haemonchus contortus using a cocktail of recombinant proteases derived from the protective antigen, H-gal-GP. Parasite Immunol 32:414–419

Castells DS, Newlands D, Solari G, et al (2013) Evaluación de una vacuna basacda en antígenos ocultos de Haemonchus contortus en Uruguay. In: XLI Jornadas Uruguayas de Buiatría. 71–74

Coles GC, Jackson F, Pomroy WE, Prichard RK, von Samson-Himmelstjerna G, Silvestre A, Taylor MA, Vercruysse J (2006) The detection of anthelmintic resistance in nematodes of veterinary importance. Vet Parasitol 136:167–185

Dawkins HJS, Windon RG, Eagleson GK (1989) Eosinophil responses in sheep selected for high and low responsiveness to Trichostrongylus colubriformis. Int J Parasitol 19:199–205

de Oliveira PA, Riet-Correa B, Estima-Silva P et al (2017) Multiple anthelmintic resistance in southern Brazil sheep flocks. Rev Bras Parasitol Veterinária 26:427–432

Emery DL, Hunt PW, Le Jambre LF (2016) Haemonchus contortus: the then and now, and where to from here? Int J Parasitol 46:755–769

LeJambre LF, Windon RG, Smith WD (2008) Vaccination against Haemonchus contortus: performance of native parasite gut membrane glycoproteins in merino lambs grazing contaminated pasture. Vet Parasitol 153:302–312

Matos AFIM, Nobre COR, Monteiro JP et al (2017) Attempt to control Haemonchus contortus in dairy goats with Barbervax®, a vaccine derived from the nematode gut membrane glycoproteins. Small Rumin Res 151:1–4

Munn EA, Smith TS, Graham M, Tavernor AS, Greenwood CA (1993a) The potential value of integral membrane proteins in the vaccination of lambs against Haemonchus contortus. Int J Parasitol 23:261–269

Munn EA, Smith TS, Grahama M, Greenwood CA, Tavernor AS, Coetzee G (1993b) Vaccination of merino lambs against haemonchosis with membrane-associated proteins from the adult parasite. Parasitology 106:63–66

NRC (2007) Nutrient requirements of small ruminants: sheep, goats, cervids, and new world camelids. National Academy Press, Washington, D.C

Roberts FHS, O'Sullivan PJ (1950) Methods for egg counts and larval cultures for strongyles infesting the gastro-intestinal tract of cattle. Crop Pasture Sci 1:99–102

Robinson N, Piedrafita D, Snibson K, Harrison P, Meeusen EN (2010) Immune cell kinetics in the ovine abomasal mucosa following hyperimmunization and challenge with Haemonchus contortus. Vet Res 41:37

Santos, JMLd, Monteiro JP, Ribeiro WLC, Macedo ITF, Camurca-Vasconcelos ALF, Vieiro LDS, Bevilaqua CML (2014) Identification and quantification of benzimidazole resistance polymorphisms in Haemonchus contortus isolated in Northeastern Brazil. VETERINARY PARASITOLOGY , v. 199, p. 160–164

Smith WDD (1993) Protection in lambs immunised with Haemonchus contortus gut membrane proteins. Res Vet Sci 54:94–101

Smith WD (2007) Attempts to detect synergy between vaccination and anthelmintic against a drug resistant isolate of Haemonchus contortus. Vet Parasitol 148:356–359

Smith WD, Smith SK (1993) Evaluation of aspects of the protection afforded to sheep immunised with a gut membrane protein of Haemonchus contortus. Res Vet Sci 55:1–9

Smith WD, Zarlenga DS (2006) Developments and hurdles in generating vaccines for controlling helminth parasites of grazing ruminants. Vet Parasitol 139:347–359

Smith TS, Munn EA, Graham M, Tavernor AS, Greenwood CA (1993) Purification and evaluation of the integral membrane protein H11 as a protective antigen against Haemonchus contortus. Int J Parasitol 23:271–280

Smith WD, Smith SK, Pettit D, Newlands GF, Skuce PJ (2000a) Relative protective properties of three membrane glycoprotein fractions from Haemonchus contortus. Parasite Immunol 22:63–71

Smith WD, Smith SK, Pettit D (2000b) Evaluation of immunization with gut membrane glycoproteins of Ostertagia ostertagi against homologous challenge in calves and against Haemonchus contortus in sheep. Parasite Immunol 22:239–247

Souza CJH, Benavides MV, Smith WD, Moraes JC. (2011) Evaluation of low dose immunization with gut membrane glycoproteins of Haemonchus contortus against nematode infection in grazing lambs. In: Proceedings of the 23rd International Conference of the World Association for the Advancement of Veterinary Parasitology. Buenos Aires

Souza MF, Pimentel-Neto M, Pinho ALS et al (2013) Seasonal distribution of gastrointestinal nematode infections in sheep in a semiarid region, northeastern Brazil. Rev Bras Parasitol Veterinária 22:351–359

Tavernor AS, Smith TS, Langford CF et al (1992a) Vaccination of young Dorset lambs against haemonchosis. Parasite Immunol 14:645–655

Tavernor AS, Smith TS, Langford CF et al (1992b) Immune response of Clun Forest sheep to vaccination with membrane glycoproteins from Haemonchus contortus. Parasite Immunol 14:671–675

Ueno H, Gonçalves PC (1988) Manual for diagnosis of helminths of ruminants 2°Ed. Japan International Cooperation Agency, Tokyo

Vieira LS (2008) Métodos alternativos de controle de nematóides gastrintestinais em caprinos e ovinos. Tecnologia & Ciência Agropecuária 2:49–56
Acknowledgments
The authors thank Dr. Alessandro Amarante for technical support.
Funding
The authors thank the FUNCAP, CNPq, EMBRAPA, and Moredun Research Institute for funding this study, and César C. Bassetto received financial support from São Paulo Research Foundation (FAPESP), Grant #2015/00221-2.
Ethics declarations
This study was approved by the Ethics Committee for the Use of Animals of the Universidade Estadual Vale do Acaraú (CEUA protocol number 029.12), and all of procedures were based on Resolution Number 1000 of the Federal Board of Veterinary Medicine (Brazil, 2012).
Conflict of interest
Dr. Smith is employed by Wormvax Australia which is a subsidiary of the Moredun Research Institute, a not for profit organization which manufactures and sells Barbervax®. He supplied the vaccine for the trial and advised on the trial designs, but was not involved in obtaining any of the results.
Additional information
Publisher's note
Springer Nature remains neutral with regard to jurisdictional claims in published maps and institutional affiliations.
Section Editor: Georg von Samson-Himmelstjerna
About this article
Cite this article
Teixeira, M., Matos, A.F.I.M., Albuquerque, F.H.M.A. et al. Strategic vaccination of hair sheep against Haemonchus contortus. Parasitol Res 118, 2383–2388 (2019). https://doi.org/10.1007/s00436-019-06367-x
Received:

Accepted:

Published:

Issue Date:
Keywords
Nematode

Infection

Control

Haemonchus