Abstract
The genus Eimeria comprises obligate intracellular protozoan parasites belonging to the phylum Apicomplexa. Members of this genus cause enteric disease in a wide range of vertebrate hosts, including fish, reptiles, birds, and mammals. A total of 157 species of Eimeria that parasitize fish have been described; however, molecular information regarding these piscine parasites is scarce. In the present study, Eimeria oocysts were detected in 189 of 613 (30.8%) gastrointestinal tracts of brown trout (Salmo trutta) captured in several rivers in Galicia (NW Spain). Measurements of the sporulated oocysts, sporocysts, and other morphological characteristics enabled identification of the oocysts as Eimeria truttae. By molecular analysis of the small subunit ribosomal RNA (SSU-rRNA) gene, a single sequence of ~ 420 bp was obtained in 100 fish samples. After amplification of a ~ 1300-bp fragment of the same locus, two representative sequences that exhibited five nucleotide differences were obtained. Phylogenetic analysis grouped the samples within the piscine clade closest to Eimeria nemethi as they exhibited 96.7% similarity with this species. This study is the first to characterize E. truttae at the molecular level, thus helping to clarify the phylogenetic relationships between this and other Eimeria species isolated from fish and contributing further to the knowledge about this protozoan parasite.
This is a preview of subscription content, log in to check access.
Access options
Buy single article
Instant access to the full article PDF.
US$ 39.95
Price includes VAT for USA
Subscribe to journal
Immediate online access to all issues from 2019. Subscription will auto renew annually.
US$ 199
This is the net price. Taxes to be calculated in checkout.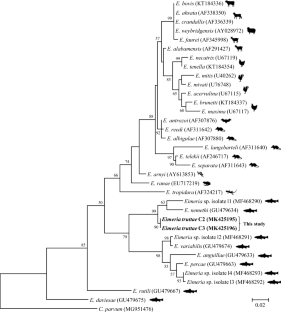 References
Aarthi S, Dhinakar Raj G, Raman M, Gomathinayagam S, Kumanan K (2010) Molecular prevalence and preponderance of Eimeria spp. among chickens in Tamil Nadu, India. Parasitol Res 107:1013–1017. https://doi.org/10.1007/s00436-010-1971-2

Afonso E, Baurand P-E, Tournant P, Capelli N (2014) First amplification of Eimeria hessei DNA from the lesser horseshoe bat (Rhinolophus hipposideros) and its phylogenetic relationships with Eimeria species from other bats and rodents. Exp Parasitol 139:58–62. https://doi.org/10.1016/j.exppara.2014.02.013

Almodóvar A, Nicola GG (2004) Angling impact on conservation of Spanish stream-dwelling brown trout Salmo trutta. Fisheries Manag Ecol 11:173–182. https://doi.org/10.1111/j.1365-2400.2004.00402.x

Álvarez-Pellitero MP, González-Lanza MC (1983) Observaciones sobre la presencia de Eimeria truttae en Salmo spp. de León (NO. de España). Rev Iber Parasitol 43:111–112

Austen JM, Friend JA, Yang R, Ryan UM (2014) Further characterisation of two Eimeria species (Eimeria quokka and Eimeria setonicis) in quokkas (Setonix brachyurus). Exp Parasitol 138:48–54. https://doi.org/10.1016/j.exppara.2014.01.007

Belova LM, Krylov MV (2000) Distribution of coccidians (Sporozoa: Coccidiida) in various systematic groups of fishes. Parazitologiia 34:522–533

Cobo F, Vieira R, Barca S, Sánchez J, Silva S, Nachón D, Gómez P, Morquecho C, Lago L, Couto MT, Servia MJ, Cobo MC (2015) La trucha en la pesca con mosca. Sekotia S. L, Madrid

Couso-Pérez S, Ares-Mazás E, Gómez-Couso H (2019) First Report of Cryptosporidium molnari-like genotype and Cryptosporidium parvum zoonotic subtypes (IIaA15G2R1 and IIaA18G3R1) in brown trout (Salmo trutta). J Parasitol 105:170–179. https://doi.org/10.1645/18-83

Daugschies A, Najdrowski M (2005) Eimeriosis in cattle: current understanding. J Veterinary Med Ser B 52:417–427. https://doi.org/10.1111/j.1439-0450.2005.00894.x

Doadrio I (2002) Atlas y libro rojo de los peces continentales de España, 2nd edn. Ministerio de Medio Ambiente, Madrid

Duszynski DW (1971) Increase in size of Eimeria separata oocysts during patency. J Parasitol 57:948–952

Duszynski D, Wilber P (1997) A guideline for the preparation of species descriptions in the Eimeriidae. J Parasitol 83:333–336. https://doi.org/10.2307/3284470

Gardner SL, Duszynski DW (1990) Polymorphism of eimerian oocysts can be a problem in naturally infected hosts: an example from subterranean rodents in Bolivia. J Parasitol 76:805–811. https://doi.org/10.2307/3282798

Gibson-Kueh S, Yang R, Thuy NTN, Jones JB, Nicholls PK, Ryan U (2011) The molecular characterization of an Eimeria and Cryptosporidium detected in Asian seabass (Lates calcarifer) cultured in Vietnam. Vet Parasitol 181:91–96. https://doi.org/10.1016/j.vetpar.2011.05.004

Kimura M (1980) A simple method for estimating evolutionary rates of base substitutions through comparative studies of nucleotide sequences. J Mol Evol 16:111–120

Kumar S, Stecher G, Tamura K (2016) MEGA7: molecular evolutionary genetics analysis version 7.0 for bigger datasets. Mol Biol Evol 33:1870–1874. https://doi.org/10.1093/molbev/msw054

Léger L, Hesse E (1919) Sur une nouvelle Coccidie parasite de la truite indigène. CR Acad Sci 168:904–906

Long PL, Millard BJ, Shirley MW (1977) Strain variations within Eimeria meleagrimitis from the Turkey. Parasitology 75:177–182

MacCrimmon HR, Marshall TL (1968) World distribution of brown trout, Salmo trutta. J Fish Res Board Can 25:2527–2548. https://doi.org/10.1139/f68-225

Molnar K, Fernando CH (1974) Some new Eimeria spp. (Protozoa, Coccidia) from freshwater fishes in Ontario, Canada. Can J Zool 52:413–419. https://doi.org/10.1139/z74-050

Molnar K, Hanek G (1974) Seven new Eimeria spp. (Protozoa, Coccidia) from freshwater fishes of Canada. J Protozool 21:489–493. https://doi.org/10.1111/j.1550-7408.1974.tb03683.x

Molnár K, Ostoros G, Dunams-Morel D, Rosenthal BM (2012) Eimeria that infect fish are diverse and are related to, but distinct from, those that infect terrestrial vertebrates. Infect Genet Evol 12:1810–1815. https://doi.org/10.1016/j.meegid.2012.06.017

Morrison DA, Wernery U, Kinne J, Mattsson JG (2004) The current status of the small subunit rRNA phylogeny of the coccidia (Sporozoa). Int J Parasitol 34:501–514. https://doi.org/10.1016/j.ijpara.2003.11.006

Power ML, Richter C, Emery S, Jones JB, Nicholls PK, Ryan U (2009) Eimeria trichosuri: phylogenetic position of a marsupial coccidium, based on 18S rDNA sequences. Exp Parasitol 122:165–168. https://doi.org/10.1016/J.EXPPARA.2009.02.008

Pugachev ON, Krylov MV, Belova LM (2010) The finding of coccidia in the trout Salmo trutta from continental waters of Russia. Parazitologiia 44:191–193

Rosenthal BM, Dunams-Morel D, Ostoros G, Molnár K (2016) Coccidian parasites of fish encompass profound phylogenetic diversity and gave rise to each of the major parasitic groups in terrestrial vertebrates. Infect Genet Evol 40:219–227. https://doi.org/10.1016/j.meegid.2016.02.018

Sánchez Hernández J (2009) Biología de la alimentación de la trucha común (Salmo trutta Linné, 1758) en los ríos de Galicia. PhD Thesis. University of Santiago de Compostela

Sharma D, Singh NK, Singh H, Joachim A, Rath SS, Blake DP (2018) Discrimination, molecular characterisation and phylogenetic comparison of porcine Eimeria spp. in India. Vet Parasitol 255:43–48. https://doi.org/10.1016/J.VETPAR.2018.03.020

Xavier R, Severino R, Pérez-Losada M, Gestal C, Freitas R, Harris DJ, Veríssimo A, Rosardo D, Cable J (2018) Phylogenetic analysis of apicomplexan parasites infecting commercially valuable species from the North-East Atlantic reveals high levels of diversity and insights into the evolution of the group. Parasite Vector 11:1–12. https://doi.org/10.1186/s13071-018-2645-7

Yang R, Fenwick S, Potter A, Power M, Beveridge I, Ryan U (2012) Molecular characterization of Eimeria species in macropods. Exp Parasitol 132:216–221. https://doi.org/10.1016/j.exppara.2012.07.003

Zhao X, Duszynski DW (2001) Molecular phylogenies suggest the oocyst residuum can be used to distinguish two independent lineages of Eimeria spp. in rodents. Parasitol Res 87:638–643

Zhao X, Duszynski DW, Loker ES (2001) Phylogenetic position of Eimeria antrozoi, a bat coccidium (Apicomplexa: Eimeriidae) and its relationship to morphologically similar Eimeria spp. from bats and rodents based on nuclear 18S and plastid 23S rDNA sequences. J Parasitol 87:1120–1123. https://doi.org/10.1645/0022-3395(2001)087[1120:PPOEAA]2.0.CO;
Acknowledgments
The authors thank Dr. Emilio del Cacho from the Faculty of Veterinary Sciences of University of Zaragoza (Spain) for providing the E. tenella isolate.
Funding
This study was funded by the Autonomous Government of Galicia (grants GPC2014/069 and ED431C 2017/31).
Ethics declarations
Conflict of interest
The authors declare that they have no conflicts of interest.
Additional information
Publisher's note
Springer Nature remains neutral with regard to jurisdictional claims in published maps and institutional affiliations.
Section Editor: Berit Bangoura
About this article
Cite this article
Couso-Pérez, S., Ares-Mazás, E. & Gómez-Couso, H. First molecular data on Eimeria truttae from brown trout (Salmo trutta). Parasitol Res 118, 2121–2127 (2019). https://doi.org/10.1007/s00436-019-06320-y
Received:

Accepted:

Published:

Issue Date:
Keywords
Eimeria truttae

Wild trout

Morphometric analysis

Molecular characterization