Abstract
The aim of this study was to compare formalin-ethyl acetate concentration and FLOTAC Pellet techniques for the diagnosis of intestinal parasites in human stool samples. The anal swab method was used for the specific detection of Enterobius vermicularis. The study was performed in children and youth from Puerto Madryn (South Argentina). A total of 174 individuals were examined using the formalin-ethyl acetate concentration technique (FECT), the FLOTAC Pellet technique with saturated sodium chloride and zinc sulphate flotation solutions and anal swabs. The performance of copromicroscopic techniques was evaluated according to sensitivity, negative predictive value and Kappa index. Overall, 39.1% of the individuals were parasitised. The most prevalent species was Blastocystis sp. (19%) followed by E. vermicularis (17.8%), Giardia lamblia (6.3%), Entamoeba coli (5.7%), Hymenolepis nana and Endolimax nana (1.1%). The FECT was the most sensitive technique for Blastocystis sp., G. lamblia and E. coli infections, whereas FLOTAC Pellet techniques were the most sensitive for H. nana diagnosis. Anal swabs detected the highest percentage of E. vermicularis infection. This was the first time that the FLOTAC Pellet technique was used to detect intestinal parasites in humans. The FECT continues to be a reliable method for detecting protozoa and the FLOTAC Pellet technique gains importance in the diagnosis of helminths. Anal swab test remains the method of choice for the detection of E. vermicularis. However, when comparing techniques, key factors as preservation methods, preservation times and flotation solutions should be taken into account.
This is a preview of subscription content, log in to check access.
Access options
Buy single article
Instant access to the full article PDF.
US$ 39.95
Price includes VAT for USA
Subscribe to journal
Immediate online access to all issues from 2019. Subscription will auto renew annually.
US$ 199
This is the net price. Taxes to be calculated in checkout.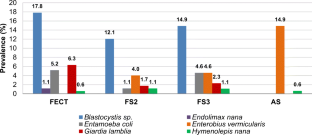 References
Agresti A, Coul BA (1998) Approximate is better than "exact" for interval estimation of binomial proportions. Am Stat 52:119–126

Anécimo RS, Tonani KAA, Fregonesi BM, Mariano AP, Ferrassino MDB, Trevilato TMB, Rodrigues RB, Segura-Muñoz SI (2012) Adaptation of Ritchie's method for parasites diagnosing with minimization of chemical products. Interdiscip Perspect Infect Dis 2012:1–5. https://doi.org/10.1155/2012/409757

Ash LR, Orihel TC (2013) Atlas de Parasitología Humana. Editorial Médica Panamericana, Argentina

Barda BD, Rinaldi L, Ianniello D, Zepherine H, Salvo F, Sadutshang T, Cringoli G, Clementi M, Albonico M (2013) Mini-FLOTAC, an innovative direct diagnostic technique for intestinal parasitic infections: experience from the field. PLoS Negl Trop Dis 7:e2344. https://doi.org/10.1371/journal.pntd.0002344

Barda B, Cajal P, Villagran E, Cimino R, Juarez M, Krolewiecki A, Rinaldi L, Cringoli G, Burioni R, Albonico M (2014) Mini-FLOTAC, Kato-Katz and McMaster: three methods, one goal; highlights from north Argentina. Parasit Vectors 7:271. https://doi.org/10.1186/1756-3305-7-271

Basualdo JA, Córdoba MA, de Luca MM, Ciarmela ML, Pezzani BC, Grenovero MS, Minvielle MC (2007) Intestinal parasitoses and environmental factors in a rural population of Argentina, 2002-2003. Rev Inst Med Trop São Paulo 49:251–255. https://doi.org/10.1590/S0036-46652007000400011

Becker SL, Lohourignon LK, Speich B, Rinaldi L, Knopp S, N'Goran EK, Cringoli G, Utzinger J (2011) Comparison of the Flotac-400 dual technique and the formalin-ether concentration technique for diagnosis of human intestinal protozoon infection. J Clin Microbiol 49:2183–2190. https://doi.org/10.1128/JCM.01035-10

Burkart R, Bárbaro NO, Sánchez RO, Gómez DA (1999) Eco-regiones de la Argentina. Administración de Parques Nacionales, Programa de Desarrollo Institucional Ambiental, Argentina, Buenos Aires

Cazorla DJ, Acosta ME, Zárraga A, Morales P (2006) Estudio clínico-epidemiológico de enterobiasis en preescolares y escolares de Taratara, Estado Falcón, Venezuela. Parasitol Latinoam 61:43–53. https://doi.org/10.4067/S0717-77122006000100007

Cazorla-Perfetti D (2014) Aspectos relevantes de la enterobiosis humana. Revisión crítica Saber 26:221–242

Centers for Disease Control and Prevention (2018). https://www.cdc.gov. Accessed 23 March 2018

Cociancic P, Zonta ML, Navone GT (2017) A cross-sectional study of intestinal parasitoses in dogs and children of the periurban area of La Plata (Buenos Aires, Argentina): zoonotic importance and implications in public health. Zoonoses Public Health 65:e44–e53. https://doi.org/10.1111/zph.12408

Cringoli G, Rinaldi L, Maurelli MP, Utzinger J (2010) FLOTAC: new multivalent techniques for qualitative and quantitative copromicroscopic diagnosis of parasites in animals and humans. Nat Protoc 5:503–515. https://doi.org/10.1038/nprot.2009.235

Cringoli G, Maurelli MP, Levecke B, Bosco A, Vercruysse J, Utzinger J, Rinaldi L (2017) The mini-FLOTAC technique for the diagnosis of helminth and protozoan infections in humans and animals. Nat Protoc 12:1723–1732. https://doi.org/10.1038/nprot.2017.067

Ferrari MP, Bozzano H (2016) Aplicación del método Territorii en dos asentamientos espontáneos de Puerto Madryn. Argentina Papeles Geogr:137–151. https://doi.org/10.6018/geografia/2016/260061

Freeman MC, Ogden S, Jacobson J, Abbott D, Addiss DG, Amnie AG, Beckwith C, Cairncross S, Callejas R, Colford JM, Emerson PM, Fenwick A, Fishman R, Gallo K, Grimes J, Karapetyan G, Keene B, Lammie PJ, MacArthur C, Lochery P, Petach H, Platt J, Prabasi S, Rosenboom JW, Roy S, Saywell D, Schechtman L, Tantri A, Velleman Y, Utzinger J (2013) Integration of water, sanitation, and hygiene for the prevention and control of neglected tropical diseases: a rationale for inter-sectoral collaboration. PLoS Negl Trop Dis 7:e2439. https://doi.org/10.1371/journal.pntd.0002439

Gamboa MI, Kozubsky LE, Costas ME, Garraza M, Cardozo MI, Susevich ML, Magistrello PN, Navone GT (2009) Asociación entre geohelmintos y condiciones socioambientales en diferentes poblaciones humanas de Argentina. Rev Panam Salud Pública 26:1–8. https://doi.org/10.1590/S1020-49892009000700001

Gamboa MI, Navone GT, Orden AB, Torres MF, Castro LE, Oyhenart EE (2011) Socio-environmental conditions, intestinal parasitic infections and nutritional status in children from a suburban neighborhood of La Plata, Argentina. Acta Trop 118:184–189. https://doi.org/10.1016/j.actatropica.2009.06.015

Gamboa MI, Giambelluca LA, Navone GT (2014) Distribución espacial de las parasitosis intestinales en la ciudad de La Plata, Argentina. Medicina B Aires 74:363–373

Garraza M, Zonta ML, Oyhenart EE (2014) Estado nutricional, composición corporal y enteroparasitosis en escolares del departamento de San Rafael, Mendoza, Argentina. Nutr Clínica Dietética Hosp 34:31–40. https://doi.org/10.12873/341garraza

Gerardi F, Santaniello A, Del Prete L, Maurelli MP, Menna LF, Rinaldi L (2018) Parasitic infections in dogs involved in animal-assisted interventions. Ital J Anim Sci 17:269–272. https://doi.org/10.1080/1828051X.2017.1344937

Gualdieri L, Rinaldi L, Petrullo L, Morgoglione ME, Maurelli MP, Musella V, Piemonte M, Caravano L, Coppola MG, Cringoli G (2011) Intestinal parasites in immigrants in the city of Naples (southern Italy). Acta Trop 117:196–201. https://doi.org/10.1016/j.actatropica.2010.12.003

Jeandron A, Abdyldaieva G, Usubalieva J, Ensink JHJ, Cox J, Matthys B, Rinaldi L, Cringoli G, Utzinger J (2010) Accuracy of the Kato-Katz, adhesive tape and FLOTAC techniques for helminth diagnosis among children in Kyrgyzstan. Acta Trop 116:185–192. https://doi.org/10.1016/j.actatropica.2010.08.010

Kaminsky RG (2014) Manual de parasitología: Técnicas para laboratorio de atención primaria de salud y para el diagnóstico de las enfermedades infecciosas desatendidas. Tegucigalpa, Honduras

Knopp S, Speich B, Hattendorf J, Rinaldi L, Mohammed KA, Khamis IS, Mohammed AS, Albonico M, Rollinson D, Marti H, Cringoli G, Utzinger J (2011) Diagnostic accuracy of Kato-Katz and FLOTAC for assessing anthelmintic drug efficacy. PLoS Negl Trop Dis 5:e1036. https://doi.org/10.1371/journal.pntd.0001036

Maurelli MP, Rinaldi L, Alfano S, Pepe P, Coles GC, Cringoli G (2014) Mini-FLOTAC, a new tool for copromicroscopic diagnosis of common intestinal nematodes in dogs. Parasit Vectors 7:356. https://doi.org/10.1186/1756-3305-7-356

Menghi CI, Iuvaro FR, Dellacasa MA, Gatta CL (2007) Investigación de parásitos intestinales en una comunidad aborigen de la provincia de Salta. Medicina B Aires 67:705–708

Milano AMF, Oscherov EB, Palladino AC, Bar AR (2007) Enteroparasitosis infantil en un área urbana del Nordeste Argentino. Medicina B Aires 67:238–242

National Institute of Statistics and Censuses (2018). https://www.indec.gob.ar. Accessed 23 March 2018

Navone GT, Gamboa MI, Kozubsky LE, Costas ME, Cardozo MS, Sisliauskas MN, González M (2005) Estudio comparativo de recuperación de formas parasitarias por tres diferentes métodos de enriquecimiento coproparasitológico. Parasitol Latinoam 60:178–181. https://doi.org/10.4067/S0717-77122005000200014

Navone GT, Zonta ML, Cociancic P et al (2017) Estudio transversal de las parasitosis intestinales en poblaciones infantiles de Argentina. Rev Panam Salud Publica e 24:9

Osman M, El Safadi D, Cian A et al (2016) Prevalence and risk factors for intestinal protozoan infections with Cryptosporidium, Giardia, Blastocystis and Dientamoeba among schoolchildren in Tripoli, Lebanon. PLoS Negl Trop Dis 10:e0004496. https://doi.org/10.1371/journal.pntd.0004496

Ott RL, Longnecker M (2010) Al introduction to statistical methods and data analysis. Brooks/Cole, Cengage Learning, Canada

Pan American Health Organization (2016) Neglected infectious diseases in the Americas. Success stories and innovation to reach the neediest. http://iris.paho.org/xmlui/handle/123456789/31250. Accessed 23 March 2018

Pezzani BC, Minvielle MC, de Luca MM, Córdoba MA, Apezteguía MC, Basualdo JA (2004) Enterobius vermicularis infection among population of General Mansilla, Argentina. World J Gastroenterol 10:2535–2539. https://doi.org/10.3748/wjg.v10.i17.2535

R Core Team (2015) R: a language and environment for statistical computing. R Foundation for Statistical Computing, Vienna

Rinaldi L, Mihalca AD, Cirillo R, Maurelli MP, Montesano M, Capasso M, Cringoli G (2012) FLOTAC can detect parasitic and pseudoparasitic elements in reptiles. Exp Parasitol 130:282–284. https://doi.org/10.1016/j.exppara.2012.01.011

Rivero MR, De Angelo C, Nuñez P et al (2017) Environmental and socio-demographic individual, family and neighborhood factors associated with children intestinal parasitoses at Iguazú, in the subtropical northern border of Argentina. PLoS Negl Trop Dis 11:e0006098. https://doi.org/10.1371/journal.pntd.0006098

Sim J, Wright CC (2005) The kappa statistic in reliability studies: use, interpretation, and sample size requierements. Phys Ther 85:257–268

Socías ME, Fernández A, Gil JF, Krolewiecki AJ (2014) Geohelmintiasis en la Argentina: una revisión sistemática. Medicina B Aires 74:29–36

Soriano SV, Manacorda AM, Pierangeli NB et al (2005) Parasitosis intestinales y su relación con factores socioeconómicos y condiciones de hábitat en niños de Neuquén, Patagonia, Argentina. Parasitol Latinoam 60:154–161. https://doi.org/10.4067/S0717-77122005000200009

Steinmann P, Cringoli G, Bruschi F, Matthys B, Lohourignon LK, Castagna B, Maurelli MP, Morgoglione ME, Utzinger J, Rinaldi L (2012) FLOTAC for the diagnosis of Hymenolepis spp. infection: proof-of-concept and comparing diagnostic accuracy with other methods. Parasitol Res 111:749–754. https://doi.org/10.1007/s00436-012-2895-9

Utzinger J, Rinaldi L, Lohourignon LK, Rohner F, Zimmermann MB, Tschannen AB, N'Goran EK, Cringoli G (2008) FLOTAC: a new sensitive technique for the diagnosis of hookworm infections in humans. Trans R Soc Trop Med Hyg 102:84–90. https://doi.org/10.1016/j.trstmh.2007.09.009

Utzinger J, Botero-Kleiven S, Castelli F, Chiodini PL, Edwards H, Köhler N, Gulletta M, Lebbad M, Manser M, Matthys B, N'Goran EK, Tannich E, Vounatsou P, Marti H (2010) Microscopic diagnosis of sodium acetate-acetic acid-formalin-fixed stool samples for helminths and intestinal protozoa: a comparison among European reference laboratories. Clin Microbiol Infect 16:267–273. https://doi.org/10.1111/j.1469-0691.2009.02782.x

World Health Organization (1991) Basic laboratory methods in medical parasitology. WHO, Geneva

Zonta ML, Oyhenart EE, Navone GT (2014) Socio-environmental variables associated with malnutrition and intestinal parasitoses in the child population of Misiones, Argentina. Am J Hum Biol 26:609–616. https://doi.org/10.1002/ajhb.22570

Zonta ML, Susevich ML, Gamboa MI, Navone GT (2016) Parasitosis intestinales y factores socioambientales: Estudio preliminar en una población de horticultores. Salud (i) Ciencia 2016:814–823
Acknowledgments
The authors are grateful to the local authorities, the education community and the individuals participating in this study for their active cooperation. We are also thankful to Graciela Minardi for her advice on statistical analysis, Cecilia Carballo for her help with the laboratory techniques and Pilar Martínez for her assistance with the English revision of the manuscript.
Funding
This study was funded by national projects (UNLP N759, PIP CONICET N734).
Ethics declarations
Conflict of interest
The authors declare that they have no conflict of interests.
Ethical aspects
The study was carried out without affecting the physical, psychic and moral integrity of the participants and securing their identity. The present research was evaluated and approved by the Comité de Ética de la Escuela Latinoamericana de Bioética (CELABE) under Resolution No. 003, Record No. 73. The study was conducted attending the principles proclaimed in the Universal Declaration of Human Rights (1948), the ethical standards established by the Nüremberg Code (1947), the Declaration of Helsinki (1964) and its successive amendments. Special attention was also paid to Article 5 of the Regulation Decree of National Law 25.326.
Additional information
Section Editor: Herbert Auer
About this article
Cite this article
Cociancic, P., Rinaldi, L., Zonta, M.L. et al. Formalin-ethyl acetate concentration, FLOTAC Pellet and anal swab techniques for the diagnosis of intestinal parasites. Parasitol Res 117, 3567–3573 (2018). https://doi.org/10.1007/s00436-018-6054-9
Received:

Accepted:

Published:

Issue Date:
Keywords
Intestinal parasite

Diagnosis

Formalin-ethyl acetate concentration technique

FLOTAC technique

Anal swabs