Abstract
Apicomplexan parasites, including Plasmodium falciparum, are obligate intracellular organisms that utilize a strategy termed "gliding" to move and invade host cells, causing disease. Gliding is carried out by a protein complex known as the glideosome, which includes an actin–myosin motor. To date, six myosins have been identified in P. falciparum (PfMyoA, B, C, D, E, and F), but only the role of PfMyoA, the myosin of the glideosome that is involved in the process of red blood cell and mosquito cell invasion, has been established. Based on previous observations, we speculated that PfMyoA and PfMyoB may have similar or redundant functions. To test this hypothesis, we searched for in vitro interactions between PfMyoB and MTIP (myosin A tail interacting protein), the myosin light chain of PfMyoA. A set of differentially tagged PfMyoA, PfMyoB, and MTIP recombinant proteins was employed to specifically and simultaneously detect each myosin in competition assays and inhibition assays using specific peptides. MTIP potentially acts as the light chain of PfMyoB.
This is a preview of subscription content, log in to check access.
Access options
Buy single article
Instant access to the full article PDF.
US$ 39.95
Price includes VAT for USA
Subscribe to journal
Immediate online access to all issues from 2019. Subscription will auto renew annually.
US$ 199
This is the net price. Taxes to be calculated in checkout.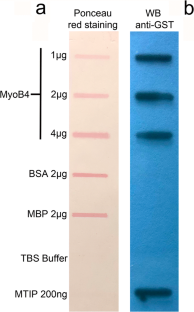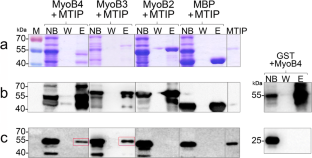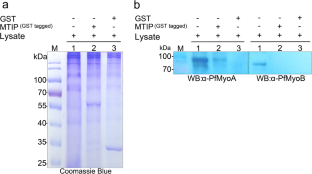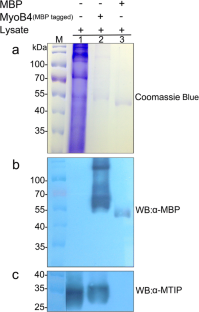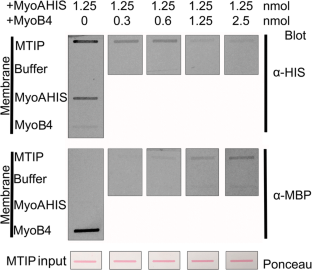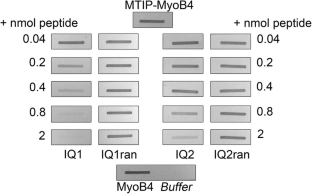 References
Bergman LW, Kaiser K, Fujioka H, Coppens I, Daly TM, Fox S et al (2003) Myosin a tail domain interacting protein (MTIP) localizes to the inner membrane complex of Plasmodium sporozoites. J Cell Sci 116:39–49

Bookwalter CS, Tay CL, McCrorie R, Previs MJ, Lu H, Krementsova EB, Fagnant PM, Baum J, Trybus KM (2017) Reconstitution of the core of the malaria parasite glideosome with recombinant Plasmodium class XIV myosin a and Plasmodium actin. J Biol Chem 292(47):19290–19303

Bosch J, Turley S, Daly TM, Bogh SM, Villasmil ML, Roach C, Zhou N, Morrisey JM, Vaidya AB, Bergman LW, Hol WGJ (2006) Structure of the MTIP-MyoA complex, a key component of the malaria parasite invasion motor. Proc Natl Acad Sci U S A 103:4852–4857

Bosch J, Turley S, Roach CM, Daly TM, Bergman LW, Hol WG (2007) The closed MTIP-myosin A-tail complex from the malaria parasite invasion machinery. J Mol Biol 372:77–88

Chaparro-Olaya J, Dluzewski AR, Margos G, Wasserman M, Mitchell GH, Bannister L et al (2003) The multiple myosins of malaria: the smallest malaria myosin, Plasmodium falciparum myosin-B (Pfmyo-B) is expressed in mature schizonts and merozoites. Eur J Protistol 39(4):423–427

Douse CH, Green JL, Salgado PS, Simpson PJ, Thomas JC, Langsley G, Holder AA, Tate EW, Cota E (2012) Regulation of the Plasmodium motor complex: phosphorylation of myosin a tail-interacting protein (MTIP) loosens its grip on MyoA. J Biol Chem 287(44):36968–36977

Douse CH, Vrielink N, Wenlin Z, Cota E, Tate EW (2015) Targeting a dynamic protein–protein interaction: fragment screening against the malaria myosin a motor complex. ChemMedChem 10(1):134–143

Einarson MB, Pugacheva EN, Orlinick JR (2007) GST Pull-down. CSH Protoc 2007:pdb.prot4757

Farrow RE, Green J, Katsimitsoulia Z, Taylor WR, Holder AA, Molloy JE (2011) The mechanism of erythrocyte invasion by the malarial parasite, Plasmodium falciparum. Semin Cell Dev Biol 22(9):953–960

Green JL, Martin SR, Fielden J, Ksagoni A, Grainger M, Yim Lim BY et al (2006) The MTIP–myosin A complex in blood stage malaria parasites. J Mol Biol 355(5):933–941

Green JL, Wall RJ, Vahokoski J, Yusuf NA, Ridzuan MAM, Stanway RR, Stock J, Knuepfer E, Brady D, Martin SR, Howell SA, Pires IP, Moon RW, Molloy JE, Kursula I, Tewari R, Holder AA (2017) Compositional and expression analyses of the glideosome during the Plasmodium life cycle reveal an additional myosin light chain required for maximum motility. J Biol Chem 292(43):17857–17875

Guttery DS, Poulin B, Ferguson DJ, Szöőr B, Wickstead B, Carroll PL et al (2012) A unique protein phosphatase with kelch-like domains (PPKL) in Plasmodium modulates ookinete differentiation, motility and invasion. PLoS Pathog 8(9):e1002948

Hernández PC, Morales L, Castellanos IC, Wasserman M, Chaparro-Olaya J (2017) Myosin B of Plasmodium falciparum (PfMyoB): in silico prediction of its three-dimensional structure and its possible interaction with MTIP. Parasitol Res 116(4):1373–1382

Jones ML, Kitson EL, Rayner JC (2006) Plasmodium falciparum erythrocyte invasion: a conserved myosin associated complex. Mol Biochem Parasitol 147(1):74–84

Koch M, Baum J (2016) The mechanics of malaria parasite invasion of the human erythrocyte—towards a reassessment of the host cell contribution. Cell Microbiol 18(3):319–329

Kortagere S, Welsh WJ, Morrisey JM, Daly T, Ejigiri I, Sinnis P, Vaidya AB, Bergman LW (2010) Structure-based design of novel small-molecule inhibitors of Plasmodium falciparum. J Chem Inf Model 50(5):840–849

Patzewitz EM, Guttery DS, Poulin B, Ramakrishnan C, Ferguson DJ, Wall RJ et al (2013) An ancient protein phosphatase, SHLP1, is critical to microneme development in Plasmodium ookinetes and parasite transmission. Cell Rep 3(3):622–629

Otto TD, Wilinski D, Assefa S, Keane TM, Sarry LR, Böhme U, Lemieux J, Barrell B, Pain A, Berriman M, Newbold C, Llinás M (2010) New insights into the blood stage transcriptome of Plasmodium falciparum using RNA-Seq. Mol Microbiol 76(1):12–24

Rivadeneira EM, Wasserman M, Espinal CT (1983) Separation and concentration of schizonts of Plasmodium falciparum by Percoll gradients. J Protozool 30(2):367–370

Sambrook J, Russell DW (2006) Detection of protein-protein interactions using the GST fusion protein pulldown technique. CSH Protoc 2006(1)

Tardieux I, Baum J (2016) Reassessing the mechanics of parasite motility and host-cell invasion. J Cell Biol 214:507–515

Thomas JC, Green JL, Howson RI, Simpson P, Moss DK, Martin SR, Holder AA, Cota E, Tate EW (2010) Interaction and dynamics of the Plasmodium falciparum MTIP–MyoA complex, a key component of the invasion motor in the malaria parasite. Mol BioSyst 6:494–498

WHO (2017) World malaria report 2017. http://www.who.int/malaria/publications/world-malaria-report-2017/en/. Accessed 01 May 2018

Williamson RC, Bass MD (2015) Comparing the affinity of GTPase-binding proteins using competition assays. J Vis Exp 104

Wu Y, Li Q, Chen XZ (2007) Detecting protein–protein interactions by far western blotting. Nat Protoc 2(12):3278–3284

Yusuf NA, Green JL, Wall RJ, Knuepfer E, Moon RW, Schulte-Huxel C, Stanway RR, Martin SR, Howell SA, Douse CH, Cota E, Tate EW, Tewari R, Holder AA (2015) The Plasmodium class XIV myosin, MyoB, has a distinct subcellular location in invasive and motile stages of the malaria parasite and an unusual light chain. J Biol Chem 290(19):12147–12164
Acknowledgments
This work was supported by COLCIENCIAS (projects 110152128729 and 130834319109) and Universidad El Bosque (project UB-271-2010). Funding organizations had no role in study design, data analysis, decision to publish, or preparation of the manuscript. We want to thank Professors Celia R. Garcia and Chuck Farah of Universidade de Sao Paulo for their scientific and technical advice.
Ethics declarations
Conflict of interest
The authors declare that they have no conflict of interest.
About this article
Cite this article
Hernández, P.C., Wasserman, M. & Chaparro-Olaya, J. In vitro interaction between Plasmodium falciparum myosin B (PfMyoB) and myosin A tail interacting protein (MTIP). Parasitol Res 117, 3437–3446 (2018). https://doi.org/10.1007/s00436-018-6039-8
Received:

Accepted:

Published:

Issue Date:
Keywords
Plasmodium falciparum

Myosins

Protein–protein interactions

Pulldown

Far western blot