Abstract
Sulfonamide group drugs and their antimetabolite combinations are the most preferred drugs in the treatment and prophylaxis of Pneumocystis jirovecii pneumonia (PCP). Especially with the long-term use of trimethoprim-sulfamethoxazole (TMP-SMX) and dapsone, certain point mutations in the Pneumocystis jirovecii (P. jirovecii) dihydropteroate synthase (DHPS) gene are known to play an important role in the development of resistance. In the present study, we investigated the 165th and 171st nucleotide mutations in the DHPS gene in the P. jirovecii isolates from immunosuppressed and immunocompetent cases. P. jirovecii isolates from the bronchoalveolar lavage fluid (BALF) samples of 31 hospitalized cases and lung tissue samples of 37 autopsy cases were included in the study. For the analysis of wild-type and mutant genotypes, after the touchdown-PCR amplification method, the restriction fragment length polymorphism (RFLP) method was used. In this study, P. jirovecii DHPS gene was amplified in 28 of 68 (41%) of the samples. The RFLP method revealed that all the isolates in which the DHPS gene was amplified were considered as wild-type genotypes. To our knowledge, this present study is the first study in Turkey investigating P. jirovecii DHPS gene mutations associated with the sulfonamide resistance. All the isolates showed a wild-type pattern indicating that the occurrence of P. jirovecii DHPS mutations in Turkey is very low or absent.
This is a preview of subscription content, log in to check access.
Access options
Buy single article
Instant access to the full article PDF.
US$ 39.95
Price includes VAT for USA
Subscribe to journal
Immediate online access to all issues from 2019. Subscription will auto renew annually.
US$ 199
This is the net price. Taxes to be calculated in checkout.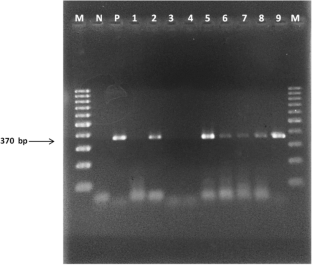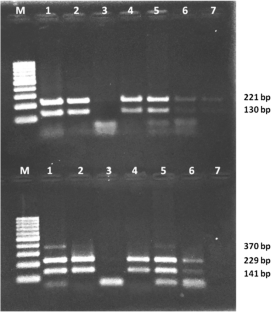 References
de Armas Rodríguez Y, Wissmann G, Müller AL, Pederiva MA, Brum MC, Brackmann RL, Capó de Paz V, Calderón EJ (2011) Pneumocystis jirovecii pneumonia in developing countries. Parasite 18:219–228

Armstrong W, Meshnick S, Kazanjian P (2000) Pneumocystis carini mutations associated with sulfa and sulfone prophylaxis failures in immunocompromised patients. Microbes Infect 2:61–67

Aykan SB, Ciftci IH (2013) Antibiotic resistance patterns of Escherichia coli strains isolated from urine cultures in Turkey: a meta-analysis. Mikrobiyol Bul 47:603–618

Boğa C, Bolaman Z, Çağırgan S, Karadoğan İ, Özcan MA, Özkalemkaş F, Saba R, Sönmez M, Şenol E, Akan H, Akova M (2015) recommendations for risk categorization and prophylaxis of invasive fungal diseases in HematologicalMalignancies:a critical review of evidence and expert opinion (TEO-4). Turk J Haematol 32:100–117

Calderón E, de la Horra C, Medrano FJ, López-Suárez A, Montes-Cano MA, Respaldiza N, Elvira-González J, Martín-Juan J, Bascuñana A, Varela JM (2004) Pneumocystis jirovecii isolates with dihydropteroate synthase mutations in patients with chronic bronchitis. Eur J Clin Microbiol Infect Dis 23:545–549

Crothers K, Beard CB, Turner J, Groner G, Fox M, Morris A, Eiser S, Huang L (2005) Severity and outcome of HIV-associated Pneumocystis pneumonia containing Pneumocystis jirovecii dihydropteroate synthase gene mutations. AIDS 19:801–805

Dimonte S, Berrilli F, D'Orazi C, D'Alfonso R, Placco F, Bordi E, Perno CF, Di Cave D (2013) Molecular analysis based on mtLSU-rRNA and DHPS sequences of Pneumocystis jirovecii from immunocompromised and immunocompetent patients in Italy. Infect Genet Evol 14:68–72

Dini L, du Plessis M, Frean J, Fernandez V (2010) High prevalence of dihydropteroate synthase mutations in Pneumocystis jirovecii isolated from patients with Pneumocystis pneumonia in South Africa. J Clin Microbiol 48:2016–2021

Esteves F, Gaspar J, Tavares A, Moser I, Antunes F, Mansinho K, Matos O (2010) Population structure of Pneumocystis jirovecii isolated from immunodeficiency virus-positive patients. Infect Genet Evol 10:192–199

Friaza V, Morilla R, Respaldiza N, de la Horra C, Calderón EJ (2010) Pneumocystis jiroveci dihydropteroate synthase gene mutations among colonized individuals and Pneumocystis pneumonia patients from Spain. Postgrad Med 122:24–28

Hauser PM, Nahimana A, Taffe P, Weber R, Francioli P, Bille J, Rabodonirina M (2010) Interhuman transmission as a potential key parameter for geographical variation in the prevalence of Pneumocystis jirovecii dihydropteroate synthase mutations. Clin Infect Dis 51:28–33

Huang L, Crothers K, Atzori C, Benfield T, Miller R, Rabodonirina M, Helweg-Larsen J (2004) Dihydropteroate synthase gene mutations in Pneumocystis and sulfa resistance. Emerg Infect 10:1721–1728

Jarboui MA, Sellami A, Sellami H, Cheikhrouhou F, Makni F, Ayadi A (2011) Dihydropteroate synthase gene mutations in Pneumocystis jirovecii strains isolated from immunocompromised patients. Pathol Biol 59:222–225

Kayman T, Abay S, Hızlısoy I (2013) Identification of Capylobacter spp. isolates with phenotypic methods and multiplex polymerase chain reaction and their antibiotic susceptibilities. Mikrobiyol Bul 47:230–239

Kazanjian P, Armstrong W, Hossler PA, Burman W, Richardson J, Lee CH, Crane L, Katz J, Meshnick SR (2000) Pneumocystis carinii mutations are associated with duration of sulfa or sulfone prophylaxis exposure in AIDS patients. J Infect Dis 182:551–557

Li K, He A, Cai WP, Tang XP, Zheng XY, Li ZY, Zhan XM (2009) Absence of Pneumocystis jirovecii dihydropteroate synthase gene mutations among samples from a group of AIDS patients in China. Scand J Infect Dis 41:152–154

Long Y, Zhang C, Su L, Que C (2014) Pneumocystis jirovecii dihydropteroate synthase gene mutations in a group of HIV-negative immunocompromised patients with pneumocystis pneumonia. Exp Ther Med 8:1825–1830

Matos O, Esteves F (2010) Epidemiology and clinical relevance of Pneumocystis jirovecii Frenkel, 1976 dihydropteroate synthase gene mutations. Parasite 17:219–232

Miller RF, Lindley AR, Ambrose HE, Mali AS, Wakefield AE (2003) Genotypes of Pneumocystis jiroveci isolates obtained in Harare, Zimbabwe, and London, United Kingdom. Antimicrob Agents Chemother 47:3979–3981

Montes-Cano MA, de la Horra C, Martin-Juan J, Varela JM, Torronteras R, Respaldiza N, Medrano FJ, Calderón EJ (2004) Pneumocystis jiroveci genotypes in the Spanish population. Clin Infect Dis 39:123–128

Morris A, Lundgren JD, Masur H, Walzer PD, Hanson DL, Frederick T, Huang L, Beard CB, Kaplan JE (2004) Current epidemiology of Pneumocystis pneumonia. Emerg Infect Dis 10:1713–1720

Özkoç S, Bayram Delibaş S (2015) Investigation of Pneumocystis jirovecii pneumonia and colonization in iatrogenically immunosuppressed and immunocompetent patients. Mikrobiyol Bul 49:221–230

Özkoç S, Köker M, Önder M, Delibaş SB (2016) Prevalence of Pneumocystis jirovecii colonization in autopsy cases in Turkey. J Med Microbiol 65(10):1152–1157

Özmert EN, İnce OT, Örün E, Yalçın S, Yurdakök K, Gür D (2011) Clinical characteristics and antibiotic resistance of Shigella gastroenteritis in Ankara, Turkey between 2003 and 2009, and comparison with previous reports. Int J Infect Dis 15:849–853

Robberts FJ, Chalkley LJ, Weyer K, Liebowitz LD (2005) Dihydropteroate synthase and novel dihydrofolate reductase gene mutations in strains of Pneumocystis jirovecii from South Africa. J Clin Microbiol 43:1443–1444

Sheikholeslami MF, Sadraei J, Farnia P, Forozandeh Moghadam M, Emadikochak H (2015) Dihydropteroate synthase gene mutation rates in Pneumocystis jirovecii strains obtained from Iranian HIV-positive and non-HIV-positive patients. Med Mycol 53:361–368

Tia T, Putaporntip C, Kosuwin R, Kongpolprom N, Kawkitinarong K, Jongwutiwes S (2012) A highly sensitive novel PCR assay for detection of P.Jirovecii DNA in bronchoalveloar lavagespecimens from immunocompromised patients. Clin Microbiol Infect 18:598–603

Tyagi AK, Mirdha BR, Luthra K, Guleria R, Mohan A, Singh UB, Samantaray JC, Dar L, Iyer VK, Sreenivas V (2011) Pneumocystis jirovecii dihydropteroate synthase (DHPS) genotypes in non-HIV-immunocompromised patients: a tertiary care reference health centre study. Med Mycol 49:167–171

Wissmann G, Alvarez-Martinez MJ, Meshnick SR, Dihel AR, Prolla JC (2006) Absence of dihydropteroate synthase mutations in Pneumocystis jirovecii from Brazilian AIDS patients. J Eukaryot Microbiol 53:305–307

Yıldız ZA, Candan C, Arga M, Turhan P, İşgüven P, Ergüven M (2014) Urinary tract infections in children with myelodysplasia in whom clean intermittent catheterization was administered. Turk Pediatri Ars 49:36–41
Acknowledgments
We thank Dr. Enrique Calderon and his colleagues for their support in the interpretation of the results of RFLP. We also thank İzmir Group Chairman, Council of Forensic Medicine (Republic of Turkey Ministry of Justice) due to the support and permission given during the preparation of the present scientific study.
Ethics declarations
Conflict of interest
The authors declare that they have no conflict of interest.
Additional information
Section Editor: Kevin S.W. Tan
About this article
Cite this article
Ozkoc, S., Erguden, C. & Bayram Delibas, S. Absence of dihydropteroate synthase gene mutations in Pneumocystis jirovecii strains isolated from Aegean region of Turkey. Parasitol Res 117, 3103–3108 (2018). https://doi.org/10.1007/s00436-018-6004-6
Received:

Accepted:

Published:

Issue Date:
Keywords
Pneumocystis jirovecii

dihydropteroate synthase gene

Mutation

Cotrimaxazole

Turkey