Abstract
A microsporidium was found in a Mediterranean cricket Gryllus bimaculatus from a pet market in the UK and a lab stock at the Moscow Zoo (originating from London Zoo). The spores were ovoid, uninucleate, 6.3 × 3.7 μm in size (unfixed), in packets by of 8, 16, or 32. The spores were easily discharged upon dessication or slight mechanical pressure. The polar tube was isofilar, with 15–16 coils arranged in 1–2 rows. The polaroplast was composed of thin lamellae and occupied about one third of the spore volume. The endospore was 200 nm thick, thinning over the anchoring disc. The exospore was thin, uniform, and with no ornamentation. Phylogenetics based upon small subunit ribosomal RNA (Genbank accession # MG663123) and RNA polymerase II largest subunit (# MG664544) genes placed the parasite at the base of the Trachipleistophora/Vavraia lineage. The RPB1 locus was polymorphic but similar genetic structure and identical clones were found in both isolates, confirming their common geographic origin. Due to in insufficient ultrastructural data and prominent divergence from described species, the parasite is provisionally placed to the collective taxon Microsporidium.
This is a preview of subscription content, log in to check access.
Access options
Buy single article
Instant access to the full article PDF.
US$ 39.95
Price includes VAT for USA
Subscribe to journal
Immediate online access to all issues from 2019. Subscription will auto renew annually.
US$ 199
This is the net price. Taxes to be calculated in checkout.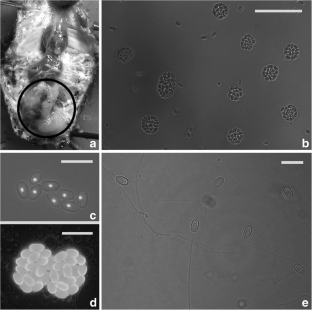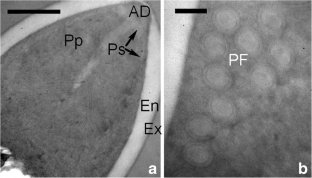 References
Ayieko MA, Ogola HG, Ayieko IA (2016) Introducing rearing crickets (gryllids) at household levels: adoption, processing and nutritional values. J Insects Food Feed 2:203–211. https://doi.org/10.3920/JIFF2015.0080

Cheney SA, Lafranchi-Tristem NJ, Canning EU (2000) Phylogenetic relationships of Pleistophora-like microsporidia based on small subunit ribosomal DNA sequences and implications for the source of Trachipleistophora hominis infections. J Eukaryot Microbiol 47:280–287. https://doi.org/10.1111/j.1550-7408.2000.tb00048.x

Cheney SA, Lafranchi-Tristem NJ, Bourges D, Canning EU (2001) Relationships of microsporidian genera, with emphasis on the polysporous genera, revealed by sequences of the largest subunit of RNA polymerase II (RPB1). J Eukaryot Microbiol 48:111–117

Choudhary MM, Metcalfe MG, Arrambide K, Bern C, Visvesvara GS, Pieniazek NJ, Bandea RD, DeLeon-Carnes M, Adem P, Choudhary MM, Zaki SR, Saeed MU (2011) Tubulinosema sp. microsporidian myositis in immunosuppressed patient. Emerg Infect Dis 17:1727–1730. https://doi.org/10.3201/eid1709.101926

Hall TA (1999) BioEdit: a user-friendly biological sequence alignment editor and analysis program for Windows 95/98/NT. Nucleic Acids Symp Ser 41:95–98

Hollister WS, Canning EU, Weidner E, Field AS, Kench J, Marriott DJ (1996) Development and ultrastructure of Trachipleistophora hominis n.g., n.sp. after in vitro isolation from an AIDS patient and inoculation into athymic mice. Parasitology 112:143–154

Jones DT, Taylor WR, Thornton JM (1992) The rapid generation of mutation data matrices from protein sequences. Comput Appl Biosci 8:275–282

Just F, Essbauer S, Ahne W, Blahak S (2001) Occurrence of an invertebrate iridescent-like virus (Iridoviridae) in reptiles. J Veterinary Med Ser B 48:685–694

Kimura M (1980) A simple method for estimating evolutionary rate of base substitutions through comparative studies of nucleotide sequences. J Mol Evol 16:111–120

Kumar S, Stecher G, Tamura K (2015) MEGA7: Molecular Evolutionary Genetics Analysis version 7.0. Mol Biol Evol 33:1870–1874. https://doi.org/10.1093/molbev/msw054

Lorbacher de Ruiz H, Gelderblom H, Hofmann W, Darai G (1986) Insect iridescent virus type 6 induced toxic degenerative hepatitis in mice. Med Microbiol Immunol 175:43–53

Meissner EG, Bennett JE, Qvarnstrom Y, da Silva A, Chu EY, Tsokos M, Gea-Banacloche J (2012) Disseminated microsporidiosis in an immunosuppressed patient. Emerg Infect Dis 18:1155–1158. https://doi.org/10.3201/eid1807.120047

Sambrook J, Fritsch E, Maniatis T (1989) Molecular cloning: a laboratory manual. Cold Spring Harbor Laboratory, Cold Spring Harbor

Schneider CA, Rasband WS, Eliceiri KW (2012) NIH Image to ImageJ: 25 years of image analysis. Nat Methods 9:671–675. https://doi.org/10.1038/nmeth.2089

Silvestro D, Michalak I (2012) RaxmlGUI: a graphical front-end for RAxML. Org Divers Evol 12:335–337. https://doi.org/10.1007/s13127-011-0056-0

Sokolova YY, Dolgikh VV, Morzhina EV, Nassonova ES, Issi IV, Terry RS, Ironside JE, Smith JE, Vossbrinck CR (2003) Establishment of the new genus Paranosema based on the ultrastructure and molecular phylogeny of the type species Paranosema grylli Gen. Nov., Comb. Nov. (Sokolova, Selezniov, Dolgikh, Issi 1994), from the cricket Gryllus bimaculatus Deg. J Invertebr Pathol 84:159–172. https://doi.org/10.1016/j.jip.2003.10.004

Sprague V, Becnel JJ, Hazard EI (1992) Taxonomy of phylum Microspora. Crit Rev Microbiol 18:285–395

Vandeweyer D, Crauwels S, Lievens B, Van Campenhout L (2017) Metagenetic analysis of the bacterial communities of edible insects from diverse production cycles at industrial rearing companies. Int J Food Microbiol 261:11–18. https://doi.org/10.1016/j.ijfoodmicro.2017.08.018

Vavra J, Kamler M, Modry D, Koudela B (2011) Opportunistic nature of the mammalian microsporidia: experimental transmission of Trachipleistophora extenrec (Fungi: microsporidia) between mammalian and insect hosts. Parasitol Res 108:1565–1573. https://doi.org/10.1007/s00436-010-2213-3

Vogelstein B, Gillespie D (1979) Preparative and analytical purification of DNA from agarose. Proc Natl Acad Sci U S A 76:615–619

Vossbrinck CR, Debrunner-Vossbrinck BA (2005) Molecular phylogeny of the Microsporidia: ecological, ultrastructural and taxonomic considerations. Folia Parasitol 52:131–142. https://doi.org/10.14411/fp.2005.017

Vossbrinck CR, Debrunner-Vossbrinck BA, Weiss LM (2014) Molecular phylogeny of the Microsporidia. In: Weiss LM, Becnel JJ (eds) Microsporidia: pathogens of opportunity. Wiley-Blackwell, pp 203–220

Weidner E, Canning EU, Rutledge CR, Meek CL (1999) Mosquito (Diptera: Culicidae) host compatibility and vector competency for the human myositic parasite Trachipleistophora hominis (Phylum Microspora). J Med Entomol 36:522–525

Weiser J, Wegensteiner R, Zizka Z (1997) Ultrastructures of Nosema typographi Weiser 1955 (Microspora: Nosematidae) of the Bark Beetle Ips typographus L. (Coleoptera; Scolytidae). J Invertebr Pathol 70:156–160

Weiss LH, Vossbrinck CR (1999) Molecular biology, molecular phylogeny, and molecular diagnostic approaches to the microsporidia. In: Wittner M, Weiss LM (eds) The microsporidia and microsporidiosis. ASM Press, Washington, pp 129–171
Funding
This study was funded by the Russian Science Foundation (grant # 16-14-00005).
Ethics declarations
Conflict of interest
The authors declare that they have no conflict of interest.
About this article
Cite this article
Tokarev, Y.S., Peat, K.M., Malysh, J.M. et al. Discovery of a novel microsporidium in laboratory colonies of Mediterranean cricket Gryllus bimaculatus (Orthoptera: Gryllidae): Microsporidium grylli sp. nov.. Parasitol Res 117, 2823–2829 (2018). https://doi.org/10.1007/s00436-018-5970-z
Received:

Accepted:

Published:

Issue Date:
Keywords
Mediterranean cricket

Microsporidia

Molecular phylogeny

Infection

Laboratory culture