Abstract
Chagas disease, caused by the protozoan Trypanosoma cruzi, is considered to be a multifactorial disease associated with host and parasite genetics, which influence clinical aspects of the disease and other host conditions. In order to understand better the evolution of the disease, this study intended to evaluation of parasite and host genetics in two generations of a family with Chagas disease from the Alto Paranaiba region, Minas Gerais, Brazil, comprising a mother and her five daughters. Several features were evaluated, including the characterization of T. cruzi directly from the blood of patients, host polymorphisms of genes related to cardiomyopathy (TNF, WISP1, CCR5, and TGF-β1) and clinical aspects of the patients. To verify the intraspecific variability of the parasite, the characterization was done directly from human blood using the PCR-LSSP technique and analyzed based on Dice coefficient and unweighted pair group analysis (UPGMA). The host polymorphism was evaluated by PCR-RFLP. The global results showed low variability of the parasites characterized from blood of patients, through Shannon index (0.492) and mean heterozygosity value per locus (0.322). All six patients presented the same genetic polymorphism profile for TNF, WISP1, and TGF-β1, and only one patient was homozygous to CCR5, which suggests that there is no association between the clinical aspects of the patients and their genetic profiles. In conclusion, the findings confirm that the understanding of the clinical evolution of Chagas disease goes beyond the genetic aspects of the parasite and the host.
This is a preview of subscription content, log in to check access.
Access options
Buy single article
Instant access to the full article PDF.
US$ 39.95
Price includes VAT for USA
Subscribe to journal
Immediate online access to all issues from 2019. Subscription will auto renew annually.
US$ 199
This is the net price. Taxes to be calculated in checkout.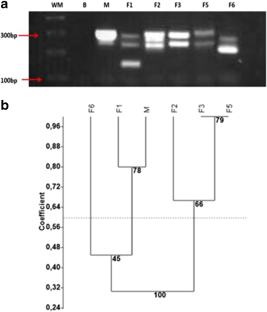 References
Asghar T, Yoshida S, Kennedy S, Negoro K, Zhuo W, Hamana S, Motoyama S, Nakago S, Barlow D, Maruo T (2004) The tumor necrosis factor α promoter-1031C polymorphism is associated with decreased risk of endometriosis in a Japanese population. Hum Reprod 19:2509–2514

Ayo CM, Dalalio MM, Visentainer JEL et al (2013) Genetic susceptibility to Chagas disease: an overview about the infection and about the association between disease and the immune response genes. Biomed Res Int 2013:1–13

Calzada JE, Beraún Y, González CI, Martín J (2009) Transforming growth factor beta 1 (TGFbeta1) gene polymorphisms and Chagas disease susceptibility in Peruvian and Colombian patients. Cytokine 45(3):149–153

Chagas C (1909) Nova tripanozomiase humana. Estudos sobre a morfolojia e o ciclo evolutivo do Schizotrypanum cruzi n. gen., n. sp., ajente etilógico de nova entidade morbida do homem. Mem Inst Oswaldo Cruz 1:159–218

Criado L, Floréz O, Martín J, González CI (2012) Genetic polymorphisms in TNFA/TNFR2 genes and Chagas disease in a Colombian endemic population. Citokyne 57:398–401

D'Ávila DA, Andréa MM, Helder MSV et al (2009) Probing population dynamics of Trypanosoma cruzi during progression of the chronic phase in chagasic patients. J Clin Microbiol 47:1718–1725

De Oliveira AP, Bernardo CR, Camargo AVS et al (2015) Genetic susceptibility to cardiac and digestive clinical forms of chronic Chagas disease: involvement of the CCR5 59029 A/G polymorphism. PLoS One 10:e0141847

Deng X, Sabino EC, Cunha-Neto E et al (2013) Genome wide association study (GWAS) of Chagas cardiomyopathy in Trypanosoma cruzi seropositive subjects. PLoS One 8:1–7

Dice LR (1945) Measures of the amount of ecologic association between species. Ecology 26:297–302

Felsenstein J (1985) Confidence limits on phylogenies: an approach using the bootstrap. Evolution 39:783–791

Gomes ML, Macedo AM, Vago AR, Pena SDJ, Galvão LMC, Chiari E (1998) Trypanosoma cruzi: optimization of polymerase chain reaction for detection inhuman blood. Exp Parasitol 88:28–33

Guo W, Dong Z, Guo Y, Chen Z, Yang Z, Kuang G, Shan B (2011) Polymorphisms of transforming growth factor-β1 associated with increased risk of gastric cardio adenocarcinoma in north China. Int J Immunogenet 38:215–224

Luquetti AO, Tavares SBN, Siriano LR et al (2015) Congenital transmission of Trypanosoma cruzi in central Brazil. A study of 1,211 individuals born to infected mothers. Mem Inst Oswaldo Cruz 110:369–376

Manoel-Caetano FS, Silva AE (2007) Implications of genetic variability of Trypanosoma cruzi for the pathogesis of Chagas disease. Cad Saúde Pública 23:2263–2274

MS, Ministério da Saúde (2016) Consenso Brasileiro em doença de Chagas. Epidemiologia e Serviços de Saúde. Brasília 25:7–86

New York Heart Association (NYHA) (1973) Nomenclature and criteria for diagnosis of disease of the heart and great vessels, 7th edn. Little and Brow Company, Boston

Oliveira MT, Branquinho RT, Alessio GD et al (2017) TcI, TcII and TcVI Trypanosoma cruzi samples from Chagas disease patients with distinct clinical forms and critical analysis of in vitro and in vivo behavior, response to treatment and infection evolution in murine model. Acta Trop 167:108–120

Rassi A Jr, Rassi A, Marcondes de Rezende J (2012) American trypanosomiasis (Chagas disease). Infect Dis Clin N Am 26:275–291

Reis PG et al (2017) Genetic polymorphisms of IL17 and Chagas disease in the South and Southeast of Brazil. J Immunol Res 2017:1–7

Rohlf FJ (1998) On applications of geometric morphometrics to studies of ontogeny and phylogeny. Syst Biol 47:147–158

Santos d LS, Torres RM, Machado-de-Assis GF (2012) In-house ELISA method to analyze anti-Trypanosoma cruzi IgG reactivity for differential diagnosis and evaluation of Chagas disease morbidity. Rev Soc Bras Med Trop 45:35–44

Tao J, Wang YT, Abudoukelimu M, Yang YN, Li XM, Xie X, Chen BD, Liu F, He CH, Li HY, Ma YT (2016) Association of genetic variations in the Wnt signaling pathway genes with myocardial infarction susceptibility in Chinese Han population. Oncotarget 7:52740–52750

Tibayrenc M (2007) Human genetic diversity and epidemiology of parasitic and other transmissible diseases. Adv Parasitol 64:378–428

Toledo MJ (2001) Avaliação da infecção em camundongos por clones de Trypanosoma cruzi de diferentes genótipos na relação parasita-hospedeiro: aspectos parasitológicos, histopatológicos e quimioterápicos, Universidade Federal de Minas Gerais

Toledo MJ, Tafuri WL, Bahia MT, Tibayrenc M, De Lana M (2004) Genetic diversity and drug resistence in Trypanosoma cruzi, the agent of Chagas disease. Antimicrob Agents Chemother 4:11–22

Vago AR, Macedo AM, Adad SJ, Reis DA, Corrêa-Oliveira R (1996) PCR detection of Trypanosoma cruzi DNA in esophageal tissues of patients with chronic digestive Chagas' disease. Lancet 348:891–892

World Health Organization (2015) Chagas disease (American trypanosomiasis). Fact sheet N°340. http://www.who.int/en/news-room/fact-sheets/detail/chagas-disease-(american-trypanosomiasis). Accessed 10 Dec 2017

Williams-Blangero S, Vandeberg JL, Blangero J, Corrêa-Oliveira R (2011) Genetic epidemiology of Chagas disease. Adv Parasitol 75:147–167

Zingales B, Miles AA, Campbell DA et al (2012) The revised Trypanosoma cruzi subspecific nomenclature: rationale, epidemiological relevance and research applications. Infect Genet Evol 12:240–253
Acknowledgments
The authors thank the subjects whose participation made this study possible. We would also like to thank FAPEMIG (CBB-APQ-01497-14), CNPq (CNPq-441836/2014-3), CAPES, and Universidade Federal de Ouro Preto (UFOP). Authors are grateful to the assistance provided by Levi Soares Reis from the "Laboratório de Imunopatologia/NUPEB/UFOP," Nayara Toledo from "Laboratório de Bioquímica/NUPEB/UFOP," and Profa. Claudia Rachel de Melo from "Centro Universitário de Patos de Minas" for their attention and support.
Ethics declarations
Competing interests
The authors declare that they have no competing interests.
Ethical approval
All patients consented to participate in the study by signing the informed consent form approved by the Ethics Committee on Human Research at the UFOP, protocol 1.328.756.
About this article
Cite this article
Lima, A.P.B., de Oliveira, M.T., Silva, R.R. et al. Evaluation of parasite and host genetics in two generations of a family with Chagas disease. Parasitol Res 117, 3009–3013 (2018). https://doi.org/10.1007/s00436-018-5969-5
Received:

Accepted:

Published:

Issue Date:
Keywords
T. cruzi genetics

Host genetic polymorphism

Chagas disease evolution