Abstract
Visceral leishmaniasis (VL) is a major health concern in patients with HIV infection in endemic areas of VL. In these areas, a substantial number of infected individuals are asymptomatic and the risk of acute VL infection in HIV/VL co-infected cases is high. The current study aimed to determine the prevalence of asymptomatic VL infection among HIV-infected patients in Fars province, southern Iran. Subjects of the study were 251 HIV-confirmed patients who all were clinically asymptomatic for leishmaniasis. Blood samples were obtained from each participant. Anti-Leishmania antibodies were detected in the sera using ELISA. DNA was extracted from the buffy coat of each subject and PCR amplified, targeting an ITS-2 gene of Leishmania. PCR products were purified from the gel and were sequenced. Overall, 19 out of 251 (7.6%) HIV-infected patients were found to be infected with Leishmania, using serological or molecular methods. Anti-Leishmania antibodies were detected in 13 (5.2%) patients and leishmanial DNA in 8 (3.2%) of the patients. The sequence analysis of DNA-positive cases revealed the species of the parasite as L. infantum. The high prevalence of VL among the patients with HIV is a serious challenge which demands further attention to improve the prophylaxis and treatment measurements of VL/HIV co-infection and thereby promoting the life expectancy and quality of life of these patients.
This is a preview of subscription content, log in to check access.
Access options
Buy single article
Instant access to the full article PDF.
US$ 39.95
Price includes VAT for USA
Subscribe to journal
Immediate online access to all issues from 2019. Subscription will auto renew annually.
US$ 199
This is the net price. Taxes to be calculated in checkout.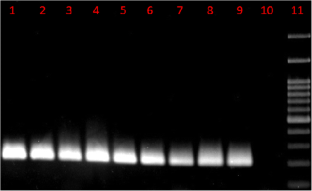 References
Akbari M, Akbari M, Naghibzadeh-Tahami A, Joulaei H, Nasiriyan M, Hesampour M, Bagheri-Lankarani K (2016) Prevalence of HIV/AIDS among Iranian prisoners: a review article. Addict Health 8:195–206

Alborzi A, Pouladfar GR, Aelami MH (2007) Visceral leishmaniasis; literature review and Iranian experience. Iran J Clin Infect Dis 2:99–108

Alborzi A, Pourabbas B, Shahian F, Mardaneh J, Pouladfar GR, Ziyaeyan M (2008) Detection of Leishmania infantum kinetoplast DNA in the whole blood of asymptomatic individuals by PCR-ELISA and comparison with other infection markers in endemic areas, southern Iran. Am J Trop Med Hyg 79:839–842

Alexandrino-de-Oliveira P, Santos-Oliveira JR, Dorval MEC, da-Costa FCB, Pereira GROL, Cunha RV, Paniago AMM, da-Cruz AM (2010) HIV/AIDS-associated visceral leishmaniasis in patients from an endemic area in central-west Brazil. Mem Inst Oswaldo Cruz 105:692–697

Ali A, Ashford RW (1994) Visceral leishmaniasis in Ethiopia. IV. Prevalence, incidence and relation of infection to disease in an endemic area. Ann Trop Med Parasitol 88:289–293

Alvar J, Aparicio P, Aseffa A, den Boer M, Canavate C, Dedet JP, Gradoni L, ter Horst R, Lopez-Velez R, Moreno J (2008) The relationship between leishmaniasis and AIDS: the second 10 years. Clin Microbiol Rev 21:334–359

Badirzadeh A, Mohebali M, Sabzevari S, Ghafoori M, Arzamani K, Seyyedin M, Hashemi SA (2018) Case report: first coinfection report of mixed Leishmania infantum/Leishmania major and human immunodeficiency virus-acquired immune deficiency syndrome: report of a case of disseminated cutaneous leishmaniasis in Iran. Am J Trop Med Hyg 98:122–125

Barao SC, de Fonseca Camargo-Neves VL, Resende MR, da Silva LJ (2007) Human asymptomatic infection in visceral leishmaniasis: a seroprevalence study in an urban area of low endemicity. Preliminary results. Am J Trop Med Hyg 77:1051–1053

Cascio A, Colomba C, Antinori S, Orobello M, Paterson D, Titone L (2002) Pediatric visceral leishmaniasis in western Sicily, Italy: a retrospective analysis of 111 cases. Eur J Clin Microbiol Infect Dis 21:277–282

Ezra N, Ochoa MT, Craft N (2010) Human immunodeficiency virus and leishmaniasis. J Global Infect Dis 2:248–257

Ghatei MA, Hatam GR, Hossini MH, Sarkari B (2009) Performance of latex agglutination test (KAtex) in diagnosis of visceral leishmaniasis in Iran. Iran J Immunol 6:202–207

Hatam GR, Ghatee MA, Hossini SM, Sarkari B (2009) Improvement of the newly developed latex agglutination test (Katex) for diagnosis of visceral lieshmaniasis. J Clin Lab Anal 23:202–205

Ilami O, Sarkari B, Khosravani A, Tori MA, Hosseini Z (2012) HIV seroprevalence among high-risk groups in Kohgiloyeh and Boyerahmad Province, southwest of Iran, a behavioral surveillance survey. AIDS Behav 16:86–90

Khazaei S, Rezaeian S (2017) Increasing rate of mortality due to HIV/AIDS in Iranian children: an alarm for health policymakers. Iran J Public Health 46:1001–1002

Layegh Gigloo A, Sarkari B, Rezaei Z, Hatam GR, Davami MH (2018) Asymptomatic Leishmania infected children: a seroprevalence and molecular survey in a rural area of Fars Province, southern Iran. J Trop Med 2018:8167247

Lindoso JA, Cunha MA, Queiroz IT, Moreira CH (2016) Leishmaniasis-HIV coinfection: current challenges. HIV/AIDS 8:147–156

Medrano FJ, Canavate C, Leal M, Rey C, Lissen E, Alvar J (1998) The role of serology in the diagnosis and prognosis of visceral leishmaniasis in patients coinfected with human immunodeficiency virus type-1. Am J Trop Med Hyg 59:155–162

Mikaeili F, Fakhar M, Sarkari B, Motazedian MH, Hatam G (2007) Comparison of serological methods (ELISA, DAT and IFA) for diagnosis of visceral leishmaniasis utilizing an endemic strain. Iran J Immunol 4:116–121

Mohebali M (2013) Visceral leishmaniasis in Iran: review of the epidemiological and clinical features. Iran J Parasitol 8:348–358

Mohebali M et al (2017) Feline leishmaniosis due to Leishmania infantum in Northwest Iran: the role of cats in endemic areas of visceral leishmaniosis. Vet Parasitol (AMST) 9:13–16

Pourmohammadi B, Motazedian M, Hatam G, Kalantari M, Habibi P, Sarkari B (2010) Comparison of three methods for diagnosis of cutaneous leishmaniasis. Iran J Parasitol 5:1–8

Sakkas H, Gartzonika C, Levidiotou S (2016) Laboratory diagnosis of human visceral leishmaniasis. J Vector Borne Dis 53:8–16

Sarkari B, Hatam GR, Mikaeili F, Sadeghi H, Ebrahimi S (2008) A comparative study of antigen and antibody detection in visceral leishmaniasis using serum and urine-based ELISA. Trop Biomed 25:96–99

Sarkari B, Hatam G, Ghatee M (2012) Epidemiological features of visceral leishmaniasis in Fars province, southern Iran. Iran J Public Health 41:94–99

Sarkari B, Gadami F, Shafiei R, Motazedian MH, Sedaghat F, Kasraian L, Tavasoli AR, Zarnegar G, Nikmanesh Y, Davami MH (2015) Seroprevalence of Leishmania infection among the healthy blood donors in kala-azar endemic areas of Iran. J Parasit Dis 39:545–549

Sarkari B, Ahmadpour NB, Motazedian MH, Mirjalali H, Akhoundi M, Mohebali M, Hajjaran H (2016a) Inter- and intraspecific variations of Leishmania strains isolated from patients with cutaneous and visceral leishmaniases in Fars Province, south of Iran. Iran J Med Sci 41:209–216

Sarkari B, Bavarsad Ahmadpour N, Moshfe A, Hajjaran H (2016b) Molecular evaluation of a case of visceral leishmaniasis due to Leishmania tropica in southwestern Iran. Iran J Parasitol 11:126–130

Sarkari B, Naraki T, Ghatee MA, Abdolahi Khabisi S, Davami MH (2016c) Visceral Leishmaniasis in southwestern Iran: a retrospective clinico-hematological analysis of 380 consecutive hospitalized cases (1999-2014). PLoS One 11:e0150406

Schaefer KU, Schoone GJ, Gachihi GS, Muller AS, Kager PA, Meredith SE (1995) Visceral leishmaniasis: use of the polymerase chain reaction in an epidemiological study in Baringo District, Kenya. Trans R Soc Trop Med Hyg 89:492–495

Shafiei R, Mohebali M, Akhoundi B, Galian MS, Kalantar F, Ashkan S, Fata A, Hosseini Farash BR, Ghasemian M (2014) Emergence of co-infection of visceral leishmaniasis in HIV-positive patients in northeast Iran: a preliminary study. Travel Med Infect Dis 12:173–178

Singh S (2014) Changing trends in the epidemiology, clinical presentation, and diagnosis of Leishmania-HIV co-infection in India. Int J Infect Dis 29:103–112

Srivastava P, Dayama A, Mehrotra S, Sundar S (2011) Diagnosis of visceral leishmaniasis. Trans R Soc Trop Med Hyg 105:1–6

Sundar S, Chakravarty J (2012) Recent advances in the diagnosis and treatment of kala-azar. Natl Med J India 25:85–89
Funding
The study was financially supported by the office of vice-chancellor for research of Shiraz University of Medical Sciences (Grant No. 9278). The study was the subject of Mrs. Mona Dehghani MD thesis.
Ethics declarations
The study was approved by and carried out under the guidelines of the Ethical Committee of the Shiraz University of medical sciences. All the study subjects provided their written informed consent for the collection of samples and subsequent analysis. Informed consent was obtained from each participant.
Conflict of interest
The authors declare that they have no competing interests.
About this article
Cite this article
Rezaei, Z., Sarkari, B., Dehghani, M. et al. High frequency of subclinical Leishmania infection among HIV-infected patients living in the endemic areas of visceral leishmaniasis in Fars province, southern Iran. Parasitol Res 117, 2591–2595 (2018). https://doi.org/10.1007/s00436-018-5949-9
Received:

Accepted:

Published:

Issue Date:
Keywords
Leishmania infantum

HIV

Co-infection

Subclinical

Visceral leishmaniasis

Iran