Abstract
Fifteen Mongolian gerbils were inoculated with 10 × 106 viable trophozoites of Giardia intestinalis. Their faeces were examined daily by flotation method and the number of shed cysts was counted. Two animals (male and female) were euthanised at 4- to 5-day intervals (9, 14, 18 days post-infection (DPI)). The remaining nine gerbils were sacrificed and dissected at the end of the experiment (23 DPI). Their small intestinal tissues were processed for examination using histological sectioning and scanning electron microscopy and their complete blood count (CBC) was examined. The highest number of trophozoites at the total was observed in the duodenum in gerbils sacrificed on 14 DPI. Number of shed cysts was positively correlated with number of trophozoites rinsed from the intestine. Infected gerbils had lower body weight gain in comparison with control group and in three male gerbils; diarrhoea occurred during infection. Cyst shedding was negatively correlated with values of mean corpuscular haemoglobin concentration. Females showed another pattern in cyst shedding than males. This information needs to be taken into account while planning the experiments.
This is a preview of subscription content, log in to check access.
Access options
Buy single article
Instant access to the full article PDF.
US$ 39.95
Price includes VAT for USA
Subscribe to journal
Immediate online access to all issues from 2019. Subscription will auto renew annually.
US$ 199
This is the net price. Taxes to be calculated in checkout.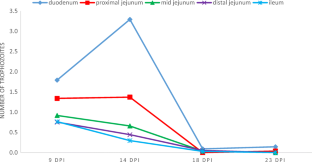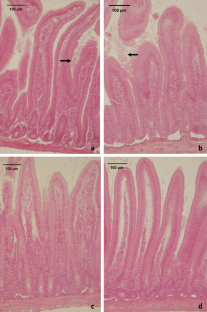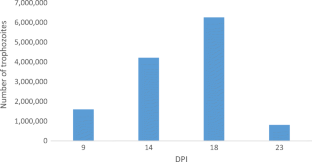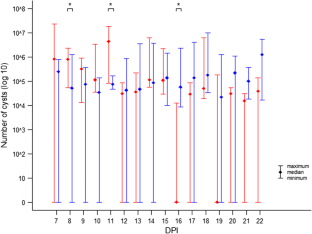 References
Belosevic M, Faubert GM, MacLean JD, Law C, Croll NA (1983) Giardia lamblia infections in Mongolian gerbils: an animal model. J Infect Dis 147(2):222–225

Buret AG, Cotton J (2011) Pathophysiological processes and clinical manifestations of giardiasis. In: Luján HD, Svärd S (eds) Giardia. A Model Organism. Springer, Wien, pp 301–318

Buret A, Gall DG, Nation PN, Olson ME (1990a) Intestinal Protozoa and epithelial cell kinetics, structure and function. Parasitol Today 6(12):375–380

Buret A, Gall DG, Olson ME (1990b) Effects of murine giardiasis on growth, intestinal morphology, and disaccharidase activity. J Parasitol 76:403–409

Cacciò SM, Sprong H (2011) Epidemiology of giardiasis in humans. In: Luján HD, Svärd S (eds) Giardia. A model organism. Springer, Wien, pp 17–28

Cacciò SM, Thompson RCA, McLauchlin J, Smith H (2005) Untravelling cryptosporidium and Giardia epidemiology. Trends Parasitol 21:430–437

Cotton JA, Beatty JK, Buret A (2011) Host parasite interactions and pathophysiology in Giardia infections. Int J Parasitol 41:925–933

De Vizia B, Poggi V, Cucchiara S, Acampora A (1985) Iron malabsorption in giardiasis. J Pediatr 107(1):75–78

Eidinger D, Garrett TJ (1972) Studies of the regulatory effects of the sex hormones on antibody formation and stem cell differentiation. J Exp Med 136:1098–1116

Erlandsen SL (1974) Scanning electron microscopy of intestinal giardiasis lesions of the microvillus border of the villus epithelial cells produced by trophozoites of Giardia. In: Johari O (ed) Scanning Electron Microscopy. IIT Research Institute, Chicago, pp 775–782

Farthing MJ (1993) Diarrhoeal disease: current concepts and future chalenges. Pathogenesis of giardiasis. Trans R Soc Trop Med Hyg 87(3):17–21

Garcia LS, Brewer TC, Shimizu RY (1983) Techniques for the recovery and identification of Cryptosporidium oocysts from stool specimens. J Clin Microbiol 18:185–190

Geurden T, Olson M (2011) Giardia in pets and farm animals, and their zoonotic potential. In: Luján HD, Svärd S (eds) Giardia. A model organism. Springer, Wien, pp 71–92

Gillon J, Ferguson A (1984) Changes in the small intestinal mucosa in giardiasis. In: Erlandsen SL, Meyer EA (eds) Giardia and giardiasis. Biology, pathogenesis, and epidemiology. Plenum Press, New York, pp 163–183

Hanevik K, Hausken T, Morken MH, Strand EA, Mørch K, Coll P, Helgeland L, Langeland N (2007) Persisting symptoms and duodenal inflammation related to Giardia duodenalis infection. J Infect 55(6):524–530

Hardin JA, Buret AG, Olson ME, Kimm MH, Gall DG (1997) Mast cell hyperplasia and increased macromolecular uptake in an animal model of giardiasis. J Parasitol 83:908–912

Harris JC, Plummer S, Lloyd D (2001) Antigiardial drugs. Appl Microbiol Biotechnol 57:614–619

Horejs R, Koudela B (1994) Giardiasis in dogs in a breeding kennel. Vet Med Czech 39(2–3):93–101

Keister BD (1983) Axenic culture of Giardia lamblia in TYI-S-33 medium supplemented with bile. Trans R Soc Trop Med Hyg 77(4):487–488

Koudela B, Vítovec J (1998) Experimental giardiasis in goat kids. Vet Parasitol 74:9–18

Meyer AE, Erlandsen SL, Radulescu S (1984) Animal models for giardiasis. In: Erlandsen SL, Meyer EA (eds) Giardia and giardiasis. Biology, pathogenesis, and epidemiology. Plenum Press, New York, pp 233–240

Monajemzadeh SM, Monajemzadeh M (2008) Comparison of iron and hematological indices in Giardia lamblia infection before and after treatment in 102 children in Ahwaz, Iran. Med Sci Monit 14(1):19–23

Nash TE, Herrington DA, Losonsky GA, Levine MM (1987) Experimental human infections with Giardia lamblia. J Infect Dis 156(6):974–984

Oberhuber G, Stolte M (1990) Giardiasis: analysis of histopathological changes in biopsy specimens of 80 patients. J Clin Pathol 43:641–643

O'Handley RM, Cockwill C, McAllister TA, Jelinski M, Morck DW, Olson ME (1999) Duration of naturally acquired giardiasis and cryptosporidiosis in dairy calves and association with diarrhea. J Am Vet Med Assoc 214:391–396

O'Handley RM, Buret AG, McAllister TA, Jelinski M, Olson ME (2001) Giardiasis in dairy calves: effects of febendazole treatment on intestinal structure and function. Int J Parasitol 31:73–79

Olson ME, McAllister TA, Deselliers L, Morck DW, Cheng K-J, Buret AG, Ceri H (1995) Effects of giardiasis on production in a domestic ruminant (lamb) model. Am J Vet Res 56:1470–1474

Ortega YR, Adam RD (1997) Giardia: overview and update. Clin Infect Dis 25(3):545–549

Pecková R, Doležal K, Sak B, Květoňová D, Kváč M, Nurcahyo W, Foitová I (2018) Effect of Piper betle on Giardia intestinalis infection in vivo. Exp Parasitol 184:39–45

Roberts-Thomson IC, Mitchell GF, Anders RF, Tait BD, Kerlin P, Kerr-Grant A, Cavanagh P (1980) Genetic studies in human and murine giardiasis. Gut 21:397–401

Ruest N, Couture Y, Flaubert GM, Girard C (1997) Morphological changes in the jejunum of calves naturally infected with Giardia spp. and Cryptosporidium spp. Vet Parasitol 69:177–186

Sangster N, Batterham P, Chapman DH, Duraisingh M, Jambre LL, Shirley M, Upcroft JA, Upcroft P (2002) Resistance to antiparasitic drugs: the role of molecular diagnosis. Int J Parasitol 32:637–652

Savioli L, Smith H, Thompson A (2006) Giardia and Cryptosporidium join the neglected diseases initiative. Trends Parasitol 22:203–208

Smith PD, Gillin FD, Spira WM, Nash TE (1982) Chronic giardiasis: studies on drug sensitivity, toxin production, and host immune response. Gastroenterology 83(4):797–803

Thompson RC, Reynoldson JA, Mendis AH (1993) Giardia and giardiasis. Adv Parasitol 32:71–160

Upcroft JA, Upcroft P, Boreham PF (1990) Drug resistance in Giardia intestinalis. Int J Parasitol 20:489–496

Walzer PD, Wolfe MS, Schultz MG (1971) Giardiasis in Russia. J Infect Dis 124:235–237

Weiss DJ (2010) Iron and copper Defficiencies and disorders of Iron metabolism. In: Weiss DJ, Wardrop JK (eds) Schalm's veterinary hematology. Blackwell Publishing Ltd, Ames, pp 167–171

Xiao L, Saeed K, Herd RP (1996) Efficacy of albendazole and febendazole against Giardia infection in cattle. Vet Parasitol 61:165–170

Young KM, Meadows RL (2010) Eosinohils and their disorders. In: Weiss DJ, Wardrop JK (eds) Schalm's veterinary hematology. Blackwell Publishing Ltd, Ames, pp 281–289

Zimmerman KL, Moore DM, Smith SA (2010) Hematology of the Mongolian gerbil. In: Weiss DJ, Wardrop JK (eds) Schalm's veterinary hematology. Blackwell Publishing Ltd, Ames, pp 899–903
Acknowledgements
This work was financially supported by the Czech Academy of Sciences, Grant No. P505/11/1163 and Scholarship program to support creative activity-research collaboration, No. PřF_04_27.10.2006.
Ethics declarations
Conflict of interest
The authors declare that they have no conflict of interest.
Additional information
Section Editor: Panagiotis Karanis
About this article
Cite this article
Pecková, R., Sak, B., Květoňová, D. et al. The course of experimental giardiasis in Mongolian gerbil. Parasitol Res 117, 2437–2443 (2018). https://doi.org/10.1007/s00436-018-5932-5
Received:

Accepted:

Published:

Issue Date:
Keywords
Giardial intestinal distribution

Giardia intestinalis

Giardiasis

Gerbil model