Abstract
The localisation and the composition of germinal material in miracidia and mother sporocysts of Echinostoma caproni were studied with the use of histological and electron microscopic methods. Germinal material in miracidia was localised in the posterior body half and was represented by 3–4 undifferentiated cells and 5–7 germinal cells. Taken together, these cells are referred to as the primordium of the germinal mass. In the mother sporocyst, germinal elements also form and develop in the germinal mass, which is located caudally. It comprises undifferentiated cells and germinal cells as well as embryos of various ages (up to the stage of 30–50 blastomeres). Germinal cells divide only by cleavage. New germinal cells are formed only from undifferentiated cells, which can proliferate in the germinal mass and nowhere else. This indicates that the germinal mass is the reproductive organ of E. caproni mother sporocyst.
This is a preview of subscription content, log in to check access.
Access options
Buy single article
Instant access to the full article PDF.
US$ 39.95
Price includes VAT for USA
Subscribe to journal
Immediate online access to all issues from 2019. Subscription will auto renew annually.
US$ 199
This is the net price. Taxes to be calculated in checkout.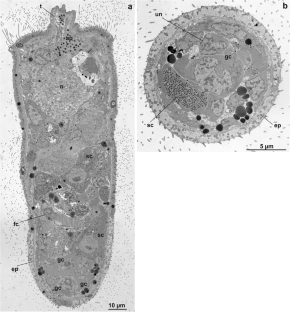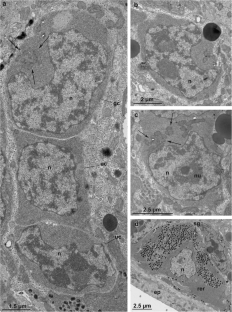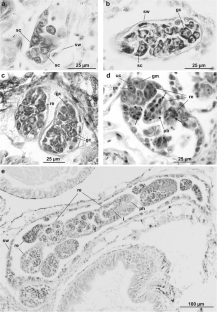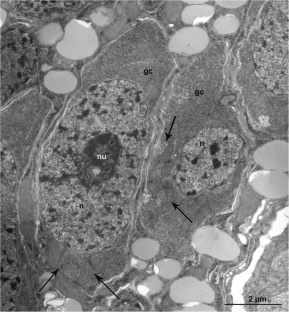 References
Ataev GL (2017) Reproduction of trematoda parthenites. Nauka, Saint-Perersburg (in Russian)

Ataev GL, Coustau C (1999) Cellular response to Echinostoma caproni infection in Biomphalaria glabrata strains selected for susceptibility/resistance. Dev Comp Immunol 23:187–198. https://doi.org/10.1016/S0145-305X(99)00023-3

Ataev GL, Dobrovolskij AA, Fournier A, Jourdane J (1997) Migration and development of mother sporocysts of Echinostoma caproni (Digenea: Echinostomatidae). J Parasitol 83:444–453. https://doi.org/10.2307/3284408

Ataev GL, Fournier A, Coustau C (1998) Comparison of Echinostoma caproni mother sporocysts development in vivo and in vitro using Biomphalaria glabrata snails and a B. glabrata embryonic cell line. J Parasitol 84:227–235. https://doi.org/10.2307/3284475

Ataev GL, Dobrovolskij AA, Avanessian AV, Locker ES (2001) Germinal elements and their development in Echinostoma caproni and Echinostoma paraensei (Trematoda) miracidia. J Parasitol 87:1160–1164. https://doi.org/10.1645/0022-3395(2001)087[1160:GEATDI]2.0.CO;2

Ataev GL, Isakova NP, Dobrovolskij AA (2006) Development of mother sporocysts of Echinostoma caproni (Trematoda: Echinostomatidae). Parasitologiya 40:47–56 (in Russian)

Ataev GL, Bazhenova DR, Tokmakova AS (2016) Reproduction of Schistosoma mansoni mother sporocyst. Parasitologiya 50:114–120 (in Russian)

Born-Torrijos A, Poulin R, Pérez-del-Olmo A, Culurgioni J, Raga JA, Holzer AS (2016) An optimised multi-host trematode life cycle: fishery discards enhance trophic parasite transmission to scavenging birds. Int J Parasitol 46:745–753. https://doi.org/10.1016/j.ijpara.2016.06.005.

Born-Torrijos A, Holzer AS, Raga JA, van Beest GS, Yoneva A (2017) Description of embryonic development and ultrastructure in miracidia of Cardiocephaloides longicollis (Digenea, Strigeidae) in relation to active host finding strategy in a marine environment. J Morphol 278:1137–1148. https://doi.org/10.1002/jmor.20700

Clark WC (1974) Interpretation of life history pattern in the Digenea. Int J Parasitol 4:115–123. https://doi.org/10.1016/0020-7519(74)90093-9

Collins JJ 3rd, King RS, Cogswell A, Williams DL, Newmark PA (2011) An atlas for Schistosoma mansoni organs and life-cycle stages using cell type-specific markers and confocal microscopy. PLoS Negl Trop Dis 5:e1009. https://doi.org/10.1371/journal.pntd.0001009

Cort WW (1944) The germ cell cycle of the digenetic trematodes. Q Rev Biol 19:275–284

Cort WW, Ameel DJ, Van der Woude A (1949) Germinal masses in redia embryos of an Echinostoma and a Psilostome. J Parasitol 35:579–582. https://doi.org/10.2307/3273636

Cort WW, Ameel DJ, Van der Woude A (1954) Germinal development in the sporocysts and rediae of the digenetic trematodes. Exp Parasitol 3:185–225. https://doi.org/10.1016/0014-4894(54)90008-9

Dobrovolskij AA, Ataev GL (2003) The nature of reproduction of digenea rediae and sporocysts. In: Combes C, Jourdane J (eds) Taxonomy, ecology and evolution of metazoan parasites. Université de Perpignan, France, pp 249–272

Fried В, Graczyk ТК (2000) Echinostomes as experimental models for biological research. Kluwer acad publ, London

Fried В, Toledo R (2009) The biology of echinostomes. From the molecule to the community. Springer-Verlag, New York. https://doi.org/10.1007/978-0-387-09577-6

Galaktionov KV, Dobrovolskij AA (2003) The biology and evolution of trematodes. Kluwer Academic Publisher, Dordrecht, Boston, London

Grobben G (1882) Doliolum und sein Generations wechsel nebst Bemerkangen über den Generationswechsel bei Acalephen Cestoden und Trematoden Arb. Zool Inst Univ Wein 4:201–298

Idris N, Fried B (1996) Development, hatching, and infectivity of Echinostoma caproni (Trematoda) eggs, and histologic and histochemical observations on the miracidia. Parasitol Res 82:136–142. https://doi.org/10.1007/s004360050084

Leuckart R (1882) Zur Entwicklungsgeschichte des Leberegels (Distomum hepaticum). Arch Naturg 48:80–119

Pan SC (1980) The fine structure of the miracidium of Schistosoma mansoni. J Invert Pathol 36:307–372. https://doi.org/10.1016/0022-2011(80)90040-3

Podvyaznaya IM, Galaktionov KV (2014) Trematode reproduction in the molluscan host: an ultrastructural study of the germinal mass in the rediae of Himasthla elongata (Mehlis, 1831) (Digenea: Echinostomatidae). Parasitol Res 113:1215–1224. https://doi.org/10.1007/s00436-014-3760-9

Sinitzin D (1910) Studien über die Phylogenie der Trematoden. III. Cercaria plicata Mihi und Tetracotyle Brand., als dimorphe Larven der Distomi danebest einer Hypothese über die Endstehung der Wirswechsels bei den Trematoden. Biol Zhurnal 1:106–145

Steenstrup JJ (1842) Über den Generationswechsel oder die Fortpflanzung und Entwicklung durch abwechselnde Generationen, eine eigentumliche Form der Brutpflege in den niederen Tierklassen. Copenhagen

Trouvé S, Renaud R, Durand P, Jourdane J (1996) Selfing and outcrossing in a parasitic hermaphrodite helminth (Trematoda, Echinostomatidae). Heredity 77:1–8. https://doi.org/10.1038/hdy.1996.101

Wilson RA, Pullen R, Denison J (1971) An investigation of the mechanism of infection by digenetic trematodes: the penetration of miracidium of the Fasciola hepatica into its snail host Lymnaea luteola. Parasitology 63:491–506
Funding
This investigation was supported financially by the Russian Foundation for Basic Research (grant 16−04−00793a) and the Ministry of Education and Science of Russia (grant 6.7509.2017/8.9).
About this article
Cite this article
Ataev, G.L., Tokmakova, A.S. Reproduction of Echinostoma caproni mother sporocysts (Trematoda). Parasitol Res 117, 2419–2426 (2018). https://doi.org/10.1007/s00436-018-5930-7
Received:

Accepted:

Published:

Issue Date:
Keywords
Echinostoma caproni

Reproduction

Mother sporocyst

Germinal mass

Germinal cells

Undifferentiated cells