Abstract
A Brazilian fox (Lycalopex vetulus) was rescued from a highway, and 16 days after maintained in captivity, the fox shed oocysts with sizes compatible with Hammondia sp. and Neospora caninum. DNA extracted from oocysts were initially tested in two PCRs targeting the internal transcribed spacer 1 (ITS-1) of the rDNA of Hammondia heydorni and the Nc-5 gene of N. caninum. A 270-bp product was visualized in the PCR for H. heydorni. No amplification was observed for N. caninum PCR. Since ITS-1-based PCR is not sufficient to differentiate Hammondia species derived from canids, oocyst DNA was examined using multilocus sequence analysis of five genetic fragments [intron 1 of the alpha tubulin gene (intron 1), internal transcribed spaces 1 and 2 (ITS-1 and ITS-2) of the rDNA, 28S rRNA gene (D2/D3 domain), and heat shock protein 70 (Hsp70)]. The Hammondia sp. oocyst from the Brazilian fox, referred here as H-FOXBR isolate, is closely related to H. heydorni and Hammondia triffittae, but differs from these parasites in three genetic markers (alpha tubulin gene, ITS-2, and 28S rRNA). As reported by other research groups, Hammondia spp. excreted by canids are genetically diverse and may encompass additional species besides H. heydorni and H. triffittae. In this study, we confirmed that H-FOXBR has significant genetic differences in comparison to H. heydorni and H. triffittae and may represent a separate species. Further studies are needed to identify the life cycle of this parasite and to characterize the parasite stages in the intermediate and definitive hosts.
This is a preview of subscription content, log in to check access.
Access options
Buy single article
Instant access to the full article PDF.
US$ 39.95
Price includes VAT for USA
Subscribe to journal
Immediate online access to all issues from 2019. Subscription will auto renew annually.
US$ 199
This is the net price. Taxes to be calculated in checkout.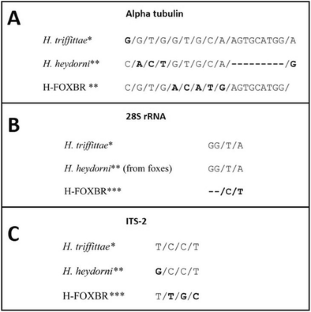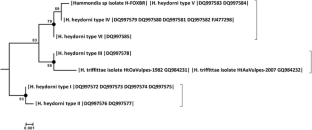 References
Abel J, Schares G, Orzeszko K, Gasser RB, Ellis JT (2006) Hammondia isolated from dogs and foxes are genetically distinct. Parasitology 132:187–192. https://doi.org/10.1017/S0031182005008814

Christie E, Dubey JP (1977) Cross-immunity between Hammondia and Toxoplasma infections in mice and hamsters. Infect Immun 18:412–415

Dalponte JC (2009) Lycalopex vetulus (Carnivora: Canidae). Mamm Species 847:1–7

Dubey JP, Williams CS (1980) Hammondia heydorni infection in sheep, goats, moose, dogs and coyotes. Parasitology 81:123–127

Ellis JT, Morrison DA, Liddell S, Jenkins MC, Mohammed OB, Ryce C, Dubey JP (1999) The genus Hammondia is paraphyletic. Parasitology 118(Pt 4):357–362

Frenkel JK, Dubey JP (1975) Hammondia hammondi gen. nov., sp.nov., from domestic cats, a new coccidian related to Toxoplasma and Sarcocystis. Z Parasitenkd 46:3–12

Gjerde B, Dahlgren SS (2011) Hammondia triffittae n. comb. of foxes ( Vulpes spp.): biological and molecular characteristics and differentiation from Hammondia heydorni of dogs. Parasitology 138:303–321. https://doi.org/10.1017/S0031182010001265

Heydorn AO, Gestrich R, Ipczynski V (1975) Life cycle of the small form of Isospora bigemina in dogs. 2. Developmental stages in the canine intestine. Berl Munch Tierarztl Wochenschr 88:449–453

Jie HJ, Yu M, Fen YY, Mei GY, Yan Y, Esch GW, QingTuan F (2013) First isolation of Hammondia heydorni from dogs in China. Vet Parasitol 197:43–49. https://doi.org/10.1016/j.vetpar.2013.04.035

Monteiro RM et al (2007) Molecular phylogenetic analysis in Hammondia-like organisms based on partial Hsp70 coding sequences. Parasitology 134:1195–1203. https://doi.org/10.1017/S0031182007002612

Ogedengbe ME, Ogedengbe JD, Whale JC, Elliot k J-EMA, Barta JR (2016) Molecular phylogenetic analyses of tissue coccidia (sarcocystidae; apicomplexa) based on nuclear 18s RDNA and mitochondrial COI sequences confirms the paraphyly of the genus Hammondia. Parasitol Open 2:1–16. https://doi.org/10.1017/pao.2015.7

Payne S, Ellis J (1996) Detection of Neospora caninum DNA by the polymerase chain reaction. Int J Parasitol 26:347–351

Riahi H, Darde ML, Bouteille B, Leboutet MJ, Pestre-Alexandre M (1995) Hammondia hammondi cysts in cell cultures. J Parasitol 81:821–824

Santos SL, de Souza Costa K, Gondim LQ, da Silva MS, Uzeda RS, Abe-Sandes K, Gondim LF (2010) Investigation of Neospora caninum, Hammondia sp., and Toxoplasma gondii in tissues from slaughtered beef cattle in Bahia, Brazil. Parasitol Res 106:457–461. https://doi.org/10.1007/s00436-009-1686-4

Schares G, Heydorn AO, Cuppers A, Mehlhorn H, Geue L, Peters M, Conraths FJ (2002) In contrast to dogs, red foxes (Vulpes vulpes) did not shed Neospora caninum upon feeding of intermediate host tissues. Parasitol Res 88:44–52

Schares G, Meyer J, Barwald A, Conraths FJ, Riebe R, Bohne W, Rohn K, Peters M (2003) A Hammondia-like parasite from the European fox (Vulpes vulpes) forms biologically viable tissue cysts in cell culture. Int J Parasitol 33:229–234

Silva MS, Uzeda RS, Costa KS, Santos SL, Macedo AC, Abe-Sandes K, Gondim LF (2009) Detection of Hammondia heydorni and related coccidia (Neospora caninum and Toxoplasma gondii) in goats slaughtered in Bahia, Brazil. Vet Parasitol 162:156–159. https://doi.org/10.1016/j.vetpar.2009.02.007

Slapeta JR, Koudela B, Votypka J, Modry D, Horejs R, Lukes J (2002) Coprodiagnosis of Hammondia heydorni in dogs by PCR based amplification of ITS 1 rRNA: differentiation from morphologically indistinguishable oocysts of Neospora caninum. Vet J 163:147–154. https://doi.org/10.1053/tvjl.2001.0599

Soares RM, Cortez LR, Gennari SM, Sercundes MK, Keid LB, Pena HF (2009) Crab-eating fox (Cerdocyon thous), a South American canid, as a definitive host for Hammondia heydorni. Vet Parasitol 162:46–50. https://doi.org/10.1016/j.vetpar.2009.02.003

Soares RM, Lopes EG, Keid LB, Sercundes MK, Martins J, Richtzenhain LJ (2011) Identification of Hammondia heydorni oocysts by a heminested-PCR (hnPCR-AP10) based on the H. heydorni RAPD fragment AP10. Vet Parasitol 175:168–172. https://doi.org/10.1016/j.vetpar.2010.09.022

Yamage M, Flechtner O, Gottstein B (1996) Neospora caninum: specific oligonucleotide primers for the detection of brain "cyst" DNA of experimentally infected nude mice by the polymerase chain reaction (PCR). J Parasitol 82:272–279
Funding
This work was partially funded by CNPq (Conselho Nacional de Desenvolvimento Científico e Tecnológico/number: 308795/2015-6), Brazil. Luís Gondim and Rodrigo Soares are recipients of productivity fellowships from CNPq.
Ethics declarations
Conflict of interest
The authors declare that they have no conflict of interest.
About this article
Cite this article
Gondim, L.F.P., Soares, R.M., Osaki, S.C. et al. Hammondia sp. oocysts shed by a Brazilian fox (Lycalopex vetulus) differ from Hammondia heydorni and Hammondia triffittae. Parasitol Res 117, 2299–2304 (2018). https://doi.org/10.1007/s00436-018-5920-9
Received:

Accepted:

Published:

Issue Date:
Keywords
Hammondia

Fox

Lycalopex vetulus

Oocyst

DNA