Abstract
Trichomoniasis is the most common non-viral, sexually transmitted infection affecting humans worldwide. The main treatment for trichomoniasis is metronidazole (MTZ). However, adverse effects and reports of resistance have stimulated the development of therapeutic alternatives. The ease of manipulation of the side chains of MTZ coupled with its safety makes this molecule attractive for the development of new drugs. In this context, we evaluated the activity of the chlorinated MTZ derivative, MTZ-Cl, on sensitive and resistant strains of Trichomonas vaginalis. MTZ-Cl presented a remarkable activity against both sensitive and resistant strains. In vitro and in vivo toxicity assays indicated that the new molecule is safe for future clinical trials. Furthermore, we noticed different rates of free radical production between the sensitive and resistant strains. MTZ-Cl induced a higher release of nitric oxide (NO, ~ 9000 a.u.) by both sensitive and resistant strains. However, the sensitive strain produced a greater amount of H2O2 (~ 1,800,000 a.u.) and superoxide radicals (~ 350,000 a.u.) in the presence of MTZ. In the resistant strain, production of these radicals was more prominent when MTZ-Cl was used. Collectively, these results suggest that NO is an important molecule in the trichomonacidal activity against resistant and sensitive strains, suggesting an alternative pathway for MTZ-Cl activation. We highlight the high trichomonacidal potential of MTZ-Cl, improving the effectiveness of treatment and reducing side effects. In addition, MTZ-Cl is derived from a well-established drug on the world market that presents low toxicity to human cells, suggesting its safety to proceed with future clinical trials.
This is a preview of subscription content, log in to check access.
Access options
Buy single article
Instant access to the full article PDF.
US$ 39.95
Price includes VAT for USA
Subscribe to journal
Immediate online access to all issues from 2019. Subscription will auto renew annually.
US$ 199
This is the net price. Taxes to be calculated in checkout.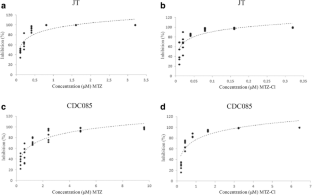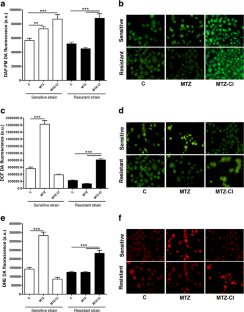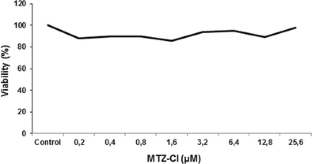 References
Abid M, Agarwal SM, Azam A (2008) Synthesis and antiamoebic activity of metronidazole thiosemicarbazone analogues. Eur J Med Chem 43:2035–2039. https://doi.org/10.1016/j.ejmech.2007.12.007

Alawadi DY, Saadeh HA, Kaur H et al (2015) Metronidazole derivatives as a new class of antiparasitic agents: synthesis, prediction of biological activity, and molecular properties. Med Chem Res 24:1196–1209. https://doi.org/10.1007/s00044-014-1197-4

Anthwal A, Rajesh UC, Rawat MSM, Kushwaha B, Maikhuri JP, Sharma VL, Gupta G, Rawat DS (2014) Novel metronidazole-chalcone conjugates with potential to counter drug resistance in Trichomonas vaginalis. Eur J Med Chem 79:89–94. https://doi.org/10.1016/j.ejmech.2014.03.076

Bala V, Chhonker YS (2018) Recent developments in anti-Trichomonas research: an update review. Eur J Med Chem 143:232–243. https://doi.org/10.1016/j.ejmech.2017.11.029

Benchimol M (2008) The hydrogenosome as a drug target. Curr Pharm Des 14:872–881. https://doi.org/10.2174/138161208784041114

Bendesky A, Menéndez D, Ostrosky-Wegman P (2002) Is metronidazole carcinogenic? Mutat Res Rev Mutat Res 511:133–144

Bjornsson E, Nordlinder H, Olsson R (2002) Metronidazol as a probable cause of severe liver injury. Hepato-Gastroenterology 49:252–254

Brown DM, Upcroft JA, Dodd HN, Chen N, Upcroft P (1999) Alternative 2-keto acid oxidoreductase activities in Trichomonas vaginalis. Mol Biochem Parasitol 98:203–214. https://doi.org/10.1016/S0166-6851(98)00169-8

Busatti HGNO, Vieira AED, Viana JC, Silva HE, Souza-Fagundes EM, Martins-Filho OA, Alves RJ, Gomes MA (2007) Effect of metronidazole analogues on Giardia lamblia cultures. Parasitol Res 102:145–149. https://doi.org/10.1007/s00436-007-0723-4

CDC (2015) Division of STD Prevention, National Center for HIV/AIDS, Viral Hepatitis, STD, and TB Prevention. https://www.cdc.gov/std/tg2015/trichomoniasis.htm. Accessed 2 Jun 2017

Crowell AL, Sanders-Lewis KA, Secor WE (2003) In vitro metronidazole and tinidazole activities against metronidazole-resistant strains of Trichomonas vaginalis. Antimicrob Agents Chemother 47:1407–1409. https://doi.org/10.1128/AAC.47.4.1407-1409.2003

Cudmore SL, Delgaty KL, Hayward-McClelland SF et al (2004) Treatment of infections caused by metronidazole-resistant Trichomonas vaginalis. Clin Microbiol Rev 17:783–793

Diamond LS, CLARK CG, CUNNICK CC (1995) YI-S, a casein-free medium for axenic cultivation of Entamoeba histolytica, related Entamoeba, Giardia intestinalis and Trichomonas vaginalis. J Eukaryot Microbiol 42:277–278. https://doi.org/10.1111/j.1550-7408.1995.tb01579.x

Dunne RL, DUNN LA, UPCROFT P et al (2003) Drug resistance in the sexually transmitted protozoan Trichomonas vaginalis. Cell Res 13:239–249. https://doi.org/10.1038/sj.cr.7290169

Fichorova RN (2009) Impact of T. vaginalis infection on innate immune responses and reproductive outcome. J Reprod Immunol 83:185–189. https://doi.org/10.1016/j.jri.2009.08.007

Forna F, Gülmezoglu AM (2003) Interventions for treating trichomoniasis in women. Cochrane Database Syst Rev. https://doi.org/10.1002/14651858.CD000218

Gómez-Arroyo S, Melchor-Castro S, Villalobos-Pietrini R, Camargo EM, Salgado-Zamora H, Campos Aldrete ME (2004) Cytogenetic study of metronidazole and three metronidazole analogues in cultured human lymphocytes with and without metabolic activation. Toxicol Vitr 18:319–324. https://doi.org/10.1016/j.tiv.2003.09.006

Goodhew EB, Secor WE (2013) Drug library screening against metronidazolesensitive and metronidazole-resistant Trichomonas vaginalis isolates. Sex Transm Infect 89:479–484. https://doi.org/10.1136/sextrans-2013-051032

Hussein R, El-Halabi M, Ghaith O et al (2011) Severe hepatotoxicity associated with the combination of spiramycin plus metronidazole. Arab J Gastroenterol 12:44–47. https://doi.org/10.1016/j.ajg.2010.11.001

Ilić K, Jakovljević E, Škodrić-Trifunović V (2012) Social-economic factors and irrational antibiotic use as reasons for antibiotic resistance of bacteria causing common childhood infections in primary healthcare. Eur J Pediatr 171:767–777

Jain A, Lal N, Kumar L, Verma V, Kumar R, Kumar L, Singh V, Mishra RK, Sarswat A, Jain SK, Maikhuri JP, Sharma VL, Gupta G (2011) Novel trichomonacidal spermicides. Antimicrob Agents Chemother 55:4343–4351. https://doi.org/10.1128/AAC.00199-11

Kenyon C, Buyze J, Colebunders R (2014) Classification of incidence and prevalence of certain sexually transmitted infections by world regions. Int J Infect Dis 18:73–80. https://doi.org/10.1016/j.ijid.2013.09.014

Khabnadideh S, Rezaei Z, Motazedian MH, Kohpeyma MJ (2011) Antigiardiais effects of new metronidazole derivatives on trophozoites in TYI-S-33. Iran J Pharm Sci 7:181–184

Kissinger P (2015) Epidemiology and treatment of trichomoniasis. Curr Infect Dis Rep 17:484

Li HQ, Xiao ZP, Fang RQ, Zhu HL (2008) The syntheses and crystal structures of metronidazole-derived compounds. J Chem Crystallogr 38:461–466. https://doi.org/10.1007/s10870-008-9343-9

Löfmark S, Edlund C, Nord CE (2010) Metronidazole is still the drug of choice for treatment of anaerobic infections. Clin Infect Dis 50(Suppl 1):S16–S23. https://doi.org/10.1086/647939

McClelland RS, Sangaré L, Hassan WM et al (2007) Infection with Trichomonas vaginalis increases the risk of HIV-1 acquisition. J Infect Dis 195:698–702. https://doi.org/10.1086/511278

Meites E, Llata E, Braxton J, Schwebke JR, Bernstein KT, Pathela P, Asbel LE, Kerani RP, Mettenbrink CJ, Weinstock HS (2013) Trichomonas vaginalis in selected U.S. sexually transmitted disease clinics: testing, screening, and prevalence. Sex Transm Dis 40:865–869. https://doi.org/10.1097/OLQ.0000000000000038

Menezes CB, Amanda Piccoli Frasson AP, Tasca T (2016) Trichomoniasis—are we giving the deserved attention to the most common non-viral sexually transmitted disease worldwide? Microb Cell 3:404–418. https://doi.org/10.15698/mic2016.09.526

Moshafi MH, Sorkhi M, Emami S, Nakhjiri M, Yahya-Meymandi A, Negahbani AS, Siavoshi F, Omrani M, Alipour E, Vosooghi M, Shafiee A, Foroumadi A (2011) 5-Nitroimidazole-based 1,3,4-thiadiazoles: heterocyclic analogs of metronidazole as anti-helicobacter pylori agents. Arch Pharm (Weinheim) 344:178–183. https://doi.org/10.1002/ardp.201000013

Muzny CA, Schwebke JR (2013) The clinical spectrum of Trichomonas vaginalis infection and challenges to management. Sex Transm Infect 89:423–425. https://doi.org/10.1136/sextrans-2012-050893

Niles AL, Moravec RA, Riss TL (2009) In vitro viability and cytotoxicity testing and same-well multi-parametric combinations for high throughput screening. Curr Chem Genomics 3:33–41. https://doi.org/10.2174/1875397300903010033

OECD (2010) Series on Testing and Assessment No. 129 Guidance document on using cytotoxicity tests to estimate starting doses for acute oral systemic toxicity tests. In: Development. pp 1–16

OECD (2002) Test No. 423: Acute Oral toxicity - Acute Toxic Class Method. Oecd Guidel Test Chem 1–14. doi: 10.1787/9789264071001-en

Salahuddin A, Agarwal SM, Avecilla F, Azam A (2012) Metronidazole thiosalicylate conjugates: synthesis, crystal structure, docking studies and antiamoebic activity. Bioorganic Med Chem Lett 22:5694–5699. https://doi.org/10.1016/j.bmcl.2012.06.083

Sköld M, Gnarpe H, Hillström L (1977) Ornidazole: a new antiprotozoal compound for treatment of Trichomonas vaginalis infection. Br J Vener Dis 53:44–48

Sutcliffe S, Neace C, Magnuson NS, Reeves R, Alderete JF (2012) Trichomonosis, a common curable STI, and prostate carcinogenesis—a proposed molecular mechanism. PLoS Pathog 8:1–4. https://doi.org/10.1371/journal.ppat.1002801

Upcroft JA, Dunn LA, Wright JM, Benakli K, Upcroft P, Vanelle P (2006) 5-Nitroimidazole drugs effective against metronidazole-resistant Trichomonas vaginalis and Giardia duodenalis. Antimicrob Agents Chemother 50:344–347. https://doi.org/10.1128/AAC.50.1.344-347.2006

Upcroft P, Upcroft JA (2001) Drug targets and mechanisms of resistance in the anaerobic protozoa. Clin Microbiol Rev 14:150–164

World Health Organization (2011) Prevalence and incidence of selected sexually transmitted infections: Chlamydia trachomatis, Neisseria gonorrhoeae, syphilis and Trichomonas vaginalis: methods and results used by WHO to generate 2005 estimates. WHO 1–38
Ethics declarations
This protocol was approved by the Ethical Committee for Animal Use from the Universidade Federal de Minas Gerais (CEUA 239/2015).
About this article
Cite this article
Chacon, M.O., Fonseca, T.H.S., Oliveira, S.B.V. et al. Chlorinated metronidazole as a promising alternative for treating trichomoniasis. Parasitol Res 117, 1333–1340 (2018). https://doi.org/10.1007/s00436-018-5813-y
Received:

Accepted:

Published:

Issue Date:
Keywords
Trichomonas vaginalis

Treatment

Resistance

Metronidazole analogue