Abstract
Toxoplasma gondii is the etiological agent of toxoplasmosis, a common parasitic disease that affects nearly one-third of the human population. The primary infection can be asymptomatic in healthy individuals but may prove fatal in immunocompromised individuals. Available treatment options for toxoplasmosis patients are limited, underscoring the urgent need to identify and develop new therapies. Non-biased screening of libraries of chemical compounds including the repurposing of well-characterized compounds is emerging as viable approach to achieving this goal. In the present investigation, we screened libraries of natural product and FDA-approved compounds to identify those that inhibited T. gondii growth. We identified 32 new compounds that potently inhibit T. gondii growth. Our findings are new and promising, and further strengthen the prospects of drug repurposing as well as the screening of a wide range of chemical compounds as a viable source of alternative anti-parasitic therapeutic agents.
This is a preview of subscription content, log in to check access.
Access options
Buy single article
Instant access to the full article PDF.
US$ 39.95
Price includes VAT for USA
Subscribe to journal
Immediate online access to all issues from 2019. Subscription will auto renew annually.
US$ 199
This is the net price. Taxes to be calculated in checkout.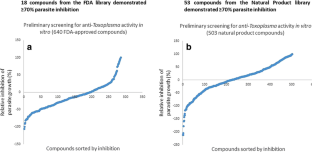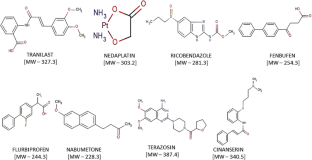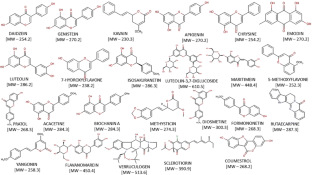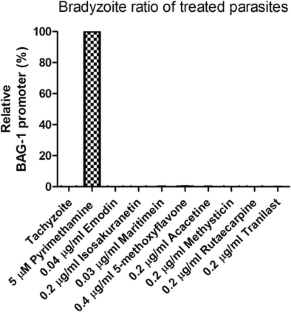 References
Adeyemi OS, Molina MT, Eseola AO, Fonseca-Berzal C, Gómez-Barrio A (2017a) New imidazole compounds active against Trypanosoma cruzi. Comb Chem High Throughput Screen 20(1):20–24. https://doi.org/10.2174/1386207320666170110141907

Adeyemi OS, Murata Y, Sugi T, Kato K (2017b) Inorganic nanoparticles kill Toxoplasma gondii via changes in redox status and mitochondrial membrane potential. Int J Nanomedicine 12:1–15

Ambriz-Pérez DL, Leyva-López N, Gutierrez-Grijalva EP, Heredia JB, Yildiz F (2016) Phenolic compounds: natural alternative in inflammation treatment. A review. Cogent Food Agric 2(1):1131412

Beck HP, Blake D, Darde ML et al (2009) Molecular approaches to diversity of populations of apicomplexan parasites. Int J Parasitol 39(2):175–189. https://doi.org/10.1016/j.ijpara.2008.10.001

Black MW, Boothroyd JC (2000) Lytic cycle of Toxoplasma gondii. Microbiol Mol Biol Rev 64(3):607–623. https://doi.org/10.1128/MMBR.64.3.607-623.2000

Castro JA, de Mecca MM, Bartel LC (2006) Toxic side effects of drugs used to treat Chagas' disease (American trypanosomiasis). Hum Exp Toxicol 25(8):471–479. https://doi.org/10.1191/0960327106het653oa

Darakhshan S, Pour AB (2015) Tranilast: a review of its therapeutic applications. Pharmacol Res 91:15–28. https://doi.org/10.1016/j.phrs.2014.10.009

Dittmar AJ, Drozda AA, Blader IJ (2016) Drug repurposing screening identifies novel compounds that effectively inhibit Toxoplasma gondii growth. mSphere 1(2)

Finlayson K, Witchel HJ, McCulloch J, Sharkey J (2004) Acquired QT interval prolongation and HERG: implications for drug discovery and development. Eur J Pharmacol 500(1-3):129–142. https://doi.org/10.1016/j.ejphar.2004.07.019

Fonseca-Berzal C, Ruiz FAR, Escario JA, Kouznetsov VV, Gomez-Barrio A (2014) In vitro phenotypic screening of 7-chloro-4-amino(oxy) quinoline derivatives as putative anti-Trypanosoma cruzi agents. Bioorg Med Chem Lett 24(4):1209–1213

Hill DE, Chirukandoth S, Dubey JP (2005) Biology and epidemiology of Toxoplasma gondii in man and animals. Anim Health Res Rev 6(01):41–61. https://doi.org/10.1079/AHR2005100

Ishiwa A, Kobayashi K, Takemae H, Sugi T, Gong H, Recuenco FC, Murakoshi F, Inomata A, Horimoto T, Kato K (2013) Effects of dextran sulfates on the acute infection and growth stages of Toxoplasma gondii. Par Res 112(12):4169–4176. https://doi.org/10.1007/s00436-013-3608-8

Jia S, Hu C (2010) Pharmacological effects of Rutaecarpine as a cardiovascular protective agent. Molecules 15(3):1873–1881. https://doi.org/10.3390/molecules15031873

Kamau ET, Srinivasan AR, Brown MJ, Fair MG, Caraher EJ, Boyle JP (2012) A focused small-molecule screen identifies 14 compounds with distinct effects on Toxoplasma gondii. Antimicrob Agents Chemother 56(11):5581–5590. https://doi.org/10.1128/AAC.00868-12

Murata Y, Sugi T, Weiss LM, Kato K (2017) Identification of compounds that suppress Toxoplasma gondii tachyzoites and bradyzoites. PLoS One 12(6):e0178203. https://doi.org/10.1371/journal.pone.0178203

Sharma R, Tiku AB, Giri A (2017) Pharmacological properties of Emodin – Anthraquinone derivatives. J Nat Prod Resour 3(1):97–101

Sugi T, Masatani T, Murakoshi F, Kawazu S, Kato K (2014) Microplate assay for screening Toxoplasma gondii bradyzoite differentiation with DUAL luciferase assay. Anal Biochem 464:9–11. https://doi.org/10.1016/j.ab.2014.06.018
Acknowledgements
This research was funded through a JSPS Fellowship to Dr. Adeyemi. The study was supported by grants-in-aid for Scientific Research, Scientific Research on Innovative Areas (3308 and 3407) from the Ministry of Education, Culture, Science, Sports, and Technology (MEXT) of Japan and by the Ito Foundation. The Natural Products Compound Library and the FDA-approved Compound Library were provided by the Cancer Research Institute of Kanazawa University.
Ethics declarations
Conflicts of interest
The authors declare that they have no competing interests.
Additional information
Section Editor: Dana Mordue
About this article
Cite this article
Adeyemi, O.S., Sugi, T., Han, Y. et al. Screening of chemical compound libraries identified new anti-Toxoplasma gondii agents. Parasitol Res 117, 355–363 (2018). https://doi.org/10.1007/s00436-017-5698-1
Received:

Accepted:

Published:

Issue Date:
Keywords
Anti-parasitic

Drug discovery

FDA-approved compounds

Natural products

Toxoplasmosis