Abstract
Anisakidae are represented mainly by species of Anisakis Dujardin, 1845, Pseudoterranova Krabbe, 1878, and Contracaecum Railliet and Henry, 1913. Integrative taxonomy, based on morphological and genetic approaches, can provide a precise identification of species, increasing the knowledge of their systematics, biology, and evolution. In this study, integrative taxonomy was applied in order to identify, at generic and/or specific taxonomic level, 245 anisakids from 63 cetaceans of 12 different species, which stranded in the Brazilian coast. Parasites from nine hosts were preserved by freezing and, from 54 hosts, were fixed in 70% ethanol (n = 43) or alcohol-formalin-acetic (n = 11) for a period varying from 6 to 19 years. The morphological analysis allowed the identification of 171 specimens at genus level: 120 as Anisakis sp. clade I, 47 as Anisakis sp. clade II, and four as Pseudoterranova sp. From those 15, specimens were identified at species level, seven as Anisakis typica, seven as Anisakis paggiae and one as Anisakis brevispiculata. Moreover, 74 specimens were identified as belonging to Anisakidae family. The genetic analysis based on cox2 gene allowed the identification/confirmation of Anisakis typica (n = 33), Anisakis paggiae (n = 1), and for the first time in the Brazilian coast, Anisakis brevispiculata (n = 4) and Anisakis ziphidarum (n = 1). Additionally, a probably new Anisakis species, genetically close to A. paggiae, is reported infecting a dwarf sperm whale. The results clearly indicated that the preservation of nematodes influenced significantly on the level of taxonomic definition, in both morphological and, mainly, genetic analyses. Pseudoterranova sp. was identified for the first time in the spinner dolphin, Stenella longirostris. The detection of nine A. paggiae specimens, in three Kogia breviceps animals, substantiates the austral occurrence of this species. The identification of A. brevispiculata in Kogia sima and K. breviceps confirms Kogiidae whales as their most common hosts. Anisakis typica was corroborated as a generalist species, the most widely distributed in the Brazilian coast, infecting a broad variety of Delphinidae and Kogiidae, with two new geographical records in Stenella frontalis and Lagenodelphis hosei. The study showed a new scenery of parasite diversity of marine anisakids, updating the Anisakis species distribution.
This is a preview of subscription content, log in to check access.
Access options
Buy single article
Instant access to the full article PDF.
US$ 39.95
Price includes VAT for USA
Subscribe to journal
Immediate online access to all issues from 2019. Subscription will auto renew annually.
US$ 199
This is the net price. Taxes to be calculated in checkout.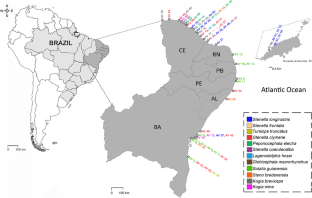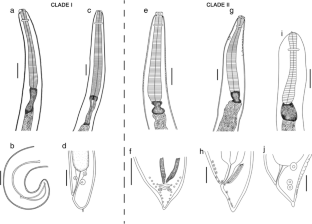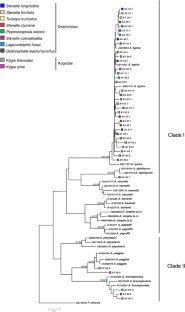 References
Abollo E, Gestal C, Pascual S (2001) Anisakis infestation in marine fish and cephalopods from Galician waters: an updated perspective. Parasitol Res 87:492–499

Abollo E, Pascual S (2002) SEM study of Anisakis brevispiculata Dollfus, 1966 and Pseudoterranova ceticola (Deardorff and Overstreet, 1981) (Nematoda: Anisakidae), parasites of the pygmy sperm whale Kogia breviceps. Sci Mar 66:249–255

Andrade A, Pinedo C, Pereira J Jr (1997) The gastrointestinal helminths of the Franciscana, Pontoporia blainvillei, in southern Brazil. Rep Int Whaling Com 47:669–673

Aznar F, Raga J, Corcuera J, Monzon F (1995) Helminths as biological tags for franciscana (Pontoporia blainvillei) (Cetacea: Pontoporidae) in Argentinian and Uruguayan waters. Mammalia 59:427–435

Beck M, Evans R, Feist S, Stebbing P, Longshaw M et al (2008) Anisakis simplex sensu lato associated with red vent syndrome in wild adult Atlantic salmon Salmo salar in England and Wales. Dis Aquat Org 82:61–65

Berland B (1961) Nematodes from some Norwegian marine fishes. Sarsia 2:1–50

Borges J, Cunha L, Santos H, Monteiro-Neto C, Santos C (2012) Morphological and molecular diagnosis of anisakid nematode larvae from cutlassfish (Trichiurus lepturus) off the coast of Rio de Janeiro, Brazil. PLoS One 7:e40447

Cavallero S, Nadler S, Paggi L, Barros N, D'Amelio S (2011) Molecular characterization and phylogeny of anisakid nematodes from cetaceans from southeastern Atlantic coasts of USA, Gulf of Mexico, and Caribbean Sea. Parasitol Res 108:781–792

Cavallero S, Ligas A, Bruschi F, D'Amelio S (2012) Molecular identification of Anisakis spp. from fishes collected in the Tyrrhenian Sea (NW Mediterranean). Vet Parasitol 187:563–566

Chai J, Murrell K, Lymbery A (2005) Fish-borne parasitic zoonoses: status and issues. Int J Parasitol 35:1233–1254

Colon-Llavina M, Mignucci-Giannoni A, Mattiucci S, Paoletti M, Nascetti G et al (2009) Additional records of metazoan parasites from Caribbean marine mammals, including genetically identified anisakid nematodes. Parasitol Res 105:1239–1252

Culik B (2010) Odontocetes—the toothed whales. Distribution, behaviour, migration and threats. Available from http:/www.cms.int/reports/small_cetaceans/index.htm (accessed March, 2016)

Davey J (1971) A revision of the Genus Anisakis Dujardin, 1845 (Nematoda: Ascaridata). J Helminthol 45:51–72

Di Azevedo M, Carvalho V, Iñiguez A (2014) First record of the anisakid nematode Anisakis nascettii in the Gervais' beaked whale Mesoplodon europaeus from Brazil. J Helminthol 28:1–6

Di Azevedo MI, Knoff M, Carvalho V, Mello W, Lopes Torres E et al (2015) Morphological and genetic identification of Anisakis paggiae (Nematoda: Anisakidae) in dwarf sperm whale Kogia sima from Brazilian waters. Dis Aquat Org 113:103–111

Dollfus RP (1966) Helminthofaune de Kogia breviceps (Blainville, 1838) cétacé odontocéte. Ann Soc Sci Nat Charente-Marit 4:3–6

Doyle J, Doyle J (1987) A rapid DNA isolation procedure for small quantities of fresh leaf tissue. Phytochem Bul 19:11–15

Fonseca MC, Knoff M, Felizardo NN, Di Azevedo MI, Torres EJ, Gomes DC, Iñiguez AM, SãoClemente SC (2016) Integrative taxonomy of Anisakidae and Raphidascarididae (Nematoda) in Paralichthys patagonicus and Xystreurys rasile (Pisces: Teleostei) from Brazil. Int J Food Microbiol 235:113–124

Geraci J, St Aubin D (1987) Effects of parasites on marine mammals. Int J Parasitol 17:407–414

González-Solís D, Vidal-Martinez V, Antochiw-Alonso D, Ortega-Argueta A (2006) Anisakid nematodes from stranded pygmy sperm whales, Kogia breviceps (Kogiidae), in three three localities of the Yucatan Peninsula, Mexico. J Parasitol 92:1120–1122

Gunter G, Overstreet R (1974) Cetacean notes. I. Sei and rorqual whales on the Mississippi coast, a correction. II. A dwarf sperm whale in Mississippi Sound and its helminth parasites. Gulf Res Rep 4:479–481

Hall T (1999) BioEdit: a user-friendly biological sequence alignment editor and analysis program for Windows95/98/NT. Nucl Acids Symp 41:95–98

Hauck AK, May EB (1977) Histopathologic alterations associated with Anisakis larvae in Pacific herring from Oregon. J Wildl Dis 13:290–293

Iñiguez A, Reinhard K, Carvalho Goncalves M, Ferreira L, Araujo A (2006) SL1 RNA gene recovery from Enterobius vermicularis ancient DNA in pre-Columbian human coprolites. Int J Parasitol 36:1419–1425

Iñiguez A, Santos C, Vicente A (2009) Genetic characterization of Anisakis typica and Anisakis physeteris from marine mammals and fish from the Atlantic Ocean off Brazil. Vet Parasitol 165:350–356

Iñiguez A, Carvalho V, Motta M, Pinheiro D, Vicente A (2011) Genetic analysis of Anisakis typica (Nematoda: Anisakidae) from cetaceans of the northeast coast of Brazil: new data on its definitive hosts. Vet Parasitol 178:293–299

Kagei N, Tobayama T, Nagasaki Y (1976) On the helminthum of franciscana Pontoporia blainvillei. Sci Rep Whales Res Inst 28:161–166

Knoff M, Felizardo N, Iñiguez A, Maldonado A, Lopes Torres E et al (2012) Genetic and morphological characterization of a new species of the genus Hysterothylacium (Nematoda) from Paralichthys isosceles Jordan, 1890 (Pisces: Teleostei) of the Neotropical Region, state of Rio de Janeiro, Brazil. Mem Inst Oswaldo Cruz 107:186–193

Kuhn T, García-Márquez J, Klimpel S (2011) Adaptive radiation within marine anisakid nematodes: a zoogeographical modeling of cosmopolitan, zoonotic parasites. PLoS One 6:e28642

Kuhn T, Cunze S, Kochmann J, Klimpel S (2016) Environmental variables and definitive host distribution: a habitat suitability modelling for endohelminth parasites in the marine realm. Sci Rep 6:30246

Luque JL, Muniz-Pereira LC, Siciliano S, Siqueira LR, Oliveira MS, Vieira FM (2010) Checklist of helminth parasites of cetaceans of Brazil. Zootaxa 2548:57–68

Luque JL, Aguiar JC, Vieira FM, Gibson DI, Santos CP (2011) Checklist of Nematoda associated with the fishes of Brazil. Zootaxa 134:865–878

Mattiucci S, Acerra V, Paoletti M, Cipriani P, Levsen A, Webb SC, Canestrelli D, Nascetti G (2016) No more time to stay 'single' in the detection of Anisakis pegreffii, A. simplex (s. s.) and hybridization events between them: a multi-marker nuclear genotyping approach. Parasitology 143:998–1011

Mattiucci S, Cipriani P, Webb S, Paoletti M, Marcer F et al (2014) Genetic and morphological approaches distinguish the three sibling species of the Anisakis simplex species complex, with a species designation as Anisakis berlandi n. sp. for A. simplex sp. C (Nematoda: Anisakidae). J Parasitol 100:199–214

Mattiucci S, Paggi L, Nascetti G, Portes Santos C, Costa G, Di Beneditto AP, Ramos R, Argyrou M, Cianchi R, Bullini L (2002) Genetic markers in the study of Anisakis typica (Diesing, 1860): larval identification and genetic relationships with other species of Anisakis Dujardin, 1845 (Nematoda: Anisakidae). Syst Parasitol 51:159–170

Mattiucci S, Nascetti G (2006) Molecular systematics, phylogeny and ecology of anisakid nematodes of the genus Anisakis Dujardin, 1845: an update. Parasite 13:99–113

Mattiucci S, Nascetti G (2008) Advances and trends in the molecular systematics of anisakid nematodes, with implications for their evolutionary ecology and the host-parasite co-evolutionary processes. Adv Parasitol 66:47–148

Mattiucci S, Nascetti G, Clanchi R, Paggi L, Arduino P et al (1997) Genetic and ecological data on the Anisakis simplex complex, with evidence for a new species (Nematoda, Ascaridoidea, Anisakidae). J Parasitol 83:401–416

Mattiucci S, Nascetti G, Dailey M, Webb SC, Barros N et al (2005) Evidence for a new species of Anisakis Dujardin, 1845: morphological description and genetic relationships between congeners (Nematoda: Anisakidae). Syst Parasitol 61:157–171

Mattiucci S, Paoletti M, Webb SC (2009) Anisakis nascettii n. sp. (Nematoda: Anisakidae) from beaked whales of the southern hemisphere: morphological description, genetic relationship between congeners and ecological data. Syst Parasitol 74:199–217

Mignucci-Giannone AA, Hoberg HP, Siegel-Causey D, Williams EH Jr (1998) Metazoan parasites and other symbionts of cetaceans in the Caribbean. J Parasitol 84:939–946

Moravec F (1998) Nematodes of freshwater fishes of the Neotropical Region. Academia Prague, 464 p

Motta MN, Pinheiro DC, Carvalho VV, Viana DA, Vicente AC, Iñiguez AM (2008) Gastric lesions associated with the presence of Anisakis spp. Dujardin, 1845 (Nematoda: Anisakidae) in cetaceans stranded on the coast of Ceara, Brazil. Biota Neotropica 8:91–95

Nadler S, Hudspeth D (2000) Phylogeny of the Ascaridoidea (Nematoda: Ascaridida) based on three genes and morphology: hypotheses of structural and sequence evolution. J Parasitol 86:380–393

Noguera P, Collins C, Bruno D, Pert C, Turnbull A et al (2009) Red vent syndrome in wild Atlantic salmon Salmo salar in Scotland is associated with Anisakis simplex sensu stricto (Nematoda: Anisakidae). Dis Aquat Org 87:199–215

Pantoja C, Borges J, Santos C, Luque J (2015) Molecular and morphological characterization of Anisakid nematode larvae from the sandperches Pseudopercis numida and Pinguipes brasilianus (Perciformes: Pinguipedidae) off Brazil. J Parasitol 101:492–499

Praderi R (1984) Mortalidad de franciscana, Pontoporia blainvillei, en pesquerias artesanales de tiburon de la costa Atlantica Uruguayana. Rev Mus Argent Cien Nat 13:259–272

Quiazon K, Yoshinaga T, Santos M, Ogawa K (2009) Identification of larval Anisakis spp. (Nematoda: Anisakidae) in Alaska pollock (Theragra chalcogramma) in northern Japan using morphological and molecular markers. J Parasitol 95:1227–1232

Quiazon K, Santos M, Yoshinaga T (2013) Anisakis species (Nematoda: Anisakidae) of dwarf sperm whale Kogia sima (Owen, 1866) stranded off the Pacific coast of southern Philippine archipelago. Vet Parasitol 197:221–230

Sambrook J, Russell D (2001) Molecular cloning: a laboratory manual, 3rd edn. Cold Spring Harbor Laboratory Press, Cold Spring Harbor

Santos C, Rohde K, Ramos R, Di Beneditto A, Capistrano L (1996) Helminths of cetaceans on the southeastern coast of Brazil. J Helminthol Soc Washington 63:149–152

Santos C, Lodi L (1998) Occurrence of Anisakis physeteris Baylis, 1923 and Pseudoterranova sp. (Nematoda) in pygmy sperm whale Kogia breviceps (De Blainvillei, 1838) (Physeteridae) in northeastern coast of Brazil. Mem Inst Oswaldo Cruz 93:187–188

Stiles C, Hassall A (1899) Internal parasites of the fur seal. In: The fur seals and fur seal islands of the North Pacific Ocean. Washington: Government Printing Office, Part III, pp. 99–107

Tamura K, Stecher G, Peterson D, Filipski A, Kumar S et al (2013) MEGA6: molecular evolutionary genetics analysis version 6.0. Mol. Biol. Evo.l 30:2725–2729

Thompson J, Higgins D, Gibson T (1994) CLUSTAL W: improving the sensitivity of progressive multiple sequence alignment through sequence weighting, positions-specific gap penalties and weight matrix choice. Nuc Ac Res 22:4673–4680

Van Beurden SJ, Ijsseldijk LL, Cremers HJ, Gröne A, Verheije MH, Begeman L (2015) Anisakis spp. induced granulomatous dermatitis in a harbour porpoise Phocoena phocoena and a bottlenose dolphin Tursiops truncatus. Dis Aquat Org 112:257–263
Acknowledgments
We are grateful to the Associação de Pesquisa e Preservação de Ecossistemas Aquáticos (AQUASIS), Instituto Mamíferos Aquáticos (IMA), Centro Mamíferos Aquáticos (CMA/ICMBio), Fundação Mamíferos Aquáticos (FMA), Centro Golfinho Rotador (CGR), and Projeto Pequenos Cetáceos (PPC/UFRN), which provided the specimens. We thank Dr. Áurea Maria Lage de Moraes, from the Laboratório de Bioquímica e Bioprospecção de Fungos, IOC/FIOCRUZ, for use of the Olympus BX41 microscope and to Nilza Felizardo and Marcelo Knoff from Laboratório de Helmintos Parasitos de Vertebrados (LHPP) for initial support on specimen identification.
Electronic supplementary material
About this article
Cite this article
Di Azevedo, M.I.N., Carvalho, V.L. & Iñiguez, A.M. Integrative taxonomy of anisakid nematodes in stranded cetaceans from Brazilian waters: an update on parasite's hosts and geographical records. Parasitol Res 116, 3105–3116 (2017). https://doi.org/10.1007/s00436-017-5622-8
Received:

Accepted:

Published:

Issue Date:
Keywords
Anisakis spp.
Pseudoterranova sp.

Taxonomy

Molecular systematic

Cetaceans

Brazil