Abstract
The bacteria Anaplasma platys, Anaplasma phagocytophilum and Ehrlichia canis are tick-borne agents that cause canine vector-borne disease. The prevalence of these pathogens in South Eastern Europe is unknown with the exception of an isolated case of A. platys detected in a dog imported into Germany from Croatia. To gain a better insight into their presence and prevalence, PCR-based screening for these bacterial pathogens was performed on domesticated dogs from different regions of Croatia. Blood samples from 1080 apparently healthy dogs from coastal and continental parts of Croatia as well as tissue samples collected from 63 deceased dogs with a history of anaemia and thrombocytopenia were collected for molecular screening by an Anaplasmataceae-specific 16S rRNA conventional PCR. Positive samples were confirmed using a second Anaplasmataceae-specific PCR assay with the PCR product sequenced for the purpose of bacterial species identification. All sequenced isolates were georeferenced and a kernel intensity estimator was used to identify clusters of greater case intensity. 42/1080 (3.8%; CI 2.7–5.0) of the healthy dogs were PCR positive for bacteria in the Anaplasmataceae. Sequencing of the 16S rRNA gene amplified from these positive samples revealed the presence of A. platys in 2.5% (CI 1.6–3.4%, 27 dogs), A. phagocytophilum in 0.3% (CI 0–0.6%, 3 dogs) and a Wolbachia endosymbiont in 1.1% (CI 0.4–1.6%, 12 dogs) of dogs screened in this study. Necropsied dogs were free from infection. Notably, no evidence of E. canis infection was found in any animal. This survey represents a rare molecular study of Anaplasmataceae in dogs in South Eastern Europe, confirming the presence of A. platys and A. phagocytophilum but not E. canis. The absence of E. canis was surprising given it has been described in all other Mediterranean countries surveyed and raises questions over the regional vector capacity of the Rhipicephalus sanguineus tick.
This is a preview of subscription content, log in to check access.
Access options
Buy single article
Instant access to the full article PDF.
US$ 39.95
Price includes VAT for USA
Subscribe to journal
Immediate online access to all issues from 2019. Subscription will auto renew annually.
US$ 199
This is the net price. Taxes to be calculated in checkout.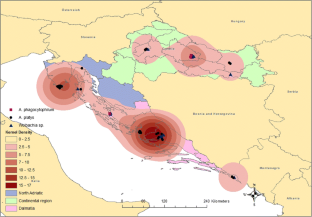 References
Aguirre E, Tesouro MA, Ruiz L, Amusategui I, Sainz A (2006) Genetic characterization of Anaplasma (Ehrlichia) platys in dogs in Spain. J Vet Med B Infect Dis Vet Public Health 53:197–200

Alexandre N, Santos AS, Nuncio MS, Sousa R, Boinas F, Bacellar F (2009) Detection of Ehrlichia canis by polymerase chain reaction in dogs from Portugal. Vet J 181:343–344

Andersson M, Turcitu MA, Stefanache M, Tamba P, Barbuceanu F, Chitimia L (2013) First evidence of Anaplasma platys and Hepatozoon canis co-infection in a dog from Romania—a case report. Ticks Tick Borne Dis 4:317–319

Bacsadi A, Papp A, Szeredi L, Tóth G, Nemes C, Imre V, Tolnai Z, Széll Z, Sréter T (2016) Retrospective study on the distribution of Dirofilaria immitis in dogs in Hungary Á. Vet Parasitol 220:83–86

Beaufils JP, Inokuma H, Martin-Granel J, Jumelle P, Barbault-Jumelle M, Brouqui P (2002) Anaplasma platys (Ehrlichia platys) infection in a dog in France: description of the case, and characterization of the agent. Rev Med Vet 153:85–90

Beck R, Vojta L, Mrljak V, Marinculic A, Beck A, Zivicnjak T, Caccio SM (2009) Diversity of Babesia and Theileria species in symptomatic and asymptomatic dogs in Croatia. Int J Parasitol 39:843–848

Beugnet F, Marie JL (2009) Emerging arthropod-borne diseases of companion animals in Europe. Vet Parasitol 163:298–305

Bown KJ, Lambin X, Telford GR, Ogden NH, Telfer S, Woldehiwet Z, Birtles RJ (2008) Relative importance of Ixodes ricinus and Ixodes trianguliceps as vectors for Anaplasma phagocytophilum and Babesia microti in field vole (Microtus agrestis) populations. Appl Environ Microbiol 74:7118–7125 

de Caprariis D, Dantas-Torres F, Capelli G, Mencke N, Stanneck D, Breitschwerdt EB, Otranto D (2011) Evolution of clinical, haematological and biochemical findings in young dogs naturally infected by vector-borne pathogens. Vet Microbiol 149:206–212

Cardoso L, Tuna J, Vieira L, Yisaschar-Mekuzas Y, Baneth G (2010) Molecular detection of Anaplasma platys and Ehrlichia canis in dogs from the North of Portugal. Vet J 183:232–233

Chomel B (2011) Tick-borne infections in dogs-an emerging infectious threat. Vet Parasitol 179:294–301

Cicuttin GL, Tarragona EL, De Salvo MN, Mangold AJ, Nava S (2016) Infection with Ehrlichia canis and Anaplasma platys (Rickettsiales:Anaplasmataceae) in two lineages of Rhipicephalus sanguineus sensu lato (Acari: Ixodidae) from Argentina. Ticks Tick Borne Dis 6:724–729

Dyachenko V, Pantchev N, Balzer HJ, Meyersen A, Straubinger RK (2012) First case of Anaplasma platys infection in a dog from Croatia. Parasit Vectors 5:49

Eberts MD, Vissotto de Paiva Diniz PP, Beall MJ, Stillman BA, Chandrashekar R, Breitschwerdt EB (2011) Typical and atypical manifestations of Anaplasma phagocytophilum infection in dogs. J Am Anim Hosp Assoc 47:e86–e94

de la Fuente J, Torina A, Naranjo V, Nicosia S, Alongi A, La Mantia F, Kocan KM (2006) Molecular characterization of Anaplasma platys strains from dogs in Sicily, Italy. BMC Vet Res 2:24

Hamel D, Silaghi C, Knaus M, Visser M, Kusi I, Rapti D, Rehbein S, Pfister K (2009) Detection of Babesia canis subspecies and other arthropod-borne diseases in dogs from Tirana, Albania. Wien Klin Wochenschr 121(Suppl 3):42–45

Hamel D, Silaghi C, Pfister K (2013) Arthropod-borne infections in travelled dogs in Europe. Parasite 20:9

Hamel D, Shukullari E, Rapti D, Silaghi C, Pfister K, Rehbein S (2016) Parasites and vector-borne pathogens in client-owned dogs in Albania. Blood pathogens and seroprevalences of parasitic and other infectious agents. Parasitol Res 115:489–499

Harrus S, Kass PH, Klement E, Waner T (1997) Canine monocytic ehrlichiosis: a retrospective study of 100 cases, and an epidemiological investigation of prognostic indicators for the disease. Vet Rec 141:360–363

Hornok S, Sándor AD, Tomanović S, Beck R, D'Amico G, Kontschán J, Takács N, Görföl T, Bendjeddou ML, Földvári G, Farkas R (2017) East and west separation of Rhipicephalus sanguineus mitochondrial lineages in the Mediterranean Basin. Parasit Vectors 10:39

Inokuma H, Raoult D, Brouqui P (2000) Detection of Ehrlichia platys DNA in brown dog ticks (Rhipicephalus sanguineus) in Okinawa Island, Japan. J Clin Microbiol 38:4219–4221

Jensen J, Simon D, Murua Escobar H, Soller JT, Bullerdiek J, Beelitz P, Pfister K, Nolte I (2007) Anaplasma phagocytophilum in dogs in Germany. Zoonoses Public Health 54:94–101

Kawahara M, Rikihisa Y, Lin Q, Isogai E, Tahara K, Itagaki A, Hiramitsu Y, Tajima T (2006) Novel genetic variants of Anaplasma phagocytophilum, Anaplasma bovis, Anaplasma centrale, and a novel Ehrlichia sp. in wild deer and ticks on two major islands in Japan. Appl Environ Microbiol 72:1102–1109

Kohn B, Galke D, Beelitz P, Pfister K (2008) Clinical features of canine granulocytic anaplasmosis in 18 naturally infected dogs. J Vet Intern Med 22:1289–1295

Kontos VI, Papadopoulos O, French TW (1991) Natural and experimental canine infections with a Greek strain of Ehrlichia platys. Vet Clin Pathol 20:101–105

Krčmar S (2012) Hard ticks (Acari, Ixodidae) of Croatia. ZooKeys 234:19–57

Little SE (2010) Ehrlichiosis and anaplasmosis in dogs and cats. Vet Clin North Am Small Anim Pract 40:1121–1140

Maia C, Almeida B, Coimbra M, Fernandes MC, Cristóvão JM, Ramos C, Martins A, Martinho F, Silva P, Neves N, Nunes M, Vieira ML, Cardoso L, Campino L (2015) Bacterial and protozoal agents of canine vector-borne diseases in the blood of domestic and stray dogs from southern Portugal. Parasit Vectors 8:138

Moraes-Filho J, Krawczak FS, Costa FB, Soares JF, Labruna MB (2015) Comparative evaluation of the vector competence of four South American populations of the Rhipicephalus sanguineus group for the Bacterium Ehrlichia canis, the agent of canine monocytic ehrlichiosis. PLoS One 10:9

Mrljak V, Kuleš J, Mihaljević Ž, Torti M, Gotić J, Crnogaj M, Živičnjak T, Mayer I, Šmit I, Bhide M, Barić-Rafaj R (2017) Prevalence and geographic distribution of vector-borne pathogens in apparently healthy dogs in Croatia. Vector Borne Zoonotic Dis 17:398–408

Nijhof AM, Bodaan C, Postigo M, Nieuwenhuijs H, Opsteegh M, Franssen L, Jebbink F, Jongejan F (2007) Ticks and associated pathogens collected from domestic animals in the Netherlands. Vector Borne Zoonotic Dis 7:585–595

Otranto D, Dantas-Torres F (2010) Canine and feline vector-borne diseases in Italy: current situation and perspectives. Parasit Vectors 3:2. https://doi.org/10.1186/1756-3305-3-2

Otranto D, Dantas-Torres F, Breitschwerdt BE (2009) Managing canine vector-borne diseases of zoonotic concern: part two. Trends Parasitol 25:228–235

Parola P, Roux V, Camicas JL, Baradji I, Brouqui P, Raoult D (2000) Detection of ehrlichiae in African ticks by polymerase chain reaction. Trans R Soc Trop Med Hyg 94:707–708

René-Martellet M, Lebert I, Chêne J, Massot R, Leon M, Leal A, Badavelli S, Chalvet-Monfray K, Ducrot C, Abrial D, Chabanne L, Halos L (2015) Diagnosis and incidence risk of clinical canine monocytic ehrlichiosis under field conditions in Southern Europe. Parasit Vectors 8:3

Rishniw M, Barr SC, Simpson KW, Frongillo MF, Franz M, Dominguez Alpizar JL (2006) Discrimination between six species of canine microfilariae by a single polymerase chain reaction. Vet Parasitol 135:303–314

Sainz A, Amusategui I, Tesouro MA (1999) Ehrlichia platys infection and disease in dogs in Spain. J Vet Diagn Investig 11:382–384

Sainz A, Roura X, Miró G, Estrada-Peña A, Kohn B, Harrus S, Solano-Gallego L (2015) Guideline for veterinary practitioners on canine ehrlichiosis and anaplasmosis in Europe. Parasit Vectors 8:75

Santos AS, Alexandre N, Sousa R, Nuncio MS, Bacellar F, Dumler JS (2009) Serological and molecular survey of Anaplasma species infection in dogs with suspected tickborne disease in Portugal. Vet Rec 164:168–171

Siarkou V, Mylonakis M, Bourtzi-Hatzopoulou E, Koutinas A (2007) Sequence and phylogenetic analysis of the 16S rRNA gene of Ehrlichia canis strains in dogs with clinical monocytic ehrlichiosis. Vet Microbiol 125:304–312

Simpson RM, Gaunt SD, Hair JA, Kocan KM, Henk WG, Casey HW (1991) Evaluation of Rhipicephalus sanguineus as a potential biologic vector of Ehrlichia platys. Am J Vet Res 52:1537–1541

Solano-Gallego L, Trotta M, Razia L, Furlanello T, Caldin M (2006) Molecular survey of Ehrlichia canis and Anaplasma phagocytophilum from blood of dogs in Italy. Ann N Y Acad Sci 1078:515–518

Strle F (2004) Human granulocytic ehrlichiosis in Europe. Int J Med Microbiol 293(Suppl 37):27–35

Stuen S (2007) Anaplasma phagocytophilum—the most widespread tick-borne infection in animals in Europe. Vet Res Commun 31(Suppl 1):79–84

Stuen S, Granquist EG, Silaghi C (2013) Anaplasma phagocytophilum—a widespread multi-host pathogen with highly adaptive strategies. Front Cell Infect Microbiol 3:31

Tabar MD, Francino O, Altet L, Sanchez A, Ferrer L, Roura X (2009) PCR survey of vectorborne pathogens in dogs living in and around Barcelona, an area endemic for leishmaniasis. Vet Rec 164:112–116

Tasić A, Rossi L, Tasić S, Mlladinović T, Asić N, Ilić T, Dimitrijević S (2008) Survey of canine dirofilariasis in Vojvodina, Serbia. Parasitol Res 103:1297–1302

Tasić A, Tasić-Otašević S, Gabrielli S, Miladinović-Tasić N, Ignjatović A, Ðorđević J, Dimitrijević S, Cancrini G (2012) Canine Dirofilariainfections in two uninvestigated areas of Serbia: epidemiological and genetic aspects. Vector Borne Zoonotic Dis 12:1031–1035

Trotta M, Fogliazza A, Furlanello T, Solano-Gallego L (2009) A molecular and serological study of exposure to tick-borne pathogens in sick dogs from Italy. Clin Microbiol Infect 15(Suppl 2):62–63

Vojta L, Mrljak V, Ćurković S, Živičnjak T, Marinculić A, Beck R (2009) Molecular epizootiology of canine hepatozoonosis in Croatia. Int J Parasitol 10:1129–1136

Woody BJ, Hoskins JD (1991) Ehrlichial diseases of dogs. Vet Clin North Am Small Anim Pract 21:75–98

Zahirović A (2010) Investigation of dirofilariosis in the territory of Bosnia and Herzegovina. Dissertation, University of Sarajevo

Živičnjak T, Martinković F, Marinculić A, Mrljak V, Kučer N, Matijatko V, Mihaljević Ž, Barić-Rafaj R (2005) A seroepidemiologic survey of canine visceral leishmaniosis among apparently healthy dogs in Croatia. Vet Parasitol 131:35–43

Živičnjak T, Martinković F, Beck R (2007) Canine dirofilariosis in Croatia: Let' s face it // First European Dirofilaria Days-abstract book. Zagreb, pp 35–35
Acknowledgements
The research was financed by the Croatian Scientific Foundation Grant number 1957, acronym GENOTICKTRECK. We are grateful for the excellent technical support of Marija Stublić and Kristina Skrbin from the Croatian Veterinary Institute. We are also thankful to prof. Mrljak and prof. Živičnjak for providing a portion of samples for analysis in this study. This paper was published under the framework of EurNegVec COST Action TD1303.
Ethics declarations
Conflict of interest
The authors declare that they have no competing interests.
About this article
Cite this article
Huber, D., Reil, I., Duvnjak, S. et al. Molecular detection of Anaplasma platys, Anaplasma phagocytophilum and Wolbachia sp. but not Ehrlichia canis in Croatian dogs. Parasitol Res 116, 3019–3026 (2017). https://doi.org/10.1007/s00436-017-5611-y
Received:

Accepted:

Published:

Issue Date:
Keywords
Anaplasma platys
Anaplasma phagocytophilum
Ehrlichia canis

Molecular survey

Dogs

Anaemia and thrombocytopenic distribution