Abstract
Intestinal capillariasis, a fish-borne nematodiasis, is an important emerging zoonotic disease. Patients present clinical symptoms of borborygmus chronic diarrhea, intermittent abdominal pain, weight loss, and several degrees of painless lower-leg edema. Death may occur in cases of misdiagnosis and improper treatment. Diagnosis is difficult because of the atypical clinical symptoms and diagnostic confusion with diarrhea caused by gastrointestinal cancer, opportunistic infections in human immunodeficiency virus patients, and hyperthyroidism. In addition, parasite eggs are not always found in stool examination. Serology can provide a supportive diagnostic tool. We have produced a rapid and simple immunochromatographic test (ICT) kit for diagnosis of intestinal capillariasis by detection of diagnostic antibodies in human sera. Serum samples from healthy volunteers and patients with proven intestinal capillariasis and other parasitic diseases were evaluated with the Trichinella spiralis larval extract antigen absorbed ICT strips. The diagnostic sensitivity, specificity, and positive and negative predictive values were 100, 96.6, 90.2, and 100%, respectively. The ICT kit is simple and rapid to use and can supplement stool examination in clinical diagnosis of intestinal capillariasis. The test can be completed in 15 min without a need for any sophisticated instruments or reagents.
This is a preview of subscription content, log in to check access.
Access options
Buy single article
Instant access to the full article PDF.
US$ 39.95
Price includes VAT for USA
Subscribe to journal
Immediate online access to all issues from 2019. Subscription will auto renew annually.
US$ 199
This is the net price. Taxes to be calculated in checkout.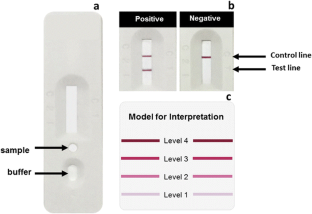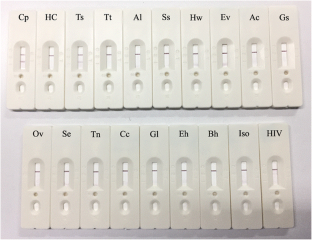 References
Banzon TC, Lewert RM, Yogore MG (1975) Serology of Capillaria philippinensis infection: reactivity of human sera to antigens prepared from Capillaria obsignata and other helminths. Am J Trop Med Hyg 24:256–263

Belizario VY Jr, G Totañes FI, de Leon WU, JR M Jr, Macasaet LY (2010) Intestinal capillariasis, western Mindanao, the Philippines. Emerg Infect Dis 16:736–738

Bioreau P, Vayssier M, Fabien JF, Perret C, Calamel M, Soulé C (1997) Characterization of eleven antigenic groups in Trichinella genus and identification of stage and species markers. Parasitology 115:641–651

Cross JH (1992) Intestinal capillariasis. Clin Microbiol Rev 5:120–129

Despommier DD, Müller M (1976) The stichosome and its secretion granules in the mature muscle larva of Trichinella spiralis. J Parasitol 62:775–785

El Dib NA, Sabry MA, Ahmed JA, El-Basiouni SO, El-Badry AA (2004) Evaluation of Capillaria philippinensis coproantigen in the diagnosis of infection. J Egypt Soc Parasitol 34:97–106

Elkins DB, Haswell-Elkins M, Anderson RM (1986) The epidemiology and control of intestinal helminths in the Pulicat Lake region of Southern India. I. Study design and pre- and post-treatment observations on Ascaris lumbricoides infection. Trans R Soc Trop Med Hyg 80:774–792

Galen RS (1980) Predictive value and efficiency of laboratory testing. Pediatr Clin N Am 27:861–869

Intapan PM, Khotsri P, Kanpittaya J, Chotmongkol V, Maleewong W, Morakote N (2008) Evaluation of IgG4 and total IgG antibodies against cysticerci and peptide antigens for the diagnosis of human neurocysticercosis by ELISA. Asian Pac J Allergy Immunol 26:237–244

Intapan PM, Maleewong W, Sukeepaisarnjaroen W, Morakote N (2006) Potential use of Trichinella spiralis antigen for serodiagnosis of human capillariasis philippinensis by immunoblot analysis. Parasitol Res 98:227–231

Intapan PM, Maleewong W, Sukeepaisarnjaroen W, Morakote N (2010) An enzyme-linked immunosorbent assay as screening tool for human intestinal capillariasis. Southeast Asian J Trop Med Public Health 41:298–305

Limsuwan S, Siriprasert V (1994) A clinical study on trichinosis in Changwat Phayao, Thailand. Southeast Asian J Trop Med Public Health 25:305–308

Limsrivilai J, Pongprasobchai S, Apisarnthanarak P, Manatsathit S (2014) Intestinal capillariasis in the 21st century: clinical presentations and role of endoscopy and imaging. BMC Gastroenterol 14:207

Lu LH, Lin MR, Choi WM et al (2006) Human intestinal capillariasis (Capillaria philippinensis) in Taiwan. Am J Trop Med Hyg 74:810–813

McCarthy J, Moore TA (2000) Emerging helminth zoonoses. Int J Parasitol 30:1351–1360

Morakote N, Khamboonruang C, Siriprasert V, Suphawitayanukul S, Marcanantachoti S, Thamasonthi W (1991) The value of enzyme-linked immunosorbent assay (ELISA) for diagnosis of human trichinosis. Trop Med Parasitol 42:172–174

Rana SS, Bhasin DK, Bhatti HS et al (2009) Human intestinal capillariasis: diagnosis by jejunal fluid analysis obtained at enteroscopy and reversal of subtotal villous atrophy after treatment. Endoscopy 41:102–103

Roach TI, Wakelin D, Else KJ, Bundy DAP (1988) Antigenic cross-reactivity between the human whipworm, Trichuris trichiura, and the mouse trichuroids Trichuris muris and Trichinella spiralis. Parasite Immunol 10:279–291

Soukhathammavong P, Sayasone S, Harimanana AN et al (2008) Three cases of intestinal capillariasis in Lao People's Democratic Republic. Am J Trop Med Hyg 79:735–738

Saichua P, Nithikathkul C, Kaewpitoon N (2008) Human intestinal capillariasis in Thailand. World J Gastroenterol 14:506–510

Takahashi Y, Mizuno N, Shimazu K, Araki T (1992) Ultrastructure, antigenicity, and histochemistry of stichocyte granules of adult Trichinella spiralis. J Parasitol 78:518–523

Wongsawasdi L, Ukarapol N, Lertprasertsuk N (2002) The endoscopic diagnosis of intestinal capillariasis in a child: a case report. Southeast Asian J Trop Med Public Health 33:730–732
Acknowledgments
We wish to acknowledge the support of the English Consultation Clinic at the Khon Kaen University Faculty of Medicine Research Affairs Division and the Khon Kaen University Publication Clinic at the Research and Technology Transfer Affairs Division for their assistance. This study was supported by a TRF Senior Research Scholar Grant, Thailand Research Fund grant number RTA5880001; Research Result Utilization, Faculty of Medicine, Khon Kaen University (grant number RU59302); Target Research Grant, Faculty of Medicine, Khon Kaen University (grant number TR57201) through WM and PM. RR was supported by the Thailand Research Fund through the Royal Golden Jubilee Ph.D. Program (grant no. PHD/0053/2556). OS were supported by scholarship under the post-doctoral training program from Research Affairs and Graduate School, Khon Kaen University (grant no. 58101).
Ethics declarations
Conflict of interests
The authors declare no potential conflicts of interest with respect to the research, authorship, and/or publication of this article.
Ethical approval
Informed consents were gotten from all human adult participants and from parents or legal guardians of minors. The study protocol was accepted by the Khon Kaen University Ethics Committee for Human Research (HE 591318).
About this article
Cite this article
Intapan, P.M., Rodpai, R., Sanpool, O. et al. Development and evaluation of a rapid diagnostic immunochromatographic device to detect antibodies in sera from intestinal capillariasis cases. Parasitol Res 116, 2443–2447 (2017). https://doi.org/10.1007/s00436-017-5546-3
Received:

Accepted:

Published:

Issue Date:
Keywords
Intestinal capillariasis

Capillaria philippinensis

Antibody detection

Immunochromatographic test