Abstract
Lice have been parasitizing humans for at least 10,000 years. Since then, humans have tried to rid themselves of these unpleasant and potentially disease-carrying insects. Despite various plant extracts and chemical compounds being used to combat recurring infestations to this date, several lice populations have developed resistance to some of the abundantly used compounds. This resulted in the development of anti-louse products that physically kill the different lice stages. Today, a widely used group of delousing agents are dimethicones (polydimethylsiloxane PDMS) which function by suffocating the lice. However, many dimethicones and related products are highly flammable which makes them potentially dangerous for treatment. In the present study, we tested the flammability of 22 delousing agents in order to shed some light onto this currently unresolved problem in the product design of pediculicides. Thirteen products were easily ignitable, some even by distant contact with a sparkler.
This is a preview of subscription content, log in to check access.
Access options
Buy single article
Instant access to the full article PDF.
US$ 39.95
Price includes VAT for USA
Subscribe to journal
Immediate online access to all issues from 2019. Subscription will auto renew annually.
US$ 199
This is the net price. Taxes to be calculated in checkout.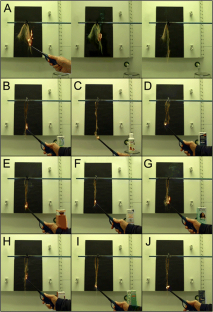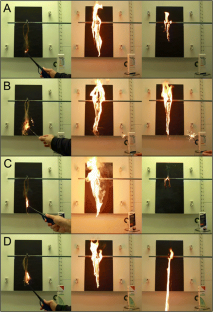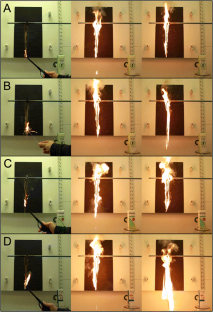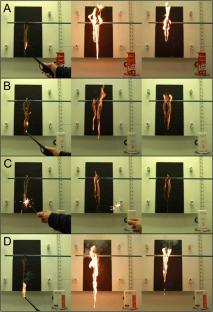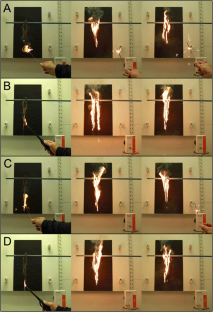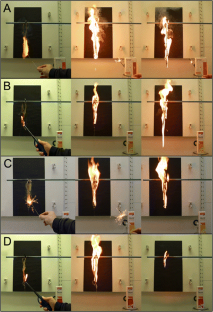 References
Abbo A, Navon-Venezia S, Hammer-Muntz O, Krichali T, Siegman-Igra Y, Carmeli Y (2005) Multidrug-resistant Acinetobacter baumannii. Emerg Infect Dis 11(1):22–29

Abdel-Ghaffar F, Abdel-Aty M, Rizk I, Al-Quraishy S, Semmler M, Gestmann F, Hoff N-P (2016) Head lice in progress: what could/should be done—a report on an in vivo and in vitro field study. Parasitol Res 115(11):4245–4249

Angelakis E, Diatta G, Abdissa A, Trape J-F, Mediannikov O, Richet H, Raoult D (2011) Altitude-dependent Bartonella quintana genotype C in head lice, Ethiopia. Emerg Infect Dis 17(12):2357–2359

Araújo A, Ferreira LF, Guidon N, Maues da Serra Freire N, Reinhard KJ, Dittmar K (2000) Ten thousand years of head lice infection. Parasitol Today 16(7):269

Arriaza B, Orellana NC, Barbosa HS, Menna-Barreto RFS, Araujo A, Standen V (2012) Severe head lice infestation in an Andean mummy of Arica, Chile. J Parasitol 98(2):433–436

Ascunce MS, Toups MA, Kassu G, Fane J, Scholl K, Reed DL (2013) Nuclear genetic diversity in human lice (Pediculus humanus) reveals continental differences and high inbreeding among worldwide populations. PLoS One 8(2):e57619

Bacot A (1916) Notes on Pediculus humanus (Vestimenti) and Pediculus capitis. Br Med J 1(2892):788–789

Badiaga S, Brouqui P (2012) Human louse-transmitted infectious diseases. Clin Microbiol Infect 18(4):332–337

Bayard T (1985) Sweet herbs and sundry flowers: medieval gardens and the gardens of the cloisters. Metropolitan Museum of Art, NY 1985

Boutellis A, Abi-Rached L, Raoult D (2014) The origin and distribution of human lice in the world. Infect Genet Evol 23:209–217

Boutellis A, Drali R, Rivera MA, Mumcuoglu KY, Raoult D (2013) Evidence of sympatry of clade a and clade B head lice in a pre-Columbian Chilean mummy from Camarones. PLoS One 8(10):e76818

Boutellis A, Veracx A, Angelakis E, Diatta G, Mediannikov O, Trape J-F, Raoult D (2012) Bartonella quintana in head lice from Senegal. Vector Borne Zoonotic Dis 12(7):564–567

Bouvresse S, Socolovshi C, Berdjane Z, Durand R, Izri A, Raoult D, Chosidow O, Brouqui P (2011) No evidence of Bartonella quintana but detection of Acinetobacter baumannii in head lice from elementary schoolchildren in Paris. Comp Immunol Microbiol Infect Dis 34(6):475–477

Brouqui P, Raoult D (2006) Arthropod-borne diseases in homeless. Ann N Y Acad Sci 1078(1):223–235

Bryceson AD, Parry EH, Perine PL, Warrell DA, Vukotich D, Leithead CS (1970) Louse-borne relapsing fever. Q J Med 39(153):129–170

Bunch BH, Hellemans A (2004) The history of science and technology: a browser's guide to the great discoveries, inventions, and the people who made them, from the dawn of time to today. Houghton Mifflin, Boston

Busvine JR (1948) The head and body races of Pediculus humanus L. Parasitology 39(1–2):1–16

Busvine JR (1978) Evidence from double infestations for the specific status of human head lice and body lice (Anoplura). System Entomol 3(1):1–8

Buxton PA (1940) The control of lice. BMJ 2(4165):603–604

Carraher CE, Pittman CU (2004) Organometallic compounds in biomedical applications. In: Abd-El-Aziz AS (ed) Biomedical applications, Wiley-Interscience, vol 3. Hoboken, NJ, pp 1–18

Chosidow O (2000) Scabies and pediculosis. Lancet 355(9206):819–826

Cutler SJ (2006) Possibilities for relapsing fever reemergence. Emerg Infect Dis 12(3):369–374

Dayagi-Mendels M (1993) Perfumes and cosmetics in the ancient world. Israel Museum Catalogue 1993(395)

Drali R, Shako J-C, Davoust B, Diatta G, Raoult D (2015) A new clade of African body and head lice infected by Bartonella quintana and Yersinia pestis—Democratic Republic of the Congo. AmJTrop Med Hyg 93(5):990–993

Drancourt M, Houhamdi L, Raoult D (2006) Yersinia pestis as a telluric, human ectoparasite-borne organism. Lancet Infect Dis 6(4):234–241

Ferris GF (1951) The sucking lice. Memoirs of the Pacific Coast Enotomological Society, v. 1, San Francisco

Fornaciari G, Marinozzi S, Gazzaniga V, Giuffra V, Picchi MS, Giusiani M, Masetti M (2011) The use of mercury against pediculosis in the renaissance: the case of Ferdinand II of Aragon, King of Naples, 1467–96. Medical History (55):109–115

Houhamdi L, Raoult D (2006) Experimentally infected human body lice (Pediculus humanus humanus) as vectors of Rickettsia rickettsii and Rickettsia conorii in a rabbit model. AmJTrop Med Hyg 74(4):521–525

Houhamdi L, Raoult D (2008) Different genes govern Yersinia pestis pathogenicity in Caenorhabditis elegans and human lice. Microb Pathog 44(5):435–437

Kim JH, Min JS, Kang JS, Kwon DH, Yoon KS, Strycharz J, Koh YH, Pittendrigh BR, Clark JM, Lee SH (2011) Comparison of the humoral and cellular immune responses between body and head lice following bacterial challenge. Insect Biochem Mol Biol 41(5):332–339

King PJ, Stager LE (2001) Life in biblical Israel, 1. edn. Westminster John Knox Press, Louisville, Library of ancient Israel

Kittler R, Kayser M, Stoneking M (2003) Molecular evolution of Pediculus humanus and the origin of clothing. Curr Biol 13(16):1414–1417

La Scola B, Raoult D (2004) Acinetobacter baumannii in human body louse. Emerg Infect Dis 10(9):1671–1673

Manchanda V, Sanchaita S, Singh N (2010) Multidrug resistant Acinetobacter. J Glob Infect Dis 2(3):291–304

Maunder JW (1983) The appreciation of lice. Proceding of the royal institution of Great Britain 1983(55):1–31

Mitiku K, Mengistu G (2002) Relapsing fever in Gondar, Ethiopia. East Afr Med J 79(2):85–87

Nicolle C (1910) Investigations on typhus fever. J Hyg 10(01):135–136

Nuttall GHF (1919) The biology of Pediculus humanus: supplementary notes. University Press, Cambridge

Ogg B, Cochran S (2004) Head lice management. Educational Resource Guide, University of Nebraska 18

Peleg AY, Seifert H, Paterson DL (2008) Acinetobacter baumannii: emergence of a successful pathogen. Clin Microbiol Rev 21(3):538–582

Piarroux R, Abedi AA, Shako J-C, Kebela B, Karhemere S, Diatta G, Davoust B, Raoult D, Drancourt M (2013) Plague epidemics and lice, Democratic Republic of the Congo. Emerg Infect Dis 19(3):505–506

Raoult D, Reed DL, Dittmar K, Kirchman JJ, Rolain J-M, Guillen S, Light JE (2008) Molecular identification of lice from pre-Columbian mummies. J Infect Dis 197(4):535–543

Raoult D, Roux V (1999) The body louse as a vector of reemerging human diseases. Clin Infect Dis 29(4):888–911

Reed DL, Smith VS, Hammond SL, Rogers AR, Clayton DH (2004) Genetic analysis of lice supports direct contact between modern and archaic humans. PLoS Biol 2(11):e340

Sasaki T, Poudel SKS, Isawa H, Hayashi T, Seki N, Tomita T, Sawabe K, Kobayashi M (2006) First molecular evidence of Bartonella quintana in Pediculus humanus capitis (Phthiraptera: Pediculidae), collected from Nepalese children. J Med Entomol 43(1):110–112

Smith R (1977) Peasant farming in Muscovy. Cambridge Univ. Press, Cambridge

Veracx A, Raoult D (2012) Biology and genetics of human head and body lice. Trends Parasitol 28(12):563–571

Veracx A, Rivet R, McCoy KD, Brouqui P, Raoult D (2012) Evidence that head and body lice on homeless persons have the same genotype. PLoS One 7(9):e45903

Weiss RA (2009) Apes, lice and prehistory. J Biol 8(2):20

Wilting KR, Stienstra Y, Sinha B, Braks M, Cornish D, Grundmann H (2015) Louse-borne relapsing fever (Borrelia recurrentis) in asylum seekers from Eritrea, the Netherlands, July 2015. Euro Surveill 20(30)

Zias J, Mumcuoglu KY (1991) Pre-pottery Neolithic B head lice from Nahal Hemar Cave. Atiqot (20):167–168

Zinsser H (2008) Rats, lice, and history. Transaction Publishers, New Brunswick
About this article
Cite this article
Dörge, D.D., Kuhn, T. & Klimpel, S. Flammability testing of 22 conventional European pediculicides. Parasitol Res 116, 1189–1196 (2017). https://doi.org/10.1007/s00436-017-5396-z
Received:

Accepted:

Published:

Issue Date:
Keywords
Head lice treatment

Pediculus humanus capitis

Dimethicones

Anti-louse products