Abstract
The present study provides the first ultrastructural data of the vitellogenesis in a cestode species of the cyclophyllidean family Paruterinidae, aiming to expand the limited data on the vitellogenesis in cyclophyllidean cestodes and to explore the potential of ultrastructural characters associated with vitellogenesis for phylogenetic and taxonomic studies of this order. The process of vitellocyte formation in Dictyterina cholodkowskii follows the general pattern observed in other tapeworms but exhibits several specific differences in the ultrastructure of vitelline cells. The vitellarium contains vitellocytes at various stages of maturation. The periphery of the vitellarium and the space between maturing vitellocytes are occupied by interstitial cells. Differentiation into mature vitellocytes is characterized by high secretory activity, which involves the development of granular endoplasmic reticulum, Golgi complexes, mitochondria and vitelline globules of various sizes. During vitellogenesis, the progressive fusion of these globules results in the formation of two large membrane-limited vitelline vesicles that eventually fuse into a single large vesicle. Mature vitellocytes are composed of a single vitelline vesicle, a high content of cytoplasmic organelles and have no nucleus. No traces of lipid droplets and glycogen granules are detected in the cytoplasm of mature vitellocytes, which might be related to biological peculiarities of this family, i.e. the release of eggs into environment within the tissues of the paruterine organ, which may serve as a source of nutrients for embryos.
This is a preview of subscription content, log in to check access.
Access options
Buy single article
Instant access to the full article PDF.
US$ 39.95
Price includes VAT for USA
Subscribe to journal
Immediate online access to all issues from 2019. Subscription will auto renew annually.
US$ 199
This is the net price. Taxes to be calculated in checkout.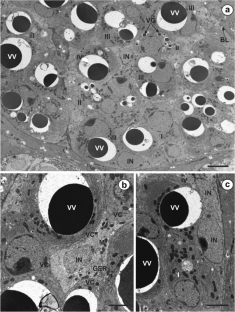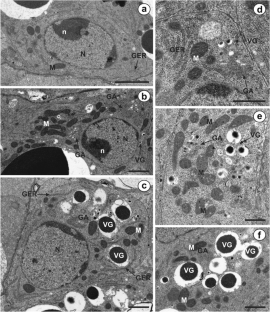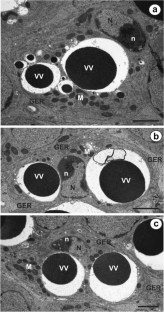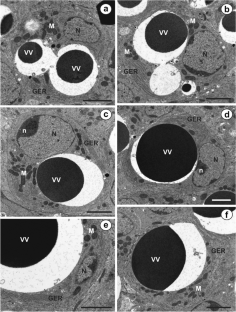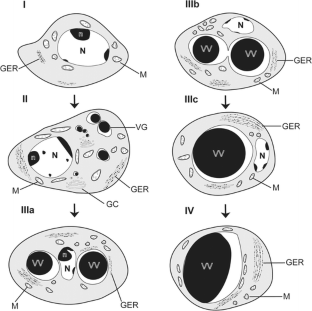 References
Bruňanská M, Drobniková P, Mackiewicz JS, Nebesářová J (2013) Cytocomposition of the vitellarium in Khawia sinensis Hsü, 1935 (Cestoda, Caryophyllidea, Lytocestidae): another caryophyllidean species with lamellar bodies and lipids. Parasitol Res 112:2703–2711

Caira JN, Littlewood DTJ (2013) Worms, Platyhelminthes. In: Levine SA (ed) Encyclopedia of biodiversity, 2nd edn. Elsevier, San Diego, pp 437–469

Conn DB (1985) Fine structure of the embryonic envelopes of Oochoristica anolis (Cestoda: Linstowiidae). Z Parasitenkd 71:639–648

Conn DB (1988) The role of cellular parenchyma and extracellular matrix in the histogenesis of the paruterine organ of Mesocestoides lineatus (Platyhelminthes: Cestoda). J Morphol 197:303–314

Conn DB (1999) Ultrastructure of embryonic envelopes and associated maternal structures of Distoichometra bufonis (Platyhelminthes, Cestoda, Nematotaeniidae). Acta Parasitol 44:4–10

Georgiev BB (2003) Cestoda (Tapeworms). In: Thoney DA, Schlager N (eds) Grzimek's animal life encyclopedia, 2nd edn. Vol 1, Lower metazoans and lesser deuterostomes. Detroit et al., Gale, pp 225–243

Georgiev BB, Kornyushin VV (1994) Family Paruterinidae Fuhrmann, 1907 (sensu lato). In: Khalil LF, Jones A, Bray RA (eds) Keys to the cestode parasites of vertebrates. CAB International, Wallingford, pp 559–584

Georgiev BB, Vasileva GP, Genov T (1995) Dictyterina cholodkowskii (Cyclophyllidea: Paruterinidae): morphology, synonymy and distribution. Folia Parasitol 42:55–60

Hai-Yun L, Brennan GP, Halton DW (2003) Ultrastructure of vitellogenesis in cestode (Moniezia expansa) (Cestoda: Cyclophyllidea). Acta Zool Sin 49:256–261

Hoberg EP, Mariaux J, Justine J-L, Brooks DR, Weekes PJ (1997) Phylogeny of the orders of the Eucestoda (Cercomeromorphae) based on comparative morphology: historical perspectives and a new working hypothesis. J Parasitol 83:1128–1147

Khalil LF, Jones A, Bray RA (1994) Keys to the cestode parasites of vertebrates. CAB International, Wallingford, p 768

Korneva ZV (2005) Placental type interactions and evolutionary trends of development of uterus in cestodes. J Evol Biochem Physiol 41:552–560

Korneva JV, Kornienko SA, Jones MK (2012) Fine structure of the uteri in two hymenolepidid tapeworm Skrjabinacanthus diplocoronatus and Urocystis prolifer (Cestoda: Cyclophyllidea) parasitic in shrews that display different fecundity of the strobilae. Parasitol Res 111:1523–1530

Korneva JV, Kornienko SA, Jones MK (2016) Fine structure of uterus and non-functioning paruterine organ in Orthoskrjabinia junlanae (Cestoda, Cyclophyllidea). Parasitol Res 115:2449–2457

Mariaux J (1998) A molecular phylogeny of the Eucestoda. J Parasitol 84:114–124

Młocicki D, Świderski Z, Eira C, Miquel J (2005) An ultrastructural study on embryonic envelope formation in the anoplocephalid cestode Mosgovoyia ctenoides (Railliet, 1890), Beveridge, 1978. Parasitol Res 95:243–251

Phillips AJ, Mariaux J, Georgiev BB (2012) Cucolepis cincta gen. n. et sp. n. (Cestoda: Cyclophyllidea) from the squirrel cuckoo Piaya cayana Lesson (Aves: Cuculiformes) from Paraguay. Folia Parasitol 59:287–294

Reynolds ES (1963) The use of lead citrate at high pH as an electron-opaque stain in electron microscopy. J Cell Biol 17:208–212

Rybicka K (1960) Glycogen distribution during the embryonic development of the cestode Diorchis ransomi Schultz, 1940. Exp Parasitol 10:268–273

Rybicka K (1966) Embryogenesis in cestodes. Adv Parasitol 20:759–767

Smigunova NI (1991) On the life cycle of the cestode Lyruterina nigropunctata (Crety, 1890) Spasskaya et Spassky, 1971 (Cestoda, Idiogenidae). Izv Akad Nauk Kaz SSR 5:44–47 [In Russian]

Świderski Z (1973) Vitellogenesis in the cestode Inermicapsifer madagascariensis (Davaine, 1870) Baer 1956. Proc 48th Ann Meet Am Soc Parasitol, Toronto, pp 40

Świderski Z, Huggel H, Schönnenberger N (1970a) The role of the vitelline cell in the capsule formation during embryogenesis in Hymenolepis diminuta (Cestoda). Proc 7th Int Congr Electron Microsc, Grenoble, pp 669–670

Świderski Z, Huggel H, Schönnenberger N (1970b) Comparative fine structure of vitelline cells in cyclophyllidean cestodes. Proc 7th Int Congr Electron Microsc, Grenoble, pp 825–826

Świderski Z, Xylander WER (2000) Vitellocytes and vitellogenesis in cestodes in relation to embryonic development egg production and life cycles. Int J Parasitol 30:805–817

Świderski Z, Chomicz L, Grytner-Zięcina B, Tkach VV (2000) Electron microscope study on vitellogenesis in Catenotaenia pusilla (Goeze, 1782) (Cyclophyllidea, Catenotaeniidae). Acta Parasitol 45:83–88

Świderski Z, Młocicki D, Eira C, Miquel J, Grytner-Zięcina B, Mackiewicz JS (2005) Vitellogenesis in Mosgovoyia ctenoides (Railliet, 1890) Beveridge, 1978 (Cyclophyllidea, Anoplocephalidae). Acta Parasitol 50:305–311

Świderski Z, Gibson DI, Marigo AM, Delgado E, Torres J, Miquel J (2011) Ultrastructure and cytochemistry of the bothriocephalidean cestode Clestobothrium crassiceps (Rudolphi, 1819), a parasite of the teleostei fish Merluccius merluccius (L., 1758) (Gadiformes, Merlucciidae). Acta Parasitol 56:392–405

Świderski Z, Miquel J, Marigo AM, Gibson DI (2012) Ultrastructure of vitellogenesis and vitellocytes in the trypanorhynch cestode Aporhynchus menezesi, a parasite of the velvet belly lanternshark Etmopterus spinax. C R Biol 335:573–584

Tkach VV, Świderski Z (1997) Late stages of egg maturation in the cestode Pseudhymenolepis redonica Joyeux et Baer, 1935 (Cyclophyllidea, Hymenolepididae), a parasite of shrews. Acta Parasitol 42:97–108

Tkach VV, Świderski Z (1998) Differentiation and ultrastructure of the oncospheral envelopes in the hymenolepidid cestode Staphilocystoides stefanskii (Zarnowski, 1954). Acta Parasitol 43:222–231

Waeschenbach A, Webster BL, Bray RA, Littlewood DTJ (2007) Added resolution among ordinal level relationships of tapeworms (Platyhelminthes: Cestoda) with complete small and large subunit nuclear ribosomal RNA genes. Mol Phylogenet Evol 45:311–325

Wardle RA, McLeod JA, Radinovsky S (1974) Advances in the zoology of tapeworms, 1950–1970. University of Minnesota Press, Minneapolis, p 300

Xylander WER (1987) Ultrastructural studies on the reproductive system of Gyrocotylidea and Amphilinidea (Cestoda): II. Vitellarium, vitellocyte development and vitelloduct of Gyrocotyle urna. Zoomorphology 107:293–297

Xylander WER (1988) Ultrastructural studies on the reproductive system of Gyrocotylidea and Amphilinidea (Cestoda): I. Vitellarium, vitellocyte development and vitelloduct of Amphilina foliacea. Parasitol Res 74:363–370

Yoneva A, Kuchta R, Scholz T (2014) First study of vitellogenesis of the broad fish tapeworm Diphyllobothrium latum (Cestoda, Diphyllobothriidea), a human parasite with extreme fecundity. Parasitol Int 63:747–753

Yoneva A, Scholz T, Bruňanská M, Kuchta R (2015a) Vitellogenesis of diphyllobothriidean cestodes (Platyhelminthes). C R Biol 338:169–179

Yoneva A, Scholz T, Młocicki D, Kuchta R (2015b) Ultrastructural study of vitellogenesis of Ligula intestinalis (Diphyllobothriidea) reveals the presence of cytoplasmic-like cell death in cestodes. Front Zool 12:35
Acknowledgments
The authors would like to thank the staff of the Laboratory of Electron Microscopy, Institute of Parasitology, České Budějovice, for the technical assistance. We are also grateful to Professor Kuizheng Cai, Professor Jialin Bai and the students Chuanshi Yan, Yuzhuo Xu, Janchiao Liu and Cuilan Wu (College of Life Science and Engineering, Northwest University for Nationalities, Lanzhou, People's Republic of China) for their assistance in the field studies. The field trip of JM and BBG in Gansu Province was in the frames of a project supported by the National Science Foundation, USA (PBI awards no. 0818696 to Professor Janine N. Caira and no. 0818823 to Professor Kirsten Jensen). The present study used facilities developed at the Institute of Biodiversity and Ecosystem Research, Bulgarian Academy of Sciences, in the frames of the project CEBDER funded by Bulgarian National Science Fund, grant DOO2-15/17.02.2009.
Ethics declarations
Conflict of interest
The authors declare that they have no conflict of interest.
Ethical approval
All applicable international, national and institutional guidelines for the care and use of animals were followed.
About this article
Cite this article
Yoneva, A., Kuchta, R., Mariaux, J. et al. The first data on the vitellogenesis of paruterinid tapeworms: an ultrastructural study of Dictyterina cholodkowskii (Cestoda: Cyclophyllidea). Parasitol Res 116, 327–334 (2017). https://doi.org/10.1007/s00436-016-5295-8
Received:

Accepted:

Published:

Issue Date:
Keywords
Ultrastructure

Vitellocytes

Vitelline vesicles

Cestode

Cyclophyllidean

Dictyterina cholodkowskii