Abstract
Parasitic gastroenteritis (PGE) caused by infection of the gut with parasitic nematodes is one of the most important diseases of livestock animals from both financial and welfare perspectives. Parascaris equorum and Habronema microstoma are of the most endemic nematodes of the world which are currently the major cause of PGE of the domestic horses in Egypt. The present investigation introduced the first morphological description of these nematodes recovered from the domestic horse, Equus ferus caballus (Equidae), in Egypt by light and scanning electron microscopy. Seven P. equorum (fifth stage) and 18 adults of H. microstoma were recovered from the gastrointestinal tracts of four young domestic horses collected during the year of 2015. Microscopic examination of the isolated fifth stage P. equorum revealed that it possessed a long body with a broad anterior end equipped by large shamrock-like lips with deep transverse groove on medial surface set off from the rest of the body by a deep post-labial constriction giving the body a shouldered appearance. The total body length was 12–15 (14 ± 2) cm for males and 13–18 (16 ± 2) cm for females. Lips were three in number in the form of one dorsal and two sub-ventral surrounding the central stoma. The isolated adult worms of H. microstoma were whitish in color narrowed slightly at the anterior end. Single lateral ala in the cephalic region in both sexes was observed. The buccal vestibule was markedly thickened and equipped by two tridentate teeth. The adult worms had two bilobed lateral lips surrounding the mouth with four sub-median cephalic papillae and two amphids. The males were 14.5–18.0 (17.2 ± 0.3) mm long and 1.23–1.57 (1.42 ± 0.3) mm wide. The posterior end was spirally coiled and had wide caudal alae. The spicules were unequal. The females were 13.5–21.0 (16.2 ± 0.3) mm long and 1.55–1.75 (1.69 ± 0.3) mm wide. The anal pore had a thin upper rim and was located 177.0 μm from the posterior end.
This is a preview of subscription content, log in to check access.
Access options
Buy single article
Instant access to the full article PDF.
US$ 39.95
Price includes VAT for USA
Subscribe to journal
Immediate online access to all issues from 2019. Subscription will auto renew annually.
US$ 199
This is the net price. Taxes to be calculated in checkout.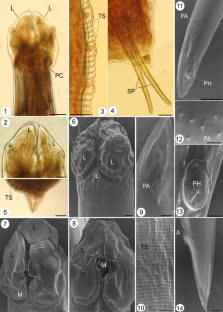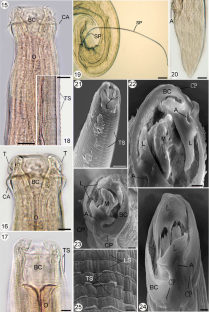 References
Al-Rofaai A, Rahman WA, Abdulghani M (2013) Sensitivity of two in vitro assays for evaluating plant activity against the infective stage of Haemonchus contortus strains. Parasitol Res 112:893–898

Anderson RC (2000) Nematode parasites of vertebrates, their development and transmission. CABI, Wallingford

Ansel M, Thibaut M, Saez H (1974) Scanning electron microscopy on Parascaris equorum (Goeze, 1782), Yorke and Maplestone, 1926. Int J Parasitol 4:17–23

Baird W (1860) Description of some new species of intestinal worms (Entozoa) in the collection of the British Museum. Proc Zool Soc London 28:446–448

Boomker J, Horak IG, Ramsay KA (1989) Helminth and arthropod parasites of indigenous goats in the Northern Transvaal. Onderstepoort J Vet Res 61:13–20

Borgsteede FH, van Beek G (1998) Parasites of stomach and small intestine of 70 horses slaughtered in The Netherlands. Vet Q 20:31–42

Boyle AG, Houston R (2006) Parasitic pneumonitis and treatment in horses. Clin Tech Equine Pract 5:225–232

Bucknell DG, Gasser RB, Beveridge I (1995) The prevalence and epidemiology of gastrointestinal parasites of horses in Victoria, Australia. Int J Parasitol 25:711–724

Carter HJ (1861) On a bisexual nematode worm which infests the common housfly Musca domestica in Bombay. Tr M Phys Soc 7:62–65

Cirak VY, Hermosilla C, Bauer C (1996) Study on the gastrointestinal parasite fauna of ponies in northern Germany. Appl Parasitol 37:239–244

Clayton HM (1986) Ascarids. Recent advances. Vet Clin N Am 2:313–327

Craig TM, Diamond PL, Fernerd MS, Thompson JA (2007) Evidence of ivermectin resistance by Parascaris equorum on a Texas horse farm. J Eq Vet Sci 27:67–71

Domke AV, Chartier C, Gjerde B, Höglund J, Leine N, Vatn S, Stuen S (2012) Prevalence of anthelmintic resistance in gastrointestinal nematodes of sheep and goats in Norway. Parasitol Res 111:185–193

Douvres FW, Tromba FG, Malakatis GM (1969) Morphogenesis and migration of Ascaris suum larvae developing to fourth stage in swine. J Parasitol 55:689–712

Euzeby J (1961) Les Maladies Vermineuses des Animaux Domestiques etleurs incidences sur la pathologie humaine. Maladies dues aux Nemathelminthes. Fascicule Premier. Vigot Freres, Paris, pp 252–292

Gawor JJ (1996) Occurrence of Parascaris equorum in foals and adult horses under different breeding conditions. Wiad Parazytol 42:213–219

Gillian S, Behnke JM, Buttle DJ, Duce LR (2004) Natural plant cysteine proteinases as anthelmintics? Trends Parasitol 20:322–327

Goday C, Pimpinelli S (1986) Cytological analysis of chromosomes in the two species Parascaris univalens and P. equorum. Chromosoma 94:1–10

Goeze JAE (1782) Versuch einer Naturgeschichte der Eingeweiderwurmer Thierischer Korper. Pape, Blankenburg

Gray JE (1821) On the natural arrangement of vertebrose animals. Lond Med Repository Rev 15:296–310

Ho¨glund J, Ljungström BL, Nilsson O, Lundquist H, Osterman E, Uggla A (1997) Occurrence of Gasterophilus intestinalis and some parasitic nematodes of horses in Sweden. Acta Vet Scand 38:157–165

Ivashkin VM (1961) Classification of the subclass Phasmidia Chitwood and Chitwood 1933. Trudi Gelmintologicheskoi Laboratorii, Akademiya Nauk SSSR 11:115–117

Jacob L (1979) Seminar for animal health officials, Ministry of Agriculture and Settlement. Animals and Fisheries Authority, Addis Ababa

Kaplan R, Vidyashankar AN (2012) An inconvenient truth: global worming and anthelmintic resistance. Vet Parasitol 186:70–77

Krecek RC, van Niekerk JP, Els HJ (1988) A comparison of fixatives suitable for scanning electron microscopy of Habronema spp. Onderstepoort J Vet Res 55:63–65

Levine ND (1968) Nematode parasites of domestic animals and of man. Burgess Publishing Comp, Minneapolis, pp 165–166, 398–400; 421–423

Lichtenfels JR (1975) Helminths of domestic equids: illustrated keys to genera and species with emphasis on North American forms. Proc Helminthol Soc Wash 42:1–92

Linnaeus C (1758) Systema naturae per regna tria naturae: secundum classes, ordines, genera, species, cum characteribus, differentiis, synonymis, locis (in Latin), 10th edn. Laurentius Salvius, Stockholm

Littlewood JD (1999) Equine practice: control of ectoparasites in horses. In Practice 21:418–424

Lyons ET, Tolliver SC (2004) Prevalence of parasite eggs (Strongyloides, westeri, Parascaris equorum and strongyles) and oocyts (Eimeria leuckarti)in the feces of Thoroughbred foals on 14 farms in central Kentucky in 2003. Parasitol Res 92:400–404

Lyons ET, Tolliver SC, Collins SS (2006) Field studies on endoparasites of Thoroughbred foals on seven farms in central Kentucky in 2004. Parasitol Res 98:496–500

Macruz R, Giorni W, Santos MRS (1973) Gastric habronemiasis in the horse. Bacteriological examination of the nodules. Atualidades Veterinaria 2:54

Madden PA, Tromba FG (1976) Scanning electron microscopy of the lip denticles of Ascaris suurn adults of known ages. J Parasitol 62:265–271

McLaren DJ (1976) Nematode sense organs. Adv Parasitol 14:105–265

Mirzayans M, Anwar M, Maghsoudlou H (1974) Gastrointestinal helminths of horse in Iran. Trop Anim Health Prod 6:106

Morsy K, Bashtar AR, Abdel-Ghaffar F, Mehlhorn H, Quraishy SA, El- Mahdi M, Al-Ghamdi A, Mostafa N (2012) First record of anisakid juveniles (Nematoda) in the European seabass Dicentrarchus labrax (family: Moronidae), and their role as bio-indicators of heavy metal pollution. Parasitol Res 110:1131–1138

Morsy K, Bashtar AR, Fol M, Yehia S (2014) Haemonchus longistipes Railliet & Henry, 1909 (Nematoda, Trichostrongylidae) from the Egyptian dromedary, Camelus dromedarius (Artiodactyla: Camelidae), first identification on the basis of light and ultrastructural data. Parasitol Res 113:4579–4585

Müller F, Tobler H (2000) Chromatin diminution in the parasitic nematodes Ascaris suum and Parascaris univalens. Int J Parasitol 30:391–399

Naem S (2007) First description of the horse stomach worm, Habronema muscae (Spirurida: Habronematidae) by scanning electron microscopy. Parasitol Res 101:427–432

Nandi AP (2005) Data on the morphology of Viguiera dicrurusi Gupta, 1960 (Nematoda: Habronematidae) with notes on related forms. Folia Parasitol 52:261–266

Nery PS, Nogueira FA, Oliveira NJ, Martins ER, Duarte ER (2012) Efficacy of extracts of immature mango on ovine gastrointestinal nematodes. Parasitol Res 111:2467–2471

Pandey VS, Ouhelli H, Verhulst A (1992) Epidemiological observations on stomach worms of donkeys in Morocco. Vet Res Comm 16:273–279

Pilitt PA, Lichtenfels JR, Madden PA (1979) Differentiation of fourth and early fifth stages of Parascaris equorum (Goeze 1782). Nematoda: Ascaridoidea Proc Helminthol Soc Wash 46:15–20

Radostits OM, Gay CC, Hinchcliff KW, Constable PD (2007) Veterinary medicine. W.B. Saunders, London

Ricci M, Sabatini A (1992) Parasitic helminths of the cecum and colon of equidae in Italy. Parasitologia 34:53–60

Rieder N, Beelitz P, Gothe R (1995) Incidence of Parascaris equorum in foals and the irmares after strategic use of wide-spectrumant helmintics for several years. Tierarztl Prax 23:53–58

Sanderson TP, Nito Y (1990) Cutaneous habronemiasis in a dog. Vet Pathol 27:208–209

Schneider A (1866) Monographie der Nematoden. Reamer, Berlin, p 357

Skrjabink I (1916) Nematodes des oiseaux du turkestan russe. An nuaire du Musee Zool Acad Imperiale Sci 20:457–557

Snyder DE (1983) The prevalence, cross-transmissibility to domestic animals and adult structure of Baylisascaris, procyonis (Nematoda) from Illinois raccoons (Procyon lotor). Dissertation, University of Illinois, Urbana, p 233

Soulsby EJL (1965) Textbook of veterinary clinical parasitology, vol 1 Helminths. Blackwell, Oxford

Soulsby EJL (1986) Helminths, arthropods and protozoa of domesticated animals, 7th edn. Bailliere Tindall, England

Tieri E, Giangaspero A, Gatti A, Allegretto C (1998) L'abronemosi degli equini. O DV 5:7–17

Van Beneden E (1883) Recherches sur la maturation de I'oeuf et la fecondation.Ascaris megalocephala. Arch Biol 4: 265-640

Wang J, Davis RE (2014) Programmed DNA elimination in multicellular organisms. Curr Opin Genet Dev 27C:26–34

Yorke W, Maplestone PA (1926) The nematode parasites of vertebrates. Churchill, London, p 336

Zaros LG, Neves MR, Benvenuti CL, Navarro AM, Sider LH, Coutinho LL, Vieira LS (2014) Response of resistant and susceptible Brazilian Somalis crossbreed sheep naturally infected by Haemonchus contortus. Parasitol Res 113:1155–1161
Acknowledgments
The authors extend their appreciations to the Faculty of Science, Cairo University, Giza, Egypt, and The Deanship of Scientific Research at King Saud University for funding the work through the international research group project IRG14-23.
About this article
Cite this article
Morsy, K., Bashtar, A.R., Al Quraishy, S. et al. Description of two equine nematodes, Parascaris equorum Goeze 1782 and Habronema microstoma Schneider 1866 from the domestic horse Equus ferus caballus (Famisly: Equidae) in Egypt. Parasitol Res 115, 4299–4306 (2016). https://doi.org/10.1007/s00436-016-5212-1
Received:

Accepted:

Published:

Issue Date:
Keywords
Nematoda

Parascaris equorum
Habronema microstoma
Equus ferus caballus

Light and scanning electron microscopy