Abstract
Human strongyloidiasis is a deleterious gastrointestinal disease mainly caused by Strongyloides stercoralis infection. Strongyloides stercoralis is a soil-transmitted helminthiasis that is distributed around the globe. Although definitive diagnosis is carried out through the detection of parasite objects in human stool samples, the development of reliable immunological assays is an important alternative approach for supportive diagnosis. We characterized the two sensitive and specific bands of S. stercoralis filariform larvae that reacted with human strongyloidiasis sera based on immunoblot analysis. Serum samples obtained from strongyloidiasis patients showed a sensitivity of 90 and 80 % at the approximate molecular mass of 26 and 29-kDa polypeptide bands, respectively. The reactive specificity of the 26-kDa band was 76.5 % while for the 29-kDa band was 92.2 %. Proteomic analysis identified the 26-kDa band protein was 14-3-3 protein zeta, while the 29-kDa band protein was ADP/ATP translocase 4. The results provided a basic framework for further studies regarding the potential of the S. stercoralis recombinant antigen to become a leading to diagnostic tool.
This is a preview of subscription content, log in to check access.
Access options
Buy single article
Instant access to the full article PDF.
US$ 39.95
Price includes VAT for USA
Subscribe to journal
Immediate online access to all issues from 2019. Subscription will auto renew annually.
US$ 199
This is the net price. Taxes to be calculated in checkout.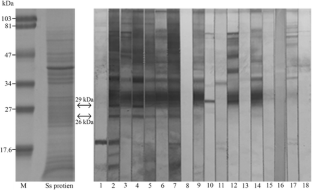 References
Atkins NS, Conway DJ, Lindo JF, Bailey JW, Bundy DA (1999) L3 antigen-specific antibody isotype responses in human strongyloidiasis: correlations with larval output. Parasite Immunol 21:517–526

Bethony J, Brooker S, Albonico M, Geiger SM, Loukas A, Diemert D, Hotez PJ (2006) Soil-transmitted helminth infections: ascariasis, trichuriasis, and hookworm. Lancet 367:1521–1532

Casavechia MT, Lonardoni MV, Venazzi EA, Campanerut-Sá PA, da Costa Benalia HR, Mattiello MF, Menechini PV, Dos Santos CA, Teixeira JJ (2016) Prevalence and predictors associated with intestinal infections by protozoa and helminths in southern Brazil. Parasitol Res. doi: 10.1007/s00436-016-4980-y

Conway DJ, Bailey JW, Lindo JF, Robinson RD, Bundy DA, Bianco AE (1993) Serum IgG reactivity with 41-, 31-, and 28-kDa larval proteins of Strongyloides stercoralis in individuals with strongyloidiasis. J Infect Dis 168:784–787

Conway DJ, Lindo JF, Robinson RD, Bundy DA, Bianco AE (1994) Strongyloides stercoralis: characterization of immunodiagnostic larval antigens. Exp Parasitol 79:99–105

Dahout-Gonzalez C, Nury H, Trézéguet V, Lauquin GJ, Pebay-Peyroula E, Brandolin G (2006) Molecular, functional, and pathological aspects of the mitochondrial ADP/ATP carrier. Physiology (Bethesda) 21:242–249

Dolce V, Scarcia P, Iacopetta D, Palmieri F (2005) A fourth ADP/ATP carrier isoform in man: identification, bacterial expression, functional characterization and tissue distribution. FEBS Lett 579:633–637

Eamudomkarn C, Sithithaworn P, Sithithaworn J, Kaewkes S, Sripa B, Itoh M (2015) Comparative evaluation of Strongyloides ratti and S. stercoralis larval antigen for diagnosis of strongyloidiasis in an endemic area of opisthorchiasis. Parasitol Res 114:2543–2551

Elkins DB, Haswell-Elkins M, Anderson RM (1986) The epidemiology and control of intestinal helminths in the Pulicat Lake region of Southern India. I. Study design and pre- and post-treatment observations on Ascaris lumbricoides infection. Trans R Soc Trop Med Hyg 80:774–792

Harada U, Mori OA (1955) A new method for culturing hookworm. Yonago Acta Med 1:177–179

Hu M, Campbell BE, Pellegrino M, Loukas A, Beveridge I, Ranganathan S, Gasser RB (2007) Genomic characterization of Tv-ant-1, a Caenorhabditis elegans tag-61 homologue from the parasitic nematode Trichostrongylus vitrinus. Gene 397:12–25

Jaubert S, Laffaire JB, Ledger TN, Escoubas P, Amri EZ, Abad P, Rosso MN (2004) Comparative analysis of two 14-3-3 homologues and their expression pattern in the root-knot nematode Meloidogyne incognita. Int J Parasitol 34:873–880

Koga K, Kasuya S, Khamboonruang C, Sukhavat K, Ieda M, Takatsuka N, Kita K, Ohtomo H (1991) A modified agar plate method for detection of Strongyloides stercoralis. Am J Trop Med Hyg 45:518–521

Laemmli UK (1970) Cleavage of structural protein during the assembly of the head of bacteriophage T4. Nature 227:680–685

Leung WY, Hamazaki T, Ostrov DA, Terada N (2013) Identification of adenine nucleotide translocase 4 inhibitors by molecular docking. J Mol Graph Model 45:173–179

Levenhagen MA, Costa-Cruz JM (2014) Update on immunologic and molecular diagnosis of human strongyloidiasis. Acta Trop 135:33–43

Marcilla A, Sotillo J, Pérez-Garcia A, Igual-Adell R, Valero ML, Sánchez-Pino MM, Bernal D, Muñoz-Antolí C, Trelis M, Toledo R, Esteban JG (2010) Proteomic analysis of Strongyloides stercoralis L3 larvae. Parasitology 137:1577–1583

Northern C, Grove DI (1990) Strongyloides stercoralis: antigenic analysis of infective larvae and adult worms. Int J Parasitol 20:381–387

Nunes CP, Zaha A, Gottstein B, Müller N, Mdel Siles-Lucas M (2004) 14-3-3 gene characterization and description of a second 14-3-3 isoform in both Echinococcus granulosus and E. multilocularis. Parasitol Res 93:403–409

Olsen A, van Lieshout L, Marti H, Polderman T, Polman K, Steinmann P, Stothard R, Thybo S, Verweij JJ, Magnussen P (2009) Strongyloidiasis- the most neglected of the neglected tropical diseases? Trans R Soc Trop Med Hyg 103:967–972

Pan D, Bera AK, De S, Bandyopadhyay S, Das SK, Manna B, Sreevatsava V, Bhattacharya D (2010) Relative expression of the 14-3-3 gene in different morphotypes of cysts of Echinococcus granulosus isolated from the Indian buffalo. J Helminthol 84:394–397

Sato Y, Inoue F, Matsuyama R, Shiroma Y (1990) Immunoblot analysis of antibodies in human strongyloidiasis. Trans R Soc Trop Med Hyg 84:403–406

Siddiqui AA, Berk SL (2001) Diagnosis of Strongyloides stercoralis infection. Clin Infect Dis 33:1040–1047

Siles-Lucas Mdel M, Gottstein B (2003) The 14-3-3 protein: a key molecule in parasites as in other organisms. Trends Parasitol 19:575–581

Siles-Lucas M, Nunes CP, Zaha A (2001) Comparative analysis of the 14-3-3 gene and its expression in Echinococcus granulosus and Echinococcus multilocularis metacestodes. Parasitology 122:281–287

Siles-Lucas M, Uribe N, López-Abán J, Vicente B, Orfao A, Nogal-Ruiz JJ, Feliciano AS, Muro A (2007) The Schistosoma bovis Sb14-3-3zeta recombinant protein cross-protects against Schistosoma mansoni in BALB/c mice. Vaccine 25:7217–7223

Siles-Lucas M, Merli M, Gottstein B (2008) 14-3-3 proteins in Echinococcus: their role and potential as protective antigens. Exp Parasitol 119:516–523

Sudre AP, Siqueira RC, Barreto MG, Peralta RH, Macedo HW, Peralta JM (2007) Identification of a 26-kDa protein fraction as an important antigen for application in the immunodiagnosis of strongyloidiasis. Parasitol Res 101:1117–1123

Towbin H, Staehelin T, Gordon J (1979) Electrophoretic transfer of proteins from polyacrylamide gels to nitrocellulose sheets: procedure and some applications. Proc Natl Acad Sci U S A 76:4350–4354

Uribe N, Siles-Lucas M, López-Abán J, Esteban A, Suarez L, Martínez-Fernández A, del Olmo E, Muro A (2007) The Sb14-3-3zeta recombinant protein protects against Schistosoma bovis in BALB/c mice. Vaccine 25:4533–4539

Valerio L, Roure S, Fernández-Rivas G, Basile L, Martínez-Cuevas O, Ballesteros ÁL, Ramos X, Sabrià M, North Metropolitan Working Group on Imported Diseases (2013) Strongyloides stercoralis, the hidden worm. Epidemiological and clinical characteristics of 70 cases diagnosed in the North Metropolitan Area of Barcelona, Spain, 2003-2012. Trans R Soc Trop Med Hyg 107:465–470
Acknowledgments
We wish to acknowledge the support of the English Consultation Clinic at the Khon Kaen University Faculty of Medicine Research Affairs Division and the Khon Kaen University Publication Clinic at the Research and Technology Transfer Affairs Division for their assistance.
Ethics declarations
Ethical approval
All procedures performed in studies involving human participants were in accordance with ethical standards of the Khon Kaen University Ethics Committee for Human Research (HE591192) and with the 1964 Helsinki declaration and its later amendments or comparable ethical standards.
Conflict of interests
The authors declare no potential conflicts of interest with respect to the research, authorship, and/or publication of this article.
Funding
This study was supported by a TRF Senior Research Scholar Grant, Thailand Research Fund grant number RTA5880001; the Higher Education Research Promotion and National Research University Project of Thailand, Office of the Higher Education Commission, Thailand, through the Health Cluster (SHeP-GMS); the Faculty of Medicine, Khon Kaen University (grant no. TR57201) through WM and PM. RR was supported by the Thailand Research Fund through the Royal Golden Jubilee Ph.D. Program (grant no. PHD/0053/2556). OS were supported by Post-Doctoral Training Program of Graduate School and Khon Kaen University (grant no. 58101).
About this article
Cite this article
Rodpai, R., Intapan, P.M., Thanchomnang, T. et al. Strongyloides stercoralis diagnostic polypeptides for human strongyloidiasis and their proteomic analysis. Parasitol Res 115, 4007–4012 (2016). https://doi.org/10.1007/s00436-016-5170-7
Received:

Accepted:

Published:

Issue Date:
Keywords
Strongyloides stercoralis

Strongyloidiasis

Diagnosis

Proteomic analysis

Immunoblot analysis