Abstract
Necropsies of 1010 rock ptarmigans (Lagopus muta) sampled in autumn 2006–2015 in northeast Iceland revealed Mesocestoides canislagopodis tetrathyridia infections in six birds (0.6 %), two juvenile birds (3 month old), and four adult birds (15 months or older). Four birds had tetrathyridia in the body cavity, one bird in the liver, and one bird both in the body cavity and the liver. There were more tetrathyridia in the body cavity of the two juveniles (c. 50 in each) than in three adults (10–40), possibly indicating a host-age-related tetrathyridia mortality. Approximately, half of tetrathyridia in the body cavity were free or loosely attached to the serosa, the other half were encapsulated in a thin, loose connective tissue stroma, frequently attached to the lungs and the liver. Tetrathyridia in the liver parenchyma incited variably intense inflammation. Tetrathyridia from the juvenile hosts were whitish, heart-shaped, and flattened, with unsegmented bodies with a slightly pointed posterior end. In the adult hosts, tetrathyridia were sometimes almost rectangular-shaped, slightly wider compared to those in the juveniles, but more than twice as long as the younger-aged tetrathyridia. Tetrathyridia infections are most likely acquired during the brief insectivorous feeding phase of ptarmigan chicks, and the tetrathyridia persist throughout the lifespan of the birds.
This is a preview of subscription content, log in to check access.
Access options
Buy single article
Instant access to the full article PDF.
US$ 39.95
Price includes VAT for USA
Subscribe to journal
Immediate online access to all issues from 2019. Subscription will auto renew annually.
US$ 199
This is the net price. Taxes to be calculated in checkout.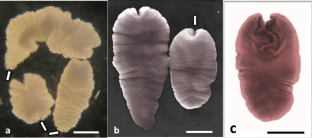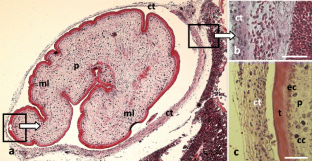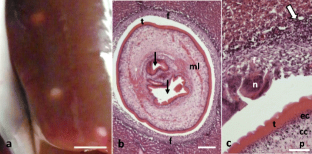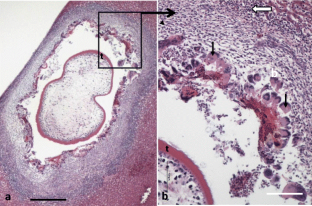 References
Chertkova AN, Kosupko GA (1978) The suborder Mesocestoidata Skryabin, 1940. In: Ryzhikov KM (ed) Principles of cestodology. Nauka, Moscow, pp 118–229 [In Russian]

Christensen ND, Skirnisson K, Nielsen OK (2015) The parasite fauna of the gyrfalcon (Falco rusticolus) in Iceland. J Wildl Dis 51:929–933

Conn DB (1990) The rarity of asexual reproduction among Mesocestoides tetrathyridia (Cestoda). J Parasitol 76:453–455

Conn DB (2004) Comparative aspects of postembryonic development of cestodes (Platyheminthes) and other animal taxa. IX European Multicolloqium of Parasitology, Valencia, pp 319–325

Conn DB, Galán-Puchades MT, Fuentes MV (2010) Interactions between anomalous excretory and tegumental epithelia in aberrant Mesocestoides tetrathyridia from Apodemus sylvaticus in Spain. Parasitol Res 106:1109–1115

Conn DB, Galán-Puchades MT, Fuentes MV (2011) Normal and aberrant Mesocestoides tetrathyridia from Crocidura spp. (Soricimorpha) in Corsica and Spain. J Parasitol 97:915–919

Eleni C, Scaramozzino P, Busi M, Ingrosso S, D'Amelio S, De Liberato C (2007) Proliferative peritoneal and pleural cestodiasis in a cat caused by metacestodes of Mesocestoides sp. Anatomohistopathological findings and genetic identification. Parasite 14:71–76

Foronda P, Perez Rivero A, Santana Morales MA, Kabdur A, Gonzalez AC, Quispe Ricalde MA, Feliu C, Valladares B (2007) First larval record of Mesocestoides in carnivora of Tenerife (Canary Islands). J Parasitol 93:138–142

Garðarsson A, Moss R (1970) Selection of food by Icelandic ptarmigan in relation to its availability and nutritive value. In: Watson A (ed) Animal populations in relation to their food resources. Blackwell Scientific Publication, Oxford, pp 47–71

Hersteinsson P (2004) Tófa. In: Hersteinsson P (ed) Íslensk spendýr. Vaka-Helgafell, Reykjavík, pp 74–85 [In Icelandic]

Krabbe H (1865) Helminthologiske undersøgelser i Denmark og paa Island med særlige hensyn til blæreormelidelser paa Island. Kongelige Danske Videnskabernes Selskabs Skrifter, 5. Række, naturvidensk. og mathem. afdeling, 7. Bind, 71pp [In Danish]

Literák I, Olson PD, Georgiev BB, Spakulova M (2004) First record of metacestodes of Mesocestoides sp. in the common starling (Sturnus vulgaris) in Europe, with and 18S rDNA characterization of the isolate. Folia Parasitol 51:45–49

Loos-Frank B (1987) Shedding of gravid proglottids and destrobilation in experimental infections of foxes with Mesocestoides leptothylacus Loos-Frank, 1980 (Cestoda). J Helminthol 61:213–218

Loos-Frank B (1991) One or two intermediate hosts in the life cycle of Mesocestoides (Cyclophyllidea, Mesocestoididae)? Parasitol Res 77:726–728

Loos-Frank B, Skirnisson K, Eydal M (1992) Mesocestoides canislagopodis (Rudolphi, 1810) (Krabbe, 1865) (Cestoda: Mesocestoididae) from arctic foxes, Alopex lagopus (L.) in Iceland redescribed. Bull Scand Soc Parasitol 2:68–73

Millán J, Gortazar C, Casanova JC (2003) First occurrence of Mesocestoides sp. in a bird, the red-legged partridge, Alectoris rufa, in Spain. Parasitol Res 90:80–81

Padgett KA, Boyce WM (2004) Life-history studies on two molecular strains of Mesocestoides (Cestoda: Mesocestoididae): identification of sylvatic hosts and infectivity of immature life stages. J Parasitol 90:108–113

Padgett KA, Crosbie PR, Boyce WM (2013) Mesocestoides. In: Liu D (ed) Molecular detection of human pathogens. CRC Press, Taylor and Francis Group, pp 277–85

Rausch RL (1994) Family mesocestoididae Fuhrmann, 1907. In: Khalil LF, Jones A, Bray RA (eds) Keys to the cestode parasites of vertebrates. CAB International, Wallingford, pp 309–314

Rózsa L, Reiczigel J, Majoros G (2000) Quantifying parasites in samples of hosts. J Parasitol 86:228–232

Skirnisson K (2004) Hagamús. In: Hersteinsson P (ed) Íslensk spendýr. Vaka-Helgafell, Reykjavík, pp 262–269 [In Icelandic]

Skirnisson K, Eydal M, Gunnarsson E, Hersteinsson P (1993) Parasites of the arctic fox Alopex lagopus in Iceland. J Wildl Dis 29:440–446

Skirnisson K, Richter SH, Eydal M (2003) Prevalence of human parasites in Iceland: past and present status. In: Akkuffo H, Ljungström I, Linder E, Whalgren M (eds) Parasites of the colder climates. Taylor & Francis, London, pp 34–44

Skirnisson K, Thorarinsdottir SÞ, Nielsen OK (2012) The parasite fauna of rock ptarmigan (Lagopus muta) in Iceland: prevalence, intensity and distribution within the host population. Comp Parasitol 79:44–55

Skirnisson K, Jouet D, Ferté H, Nielsen OK (2016) Mesocestoides canislagopodis (Rudolphi, 1810) (Krabbe 1865) in mammals and birds and its molecular discrimination within the Mesocestoides species complex. Parasitol Res. doi:10.1007/s00436-016-5006-5

Soldatova AP (1944) A contribution to the study of the development cycle in cestoda Mesocestoides lineatus (Goeze, 1782), parasitic of carnivorous mammals. Dokl Akad Nauk SSSR 45:310–312

Specht D, Voge M (1965) Asexual multiplication of Mesocestoides tetrathyridia in laboratory animals. J Parasitol 51:268–272

Stenkewitz U, Nielsen OK, Skirnisson K, Stefánsson G (2016) Host-parasite interactions in rock ptarmigan and their potential impact on population fluctuations. Plos One (in press)

Toplu N, Yildiz K, Tunay R (2004) Massive cystic tetrathyridiosis in a dog. J Small Anim Pract 45:410–412

Toplu N, Sarimehmetoglu O, Metin N, Eren H (2006) Pleural and peritoneal tetrathyridiosis in a peafowl. Vet Rec 158:102–103

Voge M (1967) Development in vitro of Mesocestoides (Cestoda) from onchosphere to young tetrathyridium. J Parasitol 53:78–82

Voge M, Seidel JS (1968) Continuous growth in vitro of Mesocestoides (Cestoda) from onchosphere to fully developed tetrathyridium. J Parasitol 54:269–271

Weeden RB, Watson A (1967) Determining the age of rock ptarmigan in Alaska and Scotland. J Wildl Manage 31:825–826

Zalesny G, Hildebrand J (2012) Molecular identification of Mesocestoides spp. from intermediate hosts (rodents) in central Europe (Poland). Parasitol Res 110:1055–1061
Acknowledgments
The authors are grateful to more than 40 persons that have assisted in the field and in the laboratory in sampling and examining rock ptarmigans during the past 10 years, and to Margrét Jónsdóttir and Eygló Gísladóttir at Keldur for preparing and staining the histological sections. Bruce Conn commented on an early draft of the manuscript. Financial support was provided by the Icelandic Research Fund (grant number 090207021), the Research Fund of the University of Iceland, the Icelandic Hunter's Fund and the Icelandic Institute of Natural History.
About this article
Cite this article
Skirnisson, K., Sigurðardóttir, Ó.G. & Nielsen, Ó.K. Morphological characteristics of Mesocestoides canislagopodis (Krabbe 1865) tetrathyridia found in rock ptarmigan (Lagopus muta) in Iceland. Parasitol Res 115, 3099–3106 (2016). https://doi.org/10.1007/s00436-016-5065-7
Received:

Accepted:

Published:

Issue Date:
Keywords
Mesocestoides

Life cycle

Tetrathyridium

Morphology

Histopathology