Abstract
Tapeworms of the genus Taenia include several species of important parasites with considerable medical and veterinary significance. Accurate identification of these species in dogs is the prerequisite of any prevention and control program. Here, we have applied an efficient method for differentiating four major Taeniid species in dogs, i.e., Taenia hydatigena, T. multiceps, T. ovis, and Echinococcus granulosus sensu stricto. High-resolution melting (HRM) analysis is simpler, less expensive, and faster technique than conventional DNA-based assays and enables us to detect PCR amplicons in a closed system. Metacestode samples were collected from local abattoirs from sheep. All the isolates had already been identified by PCR-sequencing, and their sequence data were deposited in the GenBank. Real-time PCR coupled with HRM analysis targeting mitochondrial cox1 and ITS1 genes was used to differentiate taeniid species. Distinct melting curves were obtained from ITS1 region enabling accurate differentiation of three Taenia species and E. granulosus in dogs. The HRM curves of Taenia species and E .granulosus were clearly separated at Tm of 85 to 87 °C. In addition, double-pick melting curves were produced in mixed infections. Cox1 melting curves were not decisive enough to distinguish four taeniids. In this work, the efficiency of HRM analysis to differentiate four major taeniid species in dogs has been demonstrated using ITS1 gene.
This is a preview of subscription content, log in to check access.
Access options
Buy single article
Instant access to the full article PDF.
US$ 39.95
Price includes VAT for USA
Subscribe to journal
Immediate online access to all issues from 2019. Subscription will auto renew annually.
US$ 199
This is the net price. Taxes to be calculated in checkout.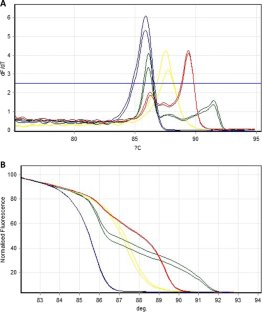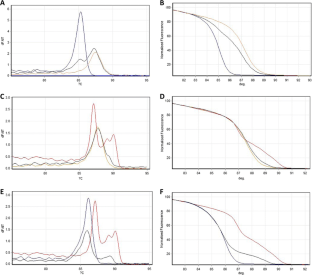 References
Borji H, Azizzadeh M, Kamelli M (2012) A retrospective study of abattoir condemnation due to parasitic infections: economic importance in Ahwaz, southwestern Iran. J Parasitol 98:954–995

Bowles J, Blair D, McManus DP (1992) Genetic variants within the genus Echinococcus identified by mitochondrial DNA sequencing. Mol Biochem Parasitol 54:165–173

Cai X-Q, Yu H-Q, Li R, Yue Q-Y, Liu G-H, Bai J-S, Deng Y, Qiu D-Y, Zhu X-Q (2014) Rapid detection and differentiation of Clonorchis sinensis and Opisthorchis viverrini using real-time PCR and high resolution melting analysis. Sci World J. doi:10.1155/2014/893981

Costa J-M, Cabaret O, Moukoury S, Bretagne S (2011) Genotyping of the protozoan pathogen Toxoplasma gondii using high-resolution melting analysis of the repeated B1 gene. J Microbiol Methods 86:357–363

Dalimi A, Sattari A, Motamedi G (2006) A study on intestinal helminthes of dogs, foxes and jackals in the western part of Iran. Vet Parasitol 142:129–133

Do H, Krypuy M, Mitchell PL, Fox SB, Dobrovic A (2008) High resolution melting analysis for rapid and sensitive EGFR and KRAS mutation detection in formalin fixed paraffin embedded biopsies. BMC Cancer 8:142

Gemmell MA, Roberts MG (1995) Modeling Echinococcus life cycles. In: Thompson RCA, Lymbery AJ (eds) Echinococcus and hydatid disease. CAB International, UK, pp 333–351

Gundry CN, Vandersteen JG, Reed GH, Pryor RJ, Chen J, Wittwer CT (2003) Amplicon melting analysis with labeled primers: a closed-tube method for differentiating homozygotes and heterozygotes. Clin Chem 49(3):396–406

Gundry CN, Dobrowolski SF, Martin YR, Robbins TC, Nay LM, Boyd N, Coyne T, Wall MD, Wittwer CT, Teng DH-F (2008) Base-pair neutral homozygotes can be discriminated by calibrated high-resolution melting of small amplicons. Nucleic Acids Res 36(10):3401–3408

Harandi MF, Budke CM, Rostami S (2012) The monetary burden of cystic echinococcosis in Iran. PLoS Negl Trop Dis 6(11):e1915. doi:10.1371/journal.pntd.0001915

Hung C-C, Lee C-N, Chang C-H, Jong Y-J, Chen C-P, Hsieh W-S, Su Y-N, Lin W-L (2008) Genotyping of the G1138A mutation of the FGFR3 gene in patients with achondroplasia using high-resolution melting analysis. Clin Biochem 41(3):162–166

Kristensen LS, Dobrovic A (2008) Direct genotyping of single nucleotide polymorphisms in methyl metabolism genes using probe-free high-resolution melting analysis. Cancer Epidemiol Biomarkers Prev 17(5):1240–1247

Krypuy M, Newnham GM, Thomas DM, Conron M, Dobrovic A (2006) High resolution melting analysis for the rapid and sensitive detection of mutations in clinical samples: KRAS codon 12 and 13 mutations in non-small cell lung cancer. BMC Cancer 6(1):295

Krypuy M, Ahmed AA, Etemadmoghadam D, Hyland SJ, Fox SB, Brenton JD, Bowtell DD, Dobrovic A (2007) High resolution melting for mutation scanning of TP53 exons 5–8. BMC Cancer 7(1):168

Li J, Zhao G-H, Lin R, Blair D, Sugiyama H, Zhu X-Q (2015) Rapid detection and identification of four major Schistosoma species by high-resolution melt (HRM) analysis. Parasitol Res 114(11):4225–4232

Liew M, Pryor R, Palais R, Meadows C, Erali M, Lyon E, Wittwer C (2004) Genotyping of single-nucleotide polymorphisms by high-resolution melting of small amplicons. Clin Chem 50(7):1156–1164

Mathis A, Deplazes P (2006) Copro-DNA tests for diagnosis of animal taeniid cestodes. Parasitol Int 55:S87–S90

Muller R (2002) Worms and human disease. CABI publishing, New York

Nakao M, Yanagida T, Okamoto M, Knapp J, Nkouawa A, Sako Y, Ito A (2010) State-of-the-art Echinococcus and Taenia: phylogenetic taxonomy of human-pathogenic tapeworms and its application to molecular diagnosis. Infect Genet Evol 10(4):444–452

Nasereddin A, Jaffe CL (2010) Rapid diagnosis of old world leishmaniasis by high-resolution melting analysis of the 7SL RNA gene. J Clin Microbiol 48(6):2240–2242

Ngui R, Lim Y, Chua KH (2012) Rapid detection and identification of human hookworm infections through high resolution melting (HRM) analysis. PLoS One 7(7):e41996

Pangasa A, Jex AR, Campbell BE, Bott NJ, Whipp M, Hogg G, Stevens MA, Gasser RB (2009) High resolution melting-curve (HRM) analysis for the diagnosis of cryptosporidiosis in humans. Mol Cell Probes 23(1):10–15

Radvánský J, Bazsalovicsová E, Králová-Hromadová I, Minárik G, Kádaši Ľ (2011) Development of high-resolution melting (HRM) analysis for population studies of Fascioloides magna (Trematoda: Fasciolidae), the giant liver fluke of ruminants. Parasitol Res 108(1):201–209

Reed GH, Wittwer CT (2004) Sensitivity and specificity of single-nucleotide polymorphism scanning by high-resolution melting analysis. Clin Chem 50(10):1748–1754

Robinson BS, Monis PT, Dobson PJ (2006) Rapid, sensitive, and discriminating identification of Naegleria spp. by real-time PCR and melting-curve analysis. Appl Environ Microbiol 72(9):5857–5863

Rostami S, Talebi S, Babaei Z, Sharbatkhori M, Ziaali N, Rostami H, Harandi MF (2013a) High resolution melting technique for molecular epidemiological studies of cystic echinococcosis: differentiating G1, G3, and G6 genotypes of Echinococcus granulosus sensu lato. Parasitol Res 112(10):3441–3447

Rostami S, Salavati R, Beech RN, Sharbatkhori M, Babaei Z, Saedi S, Harandi MF (2013b) Cytochrome c oxidase subunit 1 and 12S ribosomal RNA characterization of Coenurus cerebralis from sheep in Iran. Vet Parasitol 197(1):141–151

Safa AH, Harandi MF, Tajaddini M, Rostami-Nejad M, Mohtashami-Pour M, Pestehchian N (2015) Rapid identification of Echinococcus granulosus and E. canadensis using high-resolution melting (HRM) analysis by focusing on single nucleotide polymorphism. Jpn J Infect Dis. doi:10.7883/yoken.JJID.2015.161

Santos GB, Espínola SM, Ferreira HB, Margis R, Zaha A (2013) Rapid detection of Echinococcus species by a high-resolution melting (HRM) approach. Parasit Vectors 6:327

Wongkamchai S, Monkong N, Mahannol P, Taweethavonsawat P, Loymak S, Foongladda S (2013) Rapid detection and identification of Brugia malayi, B. pahangi, and Dirofilaria immitis by high-resolution melting assay. Vector Borne Zoonotic Dis 13(1):31–36

World Health Organization (1981) FAO/UNEP/WHO guidelines for surveillance, prevention and control of echinococcosis/hydatidosis. J. Eckert, MA Gemmell, EJL Soulsby (Eds): 147

Zhang P, Liu Y, Alsarakibi M, Li J, Liu T, Li Y, Li G (2012) Application of HRM assays with EvaGreen dye for genotyping Giardia duodenalis zoonotic assemblages. Parasitol Res 111(5):2157–2163

Zhou L, Vandersteen J, Wang L, Fuller T, Taylor M, Palais B, Wittwer C (2004) High resolution DNA melting curve analysis to establish HLA genotypic identity. Tissue Antigens 64(2):156–164
Acknowledgments
The authors would like to thank Kerman municipality abattoir staff for their kind cooperation for collecting parasite materials. Mr. Saeid Nasibi's kind support for molecular part of the work is also appreciated. The vice chancellor for Research and Technology, Kerman University of Medical Sciences financially supported this research project.
About this article
Cite this article
Dehghani, M., Mohammadi, M.A., Rostami, S. et al. High-resolution melting analysis (HRM) for differentiation of four major Taeniidae species in dogs Taenia hydatigena, Taenia multiceps, Taenia ovis, and Echinococcus granulosus sensu stricto. Parasitol Res 115, 2715–2720 (2016). https://doi.org/10.1007/s00436-016-5018-1
Received:

Accepted:

Published:

Issue Date:
Keywords
Taenia

HRM analysis

ITS1

Melting curve

Echinococcus granulosus

Taeniidae