Abstract
Theileriosis continues to threaten the livestock industry worldwide, but comprehensive epidemiological surveys for this disease have not been conducted in the Tibet Plateau Region, China. In this study, we screened 154 cattle blood samples from the Tibet Plateau Region (Lhasa, Lhoka, and Tianzhu), China, for detection of Theileria pathogens by polymerase chain reaction (PCR) with species-specific primers. The results revealed that the prevalence was 6.9 % (2/29) for Theileria orientalis and 27.6 % (8/29) for Theileria sinensis in Lhasa, 0 % (0/30) for T. orientalis and 26.7 % (8/30) for T. sinensis in Lhoka, and 0 % (0/95) for T. orientalis and 30.5 % (29/95) for T. sinensis in Tianzhu. Interestingly, Theileria luwenshuni, which was a previously reported pathogenic Theileria sp. in sheep and goats, was detected in blood samples from cattle and yaks for the first time, with a prevalence of 10 % (3/30) in Lhoka and 1.1 % (1/95) in Tianzhu. No other Theileria sp. was detected in these samples. T. sinensis and T. orientalis infections were detected in cattle and yaks, and T. luwenshuni was discovered for the first time in cattle and yaks in the Tibet Plateau Region, China.
This is a preview of subscription content, log in to check access.
Access options
Buy single article
Instant access to the full article PDF.
US$ 39.95
Price includes VAT for USA
Subscribe to journal
Immediate online access to all issues from 2019. Subscription will auto renew annually.
US$ 199
This is the net price. Taxes to be calculated in checkout.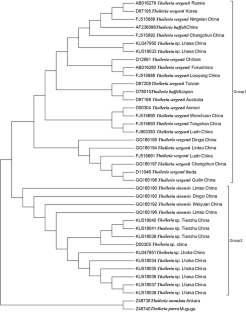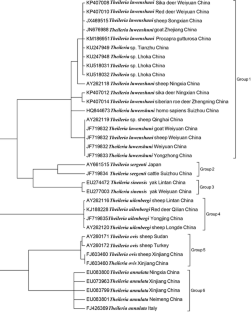 References
Allospp BA, Baylis HA, Allsopp MT, Cavalier-Smith T, Bishop RP, Carrington DM, Sohanpal B, Spooner P (1993) Discrimination between six species of Theileria using oligonucleotide probes which detect small subunit ribosomal RNA sequences. Parasitol 107(Pt2):157–165

Altay K, Dumanli N, Holman PJ, Aktas M (2005) Detection of Theileria ovis in naturally infected sheep by nested PCR. Vet Parasitol 127(2):99–104

Bai Q, Liu GY, Yin H, Zhao QZ, Liu DK, Ren JX, Li X (2002) Theileria sinensis sp nov: a new species of bovine Theileria-classical taxonomic studies. Acta Vet Zootech Sin 33(1):73–77 (in Chinese)

Bilgic HB, Karagenç T, Shiels B, Tait A, Eren H, Weir W (2010) Evaluation of cytochrome b as a sensitive target for PCR based detection of T. annulata carrier animals. Vet Parasitol 174(3-4):341–347

Chen Z, Liu Q, Jiao FC, Xu BL, Zhou XN (2014) Detection of piroplasms infection in sheep, dogs and hedgehogs in central China. Infect Dis Poverty 3:18

d'Oliveira C, van der Weide M, Habela MA, Jacquiet P, Jongejan F (1995) Detection of Theileria annulata in blood samples of carrier cattle by PCR. J Clin Microbiol 33(10):2665–2669

Dolan TT (1989) Theileriasis: a comprehensive review. Rev Sci Tech Off Int Des Epizooties 8(1):11–78

Eamens GJ, Gonsalves JR, Jenkins C, Collins D, Bailey G (2013) Theileria orientalis MPSP types in Australian cattle herds associated with outbreaks of clinical disease and their association with clinical pathology findings. Vet Parasitol 191(3-4):209–217

Jin CM, Xu YT, Zhang SF, Wang XY, Yu LZ (2007) Establishment of PCR method for detection Theileria sergenti infection in cattle. Anim Husb Vet Med 39(5):46–48 (in Chinese)

Li YQ, Luo JX, Liu ZJ, Guan GQ, Gao JL, Ma ML, Dang ZS, Liu AH, Ren QY, Lu BY, Liu JL, Zhao HP, Li JJ, Liu GY, Bai Q, Yin H (2007) Experimental transmission of Theileria sp. (China 1) infective for small ruminants by Haemaphysalis longicornis and Haemaphysalis qinghaiensis. Parasitol Res 101(3):533–538

Li YQ, Zhang X, Liu ZJ, Chen Z, Yang JF, He HN, GuanGQ LAH, Ren QY, Niu QL, Liu JL, Luo JX, Yin H (2014a) An epidemiological survey of Theileria infections in small ruminants in central China. Vet Parasitol 200(1-2):198–202

Li YQ, Chen Z, Liu ZJ, Liu JL, Yang JF, Li Q, Li YQ, Cen SQ, Guan GQ, Luo JX, Yin H (2014b) Molecular identification of Theileria parasites of northwestern Chinese Cervidae. Parasit Vectors 7:225

Li YQ, Chen Z, Liu ZJ, Liu JL, Yang JF, Li Q, Li YQ, Ren QY, Niu QL, Guan GQ, Luo JX, Yin H (2014c) First report of Thrileria and Anaplasma in the Mongolian gazelle, Procapra gutturosa. Parasit Vectors 7:614

Li YQ, Li YQ, Li Q, Yang ST, Luo JX, Yin H (2015) Epidemiologic survey for detection of Theileria-infected cattle in Gaoan prefecture in Jiangxi province. China Dairy Cattle 3(4):34–36 (in Chinese)

Liu AH, Guan GQ, Liu ZJ, Liu JL, Leblanc N, Li YQ, Gao JL, Ma ML, Niu QL, Ren QY, Bai Q, Yin H, Luo JX (2010) Detecting and differentiating Theileria sergenti and Theileria sinensis in cattle and yaks by PCR based on major piroplasm surface protein (MPSP). Exp Parasitol 126(4):476–481

Liu AH, Guan GQ, Du PF, Gou HT, Zhang J, Liu ZJ, Ma ML, Ren QY, Liu JL, Yang JF, Li YQ, Niu QL, Bai Q, Yin H, Luo JX (2013) Rapid identification and differentiation of Theileria sergenti and Theileria sinensis using a loop-mediated isothermal amplification (LAMP) assay. Vet Parasitol 191(1-2):15–22

Lü WX, Lü WS, Zhang QC, Luo JX, Yin H, Dou HF (1995) Survey of the species of tick-borne haemoprotozoan of cattle and feature in china. Chin J Vet Sci Tech 25(8):13–16 (in Chinese)

Luo J, Lu W (1997) Cattle theileriosis in China. Trop Anim Health Prod 29(4Suppl):4S–7S

McFadden AM, Rawdon TG, Meyer J, Makin J, Morley CM, Clough RR, Tham K, Mullner P, Geysen D (2011) An outbreak of haemolytic anaemia associated with infection of Theileria orientalis in naive cattle. N Z Vet J 59(2):79–85

Teng GF, Jiang ZJ (1991) Chinese economic insect fauna, the thirty-ninth copies Acari: Ixodidae. Science Press, Beijing (in Chinese)

Yang JF, Li YQ, Liu ZJ, Liu JL, Guan GQ, Chen Z, Luo JX, Wang XL, Yin H (2014) Molecular evidence for piroplasms in wild Reeves' muntjac (Muntiacus reevesi) in China. Parasitol Int 63(5):713–716

Yin H, Luo JX, Schnittger L, Lu BY, Beyer D, Ma ML, Guan GQ, Bai Q, Lu CP, Ahmed J (2004) Phylogenetic analysis of Theileria species transmitted by Haemaphysalis qinghaiensis. Parasitol Res 92(1):36–42

Yin H, Schnittger L, Luo J, Seitzer U, Ahmed JS (2007) Ovine theileriosis in China: a new look at an old story. Parasitol Res 101(Suppl 2):S191–S195

Yin H, Liu ZJ, Guan GQ, Liu AH, Ma ML, Ren QR, Luo JX (2008) Detection and differentiation of Theileria luwenshuni and T. uilenbergi infection in small ruminants by PCR. Transbound Emerg Dis 55(5-6):233–237
Acknowledgments
The research was supported by the Natural Science Foundation of China (Nos. 31272556, 31372432, 31101621, 31201899, 31402189, and 31471967), ASTIP, FRIP (2014ZL010), CAAS; "948" (2014-S05), NBCIS (CARS-38), Special Fund for Agro-scientific Research in the Public Research (No. 201303035, 2015CB150300), MOA, 973 Program (2010CB530206), Supporting Program (2013BAD12B03, 2013BAD12B05), Specific Fund for Sino-Europe Cooperation, MOST, China, State Key Laboratory of Veterinary Etiological Biology Project. The research was also facilitated by CRP No. 16198/R0 IAEA, Creative Research Groups of Gansu Province (No. 1210RJIA006). We thank International Science Editing for help in modifying the paper.
Ethics declarations
Conflict interests
The authors declare that they have no competing interests.
About this article
Cite this article
Qin, G., Li, Y., Liu, J. et al. Molecular detection and characterization of Theileria infection in cattle and yaks from Tibet Plateau Region, China. Parasitol Res 115, 2647–2652 (2016). https://doi.org/10.1007/s00436-016-5011-8
Received:

Accepted:

Published:

Issue Date:
Keywords
Theileria

Detection

Cattle

Yak

Tibet Plateau