Abstract
Trichinellosis is a globally distributed helminthic infection. There is a considerable interest in developing new anti-helminthic drugs affecting all the developmental stages of Trichinella. Acetazolamide (carbonic anhydrase (CA) inhibitor) involves a novel mechanism of action by inhibiting such an essential enzyme for parasite metabolism. This work aimed to study the effect of acetazolamide against different stages of T. spiralis in experimental animals. Mice were divided into three groups: group I: infected and treated with acetazolamide on day 2 post infection (P.I.), group II: infected and treated with acetazolamide on day 12 P.I., and group III: infected non-treated. From each group, small intestine and muscles were removed for histopathological and immunohistochemical studies. Also, total adult and muscle larval count were estimated. We found that acetazolamide was effective in reduction of both adult and muscle larval counts. When given early, the effect was more pronounced on the adults (62.7 %). However, the efficacy of the drug against muscle larvae was increased when given late (63 %). Improvement of the intestinal histopathological changes was observed in all the treated groups. Degeneration of encysted larvae with minimal pathologic changes of infected skeletal muscle was observed in the treated groups. Expression of matrix metalloproteinase-9 showed a statistically significant decrease in the intestinal and muscle tissues in all treated groups as compared to the control group. In conclusion, the present study revealed that acetazolamide, carbonic anhydrase inhibitor, could be a promising drug against both adults and larvae of T. spiralis.
This is a preview of subscription content, log in to check access.
Access options
Buy single article
Instant access to the full article PDF.
US$ 39.95
Price includes VAT for USA
Subscribe to journal
Immediate online access to all issues from 2019. Subscription will auto renew annually.
US$ 199
This is the net price. Taxes to be calculated in checkout.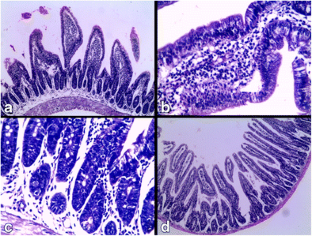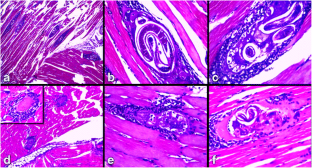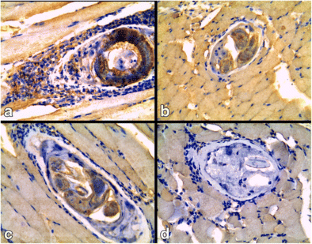 References
Basyoni MM, El-Sabaa AA (2013) Therapeutic potential of myrrh and ivermectin against experimental Trichinella spiralis infection in mice. Korean J Parasitol 51(3):297–304

Brumann M, Kusmenkov T, Ney L et al (2012) Concentration kinetics of serum MMP-9 and TIMP-1 after blunt multiple injuries in the early posttraumatic period. Mediators Inflamm. doi:10.1155/2012/435463

Bruschi F, Chiumiento L (2011) Trichinella inflammatory myopathy: host or parasite strategy? Parasit Vectors. doi:10.1186/1756-3305-4-42

Bruschi F, Bianchi C, Fornaro M et al (2014) Matrix metalloproteinase (MMP)-2 and MMP-9 as inflammation markers of Trichinella spiralis and Trichinella pseudospiralis infections in mice. Parasite Immunol 36:540–549

Campbell WC, Blair LS (1974) Chemotherapy of Trichinella spiralis infections (a review). Exp Parasitol 35:304–334

Capasso C, Supuran CT (2015) An overview of the alpha-, beta- and gamma-carbonic anhydrases from bacteria: can bacterial carbonic anhydrases shed new light on evolution of bacteria? J Enzyme Inhib Med Chem 30(2):325–332

de Almeida A, Oliveira BL, Correia JDG, a Soveral G G, Casini A (2013) Emerging protein targets for metal-based pharmaceutical agents: an update. Coord Chem Rev 257:2689–2704

de Araújo RF Jr, Reinaldo MP, Brito GA, et al (2014) Olmesartan decreased levels of IL-1β and TNF-α, down-regulated MMP-2, MMP-9, COX-2, RANK/RANKL and up-regulated SOCs-1 in an intestinal mucositis model. PLoS One 9(12). doi:10.1371/journal.pone.0114923.

de Sousa MH, Westphalen VPD, Ribas MO et al (2012) Feasibility of using acetazolamide in the treatment of tooth resorption. A O D R 8(1):57–64

Del Prete S, Vullo D, Fisher GM et al (2014) Discovery of a new family of carbonic anhydrases in the malaria pathogen Plasmodium falciparum--the η-carbonic anhydrases. Bioorg Med Chem Lett 24(18):4389–4396

Denham DA (1965) Studies with methyridine and Trichinella spiralis. I effect upon the intestinal phase in mice. Exp Parasitol 17(1):10–14

Despommier DD (1983) Biology of Trichinella and Trichinellosis. In: Campell WC (ed) Trichinella and Trichinellosis. USA. Plenum Press, New York, pp 42–75

Despommier DD (1998) How does Trichinella spiralis make itself at home? Parasitol Today 14(8):318–322

Drury AA, Wallington EA (1980) Carleton's histological technique, 5th edn. Oxford University Press, New York, p 141

Dunn IJ, Wright KA (1985) Cell injury caused by Trichinella spiralis in the mucosal epithelium of B10A mice. J Parasitol 71(6):757–766

García A, Leonardi D, Vasconi MD, Hinrichsen LI and Lamas MC (2014) Characterization of albendazole-randomly methylated-β-cyclodextrin inclusion complex and in vivo evaluation of its antihelmitic activity in a murine model of Trichinellosis. PLoS One 9(11). doi:10.1371/journal.pone.0113296.

Giacomotto J, Pertl C, Borrel C et al (2009) Evaluation of the therapeutic potential of carbonic anhydrase inhibitors in two animal models of dystrophin deficient muscular dystrophy. Hum Mol Genet 18(21):4089–4101

Gottstein B, Pozio E, Nöckler K (2009) Epidemiology, diagnosis, treatment, and control of trichinellosis. Clin Microbiol Rev 22(1):127–145

Güzel O, Innocenti A, Hall RA, Scozzafava A, Mühlschlegel FA, Supuran CT (2009) Carbonic anhydrase inhibitors. The nematode alpha-carbonic anhydrase of Caenorhabditis elegans CAH-4b is highly inhibited by 2-(hydrazinocarbonyl)-3-substituted-phenyl-1H-indole-5-sulfonamides. Bioorg Med Chem 17(8):3212–3215

Issa RM, El-Arousy MH, Abd EI-Aal AA (1998) Albendazole: a study of its effect on experimental Trichinella spiralis infection in rats. Egy J Med Sci 19:281–290

Iyer RP, Patterson NL, Fields GB, Lindsey ML (2012) The history of matrix metalloproteinases: milestones, myths, and misperceptions. Am J Physiol Heart Circ Physiol 303:H919–H930. doi:10.1152/ajpheart.00577

Jafarzadeh F, Field ML, Harrington DK et al (2014) Novel application of acetazolamide to reduce cerebrospinal fluid production in patients undergoing thoracoabdominal aortic surgery. Interact Cardiovasc Thorac Surg 18(1):21–26

Kawaai H, Seino H, Yamazaki S, Taki K (2009) Changes in leukocyte migration during carbonic anhydrase activity inhibition. Burns 35:397–404

Khan WI (2008) Physiological changes in the gastrointestinal tract and host protective immunity: learning from the mouse-Trichinella spiralis model. Parasitology 135(6):671–682

Krungkrai SR, Krungkrai J (2011) Malaria parasite carbonic anhydrase: inhibition of aromatic/heterocyclic sulfonamides and its therapeutic potential. Asian Pac J Trop Biomed 1(3):233–242

Lee LY, Chi-Ming W, Wang CC, Song JY, Liang Y, Kuo-Hao H, Hong LC, Hwang TL (2008) Expression of matrix metalloproteinases MMP-2 and MMP-9 in gastric cancer and their relation to claudin-4 expression. Histol Histopathol 23:515–521

Lopez-Garcia ML, Torrado-Duran S, Torrado-Duran J, Martínez-Fernández AR, Bolás-Fernández F (1997) Albendazole versus ricobendazole (albendazole-sulphoxide) against enteral and parenteral stages of Trichinella spiralis in mice. Int J Parasitol 27(7):781–785

McKenna R, Supuran CT (2014) Carbonic anhydrase inhibitors drug design. Subcell Biochem 75:291–323

Medina C, Radomski MW (2006) Role of matrix metalloproteinases in intestinal inflammation. J Pharmacol Exp Ther 318:933–938

Pal DS, Mondal DK, Datta R (2015) Identification of metal dithiocarbamates as a novel class of antileishmanial agents. Antimicrob Agents Chemother 59:2144–2152

Pozio E, Casulli A, Bologov VV, Marucci G, La Rosa G (2001) Hunting practices increase the prevalence of Trichinella infection in wolves from European Russia. J Parasitol 87:1498–1501

Pozio E, Rinaldi L, Marucci G et al (2009) Hosts and habitats of Trichinella spiralis and Trichinella britovi in Europe. Int J Parasitol 39(1):71–79

Ravn V, Rasmussen BB, Hojholt L (1993) Reproducibility of subjective immunohistochemical estrogen- and progesterone receptor determination in human endometrium. Pathol Res Pract 189:1015–1022

Romaris F, North SJ, Gagliardo IF et al (2002) A putative serine protease among the excretory-secretory glycoproteins of L1 Trichinella spiralis. Mol Biochem Parasitol 122:149–160

Sagar M, Padol I, Khan WI, Bonin RP, Blennerhassett PA, Hunt RH (2004) Establishment of T-Helper-2 immune response based gerbil model of enteric infection. Scand J Gastroenterol 39(7):668–673

Sun GG, Wang ZQ, Liu CY et al (2015) Early serodiagnosis of trichinellosis by ELISA using excretory-secretory antigens of Trichinella spiralis adult worms. Parasit Vectors 23:8(1). doi:10.1186/s13071-015-1094-9

Supuran CT, Casini A, Scozzafava A (2003) Protease inhibitors of the sulfonamide type: anticancer, anti-inflammatory, and antiviral agents. Med Res Rev 23(5):535–58

Syrjänen L, Tolvanen M, Hilvo M et al (2010) Characterization of the first beta-class carbonic anhydrase from an arthropod (Drosophila melanogaster) and phylogenetic analysis of beta-class carbonic anhydrases in invertebrates. BMC Biochem. doi:10.1186/1471-2091-11-28

Syrjänen L, Vermelho AB, Rodrigues Ide A et al (2013) Cloning, characterization, and inhibition studies of a β-carbonic anhydrase from Leishmania donovani chagasi, the protozoan parasite responsible for leishmaniasis. J Med Chem 56(18):7372–7381

Takeuchi K, Nishiwaki H, Ishihara Y, Okabe S (1987) Roles of gastric motility changes in cytoprotection induced by acetazolamide and cysteamine in rats. Jpn J Pharmacol 44(3):269–281

Xiang Y, Ma B, Li T, Gao JW, Yu HM, Li XJ (2004) Acetazolamide inhibits aquaporin-1 protein expression and angiogenesis. Acta Pharmacol Sin 25(6):812–818

Yadav AK, Temjenmongla (2012) Efficacy of Lasia spinosa leaf extract in treating mice infected with Trichinella spiralis. Parasitol Res 110(1):493–498

Yang Y, Wen Y, Cai YN et al (2015) Serine proteases of parasitic helminths. Korean J Parasitol 53(1):1–11

Yook K, Harris TW, Bieri T et al (2012) WormBase 2012: more genomes, more data, new website. Nucleic Acids Res 40(Database issue):D735–741. doi:10.1093/nar/gkr954

Zolfaghari Emameh R, Barker H, Hytönen VP, Tolvanen ME, Parkkila S (2014) Beta carbonic anhydrases: novel targets for pesticides and anti-parasitic agents in agriculture and livestock husbandry. Parasit Vectors. doi:10.1186/1756-3305-7-403

Zolfaghari Emameh R, Syrjänen L, Barker H, Supuran CT, Parkkila S (2015) Drosophila melanogaster: a model organism for controlling Dipteran vectors and pests. J Enzyme Inhib Med Chem 30(3):505–513
About this article
Cite this article
Saad, A.E., Ashour, D.S., Abou Rayia, D.M. et al. Carbonic anhydrase enzyme as a potential therapeutic target for experimental trichinellosis. Parasitol Res 115, 2331–2339 (2016). https://doi.org/10.1007/s00436-016-4982-9
Received:

Accepted:

Published:

Issue Date:
Keywords
Acetazolamide

Trichinella spiralis

Carbonic anhydrase enzyme

Matrix metalloproteinases