Abstract
Water-soluble chlorophyll (chlorophyllin) was used in a phototoxic reaction against a number of fish ectoparasites such as Ichtyobodo, Dactylogyrus, Trichodina, and Argulus. Chlorophyllin is applied to the water at concentrations of several micrograms per milliliter for a predefined incubation time, and afterwards, the parasites are exposed to simulated solar radiation. Application in the dark caused only little damage to the parasites; likewise, light exposure without the addition of the photosensitizer was ineffective. In Ichthyobodo, 2 μg/mL proved sufficient with subsequent simulated solar radiation to almost quantitatively kill the parasites, while in Dactylogyrus, a concentration of about 6 μg/mL was necessary. The LD50 value for this parasite was 1.02 μg/mL. Trichodina could be almost completely eliminated at 2 μg/mL. Only in the parasitic crustacean Argulus, no killing could be achieved by a photodynamic reaction using chlorophyllin. Chlorophyllin is non-toxic, biodegradable, and can be produced at low cost. Therefore, we propose that chlorophyllin (or other photodynamic substances) are a possible effective countermeasure against several ectoparasites in ponds and aquaculture since chemical remedies are either forbidden and/or ineffective.
This is a preview of subscription content, log in to check access.
Access options
Buy single article
Instant access to the full article PDF.
US$ 39.95
Price includes VAT for USA
Subscribe to journal
Immediate online access to all issues from 2019. Subscription will auto renew annually.
US$ 199
This is the net price. Taxes to be calculated in checkout.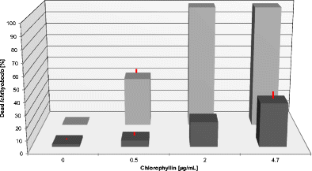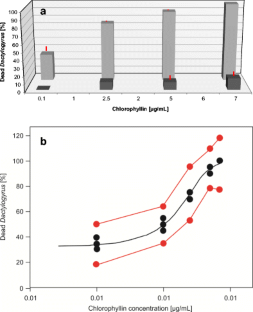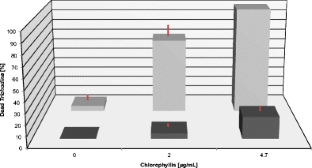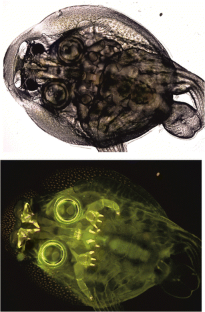 References
Abdel-Kader MH, El-Tayeb TA (2009) Field application for malaria vector control using sunlight active formulated extract. Austria Patent

Abdel-Kader MH, El Sherbini SA, El-Tayeb TA, Hassan E, El-Emam M, El-Taraky A (2008) Using photo-oxidation reactions by photosensitizer for control of Schistosoma's snail vector. Egypt Patent

Alsarakibi M, Wadeh H, Li G (2014) Parasitism of Argulus japonicus in cultured and wild fish of Guangdong, China with new record of three hosts. Parasitol Res 113(2):769–775

Ben Amor T, Bortolotto L, Jori G (2000) Porphyrins and related compounds as photoactivatable insecticides. 3. Laboratory and field studies. Photochem Photobiol 71:124–128

Blaylock RB, Bullard SA (2014) Counter-insurgents of the blue revolution? Parasites and diseases affecting aquaculture and science. J Parasitol 100(6):743–755

Breinholt V et al (1999) Chlorophyllin chemoprevention in trout initiated by aflatoxin B 1 bath treatment: an evaluation of reduced bioavailability vs. target organ protective mechanisms. Toxicol Appl Pharmacol 158(2):141–151

Cross ML, Matthews RA (1992) Ichthyophthiriasis in carp, Cyprinus carpio L.: fate of parasites in immunized fish. J Fish Dis 15:497–505

Cusack R, Cone DK (1986) A review of parasites as vectors of viral and bacterial diseases of fish. J Fish Dis 9(2):169–171

DeRosa MC, Crutchley RJ (2002) Photosensitized singlet oxygen and its applications. Coord Chem Rev 233:351–371

Erzinger GS et al (2011) Optimizing conditions for the use of chlorophyll derivatives for photodynamic control of parasites in aquatic ecosystems. Parasitol Res 109(3):781–786

Erzinger GS et al (2015) Assessment of the impact of chlorophyll derivatives to control parasites in aquatic ecosystems. Ecotoxicology 24(4):949–958

Farmer BD, Straus DL, Mitchell AJ, Beck BH, Fuller SA, Barnett LM (2014) Comparative effects of copper sulfate or potassium permanganate on channel catfish concurrently infected with Flavobacterium columnare and Ichthyobodo necator. J Appl Aquac 26(1):71–83

Fu Y-W, Zhang Q-Z, Xu D-H, Wang B, Liang J-H, Lin D-J (2015) Cynatratoside-C efficacy against theronts of Ichthyophthirius multifiliis, and toxicity tests on grass carp and mammal blood cells. Dis Aquat Org 117(1):13–20

Guha A, Aditya G, Saha SK (2013) Survivorship and fecundity of Argulus bengalensis (Crustacea; Branchiura) under laboratory conditions. Invertebr Reprod Dev 57(4):301–308

Häder D-P, Erzinger GS (2011) Non-toxic and biodegradable insecticide formulation. USA Patent

Häder D-P, Lebert M, Marangoni R, Colombetti G (1999) ELDONET—European Light Dosimeter Network hardware and software. J Photochem Photobiol B Biol 52:51–58

Häder D-P, Schmidl J, Hilbig R, Oberle M, Wedekind H, Richter P (2015) Treatment of ichthyophthiriasis with photodynamically active chlorophyllin. Parasitology Research:1–9

Hanzelova V, Zitnan R (1985) Epizootiologic importance of the concurrent monogenean invasions in the carp. Helminthologia 22(4):277–283

Hasan T, Ortel B, Solban N, Pogue B (2003) Photodynamic therapy of cancer. Cancer Med 7:537–48

Heaton JW, Marangoni AG (1996) Chlorophyll degradation in processed foods and senescent plant tissues. Trends Food Sci Technol 7(1):8–15

Kayis S, Balta F, Serezli R, Er A (2013) Parasites on different ornamental fish species in Turkey. J Fish Sci 7(2):114

Klisch M, Sinha RP, Richter PR, Häder D-P (2001) Mycosporine-like amino acids (MAAs) protect against UV-B-induced damage in Gyrodinium dorsum Kofoid. J Plant Physiol 158:1449–1454

Koskivaara M, Valtonen E, Prost M (1991) Dactylogyrids on the gills of roach in Central Finland: features of infection and species composition. Int J Parasitol 21(5):565–572

Koyun M (2013) Seasonal distribution and ecology of some Dactylogyrus species infecting Alburnus alburnus and Carassius carassius (Osteichthyes: Cyprinidae) from Porsuk River, Turkey. Afr J Biotechnol 10(7):1154–1159

Kumar A et al (2012) Antiparasitic efficacy of piperine against Argulus spp. on Carassius auratus (Linn. 1758): in vitro and in vivo study. Parasitol Res 111(5):2071–2076

Lichtenthaler HK, Wellburn AR (1983) Determinations of total carotenoids and chlorophylls a and b of leaf extracts in different solvents. Biochem Soc Trans 11:591–592

Lom J, Dyková I (1992) Protozoan parasites of fishes, vol 26. Elsevier Science Publishers, Amsterdam

Lu C, Zhang H-Y, Ji J, Wang G-X (2012) In vivo anthelmintic activity of Dryopteris crassirhizoma, Kochia scoparia, and Polygala tenuifolia against Dactylogyrus intermedius (Monogenea) in goldfish (Carassius auratus). Parasitol Res 110(3):1085–1090

Maceda-Veiga A, Cable J (2014) Efficacy of sea salt, metronidazole and formalin-malachite green baths in treating Ichthyophthirius multifiliis infections of mollies (Poecilia sphenops). Bull Eur Assoc Fish Pathol 34(5):182–186

Mirzaei M, Khovand H (2015) Prevalence of Argulus foliaceus in ornamental fishes [goldfish (Carassius auratus) and Koi (Cyprinus carpio)] in Kerman, southeast of Iran. J Parasit Dis 39(4):780–782

Park YJ, Lee WY, Hahn BS, Han MJ, Yang WI, Kim BS (1989) Chlorophyll derivatives—a new photosensitizer for photodynamic therapy of cancer in mice. Yonsei Med J 30(3):212–218

Phromkunthong W, Nuntapong N, Boonyaratpalin M, Kiron V (2013) Toxicity of melamine, an adulterant in fish feeds: experimental assessment of its effects on tilapia. J Fish Dis 36(6):555–568

Reed PA, Francis-Floyd R, Klinger RC (2009) FA28/FA033: Monogenean parasites of fish. In: Electronic Data Information Source UF/IFAS Extension. http://edis.ifas.ufl.edu/FA033

Reichenbach-Klinke H, Elkan E (2013) The principal diseases of lower vertebrates. Elsevier, Amsterdam

Ridanovic S, Nedic Z, Ridanovic L (2015) First observation of fish condition from Sava river in Bosnia and Herzegovina. J Surv Fish Sci 1(2):27–32

Rintamäki-Kinnunen P, Rahkonen M, Mannermaa-Keränen A-L, Suomalainen L-R, Mykrä H, Valtonen ET (2005) Treatment of ichthyophthiriasis after malachite green. I. Concrete tanks at salmonid farms. Dis Aquat Org 64(1):69–76

Scherz A, Salomon Y, Fiedor L (1994) Chlorophyll and bacteriochlorophyll derivatives, preparation and pharmaceutical compositions comprising them as photosensitizers for photodynamic therapy. Chem Abstr 120:386

Sudova E, Machova J, Svobodova Z, Vesely T (2007) Negative effects of malachite green and possibilities of its replacement in the treatment of fish eggs and fish: a review. Vet Med 52(12):527

Syihab MIMT, Suryanto D, Harahap ZA, Dhuha OR (2015) Bacterial isolate in gourami (Osphronemus gouramy) as the result of the infestation of ectoparasites Argulus sp. Aquacostamarine 8(3):14

Wohllebe S (2010) Bekämpfung von Parasiten in aquatischen Ökosystemen mittels natürlicher Photosensitizer. PhD thesis, Friedrich-Alexander Universität

Wohllebe S, Richter R, Richter P, Häder D-P (2009) Photodynamic control of human pathogenic parasites in aquatic ecosystems using chlorophyllin and pheophorbid as photodynamic substances. Parasitol Res 104(3):593–600

Wohllebe S et al (2011) Photodynamic treatment of Chaoborus crystallinus larvae with chlorophyllin induces necrosis and apoptosis. Photochem Photobiol 87(5):1113–1122

Wohllebe S, Richter P, Häder D-P (2012) Chlorophyllin for the control of Ichthyophthirius multifiliis (Fouquet). Parasitol Res 111(2):729–733
Acknowledgments
This work was supported by the Bundesministerium für Ernährung und Landwirtschaft, Bundesprogramm Ökologischer Landbau (FKZ 08OE040). The authors thank S. Wohllebe for her excellent work during the experiments.
Ethics declarations
All animal experiments were approved by the Government of Central Franconia (request-numbers 4–2532.1-18/09 and 54–2532.1-1/11) according to § 8 Protection of Animals Act. All experiments were carried out with the common carp (C. carpio) at the Bavarian State Research Center for Agriculture, Institute for Fisheries, Höchstadt, Germany.
About this article
Cite this article
Häder, D., Schmidl, J., Hilbig, R. et al. Fighting fish parasites with photodynamically active chlorophyllin. Parasitol Res 115, 2277–2283 (2016). https://doi.org/10.1007/s00436-016-4972-y
Received:

Accepted:

Published:

Issue Date:
Keywords
Chlorophyllin

Photodynamic reaction

Parasitology

Fish

Ectoparasite

Ichtyobodo
Dactylogyrus
Trichodina
Argulus

Photochemistry

Aquaculture