Abstract
Several representatives of the so-called free-living amoebae (FLA) are of medical relevance, not only as facultative pathogens but also as vehicles for pathogenic bacteria. Some FLA can survive and even grow under extreme environmental conditions. Bat guano is an exceptional habitat, the conditions becoming gradually more extreme with aging. In the current study, samples of bat guano of different ages from five caves in Slovenia were screened for the presence of FLA. FLA were isolated from almost all guano samples, including guano with a pH of 3.5. Only the two samples that had been drawn from >20-year-old guano were negative for FLA. Generally, FLA diversity correlated to high concentrations of cultivable bacteria (∼108 CFU/g) and fungi (∼105 CFU/g). Interestingly, the absence of FLA in seasoned guanos was mirrored by the presence of dictyostelid slime moulds. The isolated amoebae were identified as belonging to the genera Acanthamoeba, Copromyxa, Naegleria, Sappinia, Tetramitus, Thecamoeba, Vahlkampfia, Vannella and Vermamoeba. To the best of our knowledge, this is the first study on the diversity of FLA in guano.
This is a preview of subscription content, log in to check access.
Access options
Buy single article
Instant access to the full article PDF.
US$ 39.95
Price includes VAT for USA
Subscribe to journal
Immediate online access to all issues from 2019. Subscription will auto renew annually.
US$ 199
This is the net price. Taxes to be calculated in checkout.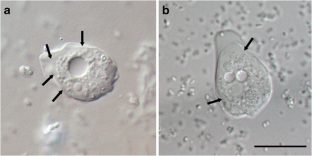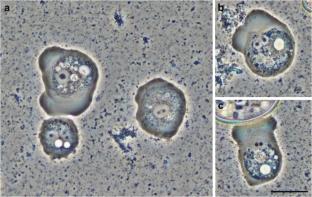 References
Alteras I (1966) First Romanian isolation of Histoplasma capsulatum from the soil. Int J Dermatol 5:69–71

Baumgartner M, Eberhardt S, De Jonckheere JF, Stetter KO (2009) Tetramitus thermacidophilus n. sp., an amoeboflagellate from acidic hot springs. J Eukaryot Microbiol 56(2):201–206

Bernarth R, Kunz T (1981) Structure and dynamics of arthropod communities in bat guano deposits in buildings. Can J Zoolog 59:260–270

Borda D, Năstase-Bucur R, Spînu M, Uricariu R, Mulec J (2014) Aerosolized microbes from organic rich materials: case study of bat guano from caves in Romania. J Cave Karst Stud 76:114–126

Bradbury RS (2014) Free-living amoebae recovered from human stool samples in Strongyloides agar culture. J Clin Microbiol 52:699–700

Brown TJ, Cursons RTM, Keys EA (1982) Amoebae from Antarctic soil and water. Appl Environ Microbiol 44:491–493

Brown MW, Silberman JD, Spiegel FW (2011) "Slime molds" among the Tubulinea (Amoebozoa): molecular systematics and taxonomy of Copromyxa. Protist 162(2):277–287

Chuan MC, Shu GY, Liu JC (1996) Solubility of heavy metals in a contaminated soil: effects of redox potential and pH. Water Air Soil Poll 90:543–556

De Jonckheere JF (1991) Ecology of Acanthamoeba. Rev Infect Dis 13(Suppl 5):S385–S387

Dyková I, Kostka M, Wortberg F, Nardy E, Pecková H (2010) New data on aetiology of nodular gill disease in rainbow trout, Oncorhynchus mykiss. Folia Parasitol 57(3):157–163

Emerson J, Roark A (2007) Composition of guano produced by frugivorous, sanguivorous, and insectivorous bats. Acta Chiropterol 9:261–267

Ettinger MR, Webb SR, Harris SA, McIninch SP, C Garman G, Brown BL (2003) Distribution of free-living amoebae in James River, Virginia, USA. Parasitol Res 89(1):6–15

Ferreira RL, Martins RP, Yanega D (2000) Ecology of bat guano arthropod communities in a Brazilian dry cave. Ecotropica 6:105–116

Frank W, Bosch I (1972) Isolation of amoebae of the type "Hartmannella-Acanthamoeba" and "Naelgeria" from cold-blooded vertebrates [in German]. Parasitol Res 40:139–150

Garcia-Sanchez AM, Ariza C, Ubeda JM, Martin-Sanchez PM, Jurado V, Bastian F, Alabouvette C, Saiz-Jimenez C (2013) Free-living amoebae in sediments from the Lascaux Cave in France. Int J Speleology 42:9–13

Gargas A, Trest M, Christensen M, Volk T, Blehert D (2009) Geomyces destructans sp. nov. associated with bat white-nose syndrome. Mycotaxon 108:147–154

Gast R, Ledee D, Fuerst P, Byers T (1996) Subgenus systematics of Acanthamoeba: four nuclear 18S rDNA sequence types. J Eukaryot Microbiol 43:498–504

Geisen S, Fiore-Donno AM, Walochnik J, Bonkowski M (2014) Acanthamoeba everywhere: high diversity of Acanthamoeba in soils. Parasitol Res 113(9):3151–3158

Gibert J, Deharveng L (2002) Subterranean ecosystems: a truncated functional biodiversity. Bioscience 52:473–481

Greub G, Raoult D (2004) Microorganisms resistant to free-living amoebae. Clin Microbiol Rev 17(2):413–433

Hudoklin A, Presetnik P (2005) The cave Spodnja klevevška jama—important bat roost and newly recorded site of Schreiber's bat (Miniopterus schreibersii) in Dolenjska (south-eastern Slovenia). Nat Slo 7:31–35

Iqbal J, Siddiqui R, Khan NA (2013) Acanthamoeba can propagate on thermophilic Sulfolobus spp. Parasitol Res 112(2):879–881

Jülg B, Elias J, Zahn A, Koppen S, Becker-Gaab C, Bogner J (2008) Bat-associated histoplasmosis can be transmitted at entrances of bat caves and not only inside the caves. J Trav Med 15:133–136

Kevan PG (1999) Pollinators as bioindicators of the state of the environment: species, activity and diversity. Agr Ecosyst Environ 74(1–3):373–393

Krištůfek V, Elhottová D, Kováč L, Chroňáková A, Žák K, Světlík I (2008) Stáří kopy netopýřího guana v jeskyni Domica (NP Slovenský Kras) a elektronová mikroskopie exkrementoů netopýrů. Acta Carsologica Slovaca 46:165–172

Krištůfek V, Chroňáková A, Mulec J (2010) The heavy metal content in bat guano heaps in karst caves. In: Moškrič A, Trontelj P (eds) 20th International Conference on Subterranean Biology. International Society for Subterranean Biology, Postojna, pp 101–102

Kunz TH, Fenton MB (2003) Bat ecology. University of Chicago Press, Chicago, London

Landolt J, Stephenson S, Slay M (2006) Dictyostelid cellular slime molds from caves. J Cave Karst Stud 68:22–26

Laybourn-Parry J (1992) Protozoan plankton ecology. Chapman and Hall, New York

Lorenzo-Morales J, Martínez-Carretero E, Batista N, Alvarez-Marín J, Bahaya Y, Walochnik J, Valladares B (2007) Early diagnosis of amoebic keratitis due to a mixed infection with Acanthamoeba and Hartmannella. Parasitol Res 102(1):167–169

Maher L (2006) Environmental information from guano palynology of insectivorous bats of the central part of the United States of America. Palaeogeogr Palaeocl 237:19–31

Michel R, Hauroeder B, Zoeller L (2009) Isolation of the Amoeba Thecamoeba quadrilineata harbouring intranuclear spore forming endoparasites considered as fungus-like organisms. Acta Protozool 48:41–49

Mulec J, Oarga A (2014) Ecological evaluation of air and water habitats in The Great Cavern of Santo Tomás, Cuba. Rev Mex Biodivers 85:910–917

Mulec J, Krištůfek V, Chroňaková A (2012a) Monitoring of microbial indicator groups in caves through the use of RIDA®COUNT kits. Acta Carsol 41:287–296

Mulec J, Krištůfek V, Chroňáková A (2012b) Comparative microbial sampling from eutrophic caves in Slovenia and Slovakia using RIDA®COUNT test kits. Int J Speleol 41:1–8

Mulec J, Vaupotič J, Walochnik J (2012c) Prokaryotic and eukaryotic airborne microorganisms as tracers of microclimatic changes in the underground (Postojna Cave, Slovenia). Microb Ecol 64:654–667

Mulec J, Covington E, Walochnik J (2013) Is bat guano a reservoir of Geomyces destructans? OJVM 3:161–167

Page FC (1991) Naked rhizopods [in German], vol 2. G. Fischer, Stuttgart

Poulson T (1972) Bat guano ecosystems. Nat Speleol Soc Bull 34:55–59

Presetnik P, Koselj K, Zagmajster M, Aupič N, Jazbec K, Žibrat U, Petrinjak A, Hudoklin A (2009) Atlas netopirjev (Chiroptera) Slovenije. Vol 2. Center za kartografijo favne in flore, Miklavž na Dravskem polju

Pussard M, Alabouvette C, Pons R (1979) Preliminary study of a mycophagous ameba Thecamoeba granifera ssp. minor (Thecamoebidae, Amoebida). Protistologica 15(2):139–149

Shahack-Gross R, Berna F, Karkanas P, Weiner S (2004) Bat guano and preservation of archaeological remains in cave sites. J Archaeol Sci 31:1259–1272

Sigala-Regalado I, Mayen-Estrada R, Morales-Malacara J (2011) Spatial and temporal distribution of protozoa at Cueva de los Riscos, Queretaro, Mexico. J Cave Karst Stud 73:55–62

Smirnov AV, Chao E, Nassonova ES, Cavalier-Smith T (2011) A revised classification of naked lobose amoebae (Amoebozoa: Lobosa). Protist 162:545–570

Tracey MV (1955) Cellulase and chitinase in soil amoebae. Nature 175(4462):815

Visvesvara GS (2013) Infections with free-living amebae. Handb Clin Neurol 114:153–168

Visvesvara GS, Sriram R, Qvarnstrom Y, Bandyopadhyay K, Da Silva AJ, Pieniazek NJ, Cabral GA (2009) Paravahlkampfia francinae n. sp. masquerading as an agent of primary amoebic meningoencephalitis. J Eukaryot Microbiol 56(4):357–366

Waddell D (1982) A predatory slime mould. Nature 298:464–466

Walker L, Simpson V, Rockett L, Wienburg C, Shore R (2007) Heavy metal contamination in bats in Britain. Environ Pollut 148:483–490

Walochnik J, Mulec J (2009) Free-living amoebae in carbonate precipitating microhabitats of karst caves and a new vahlkampfiid amoeba, Allovahlkampfia spelaea gen. nov., sp nov. Acta Protozool 48:25–33

Walochnik J, Hassl A, Simon K, Benyr G, Aspöck H (1999) Isolation and identification by partial sequencing of the 18S ribosomal gene of free-living amoebae from necrotic tissue of Basilliscus plumifrons (Sauria: Iguanidae). Parasitol Res 85(7):601–603

Walochnik J, Michel R, Aspöck H (2004) A molecular biological approach to the phylogenetic position of the genus Hyperamoeba. J Eukaryot Microbiol 51:433–440

Walochnik J, Wylezich C, Michel R (2010) The genus Sappinia: history, phylogeny and medical relevance. Exp Parasitol 126(1):4–13

West CM, Erdos GW (1990) Formation of the Dictyostelium spore coat. Dev Genet 11:492–506

Wylezich C, Walochnik J, Michel R (2009) High genetic diversity of Sappinia-like strains (Amoebozoa, Thecamoebidae) revealed by SSU rRNA investigations. Parasitol Res 105(3):869–873

Zaman V, Zaki M, Manzoor M (1999) Acanthamoeba in human faeces from Karachi. Ann Trop Med Parasitol 93:189–191
Acknowledgments
This study was supported by the programme Karst Research P6-0119, by the Austrian agency for International Cooperation (OeAD, Sl 24/2011), by the Austrian Science Fund (FWF, P24535) and by the Medical University of Vienna. The authors gratefully acknowledge Primož Presetnik, Drago Jeseničnik and Stane Cencič for providing valuable data on bats, Andreea Oarga, Janez Margon and Borut Peric for field work support, Iveta Haefeli and Jacek Pietrzak for laboratory assistance and David Lowe for language editing.
About this article
Cite this article
Mulec, J., Dietersdorfer, E., Üstüntürk-Onan, M. et al. Acanthamoeba and other free-living amoebae in bat guano, an extreme habitat. Parasitol Res 115, 1375–1383 (2016). https://doi.org/10.1007/s00436-015-4871-7
Received:

Accepted:

Published:

Issue Date:
Keywords
Acidophilic

Amoebae

Bat faeces

Caves

pH