Abstract
In the current era of globalization, the massive movement of populations to developed countries causes a greater attention to neglected tropical diseases in places where such diseases are considered unusual. The present study was planned to assess the persistence of intestinal parasitosis in immigrants stably living in the urban central area of Naples (Southern Italy) and the spread of infection within households with a lifestyle similar to that of the country of origin. A total of 2150 stool samples were analysed with the FLOTAC dual technique, and 415 subjects (19.3 %) tested positive for pathogenic intestinal parasites. One hundred ninety-six subjects were randomly selected and monitored again after 1 year in order to evaluate the persistence of intestinal parasites in immigrants having access to proper sanitation. No pathogenic parasites were found in these 196 samples. A total of 482 cohabitants of 151 positive subjects were recruited to evaluate the interfamilial spread of the identified parasites. Only in 18 households were there subjects infected with the same parasite. Monitoring of parasites in stool samples of immigrants showed a decrease of almost all pathogenic species over the years. From the analysis of households, it is not possible to assert that there is a familial transmission. Our study provides evidence that the prevalence of parasitic infections in immigrants is likely related to the poor sanitary habits of the country of origin and that acquisition of new sanitary regulations, together with the administration of pharmacological treatment, limits the transmission in the households and in the local population of their destination.
This is a preview of subscription content, log in to check access.
Access options
Buy single article
Instant access to the full article PDF.
US$ 39.95
Price includes VAT for USA
Subscribe to journal
Immediate online access to all issues from 2019. Subscription will auto renew annually.
US$ 199
This is the net price. Taxes to be calculated in checkout.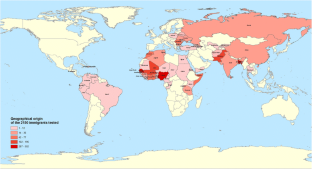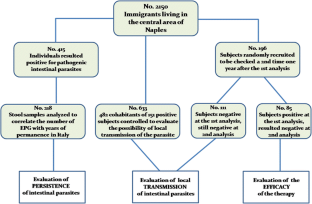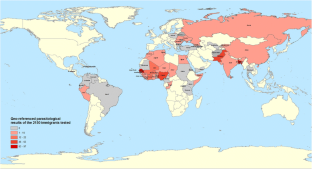 References
Albonico M, Bickle Q, Ramsan M, Montresor A, Savioli L, Taylor M (2003) Efficacy of mebendazole and levamisole alone or in combination against intestinal nematode infections after repeated targeted mebendazole treatment in Zanzibar. Bull WHO 81:343–352

Albonico M, Cocorullo D, Confalonieri V (2010) Neglected diseases in the era of globalization. Parassitologia 52:29–32

Albonico M, Rinaldi L, Sciascia S, Morgoglione ME, Piemonte M, Maurelli MP, Musella V, Utzinger J, Ali SM, Ame SM, Cringoli G (2013) Comparison of three copromicroscopic methods to assess albendazole efficacy against soil-transmitted helminth infections in school-aged children on Pemba Island. Trans R Soc Trop Med Hyg 107:493–501

Andargie G, Kassu A, Moges F, Tiruneh M, Huruy K (2008) Prevalence of bacteria and intestinal parasites among food-handlers in Gondar town, northwest Ethiopia. J Health Popul Nutr 26(4):451–455

Barda BD, Rinaldi L, Ianniello D, Zepherine H, Salvo F, Sadutshang T, Cringoli G, Clementi M, Albonico M (2013) Mini-FLOTAC, an innovative direct diagnostic technique for intestinal parasitic infections: experience from the field. PLoS Negl Trop Dis 7(8), e2344. doi:10.1371/journal.pntd.0002344

Becker SL, Lohourignon LK, Speich B, Rinaldi L, Knopp S, N'goran EK, Cringoli G, Utzinger J (2011) Comparison of the Flotac-400 dual technique and the formalin-ether concentration technique for diagnosis of human intestinal protozoon infection. J Clin Microbiol 49:2183–2190

Blessmann J, Ali IK, Nu PA, Dinh BT, Viet TQ, Van AL, Clark CG, Tannich E (2003) Longitudinal study of intestinal Entamoeba histolytica infections in asymptomatic adult carriers. J Clin Microbiol 41:4745–4750

Chan MS, Medley GF, Jamison D, Bundy DA (1994) The evaluation of potential global morbidity attributable to intestinal nematode infections. Parasitology 109:373–387

Cringoli G (2006) FLOTAC, a novel apparatus for multivalent faecal egg count technique. Parassitologia 48:381–384

Cringoli G (2009) FLOTAC Manual Human FLOTAC techniques: 73

Cringoli G, Rinaldi L, Maurelli MP, Utzinger J (2010) FLOTAC: new multivalent techniques for qualitative and quantitative copromicroscopic diagnosis of parasites in animals and humans. Nat Protoc 5:503–515

Cundill B, Alexander N, Bethony JM, Diemert D, Pullan RL, Brooker S (2011) Rates and intensity of re-infection with human helminths after treatment and the influence of individual, household, and environmental factors in a Brazilian community. Parasitology 138:1406–1416

D'Annibale ML, Bracciale S, Vitali M, Fonzo G, Verdini C, Papili R (2009) Parasitic intestinal infections in humans between 2006 and 2007. Microbiol Med 24:19–24

Darr JS, Conn DB (2015) Importation and transmission of parasitic and other infectious diseases associated with international adoptees and refugees immigrating into the United States of America. BioMed Research International, Article ID 763715: 1–8. Available online: http://downloads.hindawi.com/journals/bmri/aa/763715.pdf

de Souza EA, da Silva-Nunes M, Malafronte Rdos S, Muniz PT, Cardoso MA, Ferreira MU (2007) Prevalence and spatial distribution of intestinal parasitic infections in a rural Amazonian settlement, Acre State, Brazil. Cad Saúde Pública 23(2):427–434

Gatti S, Bernuzzi AM, Maserati R, Scaglia M (2000) Incidence of Entamoeba histolytica/Entamoeba dispar in international travelers, extracommunitary immigrants, and adopted children. Arch Med Res 31(4 Suppl):S47–8

Grande R, Ranzi ML, Restelli A, Maraschini A, Perego L, Torresani E (2011) Intestinal parasitosis prevalence in outpatients and inpatients of Cã Granda IRCCS Foundation—Ospedale Maggiore Policlinico of Milan: data comparison between 1984–1985 and 2007–2009. Infez Med 19(1):28–38

Gualdieri L, Rinaldi L, Petrullo L, Morgoglione ME, Maurelli MP, Musella V, Piemonte M, Caravano L, Coppola MG, Cringoli G (2011) Intestinal parasites in immigrants in the city of Naples (southern Italy). Acta Trop 117(3):196–201

Guidetti C, Ricci L, Vecchia L (2010) Prevalence of intestinal parasitosis in Reggio Emilia (Italy) during 2009. Infez Med 3:154–161

Gyorkos TW, Gilbert NL, Larocque R, Casapía M, Montresor A (2012) Re-visiting Trichuris trichiura intensity thresholds based on anemia during pregnancy. PLoS Negl Trop Dis 6(9), e1783. doi:10.1371/journal.pntd.0001783

Halpenny CM, Paller C, Koski KG, Valdés VE, Scott ME (2013) Regional, household and individual factors that influence soil transmitted helminth reinfection dynamics in preschool children from rural indigenous Panamá. PLoS NTD 7(2), e2070. doi:10.1371/journal.pntd.0002070

Haswell-Elkins MR, Elkins DB, Manjula K, Michael E, Anderson RM (1988) An investigation of hookworm infection and reinfection following mass anthelmintic treatment in the south Indian fishing community of Vairavankuppam. Parasitology 96:565–577

Hesham Al-Mekhlafi M, Surin J, Atiya AS, Ariffin WA, Mohammed Mahdy AK, Che Abdullah H (2008) Pattern and predictors of soil-transmitted helminth reinfection among aboriginal schoolchildren in rural Peninsular Malaysia. Acta Trop 107(2):200–204

Jeandron A, Abdyldaieva G, Usubalieva J, Ensink JH, Cox J, Matthys B, Rinaldi L, Cringoli G, Utzinger J (2010) Accuracy of the Kato-Katz, adhesive tape and FLOTAC techniques for helminth diagnosis among children in Kyrgyzstan. Acta Tropica 116(3):185–192

Kaferstein F (2003) Food safety as public health issue for developing countries. WHO, Geneva, pp 100–109

Khuroo MS (1996) Ascariasis. Gastroenterol Clin North Am 25(3):553–577

Knopp S, Rinaldi L, Khamis IS, Stothard JR, Rollinson D, Maurelli MP, Steinmann P, Marti H, Cringoli G, Utzinger J (2009) A single FLOTAC is more sensitive than triplicate Kato-Katz for the diagnosis of low-intensity soil-transmitted helminth infections. Trans R Soc Trop Med Hyg 103(4):347–354

Lopez-Velez R, Huerga H, Turrientes MC (2003) Infectious diseases in immigrants from the perspective of a tropical medicine referral unit. Am J Trop Med Hyg 69:115–121

Loukas A, Prociv P (2001) Immune responses in hookworm infections. Clin Microbiol Rev 14(4):689–703

Minamoto K, Mascie-Taylor CG, Karim E, Moji K, Rahman M (2012) Short- and long-term impact of health education in improving water supply, sanitation and knowledge about intestinal helminths in rural Bangladesh. Public Health 126(5):437–40. doi:10.1016/j.puhe.2012.02.003

Molina CD, Molina MM, Molina JM (1988) Intestinal parasites in southeast Asian refugees two years after immigration. West J Med 149(4):422–425

Most H (1984) Treatment of parasitic infections of travelers and immigrants. N Engl J Med 310:298–304

Neghab M, Moosavi S, Moemenbellah-Fard MD (2006) Prevalence of intestinal parasitic infections among catering staff of students' canteens at Shiraz, southern Iran. Pak J Biol Sci 9(14):2699–2703

Olsen A, Thiong'o FW, Ouma JH, Mwaniki D, Magnussen P, Michaelsen KF, Friis H, Geissler PW (2003) Effects of multimicronutrient supplementation on helminth reinfection: a randomized, controlled trial in Kenyan schoolchildren. Trans R Soc Trop Med Hyg 97(1):109–114

Palmer PES, Reeder MM (2001) The imaging of tropical diseases: chapter 17 Trichuriasis (Whipworm Infection)

Persson A, Rombo L (1994) Intestinal parasites in refugees and asylum seekers entering the Stockholm area, 1987–1988: evaluation of routine stool screening. Scand J Infect Dis 26(2):199–207

Utzinger J, Rinaldi L, Lohourignon LK, Rohner F, Zimmermann MB, Tschannen AB, N'goran EK, Cringoli G (2008) FLOTAC: a new sensitive technique for the diagnosis of hookworm infections in humans. Trans R Soc Trop Med Hyg 102(1):84–90

Utzinger J, Becker SL, Knopp S, Blum J, Neumayr AL, Keiser J, Hatz CF (2012) Neglected tropical diseases: diagnosis, clinical management, treatment and control. Swiss Med Wkly 142:w13727

Wakelin D (2000) Helminths. Curr Opin Infect Dis 13(5):465–469

WHO (2002) Prevention and control of schistosomiasis and soil-transmitted helminthiasis. World Health Organ Tech Rep Ser 912:i–vi, 1–57

WHO (2008) Integrated control of the neglected tropical diseases. A neglected opportunity ripe for action. Global Health and the United Nations meeting. Carter Center, Atlanta, Georgia, USA. Available online: http://www.who.int/neglected_diseases/NTD_integrated_control.pdf

Zaglool DA, Khodari YA, Othman RAM, Farooq MU (2011) Prevalence of intestinal parasites and bacteria among food handlers in a tertiary care hospital. Niger Med J 52(4):266–270

Ziegelbauer K, Speich B, Mäusezahl D, Bos R, Keiser J, Utzinger J (2012) Effect of sanitation on soil-transmitted helminth infection: systematic review and meta-analysis. PLoS Medicine 9(1), e1001162. doi:10.1371/journal.pmed.1001162
Acknowledgments
We are grateful to all authors who kindly provided supplementary data for our analyses. We would like to thank Vincenzo Musella for GIS system support, Maria Paola Maurelli and Stefano Curto for their precious help in obtaining relevant articles and The Regional Center for Monitoring Parasites (CREMOPAR), Department of Veterinary Medicine and Animal Productions, University of Naples "Federico II", Naples, Italy, for providing us FLOTAC faecal analysis equipment.
About this article
Cite this article
Gualdieri, L., Piemonte, M., Alfano, S. et al. Immigrants living in an urban milieu with sanitation in Southern Italy: persistence and transmission of intestinal parasites. Parasitol Res 115, 1315–1323 (2016). https://doi.org/10.1007/s00436-015-4868-2
Received:

Accepted:

Published:

Issue Date:
Keywords
Immigrants

Household

FLOTAC

Intestinal parasitosis

Sanitation

Drug efficacy