Abstract
Dirofilaria (D.) repens is a nematode causing dirofilariasis in dogs, cats and in humans. Red foxes (Vulpes vulpes) and raccoon dogs (Nyctereutes procyonoides) are well-known wildlife reservoirs for zoonotic diseases. These two species are highly abundant in Germany, frequently exposed to vector mosquitoes and potentially susceptible to Dirofilaria infections. To obtain data about D. repens infections in these animals, red fox and raccoon dog carcasses (hunted or found dead) were collected from January to September 2009 in the Federal State of Brandenburg, Germany. Lung tissue samples were subjected to DNA extraction and examined for the presence of Dirofilaria DNA by means of D. repens-specific PCR. D. repens-specific DNA could not be amplified from the lungs of red foxes (n = 122; 0 %) nor from the lungs of raccoon dogs (n = 13; 0 %), suggesting a limited role if a role at all in the natural transmission cycle of D. repens in Brandenburg.
This is a preview of subscription content, log in to check access.
Access options
Buy single article
Instant access to the full article PDF.
US$ 39.95
Price includes VAT for USA
Subscribe to journal
Immediate online access to all issues from 2019. Subscription will auto renew annually.
US$ 199
This is the net price. Taxes to be calculated in checkout.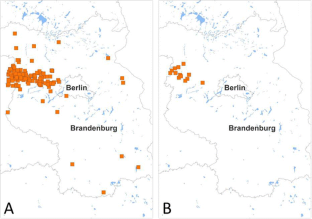 References
Albanese F, Abramo F, Braglia C, Caporali C, Venco L, Vercelli A, Ghibaudo G, Leone F, Carrani F, Giannelli A, Otranto D (2013) Nodular lesions due to infestation by Dirofilaria repens in dogs from Italy. Vet Dermatol 24:255–e56

Cancrini G, Yanchang Sun, Della Torre A, Coluzzi M (1988) Influenza della temperatura sullo sviluppo larvale di Dirofilaria repens in diverse specie di zanzare. Parassitologia 30(Suppl 1):38

Cancrini G, Magi M, Gabrielli S, Arispici M, Tolari F, Dell'Omodarme M, Prati C (2006) Natural vectors of dirofilariasis in rural and urban areas of the Tuscan region, central Italy. J Med Entomol 43(3):574–577

Cancrini G, Scaramozzino P, Gabrielli S, Di Paolo M, Toma L, Romi R (2007) Aedes albopictus und Culex pipens implicated as natural vectors of Dirofilaria repens in central Italy. J Med Entomol 44(6):1064–1066

Chandrasekharan NV, Karunanayake EH, Franzen L, Abeyewickreme W, Pettersson U (1994) Dirofilaria repens: cloning and characterization of a repeated DNA sequence for the diagnosis of dirofilariasis in dogs, Canis familiaris. Exp Parasitol 78:279–286

Ćirović D, Penezić A, Pavlović I, Kulišić Z, Ćosić N, Burazerović J, Maletić V (2014) First records of Dirofilaria repens in wild canids from the region of central Balkan. Acta Vet Hung 62(4):481–488

Czajka C, Becker N, Jöst H, Poppert S, Schmidt-Chanasit J, Krüger A, Tannich E (2014) Stable transmission of Dirofilaria repens nematodes, northern Germany. Emerg Infect Dis 20(2):329–331

Demiaszkiewicz AW, Polańczyk G (2010) Pierwszy w polsce przypadek inwazji Dirofilaria repens u psa. Magazyn Weterynaryjny 19(154):254–256

Džaja P, Beck A, Kiš G, Kurilj AG, Živičnjak T, Artuković B, Beck R, Hohšteter M, Zuckermann Šoštarić IC, Grabarević Ž (2008) Dirofilaria repens infection in a dog in Croatia—a case report. Vet Arhiv 78(6):521–527

Genchi C, Rinaldi L, Cascone C, Mortarino M, Cringoli G (2005) Is heartworm disease really spreading in Europe? Vet Parasitol 133:137–148

Genchi C, Rinaldi L, Mortarino M, Genchi M, Cringoli G (2009) Climate and Dirofilaria infection in Europe. Vet Parasitol 163:286–292

Genchi C, Mortarino M, Rinaldi L, Cringoli G, Traldi G, Genchi M (2011) Changing climate and changing vector-borne disease distribution: The example of Dirofilaria in Europe. Vet Parasitol 176:295–299

Härtwig V, von Loewenich FD, Schulze C, Straubinger RK, Daugschies A, Dyachenko V (2014) Detection of Anaplasma phagocytophilum in red foxes (Vulpes vulpes) and raccoon dogs (Nyctereutes procyonoides) from Brandenburg, Germany. TTBD 5(3):277–280

Härtwig V, Schulze C, Barutzki D, Schaper R, Daugschies A, Dyachenko V (2015) Detection of Angiostrongylus vasorum in red foxes (Vulpes vulpes) from Brandenburg, Germany. Parasitol Res 114:179–186

Hermosilla C, Pantchev N, Dyachenko V, Gutmann M, Bauer C (2006) First autochthonous case of canine ocular Dirofilaria repens infection in Germany. Vet Rec 158:134–135

Kamalu BP (1991) Canine filariasis caused by Dirofilaria repens in southeastern Nigeria. Vet Parasitol 40:335–338

Kartashev V, Batashova I, Kartashov S, Ermakov A, Mironova A, Kuleshova Y, Ilyasov B, Kolodiy I, Klyuchnikov A, Ryabikina E, Babicheva M, Levchenko Y, Pavlova R, Pantchev N, Morchon R, Simón F (2011) Canine and human dirofilariosis in the Rostov region (southern Russia). Vet Med Int 2011:685713. doi:10.4061/2011/685713

Kido N, Wada Y, Takahashi M, Kamegaya C, Omiya T, Yamamoto Y (2011) Prevalence of Dirofilaria immitis infection in living raccoon dogs assessed by hematological examination. J Vet Med Sci 73(6):845–847

Kronefeld M, Kampen H, Sassnau R, Werner D (2014) Molecular detection of Dirofilaria immitis, Dirofilaria repens and Setaria tundra in mosquitoes from Germany. Parasit Vectors 7:30

Löwenstein M, Spallinger E (2009) Erster autochthoner Fall einer Dirofilaria (Nochtiella) repens Infektion bei einem Hund in Österreich—ein Fallbericht. Wien Tierärztl Mschr. Vet Med Austria 96:184–187

Magi M, Calderini P, Gabrielli S, Dell'Omodarme M, Macchioni F, Prati MC, Cancrini G (2008) Vulpes vulpes: a possible wild reservoir for zoonotic filariae. Vector-Borne Zoonotic Dis 8(1):1–4

Magi M, Macchioni F, Dell'Omodarme M, Prati MC, Calderini P, Gabrielli S, Iori A, Cancrini G (2009) Endoparasites of red fox (Vulpes vulpes) in central Italy. J Wildlife Dis 45(3):881–885

Marconcini A, Magi M, Macchioni G, Sassetti M (1996) Filarioses in foxes in Italy. Vet Res Commum 20:316–319

Nakagaki K, Suzuki T, Hayama SI, Kanda E (2000) Prevalence of dirofilarial infection in raccoon dogs in Japan. Parasitol Int 49:253–256

Osińska B, Demiazkiewicz AW, Pyziel AM, Kuligowska I, Lachowicz J, Dolka I (2014) Prevalence of Dirofilaria repens in dogs in central-eastern Poland and histopathological changes caused by this infection. Bull Vet Inst Pulawy 58:35–39

Otranto D, Cantacessi C, Dantas-Torres F, Brianti E, Pfeffer M, Genchi C, Guberti V, Capelli G, Deplazes P (2015a) The role of wild canids and felids in spreading parasites to dogs and cats in Europe. Part II: Helminths and arthropods. Vet Parasitol. 2015 May 8. Epub ahead of print

Otranto D, Cantacessi C, Pfeffer M, Dantas-Torres F, Brianti E, Deplazes P, Genchi C, Guberti V, Capelli G (2015b) The role of wild canids and felids in spreading parasites to dogs and cats in Europe. Part I: Protozoa and tick-borne agents. Vet Parasitol. 2015 May 8, Epub ahead of print

Overgaauw P, van Dijk E (2009) Autochthonous case of Dirofilaria repens in a dog in the Netherlands. Vet Rec 164:158

Pampiglione S, Rivasi F (2000) Human dirofilariasis due to Dirofilaria (Nochtiella) repens: an update of world literature from 1995 to 2000. Parassitologia 42:231–254

Pampiglione S, Canestri Trotti G, Rivasi F (1995) Human dirofilariasis due to Dirofilaria (Nochtiella) repens: a review of world literature. Parassitologia 37:149–193

Pampiglione S, Rivasi F, Angeli G, Boldorini R, Incensati RM, Pastormerlo M, Pavesi M, Ramponi A (2001) Dirofilariasis due to Dirofilaria repens in Italy, an emergent zoonosis: report of 60 new cases. Histopathology 38:344–354

Pantchev N, Norden N, Lorentzen L, Rossi M, Rossi U, Brand B, Dyachenko V (2009) Current surveys on the prevalence and distribution of Dirofilaria spp. in dogs in Germany. Parasitol Res 105:63–74

Penezić A, Selaković S, Pavlović I, Ćirović D (2014) First findings and prevalence of adult heartworms (Dirofilaria immitis) in wild carnivores from Serbia. Parasitol Res 113:3281–3285

Rishniw M, Barr SC, Simpson KW, Frongillo MF, Franz M, Alpizar JLD (2006) Discrimination between six species of canine microfilariae by a single polymerase chain reaction. Vet Parasitol 135:303–314

Salamatin RV, Pavlikovska TM, Sagach OS, Nikolayenko SM, Kornyushin VV, Kharchenko VO, Masny A, Cielecka D, Konieczna-Salamatin J, Conn DB, Golab E (2013) Human dirofilariasis due to Dirofilaria repens in Ukraine, an emergent zoonosis: epidemiological report of 1465 cases. Acta Parasitolgica 58(4):592–598

Sassnau R, Genchi C (2013) Qualitative risk assessment for the endemisation of Dirofilaria repens in the state of Brandenburg (Germany) based on temperature-dependent vector competence. Parasitol Res 112:2647–2652

Sassnau R, Dyachenko V, Pantchev N, Stöckel F, Dittmar K, Daugschies A (2009) Dirofilaria-repens-Befall in einem Schlittenhunde-Rudel im Land Brandenburg. Diagnose und Therapie der kaninen kutanen Dirofilariose. Tierärztl Prax 37(K):95–101

Sassnau R, Kohn M, Demeler J, Kohn B, Müller E, Krücken J, von Samson-Himmelstjerna G (2013) Is Dirofilaria repens endemic in the Havelland district in Brandenburg, Germany? Vector-Borne Zoonotic Dis 13(12):888–891

Sassnau R, Czajka C, Kronefeld M, Werner D, Genchi C, Tannich E, Kampen H (2014a) Dirofilaria repens and Dirofilaria immitis DNA findings in mosquitoes in Germany: temperature data allow autochthonous extrinsic development. Parasitol Res 113:3057–3061

Sassnau R, Daugschies A, Lendner M, Genchi C (2014b) Climate suitability for the transmission of Dirofilaria immitis and D. repens in Germany. Vet Parasitol 205(1-2):239–245

Sato H, Suzuki K, Aoki M (2006) Nematodes from raccoon dogs (Nyctereutes procyonoides viverrinus) introduced recently on Yakushima Island, Japan. J Vet Med Sci 68(7):693–700

Simón F, Siles-Lucas M, Morchón R, González-Miguel J, Mellado I, Carretón E, Montoya-Alonso JA (2012) Human and animal dirofilariasis: the emergence of a zoonotic mosaic. Clin Microbiol Rev 25:507–544

Svobodová Z, Svobodová V, Genchi C, Forejtek P (2006) The first report of autochthonous dirofilariosis in dogs in the Czech Republic. Helminthologia 43(4):242–245

Tappe D, Plauth M, Bauer T, Muntau B, Dießel L, Tannich E, Herrmann-Trost P (2014) A case of autochthonous human Dirofilaria infection, Germany, March 2014. Euro Surveill 19:17

Tarello W (2002) Cutaneous lesions in dogs with Dirofilaria (Nochtiella) repens infestation and concurrent tick-borne transmitted diseases. Vet Dermatol 13:267–274

Tarello W (2011) Clinical aspects of dermatitis associated with Dirofilaria repens in pets: a review of 100 canine and 31 feline cases (1990-2010) and a report of a new clinic case imported from Italy to Dubai. J Parasit Res. Article ID 578385. doi:10.1155/2011/578385

Tolnai Z, Széll Z, Sproch Á, Szeredi L, Szréter T (2014) Dirofilaria immitis: an emerging parasite in dogs, red foxes and golden jackals in Hungary. Vet Parasitol 203:339–342

Venco L, Valenti V, Bertazzolo W, Genchi M, Grandi G (2011) A mini-invasive procedure for removal of adult Dirofilaria repens from subcutaneous nodules in dogs. Int J Appl Res Vet Med 9(2):217–223

Webber WAF, Hawking F (1955) Experimental maintenance of Dirofilaria repens and D. immitis in dogs. Exp Parasitol 4:143–164
About this article
Cite this article
Härtwig, V., Schulze, C., Pfeffer, M. et al. No evidence of Dirofilaria repens infection in red foxes (Vulpes vulpes) and raccoon dogs (Nyctereutes procyonoides) from Brandenburg, Germany. Parasitol Res 115, 867–871 (2016). https://doi.org/10.1007/s00436-015-4820-5
Received:

Accepted:

Published:

Issue Date:
Keywords
Dirofilaria repens

PCR

Lung tissue

Vulpes vulpes

Red foxes

Nyctereutes procyonoides

Raccoon dogs