Abstract
Surveillance monitoring for microbial water quality typically involves collecting single discrete grab samples for analyzing only one contaminant. While informative, current approaches suffer from poor recoveries and only provide a limited snapshot of the microbial contaminants only at the time of collection. To overcome these limitations, bivalves have been proposed as effective biosentinels of water quality particularly for their ability to efficiently concentrate and retain microbial contaminants for long periods of time. In this study, we examined the use of indigenous blue mussels (Mytilus spp.) as biosentinels to monitor for the presence of Toxoplasma gondii and Cryptosporidium water. An efficient method to extract oocyst DNA from various mussel tissues followed by PCR-based detection of these pathogens was developed, which resulted in the detection down to 10 oocysts. This method was then used to conduct a small survey in Point Lobos and Morro Bay, California to determine prevalence T. gondii and Cryptosporidium. Results revealed that mussels from Morro Bay were contaminated with T. gondii (33 %), while mussels from Point Lobos were contaminated with T. gondii (54 %) and Cryptosporidium (26.9 %) oocysts. Phylogenetic analysis using the SSU rRNA gene identified two novel Cryptosporidium parvum-like genotypes. Overall, this study demonstrated the application of using native California Mytilus spp. as biosentinels for pathogen contamination along the central California shorelines. More importantly, T. gondii and Cryptosporidium were found at higher prevalence rates in Morro Bay and in Point Lobos, an area not previously reported to be contaminated with these pathogens.
This is a preview of subscription content, log in to check access.
Access options
Buy single article
Instant access to the full article PDF.
US$ 39.95
Price includes VAT for USA
Subscribe to journal
Immediate online access to all issues from 2019. Subscription will auto renew annually.
US$ 199
This is the net price. Taxes to be calculated in checkout.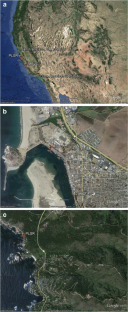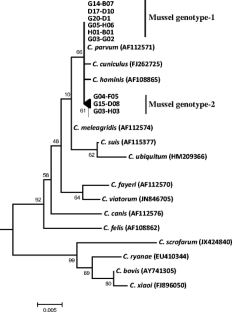 References
Arkush KD, Miller MA, Leutenegger CM, Gardner IA, Packham AE, Heckeroth AR, Tenter AM, Barr BC, Conrad PA (2003) Molecular and bioassay-based detection of Toxoplasma gondii oocyst uptake by mussels (Mytilus galloprovincialis). Int J Parasitol 33(10):1087–1097

Bouzid M, Heavens D, Elwin K, Chalmers RM, Hadfield SJ, Hunter PR, Tyler KM (2010) Whole genome amplification (WGA) for archiving and genotyping of clinical isolates of cryptosporidium species. Parasitology 137(1):27–36

Craun GF, Calderon RL, Craun MF (2005) Outbreaks associated with recreational water in the united states. Int J Environ Health Res 15(4):243–262

Craun GF, Brunkard JM, Yoder JS, Roberts VA, Carpenter J, Wade T, Calderon RL, Roberts JM, Beach MJ, Roy SL (2010) Causes of outbreaks associated with drinking water in the United States from 1971 to 2006. Clin Microbiol Rev 23(3):507–528

Dean FB, Hosono S, Fang L, Wu X, Faruqi AF, Bray-Ward P, Sun Z, Zong Q, Du Y, Du J, Driscoll M, Song W, Kingsmore SF, Egholm M, Lasken RS (2002) Comprehensive human genome amplification using multiple displacement amplification. Proc Natl Acad Sci U S A 99(8):5261–5266

Downey AS, Graczyk TK (2007) Maximizing recovery and detection of cryptosporidium parvum oocysts from spiked eastern oyster (Crassostrea virginica) tissue samples. Appl Environ Microbiol 73(21):6910–6915

Fayer R, Dubey JP, Lindsay DS (2004) Zoonotic protozoa: from land to sea. Trends Parasitol 20(11):531–536

Ford SE, Allam B, Xu Z (2009) Using bivalves as particle collectors with PCR detection to investigate the environmental distribution of Haplosporidium nelsoni. Dis Aquat Org 83(2):159–168

Francy DS, Stelzer EA, Brady AM, Huitger C, Bushon RN, Ip HS, Ware MW, Villegas EN, Gallardo V, Lindquist HD (2013) Comparison of filters for concentrating microbial indicators and pathogens in lake water samples. Appl Environ Microbiol 79(4):1342–1352

Gosling E (2003) How bivalves feed, 1st edn. Blackwell Publishing, Malden

Graczyk TK, Conn DB (2008) Molecular markers and sentinel organisms for environmental monitoring. Parasite 15(3):458–462

Graczyk TK, Fayer R, Lewis EJ, Trout JM, Farley CA (1999) Cryptosporidium oocysts in bent mussels (Ischadium recurvum) in the Chesapeake Bay. Parasitol Res 85(7):518–521

Graczyk TK, Conn DB, Lucy F, Minchin D, Tamang L, Moura LN, DaSilva AJ (2004) Human waterborne parasites in zebra mussels (Dreissena polymorpha) from the Shannon river drainage area, Ireland. Parasitol Res 93(5):385–391

Graczyk TK, Girouard AS, Tamang L, Nappier SP, Schwab KJ (2006) Recovery, bioaccumulation, and inactivation of human waterborne pathogens by the Chesapeake Bay nonnative oyster, Crassostrea ariakensis. Appl Environ Microbiol 72(5):3390–3395

Homan WL, Vercammen M, De Braekeleer J, Verschueren H (2000) Identification of a 200- to 300-fold repetitive 529 bp DNA fragment in Toxoplasma gondii, and its use for diagnostic and quantitative PCR. Int J Parasitol 30(1):69–75

Jiang J, Alderisio KA, Singh A, Xiao L (2005) Development of procedures for direct extraction of Cryptosporidium DNA from water concentrates and for relief of PCR inhibitors. Appl Environ Microbiol 71(3):1135–1141

Jothikumar N, da Silva AJ, Moura I, Qvarnstrom Y, Hill VR (2008) Detection and differentiation of Cryptosporidium hominis and Cryptosporidium parvum by dual TaqMan assays. J Med Microbiol 57(Pt 9):1099–1105

Kimbrough KL, Johnson WE, Lauenstein GG, Christensen JD, Apeti DA (2008) An assessment of two decades of contaminant monitoring in the nation's coastal zone. NOAA technical memorandum. Silver Springs NOS NCCOS 74:105

Le Blancq SM, Khramtsov NV, Zamani F, Upton SJ, Wu TW (1997) Ribosomal RNA gene organization in Cryptosporidium parvum. Mol Biochem Parasitol 90(2):463–478

Lindsay DS, Collins MV, Mitchell SM, Wetch CN, Rosypal AC, Flick GJ, Zajac AM, Lindquist A, Dubey JP (2004) Survival of Toxoplasma gondii oocysts in eastern oysters (Crassostrea virginica). J Parasitol 90(5):1054–1057

Lowery CJ, Nugent P, Moore JE, Millar BC, Xiru X, Dooley JS (2001) PCR-IMS detection and molecular typing of Cryptosporidium parvum recovered from a recreational river source and an associated mussel (Mytilus edulis) bed in Northern Ireland. Epidemiol Infect 127(3):545–553

Lucy FE, Graczyk TK, Tamang L, Miraflor A, Minchin D (2008) Biomonitoring of surface and coastal water for Cryptosporidium, Giardia, and human-virulent microsporidia using molluscan shellfish. Parasitol Res 103(6):1369–1375

Miller MA, Gardner IA, Kreuder C, Paradies DM, Worcester KR, Jessup DA, Dodd E, Harris MD, Ames JA, Packham AE, Conrad PA (2002) Coastal freshwater runoff is a risk factor for Toxoplasma gondii infection of southern sea otters (Enhydra lutris nereis). Int J Parasitol 32(8):997–1006

Miller MA, Grigg ME, Kreuder C, James ER, Melli AC, Crosbie PR, Jessup DA, Boothroyd JC, Brownstein D, Conrad PA (2004) An unusual genotype of Toxoplasma gondii is common in California sea otters (Enhydra lutris nereis) and is a cause of mortality. Int J Parasitol 34(3):275–284

Miller WA, Atwill ER, Gardner IA, Miller MA, Fritz HM, Hedrick RP, Melli AC, Barnes NM, Conrad PA (2005) Clams (Corbicula fluminea) as bioindicators of fecal contamination with Cryptosporidium and Giardia spp. In freshwater ecosystems in California. Int J Parasitol 35(6):673–684

Miller MA, Miller WA, Conrad PA, James ER, Melli AC, Leutenegger CM, Dabritz HA, Packham AE, Paradies D, Harris M, Ames J, Jessup DA, Worcester K, Grigg ME (2008) Type X Toxoplasma gondii in a wild mussel and terrestrial carnivores from coastal California: new linkages between terrestrial mammals, runoff and toxoplasmosis of sea otters. Int J Parasitol 38(11):1319–1328

Morrison LJ, Mallon ME, Smith HV, MacLeod A, Xiao L, Tait A (2008) The population structure of the Cryptosporidium parvum population in Scotland: a complex picture. Infect Genet Evol 8(2):121–129

Nappier SP, Graczyk TK, Schwab KJ (2008) Bioaccumulation, retention, and depuration of enteric viruses by Crassostrea virginica and Crassostrea ariakensis oysters. Appl Environ Microbiol 74(22):6825–6831

Ongerth JE (2013) LT2 Cryptosporidium data: what do they tell us about Cryptosporidium in surface water in the United States? Environ Sci Technol 47(9):4029–4038

Palos Ladeiro M, Bigot A, Aubert D, Hohweyer J, Favennec L, Villena I, Geffard A (2013) Protozoa interaction with aquatic invertebrate: interest for watercourses biomonitoring. Environ Sci Pollut Res Int 20(2):778–789

Palos Ladeiro M, Aubert D, Villena I, Geffard A, Bigot A (2014) Bioaccumulation of human waterborne protozoa by zebra mussel (Dreissena polymorpha): interest for water biomonitoring. Water Res 48:148–155

Reischl U, Bretagne S, Kruger D, Ernault P, Costa JM (2003) Comparison of two DNA targets for the diagnosis of toxoplasmosis by real-time PCR using fluorescence resonance energy transfer hybridization probes. BMC Infect Dis 3:7

Robertson LJ (2007) The potential for marine bivalve shellfish to act as transmission vehicles for outbreaks of protozoan infections in humans: a review. Int J Food Microbiol 120(3):201–216

Staggs SE, See MJ, Dubey JP, Villegas EN (2009) Obtaining highly purified Toxoplasma gondii oocysts by a discontinuous cesium chloride gradient. J Vis Exp (33):e1420. doi:10.3791/1420

Staggs SE, Beckman EM, Keely SP, Mackwan R, Ware MW, Moyer AP, Ferretti JA, Sayed A, Xiao L, Villegas EN (2013) The applicability of TaqMan-based quantitative real-time PCR assays for detecting and enumerating Cryptosporidium spp. oocysts in the environment. PLoS ONE 8(6):e66562

Su C, Shwab EK, Zhou P, Zhu XQ, Dubey JP (2010) Moving towards an integrated approach to molecular detection and identification of Toxoplasma gondii. Parasitology 137(1):1–11

Tamura K, Peterson D, Peterson N, Stecher G, Nei M, Kumar S (2011) MEGA5: molecular evolutionary genetics analysis using maximum likelihood, evolutionary distance, and maximum parsimony methods. Mol Biol Evol 28(10):2731–2739

Taswell C (1981) Limiting dilution assays for the determination of immunocompetent cell frequencies. I. Data analysis. J Immunol 126(4):1614–1619

Tenter AM, Heckeroth AR, Weiss LM (2000) Toxoplasma gondii: from animals to humans. Int J Parasitol 30(12–13):1217–1258

USEPA (2012) Method 1623.1: Cryptosporidium and Giardia in water by filtration/IMS/FA. Office of water EPA 815-R-05-002

Ware MW, Villegas EN (2010) Improved Cryptosporidium parvum oocyst propagation using dexamethasone suppressed CF-1 mice. Vet Parasitol 168(3–4):329–331

Ware MW, Wymer L, Lindquist HD, Schaefer FW 3rd (2003) Evaluation of an alternative IMS dissociation procedure for use with method 1622: detection of Cryptosporidium in water. J Microbiol Methods 55(3):575–583

Ware MW, Augustine SA, Erisman DO, See MJ, Wymer L, Hayes SL, Dubey JP, Villegas EN (2010) Determining UV inactivation of Toxoplasma gondii oocysts by using cell culture and a mouse bioassay. Appl Environ Microbiol 76(15):5140–5147

Xiao L, Alderisio K, Limor J, Royer M, Lal AA (2000) Identification of species and sources of Cryptosporidium oocysts in storm waters with a small-subunit rRNA-based diagnostic and genotyping tool. Appl Environ Microbiol 66(12):5492–5498
Acknowledgments
We would like to thank Jim Lazorchak and Ken Fritz for technical guidance and Nichole Brinkman and Shannon Griffin for technical review. The United States Environmental Protection Agency through its Office of Research and Development funded and managed the research described here. It has been subjected to the agency's administrative review and approved for publication. Mention of trade names or commercial products does not constitute endorsement or recommendation for use. This work was conducted, in part, under a USEPA Region 3 Regional Methods Initiative Project. SES is an Oak Ridge Institute for Science and Education postdoctoral fellow.
Author contributions
SES and ENV conceived and designed the experiments; SES, ENV, SPK, and CS analyzed the data; SPK conducted the statistical analyses; SES, NS, MJS, MWW, DG, CS, and ENV performed the experiments and/or collected samples; DG, CS, and JPD contributed reagents/materials/analysis tools; SES, ENV, SPK, and MWW wrote the paper.
Electronic supplementary material
Below is the link to the electronic supplementary material.
About this article
Cite this article
Staggs, S.E., Keely, S.P., Ware, M.W. et al. The development and implementation of a method using blue mussels (Mytilus spp.) as biosentinels of Cryptosporidium spp. and Toxoplasma gondii contamination in marine aquatic environments. Parasitol Res 114, 4655–4667 (2015). https://doi.org/10.1007/s00436-015-4711-9
Received:

Accepted:

Published:

Issue Date:
Keywords
Biosentinel

Cryptosporidium
Toxoplasma gondii

Water quality

Mytilus spp.